THE FLATS – Sophomore forward Evan Cole finished with a double-double behind 16 points and 10 rebounds as Georgia Tech dominated Florida Tech in an 87-36 rout in exhibition play Saturday night. A total of 14 different Yellow Jackets took the floor in Georgia Tech's first unofficial outing of the 2018-19 season.
"I thought there was a lot of positives. I liked our defensive effort in some areas," commented head coach Josh Pastner. "Overall, the guys did a nice job. And for the first time being under the lights, we did some good stuff. We have to keep getting better. We have a lot to work on and improve on, but I liked the effort for tonight, especially on the defensive end."
In the first meeting between the opponents, the Panthers and Yellow Jackets kept it close in the early going. The teams stood tied at 14-apiece at the 8:20 mark of the first half before Georgia Tech began to pull away. Hitting a triple at 5:57, sophomore guard Curtis Haywood pushed Georgia Tech in front by double-digits for the first time as the Jackets took a 25-14 edge. Senior forqard Abdoulaye Gueye, who finished with eight points, sparked a 9-1 run that closed the first half and sent the Yellow Jackets into the locker room comfortable ahead, 36-17.
Georgia Tech outscored Florida Tech 51-19 in the second half and grabbed its largest lead of 54 points off a free throw from Malachi Rice late in the period.
Making their first public appearances, a pair of freshmen put together solid stat lines as Kristian Sjolund finished with 10 points, including a pair of threes, and three rebounds in 17 minutes, while classmate Khalid Moore posted eight points and three rebounds. Jose Alvarado was the third Jacket to finish in double-figures on the night, scoring 12 points with seven rebounds and four assists, while Sylvester Ogbonda pulled down a team-high 11 rebounds.
The Panthers were held to a 25.2 percent shooting efficiency and committed 26 turnover on the evening, while the Jackets shot 43.6 percent from the field. Georgia Tech won the battle on the glass, 57-33.
Georgia Tech officially tips off the season on Friday, Nov. 9, hosting Lamar at 7:30 p.m. in McCamish Pavilion.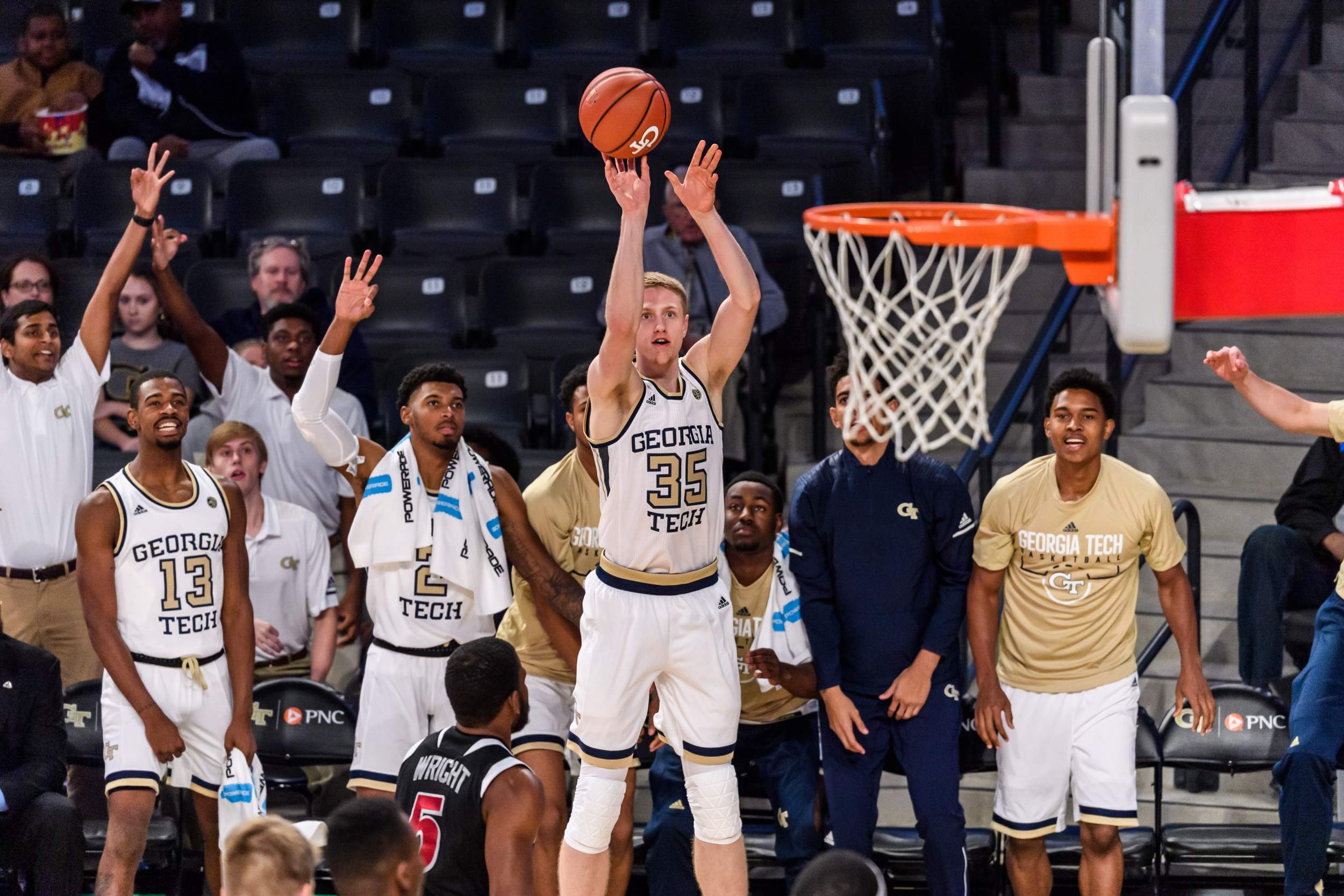 Kristian Sjolund his a pair of threes and went 4-for-11 from the floor in scoring 10 points.
ABOUT GEORGIA TECH MEN'S BASKETBALL
Georgia Tech's men's basketball team is beginning its third year under head coach Josh Pastner. Tech has been a member of the Atlantic Coast Conference since 1979, won three ACC Championships (1985, 1990, 1993), played in the NCAA Tournament 16 times and played in two Final Fours (1990, 2004). Connect with Georgia Tech Men's Basketball on social media by liking their Facebook Page, or following on Twitter (@GTMBB) and Instagram. For more information on Tech basketball, visit Ramblinwreck.com.
Season tickets for men's basketball can be purchased here.