THE FLATS – Back home following two straight road losses, Georgia Tech returns to the court Saturday for a 4 p.m. Atlantic Coast Conference contest against No. 16/16 Florida State at McCamish Pavilion.
The Yellow Jackets (7-5, 3-3 ACC) sit in eighth place in the ACC standings after a pair of close losses at No. 13 Virginia (64-62) and Duke (75-68) in which they led late. Prior to that, the Jackets had win five straight, including No. 20 Clemson, Wake Forest in North Carolina by an average of 13 points, around a 17-day COVID pause. Tech remains one of the ACC's highest scoring teams – third at 77.83 points per game overall – but have been held under 70 in each of its last two games.
The Seminoles (10-2, 6-1 ACC) have won five straight games since returning from a COVID pause in early January, defeating NC State, North Carolina, Louisville, Clemson and Miami by an average of 18.6 points per game. The 82-75 win over North Carolina was the closest game in the streak, and all but the Seminoles' 78-65 win over the Cardinals occurred at home. Saturday will be FSU's third road game of the season (the Seminoles lost at Clemson on Dec. 29).
Saturday's game will be televised nationally on the ACC Network and will be streamed live on the ESPN app. Radio coverage is provided by the Georgia Tech Sports Network by Learfield IMG College, with flagship station WCNN-Radio (680 AM, 93.7 FM) in Atlanta. The Tech broadcast can be heard on SiriusXM Ch. 381 (internet ch. 81) and the TuneIn app.
Senior forward Moses Wright speaks to the media Friday
THE TIPOFF
The gauntlet – Georgia Tech is in the midst of a five-game stretch that includes four top 25 teams – No. 20/22 Clemson, No. 13/12 Virginia, Duke (previously ranked), No. 16/16 Florida State and No. 25/23 Louisville (coming up Monday).
Nuthin' but Net – Georgia Tech are No. 59 in the NCAA NET rankings, having stood at a high of No. 56 after jumping 12 spots following its win over Clemson. The Jackets are No. 59 in KenPom's ratings, two below their highest position.
Top shooters – Florida State (42.7 pct.) and Georgia tech (42.5 pct.) rank No. 1-2 in the ACC in three-point shooting percentage in conference games. In five seasons under Josh Pastner, Tech's ranking has been 15, 15, 12, 6 and now 2. The Seminoles and Jackets are No. 1 and 3, respectively, in total field goal percentage.
Making their points – FSU (79.25 ppg)and Georgia Tech (77.83) are the No. 1 and 3 teams in the ACC in scoring average in all games. According to KenPom.com, Tech has the league's fifth-most efficient offense (104.7), and ranks third in effective field goal percentage (57.4 pct.) and fourth in turnover percentage (16.6). FSU is 11th nationally in offensive efficiency.
Moses climbing the mountain – Moses Wright needs two rebounds to reach 500 for his career, and six points to reach 900. He is within reach this season of becoming the 21st played in Tech history to score 1,000 points and grab 500 rebounds in a career.
Dynamic duo – Jose Alvarado and Michael Devoe are averaging 17.67 and 14.50 points per game in ACC games, ranking No. 3 and 13, respectively, and have accounted for more than 46 percent of the Yellow Jackets' points. They have scored or assisted on 70 percent of Tech's field goals in conference play. Combined, they have shot 53.0 percent from the floor and 47.5 percent from three-point range. The Jackets are 4-1 this season when both players score in double digits, including two ACC wins.
Triple threat – Alvarado, Devoe and Bubba Parham have combined to hit 47-of-98 collectively (48 percent) in Tech's last seven games (7-of-14 vs. North Carolina, 6-of-12 vs. Delaware State, 8-of-19 vs. Florida A&M, 7-of-13 vs. Clemson, 6-of-9 at Virginia, 5-of-12 at Duke).
Small ball – Tech moved 6-9 senior Moses Wright, who has played the "4" position most of his career, into the "5" spot and started 5-10 senior Bubba Parham beginning with the Dec. 6 win over Kentucky. The re-alignment has worked as the Jackets have shot 49.1 percent from the floor, hit 9.1 three-point field goals per game (40.4 percent), have a plus-58 margin on turnovers, and assisted on 61.8 percent of its field goals in that stretch.
Size doesn't matter – Since going to its smaller lineup, Tech has had just 19 shots blocked in its last 10 games, seven of those by Virginia. The Yellow Jackets had 13 shots blocked in their two season-opening losses. At the time of Tech's meetings with them, Kentucky ranked No. 4, Nebraska No. 28, FSU No. 1 and North Carolina No. 8 in average height, according to KenPom.com. The Jackets rank No. 300.
Ball security – The Jackets rank No. 2 in the ACC and No. 22 nationally in assist/turnover ratio (1.45), and they rank No. 2 in the ACC and No. 18 nationally in turnover margin (plus-4.4). Only Virginia and Notre Dame have turned the ball over fewer times per game than has Tech (11.42) in all games, and Tech has forced the third-most average turnovers. Tech's top seven scorers all have positive or even assist/turnover ratios.
Head coach Josh Pastner speaks to the media Friday
xxxxxx
SERIES VS. FLORIDA STATE
Florida State has won 15 of the last 17 meetings in the series and each of the last five, including a 74-61 win last Dec. 15 in Tallahassee, the first of two scheduled meetings for the 2020-21 season … Since FSU joined the ACC, Tech is 18-30 against the Seminoles. Florida State won the first six in a row, Tech followed by winning five straight, and is 13-24 against the Seminoles since then … Tech is 16-18 against the Seminoles in Atlanta, 0-3 at McCamish Pavilion. The Jackets have not beaten FSU in Atlanta since the 2006-07 season (a 78-56 win in January of 2017 was vacated by the NCAA).
TEAM TRENDS
Tech has turned the ball over just 11.42 times per game this season, most impressively Moses Wright who has just 16 turnovers in more than 434 minutes of action, and Bubba Parham, who has only six in 383 minutes. The Yellow Jackets are plus-4.3 in that category this season, ranking No. 2 in the ACC. Tech was minus-2.4 last year and ranked 14th. In ACC games, Tech ranks No. 2 at plus-4.3.
Tech made great strides in its offensive efficiency during the latter part of last season and continues to progress, ranking No. 39 nationally at 111.2, its highest ranking under Josh Pastner. The Jackets have managed to exceed one point per possession in 10 of 12 games this season (Tech reached that benchmark 11 times in all of 2019-20). Only Florida State and Duke held Tech under that mark this season.
Tech has won the turnover battle and had more assists than turnovers in nine of its last 10 games. Only against Florida State (11 assists, 12 turnovers, FSU has 12 turnovers) did the Jackets fall short.
Tech (8-of-24 at Duke) has connected on 70 of its 158 three-point attempts in its last six games (44.3 percent) and is up to 37.7 percent for the season, 42.3 percent in ACC games.
The Jackets are averaging 8.8 made threes per game (3.6 per game more than they made in 2019-20), making at least eight in all but two games (Georgia State, Florida State), and rank fourth in the ACC. Tech is averaging a league-high 9.5 threes in ACC games.
Tech collectively shot 52.4 percent from the floor during its five-game winning streak, but just 44.4 percent in its last two games (both losses).
Since going to its smaller lineup, Tech has had just 19 shots blocked in its last 10 games, seven of those by Virginia. The Yellow Jackets had 13 shots blocked in their two season-opening losses.
Tech has collected 49 steals in its last five games and is averaging an ACC-high 9.3 in conference games. The Jackets are averaging 9.1 in all games.
Jose Alvarado has connected on 61.5 percent of his shots from the floor in ACC games, 48 percent from three-point range.
Alvarado has made a three-point basket in 30 straight games (he went 3-for-5 vs. Duke). He sits 12th on Tech's all-time list for three-pointers with 152.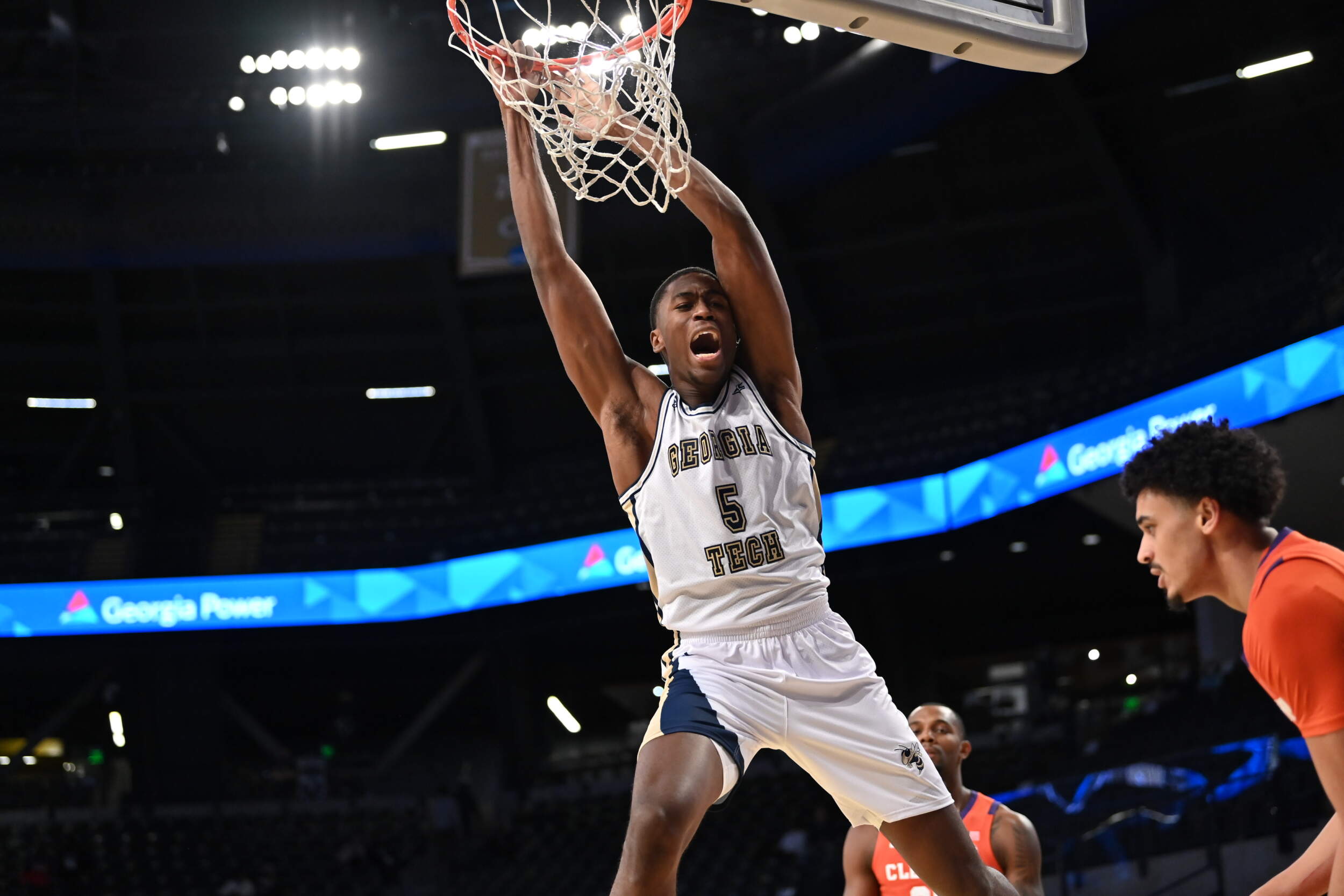 Moses Wright was one of three Tech players to score 20 or more points the last time the Yellow Jackets played at home, an 83-65 victory over Clemson. (photo by Danny Karnik)
Alexander-Tharpe Fund
The Alexander-Tharpe Fund is the fundraising arm of Georgia Tech athletics, providing scholarship, operations and facilities support for Georgia Tech's 400-plus student-athletes. Be a part of developing Georgia Tech's Everyday Champions and helping the Yellow Jackets compete for championships at the highest levels of college athletics by supporting the A-T Fund's Annual Athletic Scholarship Fund, which directly provides scholarships for Georgia Tech student-athletes, and the Support The Swarm Fund, created to give fans an opportunity to help Georgia Tech athletics maintain its recent momentum through the financial challenges of the Covid-19 pandemic! To learn more about supporting the Yellow Jackets, visit atfund.org. 
ABOUT GEORGIA TECH MEN'S BASKETBALL
Georgia Tech's men's basketball team is in its fifth season under head coach Josh Pastner, having finished fifth in the ACC in 2019-20, the program's highest finish since 2005. Tech has been a member of the Atlantic Coast Conference since 1979, won three ACC Championships (1985, 1990, 1993), played in the NCAA Tournament 16 times and played in two Final Fours (1990, 2004). Connect with Georgia Tech Men's Basketball on social media by liking their Facebook Page, or following on Twitter (@GTMBB) and Instagram. For more information on Tech basketball, visit Ramblinwreck.com.