Final Box Score (pdf) | Full game book/play-by-play (pdf) | Multimedia  | Post-Game Quotes | Photo Gallery | Postgame Notes
THE FLATS – Hard-nosed defense and 22 points from sophomore Michael Devoe powered Georgia Tech men's basketball to a 64-41 win over Elon on Monday night at McCamish Pavilion.
The Yellow Jackets (2-0, 1-0 ACC) held the Phoenix (2-1) to just 22 percent shooting from the field, the second lowest yield in Tech history, including a paltry 10 percent from three-point range.
Tech was led offensively by a career-high-tying 22 points from Devoe, including 3-for-4 shooting from downtown. Senior forward James Banks III also had a fine night, finishing three rebounds shy of a double-double, recording 11 points and seven boards.
Overall, the Jackets show 38 percent from the field, but hit 17 free throws on the night to capitalize off 22 personal fouls and extend the lead.
Elon was led by just one double-digit scorer on the night — Marcus Sheffield II. The graduate transfer wing player finished with 12 points and eight rebounds on the night.
Tech returns to action Wednesday, Nov. 20, traveling to Athens, Ga., for its 196th all-time meeting against Georgia. Tipoff is at 7 p.m. at Stegeman Coliseum, and the game will be streamed live online via SEC Network Plus.
Sophomore guard Micahel Devoe tied his season high by scoring 22 points on 7-for-11 shooting. (photo by Danny Karnik)
Post-Game Notes
TEAM NOTES
The 41 points scored by Elon were the fewest surrendered by Georgia Tech since last Dec. 9 in a 73-40 win over Florida A&M, which is the fewest given up by a Josh Pastner-coached Georgia Tech team. Twenty-two of the 41 points were scored in the final 10:58 of the game.
Elon connected on just 21.6 percent of its shots from the floor, the second-lowest yield in the modern history of Tech basketball (1949-50 to the present). The record for lowest percentage by an opponent is 16.3 percent by Kentucky on Jan. 2, 1960. Most recently, Rice shot 22.9 percent against Tech in the DirecTV Classic in Anaheim, Calif., on Nov. 22, 2012 and scored just 36 points in the game.
Since the beginning of last season, Tech has held 20 opponents last season, and nine ACC opponents, under 40 percent from the floor. The Jackets have limited 17 opponents, nine in the ACC, to 30 percent or less from three-point range.
The 13 points in the first half by Elon matched the fifth fewest the Yellow Jackets have allowed in a half, and the fewest since Florida A&M scored 13 in the first half of the game on Dec. 9, 2018. Tech is 38-13 under Josh Pastner when holding opponents under 40 percent.
Elon converted only 3-of-30 three-point attempts (10 pct.), but that was slightly better than Duke's 2-for-21 (9.5 pct.) in the team's last meeting on Jan. 26, 2019.
Georgia Tech failed to hit 40 percent of its own shots for the first time since last Feb. 27 (37.7 percent at Virginia). The Jackets have hit 50 percent in four of their last seven games dating back to last Feb. 23.
PASTNER'S KEY METRICS
Assists to made field goals: Tech assisted on 14 of its 20 field goals (60 percent) and six players had at least one. The Jackets have assisted on 34 of 50 field goals (68 percent) through two games. Tech's nightly goal is 60 percent.
Free throws made to opponents' attempts: Tech went 17-of-27 from the free throw line, while Elon was 6-of-10, accomplishing its nightly mission of making more free throws than the opponent attempts. The Jackets are 40-17 under Josh Pastner when attempting more free throws than the opponent.
Turnovers: Tech committed 17 in the game to Elon's. The Jackets have averaged 17.5 turnovers in two games, forcing 13.5. Target each night is to commit 11 or fewer, which Tech met only three times last season (all in the last four games). More telling for Tech under Josh Pastner is that when Tech has committed fewer turnovers than its opponent, it is 22-15. When it has committed more, it is 24-30.
Guard rebounding: Tech's players outside of Banks, Cole and Wright collected 26 of the Jackets' 43 defensive rebounds.
INDIVIDUAL NOTES
Michael Devoe posted 17th double digit game and tied his career high of 22 points first set at Virginia Tech last year (2/13) and matched Nov. 5 at NC State. In two games, the sophomore is 14-of-23 (60.9 percent) from the floor, 6-of-8 on threes and 10-of-12 from the free throw line. He has led Tech in scoring in both games.
James Banks hit 7-of-9 free throw attempts and is 11-for-13 for the season, including the two game-winning points at NC State.
Banks blocked six shots against Elon, giving him 11 over two games. The 6-10 senior's 5.5 average is one block shy of the ACC lead (NC State's Manny Bates has 12 in two games), but Tech leads the ACC as a team with 9.5 per game (NC State is second at 6.5 per game).
Khalid Moore has stuffed the stat sheet in each of Tech's two games. The 6-7 sophomore scored eight points with nine rebounds, five assists and three steals in 28:20 against Elon. At NC State, he scored 11 points with four rebounds, three assists and six steals in 39:21.
Junior point guard Jose Alvarado missed the game with a sprained right ankle. Bubba Parham started in his place, scoring five points with six rebounds, but no assists and three turnovers in 27:46.
Best plus/minus game? Freshman guard Asanti Price (+28), who went just 2-of-8 from the floor for five points, but snared 10 rebounds and had two assists, a block and a steal in 20:25.
Evan Cole had nine points and nine rebounds with a pair of assists in 19:36.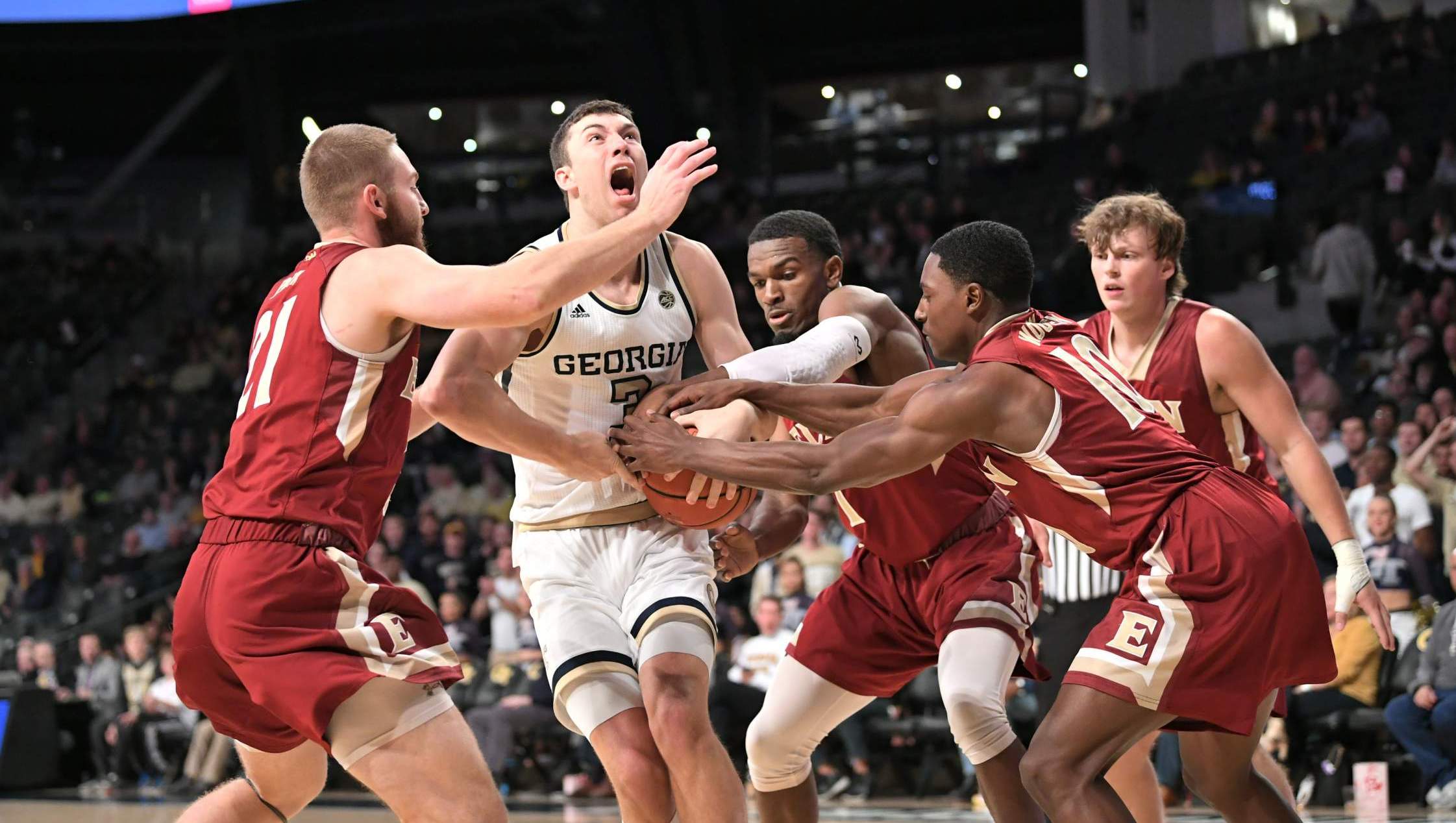 Junior Evan Cole scores on a fast break for Georgia Tech. The Jackets used a 18-3 fastbreak advantage to defeat Elon 64-41 on Monday night. (photo by Danny Karnik)