Complete game notes   |  Coach Pastner audio  |  RSN affiliate list (where to watch)  |  Watch online  |  Live Stats and Game Audio
THE FLATS  –  Georgia Tech continues its 40th season of Atlantic Coast Conference basketball Wednesday night with a 7 p.m. contest against No. 9/7 Virginia Tech at McCamish Pavilion. It is the Yellow Jackets' second game against a top-10 team this season (at No. 5 Tennessee on Nov. 13).
Tech (9-5, 1-0 ACC), in its third season under head coach Josh Pastner, is 8-2 at home this season, having won its last three games, including a 92-79 victory over Wake Forest to open the ACC schedule on Saturday. The Yellow Jackets won their first five games at home this season before dropping a pair of contests to Gardner-Webb and Georgia the week before Christmas.
Virginia Tech (13-1, 2-0 ACC), in its fifth season under head coach Buzz Williams, has lost only to Penn State this season, a 63-62 defeat on the road in the ACC-Big Ten Challenge on Nov. 27. The Hokies are on an eight-game winning streak, including an 81-66 win over Notre Dame and an 88-77 win over Boston College, both at home, to begin ACC play.
Wednesday's game will be broadcast live on the ACC's Regional Sports Network, airing in Georgia on Fox Sports South, and will be streamed live on ACC Network Extra, which is available through the ESPN app. Radio coverage is provided on the Georgia Tech IMG Sports Network, airing in Atlanta on 680 AM and 93.7 FM the Fan. The Tech broadcast is available on satellite radio (XM ch. 383, internet ch. 974).
Freshman Michael Devoe has started Tech's last five games and averaged 12.8 points with 12 assists and just four turnovers in that span.
STARTING LINEUP
For starters – Georgia Tech opens its Atlantic Coast Conference schedule with two games at home for the first time since the 2005-06 season and will have five of its first eight ACC games at home in the 2018-19 season.
Home is where the heart is – Tech is ending a stretch of seven home games in an eight-game span. It began Dec. 9 with a 73-40 victory over Florida A&M and carries the Yellow Jackets and ends with ACC games against Wake Forest (Jan. 5) and Virginia Tech (Jan. 9). Tech's only road game in that span was at Arkansas.
On the right foot – Georgia Tech has won its ACC home opener each of the last four years (Wake Forest Saturday, No. 15 Miami last season, No. 9 North Carolina in 2016-17, No. 4 Virginia in 2015-16).
Tough at home – Tech is 13-6 against ACC teams at home under Pastner, 5-3 against top-25 ACC teams.
Hokie high – Georgia Tech has never faced a Virginia Tech ranked as high as the Hokies are this week (No. 9/7). The previous high was the 2004-05 season, when the Hokies are No. 12/15.
Tough slate – January shapes up as a rugged month as Virginia Tech, Syracuse, Clemson, Duke and North Carolina all made the NCAA Tournament field last season. Duke is currently No. 1 in the nation in both polls, while Virginia Tech and North Carolina are both in the top 10. Clemson and Syracuse were ranked in the top 25 to begin the season.
That's offensive – Georgia Tech has posted three of its best four offensive efficiency ratings (according to KenPom.com) of the season in its last three games. Wake Forest (121.1) and Kennesaw State (119.7) rank as the No. 2 and 3 best figures under Josh Pastner behind the Jackets' 86-76 win at NC State on Jan. 15, 2016 (122.7). Tech's effective field goal efficiency ratings in the last three games, all above 60 percent, rank behind only the 63.1 percent the Jackets posted against Wofford in December of 2017.
Defending well – Georgia Tech ranks fourth in the ACC in scoring defense (No. 25 nationally), fifth in field goal percentage defense (No. 17 nationally) and third in three-point percentage defense (No. 17 nationally). The Jackets are also third in blocked shots and in fourth in steals.
Below average – Wake Forest was the first team to exceed its season scoring average against Tech this season – breakdown by game: Lamar 81.8 (69), Tennessee 85.5 (66), East Carolina 71.1 (54), UTRGV 70.2 (44), Prairie View A&M 69.2 (54), Northwestern 73.5 (67), St. John's 83.9 (76), Florida A&M 63.2 (40), Gardner-Webb 82.9 (79), Arkansas 81.8 (69), Georgia 79.2 (70), Kennesaw State 62.5 (57), USC Upstate 70.9 (63).
Creating offense with defense – Georgia Tech has forced an average of 15.3 turnovers per game, about two per game more than last season (ranks 7th in ACC, 57th in NCAA). Tech has turned those into 17.2 points per game (24.1 percent of total points).
Freshmen emerge – Guard Michael Devoe and forward Khalid Moore have started Tech's last five games (Arkansas, Georgia, Kennesaw State). Tech has deployed five different starting lineups this season.
Longer bench – Tech has deployed at least eight players for significant minutes in each of its games so far, sometimes nine or 10. Tech's bench has played 33.8 percent of available minutes, 103rd in the nation according to KenPom.com (national average is 31 pct.). Tech reserves are outscoring there opponents 27.8 to 17.5 per game).
668 – Career points for Brandon Alston, the most of any current Tech player. Georgia Tech finished last season with a trio of 1,000-point career scorers on its roster for the first time since 1989.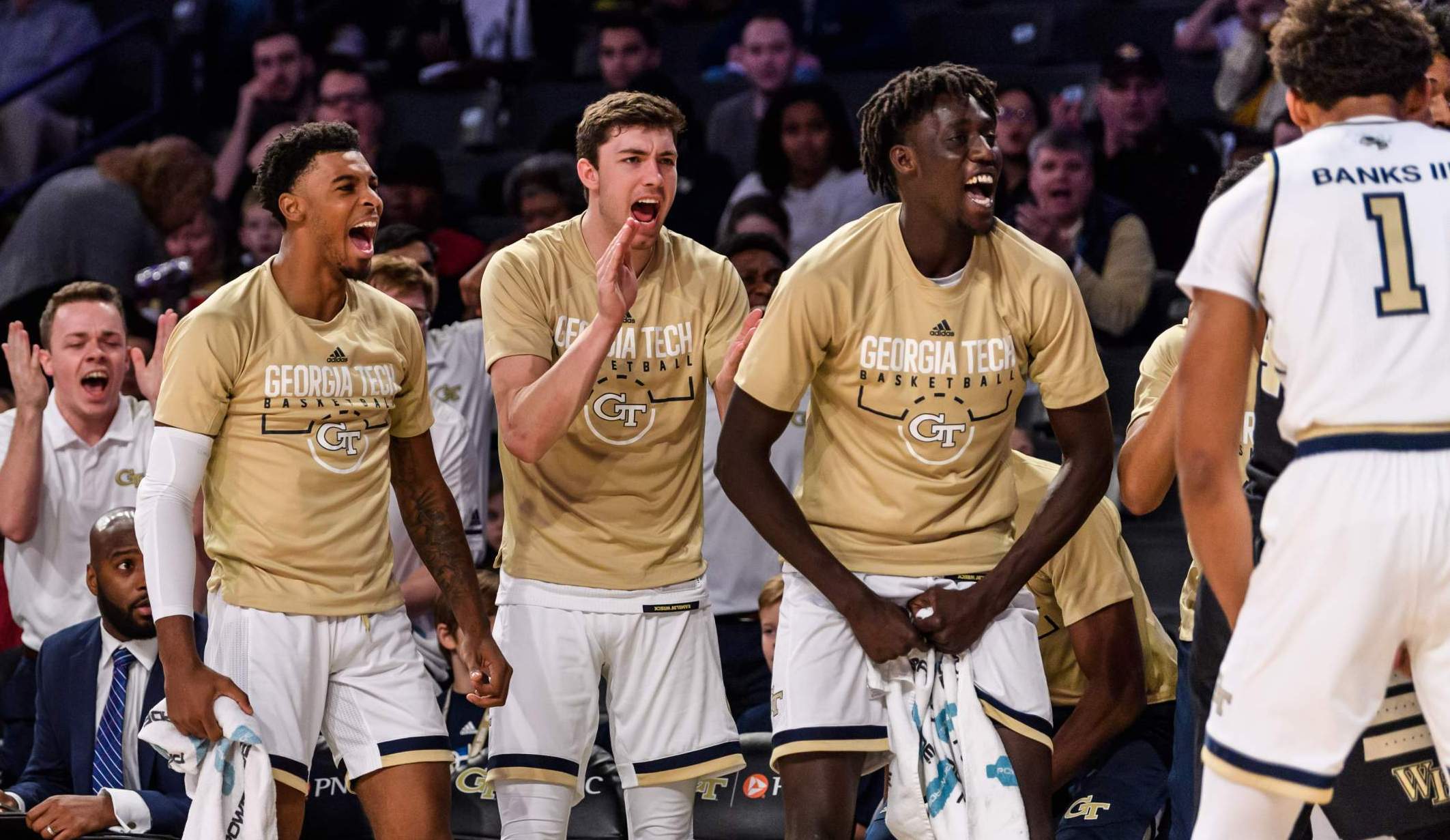 SERIES VS. VIRGINIA TECH
Virginia Tech has won 18 of 24 all-time meetings with Georgia Tech, including 14 of 19 as a member of the ACC.
The Hokies have won the last four games of the series, the first three of which were decided in the final minute. Virginia Tech won the teams' only regular-season meeting of 2017-18, 76-56, at McCamish Pavilion.
Tech's 64-54 win on Feb. 9, 2013 in Blacksburg is its only triumph at Cassell Coliseum in 10 tries.
Tech has defeated Virginia Tech only three times in 10 meetings at home since the Hokies joined the ACC, and the Yellow Jackets received extroardinary performances by a individuals to win two of those games. On Jan. 19, 2008, reserve guard Matt Causey came off the bench to hit seven threes and pour in 30 points in the Jackets' 81-70 victory. On Jan. 25, 2011, Iman Shumpert recorded the fourth triple-double in Tech history with 22 points, 12 rebounds and 11 assists in the Jackets' 72-57 win.
The Hokies, led by future NBA star Dell Curry, held off the Jackets and their future All-Americans Mark Price and John Salley, 77-74, in the teams' first meeting, a first-round post-season NIT game, at Cassell Coliseum in 1984.
The teams have split two ACC Tournament encounters, the Jackets capturing a 73-54 victory in the first round of the 2005 tournament in Washington, D.C., and the Hokies winning a 59-43 decision in the first round in 2011 in Greensboro.
Georgia Tech's first victory over Virginia Tech occurred on Dec. 27, 1962, a 73-72 overtime triumph at the Gator Bowl Tournament that was part of an 11-0 start for the Yellow Jackets. Tech went on to finish the season 21-5. Both teams were ranked in the UPI poll at the time, Georgia Tech at No. 18, Virginia Tech at No. 14.
Both teams were members of the old Metro Conference, but not at the same time. Georgia Tech was a member for three seasons from 1975-76 through 1977-78 before leaving to join the ACC. Virginia Tech joined the league for the 1978-79 season.
ABOUT GEORGIA TECH MEN'S BASKETBALL
Georgia Tech's men's basketball team is in its third year under head coach Josh Pastner. Tech has been a member of the Atlantic Coast Conference since 1979, won three ACC Championships (1985, 1990, 1993), played in the NCAA Tournament 16 times and played in two Final Fours (1990, 2004). Connect with Georgia Tech Men's Basketball on social media by liking their Facebook Page, or following on Twitter (@GTMBB) and Instagram.
For more information on Tech basketball, visit Ramblinwreck.com. Tickets for men's basketball can be purchased here.