Final Box Score (.pdf) | Full gamebook/play-by-play (.pdf) | Multimedia | Postgame Quotes | Photo Gallery | Postgame Notes
THE FLATS — Michael Devoe scored 22 points and came up one rebound shy of a double-double, but Georgia Tech men's basketball came up short down the stretch against Notre Dame, falling 78-74 on Wednesday night at McCamish Pavilion.
The Yellow Jackets (8-9, 3-4 ACC) shot 50 percent on the night, including 66.7 percent in the second half, but the Fighting Irish (11-6, 2-4 ACC) developed a small lead late thanks to second-chance points and a dagger three-pointer from T.J. Gibbs with 1:04 left on the clock. Tech hit 15 of its last 19 shots from the floor in the game, but Notre Dame knocked down 13 of its last 16.
It was the sixth 20-point game of the season for Devoe, who matched his career best with nine rebounds and hit 9-of-15 shots from the floor. Also scoring in double digits was Moses Wright (16) and James Banks III (10).
Leading the way for Notre Dame was Prentiss Hubb, who scored with 25 points. Gibbs (17), Dane Goodwin (15) and John Mooney (10) also reached double-digit scoring marks on the night, while Mooney also finished with 13 boards.
Georgia Tech will conclude its short two-game homestand on Saturday, Jan. 18 when it hosts Virginia at McCamish Pavilion. Tipoff is set for 8 p.m. and will be broadcast live on ACC Network.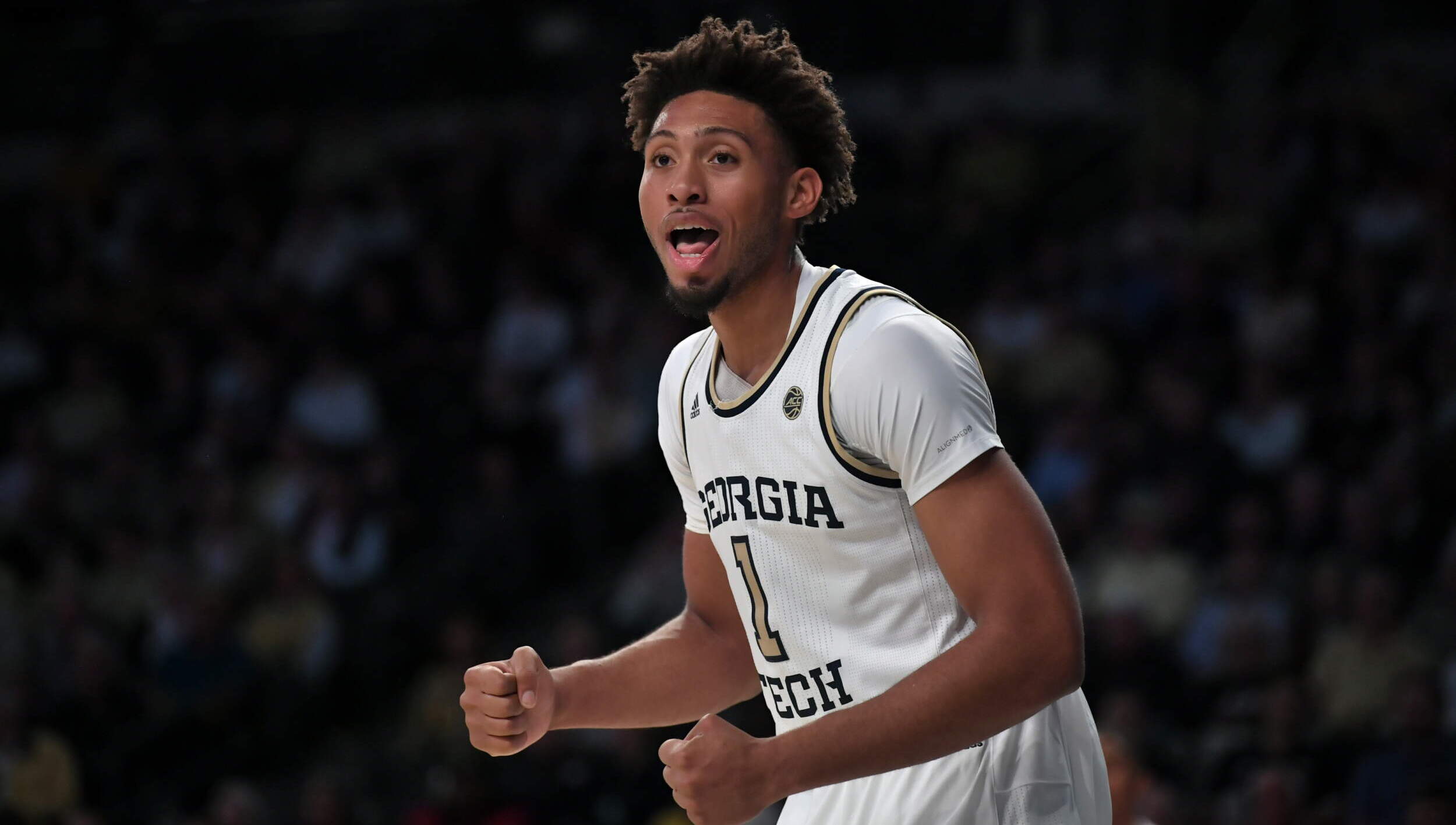 James Banks III was just one of the reasons Georgia Tech controlled the paint (48-32 advantage) as he finished with 10 points and six rebounds (photos by Danny Karnik).
Post-Game Notes
TEAM NOTES
Tech is 5-4 away from McCamish Pavilion this season, 3-5 at home.
Tech has trailed at halftime in 12 of its 17 games this season, coming back to win four of those games. The Jackets are 14-49 when trailing at the half under Josh Pastner.
Tech's 74 points against Notre Dame was a season-high at home. Tech has averaged 71.2 points per game away from home this season (76.75 in its four ACC road games), and averaged 62.9 at McCamish Pavilion coming into the game.
Tech has shot 50 percent from the floor five times this season, and four times in its last six games. The Jackets connected on 51.7 percent against Notre Dame, hitting 67.9 percent in the second half.
Tech assisted on 15 of 30 made field goals against and has assisted on 119 of 192 made field goals in ACC games (62 percent).
Tech hit 10-of-15 attempts from the foul line against Notre Dame, snapping a string of seven straight games having made better than 70 percent from the stripe. Tech has converted 109-of-145 attempts (75.2 percent) in its last eight games.
The Jackets have hit 33.6 percent of their three-point field goal attempts in ACC games, compared with just 25.4 percent out of conference.
Tech has averaged 15.1 turnovers over its last eight games since the return of Jose Alvarado, compared with 17.4 prior to that. With Alvarado on the floor this year, Tech has averaged 15.4 turnovers, compared with 18.6 in the seven games in which he was absent.
Tech is plus-4 assist-to-turnovers in ACC games, minus-56 in non-conference games. The Jackets have been on the plus side of that ledger in three of the last four games.
INDIVIDUAL NOTES
Michael Devoe posted his sixth game of 20 or more points this season with 22 against Notre Dame, and his first since Dec. 4 against Nebraska, when he scored 26. In four career games against Notre Dame he has averaged 15.3 points, reaching double digits in each, with a total of 14 assists. He has hit 23-of-43 shots from the floor, 10-of-18 from three-point range.
James Banks III has averaged 11.8 points and 9.8 boards in four games against the Irish, hitting 22-of-35 from the floor and blocking eight shots.
For the second time this season, Banks did not block a shot. The 6-10 senior had swatted 11 in the two games before Notre Dame. He still ranks No. 2 in the ACC at 2.94 per game overall, 2.71 per game in conference play.
Moses Wright has scored in double figures in eight consecutive games, averaging a team-high 16.8 points and 8.0 rebounds over that stretch while hitting 55.6 percent of his shots from the floor and 71 percent from the free throw line. The 6-9 junior ranks No. 2 in the ACC in field goal percentage (55.1) and No. 7 in rebound average (8.0).
Wright is Tech's high scorer and rebounder in ACC games at 15.7 points (11th ACC) and 8.6 rebounds (4th ACC) per game, and he has hit 52.2 percent of his shots from the floor against the league (7th ACC).
Wright has connected on 71.0 percent of his free throws (22-of-31) over Tech's last eight games after going just 4-of-14 in the first nine games of the season.
James Banks III has averaged 12.1 points and 7.9 rebounds against ACC teams this season, hitting 56.9 percent of his shots from the floor.
Jose Alvarado has set or matched his career high in assists three times in the last four games, dishing eight at North Carolina, eight at Boston College and nine against Notre Dame. The 6-foot junior leads the ACC in assist average at 7.0 in league games. Alvarado has 30 assists, nine steals and 11 turnovers in his last four games, and has a 53/22 assist/turnover ratio for the season. His 2.47 assist/turnover ratio in ACC games ranks sixth in the league.
Alvarado has hit 9-of-18 shots from three-point range in his last four games (1-of-4 vs. Notre Dame) and is 20-of-38 overall during that stretch.
Bubba Parham is 13-of-26 from the floor in his last six games, 6-of-12 on threes. All five of his double-figure games this season have come against power-conference foes (Georgia, Arkansas, Syracuse, Kentucky and North Carolina).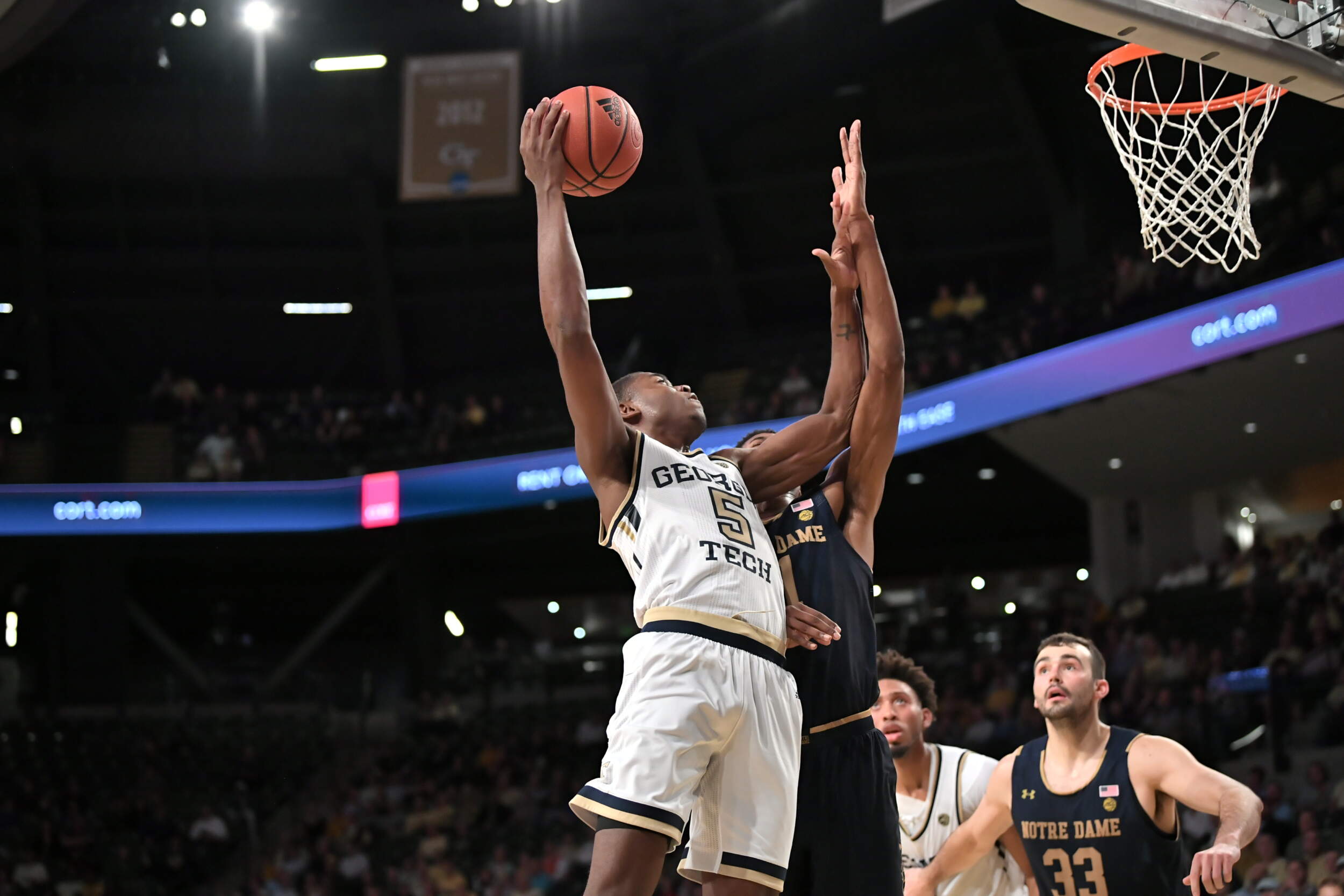 Moses Wright continued his impressive play this season, finishing with 16 points and five rebounds (photos by Danny Karnik).
Multimedia