Final Box (.pdf) | Final Box (.html) | Photo Gallery
THE FLATS – Georgia Tech baseball exploded in the third inning with three home runs and never looked back as they earned their third-consecutive Opening Day victory on Friday night, downing Illinois-Chicago, 6-3.
The Yellow Jacket (1-0) used solo home runs by junior Kyle McCann and sophomore Oscar Serratos and a two-run shot by junior Chase Murray – bringing home a walked Tristin English – to score four of its six total runs. It's the second time in two years that Tech has hit at least three homers, also accomplishing the feat on Feb. 24, 2018 in the second inning against Dartmouth.
Redshirt junior English then added insurance in the fourth inning with a groundout RBI to plate sophomore Luke Waddell, who doubled to right center before stealing third.
Making his third-straight Opening Day start for the Yellow Jackets and pitching a gem was junior Xzavion Curry (1-0), who struck out four-consecutive batters on two separate occasions during the game, including the first four batters of 2019. Curry allowed just five hits, overall striking out nine of the Flames (0-1) hitters, walking none.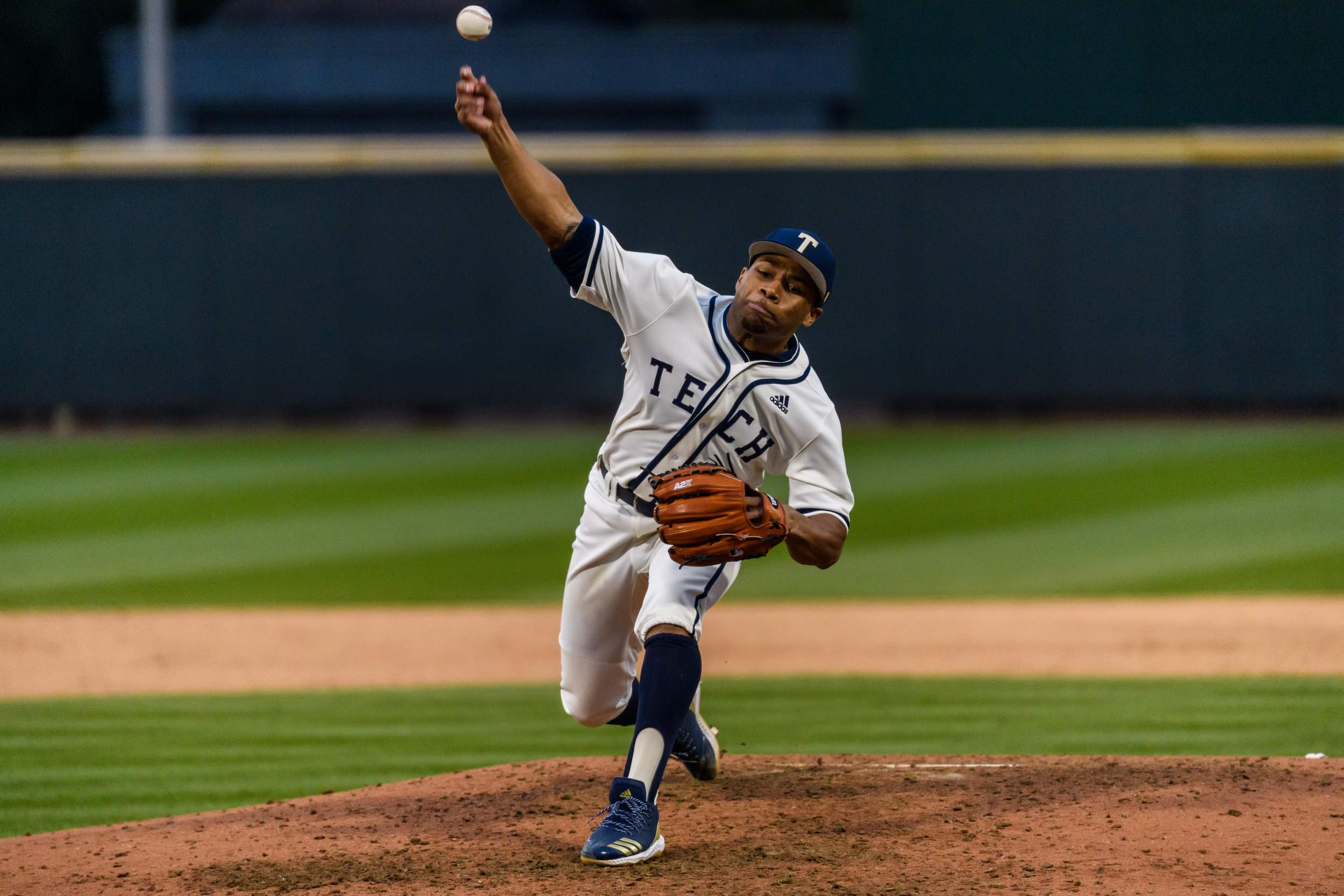 Junior RHP Xzavion Curry earned his third-straight Opening-Day victory by throwing 5.0 scoreless innings, fanning nine batters.
UIC would hit a two-run homer in the sixth to keep Tech on its toes, however 6-6 left-handed pitcher Brant Hurter provided the relief the Yellow Jackets needed when he fanned the next three batters swinging to end the inning.
Tech would get a run back in the seventh when a fielding error by the Flames allowed the bases to be loaded, junior Austin Wilhite hit a long sacrifice fly to bring home Murray from third. Then in the eighth inning, UIC would also hit a sac fly, bringing home Thomas Smart, who was hit by a pitch.
With victory just three outs away, the Jackets went to English to close and it took just nine pitches (seven strikes), striking out one to get the save.
Georgia Tech's 10 hits is the most it']s had on Opening Day since Feb. 13, 2015 when it had 19 hits in a 17-3 win over St. John's. Leading the way on Friday was three multi-hit Jackets led by Murray, who finished 2-for-5 with a homer and two RBI, while Serratos hit 2-for-3 with a homer and one RBI. Wilhite contributed two in his strong day, hitting 2-for-3 with an RBI.
Also in relief for Tech, junior Jonathan Hughes, who tossed 2.0 strong innings, allowing just one hit and one run while facing seven batters overall.
The Flames was led by Matt Bottcher, who hit 2-for-4 on the night and Smart with his home run. Junior RHP Jacob Key took the loss on the day (0-1), going 4.2 innings, allowing eight hits, five runs, three walks and striking out five. Freshman LHP Mark McCabe then finished out, allowing no earned innings.
The Yellow Jackets are back in action on Saturday at Russ Chandler Stadium when they play two, beginning at noon against Richmond (1-0) before hosting West Virginia (0-1) at 6 p.m.
Multimedia
Yellow Jackets vs. the Flames