ACC Tournament home page and bracket
Greensboro, N.C. – Riding a six-game winning streak to close out the regular season, Georgia Tech has earned the No. 4 seed for the 68th annual New York Life ACC Men's Basketball Tournament at the Greensboro Coliseum, receiving a double-bye to the quarterfinal round. The Yellow Jackets, 15-8 overall with an 11-6 ACC mark, will play their first game at 2:30 p.m. Thursday against either Clemson, Miami or Pittsburgh.
The Tigers (16-6, 10-6) open tournament play Wednesday at 2:30 p.m. against the winner of the opening-round game against the winner of the opening-round game between No. 12-seed Pitt (10-11, 6-10) and No. 13 seed Miami (8-16, 4-15), which occurs at 2 p.m. Tuesday. The survivor will advance to face the Yellow Jackets Thursday. It is the first time since the ACC expanded to 15 teams that Georgia Tech has received a bye to the quarterfinals, and the Jackets' fourth-place finish is the team's best since it tied for third in 2004.
Also receiving byes to the quarterfinals are top-seed Virginia (17-6, 13-4), which won the regular-season title after defeating Louisville Saturday, No. 2-seed Florida State (15-5, 11-4), which lost Saturday at Notre Dame, and No. 3-seed Virginia Tech (15-5, 9-4), which hasn't played since Feb. 27.
Clemson grabbed the fifth seed Saturday after defeating Pittsburgh, while North Carolina (16-9, 10-6) wound up in sixth place with its win over Duke, and Louisville (13-6, 8-5) fell to seventh place after its loss to Virginia.
Other opening-round games Tuesday will pit No. 10 Duke (11-11, 9-9) against No. 15 Boston College (4-15, 2-11) at 4:30 p.m. Thursday, while No. 11 Notre Dame (10-14, 7-11) faces No. 14 Wake Forest (6-15, 3-15) at 7 p.m. Tuesday.
No. 8 Syracuse (15-8, 9-7) will take on No. 9 NC State (13-9, 9-8) to tip off the second round at noon Wednesday, followed by Clemson vs. Pitt/Miami at 2:30 p.m., No. 7 Louisville vs. the Duke/BC winner at 6:30 p.m., and No. 6 North Carolina vs. the Notre Dame/Wake Forest winner at 9 p.m.
Opening-round and second-round games in the ACC Tournament will be televised live on the ACC Network. Quarterfinal games on Thursday and semifinals games Friday will air live on ESPN or ESPN2. Saturday's championship game will air on ESPN.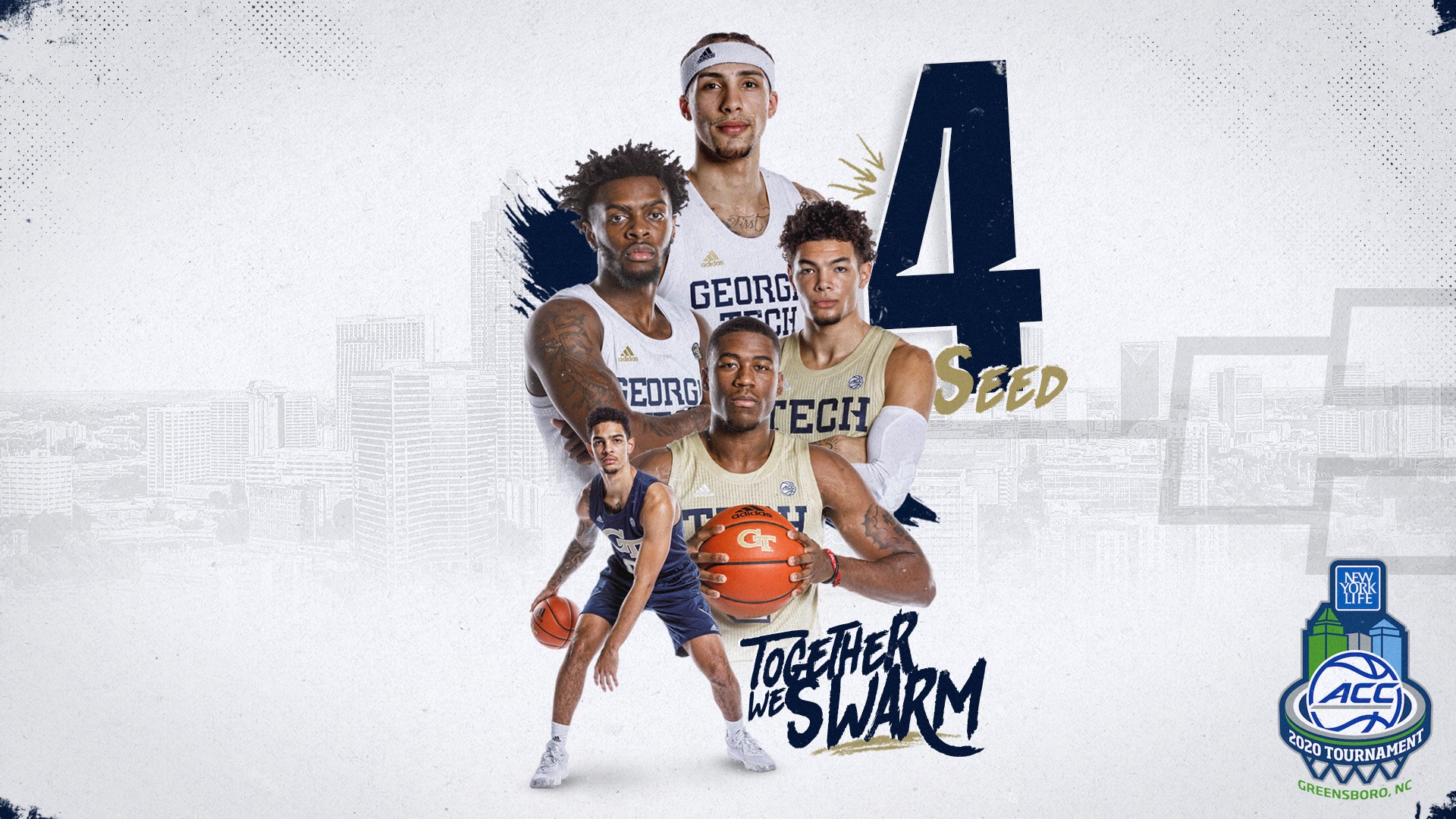 "I'm so proud of our young men the way they've competed over the last few weeks to get us to this point," said head coach Josh Pastner. "The way they have fought, kicked, scratched and clawed and punched their way off the ropes has been incredible. It's a real credit to the character of our guys. Now we need to get our guys rested and healthy, because it's been a grind over these past three weeks."
Tech, which was projected to finish ninth in the official pre-season media poll, enters its 41st ACC Tournament with a number of achievements in the 2020-21 season that haven't been accomplished for a long time, or have been done for the first time. For the first time since 2005, the Jackets are not playing on the opening day, and their No. 4 seed is their highest since 2004.
The Yellow Jackets' 11 ACC wins this season matches their 2019-20 total, and their 11-6 mark by percentage (61.1 pct.) is the fourth-highest in team history. The 22 conference wins over the last two seasons are the most for the program over a two-year span. Tech's current six-game winning streak is the longest for the team since the 1995-96 season, and included in that streak are three straight road wins, the most for the Jackets' since the 2007-08 season.
TECH'S ACC TOURNAMENT HISTORY
Georgia Tech has played in 40 ACC Tournaments, and has a 26-37 all-time record in the event. The Yellow Jackets have won three championships – 1985 (Atlanta), 1990 (Charlotte) and 1993 (Charlotte), and have a 9-17 all-time record when the tournament has been held in Greensboro.
Tech has been a runner-up four times (1986, 1996, 2005, 2010). The 1986, 1996 and 2010 runs to the finals occurred in Greensboro. Tech also made the finals in 2005 at the Verizon Center in Washington, D.C.
Tech was 0-2 in the ACC Tournament under coach Dwane Morrison, 15-16 under Bobby Cremins (including all three titles), 9-11 under Paul Hewitt (runner-up in 2005 and 2010), 2-5 under Brian Gregory. and 0-3 under Josh Pastner.
Tech did not play in the 2020 tournament while serving an NCAA postseason ban.
Alexander-Tharpe Fund
The Alexander-Tharpe Fund is the fundraising arm of Georgia Tech athletics, providing scholarship, operations and facilities support for Georgia Tech's 400-plus student-athletes. Be a part of developing Georgia Tech's Everyday Champions and helping the Yellow Jackets compete for championships at the highest levels of college athletics by supporting the A-T Fund's Annual Athletic Scholarship Fund, which directly provides scholarships for Georgia Tech student-athletes, and the Support The Swarm Fund, created to give fans an opportunity to help Georgia Tech athletics maintain its recent momentum through the financial challenges of the Covid-19 pandemic! To learn more about supporting the Yellow Jackets, visit atfund.org.  
ABOUT GEORGIA TECH MEN'S BASKETBALL
Georgia Tech's men's basketball team is in its fifth year under head coach Josh Pastner, having finished fourth in the ACC in 2020-21, the program's highest finish since 2004. Tech has been a member of the Atlantic Coast Conference since 1979, won three ACC Championships (1985, 1990, 1993), played in the NCAA Tournament 16 times and played in two Final Fours (1990, 2004). Connect with Georgia Tech Men's Basketball on social media by liking their Facebook Page, or following on Twitter (@GTMBB) and Instagram. For more information on Tech basketball, visit Ramblinwreck.com.
-#TogetherWeSwarm-