Final Stats (.html) | Final Stats (.pdf) | Postgame Notes | Postgame Quotes | Multimedia | Photo Gallery
Clemson, S.C. — Jordan Mason ran for 72 yards and a touchdown, and quarterback James Graham connected with freshman Ahmarean Brown on a 28-yard score, but four turnovers proved costly in Georgia Tech's 52-14 Atlantic Coast Conference football loss to defending national champion Clenson on Thursday night at Memorial Stadium.
In the nationally televised season opener for both teams, Clemson (1-0) seized the momentum by capitalizing on two Georgia Tech turnovers for short touchdown drives and a pair big plays for scores in the first half.
The Yellow Jackets (0-1) forced the Tigers to punt on their opening offensive possession, but return man Juanyeh Thomas muffed Will Spiers' punt at his own 16-yard line, leading to Clemson's first TD on a 6-yard rush from quarterback Trevor Lawrence. Clemson made it 14-0 later in the first period on Travis Etienne's 90-yard gallop.
In the second period, true freshman Jamious Griffin fumbled on a third-and-1 play to give Clemson the ball at the Jackets' 14, and Etienne scored the Tigers' third TD on a 14-yard run.
Tech had a chance for its first score midway through the second quarter after Tre Swilling picked off a Lawrence pass and returned it to the Clemson 2-yard line. But the Jackets were unable to capitalize after Denzel Johnson intercepted Tobias Oliver's pass in the end zone on fourth-and goal from the 1. Five plays later, Lawrence found Tee Higgins open for a 62-yard pass play to put the Tigers ahead, 28-0.
Etienne expanded the Tigers' lead to 35-0 with a 48-yard run on Clemson's first possession of the second half before Tech got on the board with an explosive three-play, 75-yard drive capped by Mason's seven-yard run. The Jackets got their second score in the fourth period when Graham hooked up with Brown for a 28-yard TD.
Tech used three quarterbacks in the game, with Oliver, Graham and Lucas Johnson combining for 137 yards through the air. Oliver also ran 20 times for 56 yards.
Etienne finished the game with 205 yards and three touchdowns on 12 carries, while Lawrence completed 13 of 23 passes for 168 yards, one touchdown and two interceptions.
Tech returns to action next Saturday with its home opener against South Florida. The game kicks off at 2 p.m. and will be televised nationally on the ACC Network.
Jordan Mason ran 13 times for 72 yards and scored the Yellow Jackets' first touchdown.
Postgame Notes
Team
Georgia Tech dropped its 2019 season opener to defending national champion Clemson, which won its 16th straight game overall and its 16th straight home game at Memorial Stadium.
The loss was Georgia Tech's fifth-straight to Clemson and its sixth-straight at CU's Memorial Stadium.
Georgia Tech fell to 2-9-1 all-time when playing the nation's No. 1 team.
Georgia Tech dropped to 4-3 all-time when opening the season with an Atlantic Coast Conference game.
Georgia Tech fell to 6-2 all-time when opening the season against Clemson. GT, which was playing Clemson in a season opener for the first time since 1962, dropped an opener to CU for the first time since 1903.
Georgia Tech trailed 28-0 at halftime but miscues led to a 21-point swing in the opening half. GT fumbles inside its own 20 yard line led to Clemson touchdown drives of 16 and 14 yards in the first quarter. In the second quarter, the Yellow Jackets couldn't convert on a first-and-goal from the CU 3 yard line, capped by an interception on fourth-and-goal from the 1 yard line.
Twenty-two freshmen (12 redshirt, 10 true) played for the Yellow Jackets while only 11 seniors saw action.
Eleven Yellow Jackets made their first collegiate starts: So. LG Mikey Minihan, Jr. RT Jack DeFoor, So. WR Malachi Carter, Fr. WR Ahmarean Brown, Jr. DE Jaquan Henderson, Jr. DE Antwan Owens, Jr. DT Chris Martin, Sr. DT Brentavious Glanton, r-Fr. CB Zamari Walton, So. S Juanyeh Thomas and So. NB Kaleb Oliver.
Additionally, two graduate transfers made their first starts at Georgia Tech: RG Jared Southers (Vanderbilt) and TE Tyler Davis (UConn).
Individual Notes
Georgia Tech sophomore RB Jordan Mason ran for a team-high 72 yards on 13 carries (5.5 ypc avg.). After rushing for at least 85 yards in each of the first three games of his career last season, Mason eclipsed the 40-yard mark for only the fourth time in the last 11 games.
Georgia Tech sophomore CB Tre Swilling's second quarter interception of Clemson QB Trevor Lawrence was the second INT of Swilling's career (prev. at North Carolina, Nov. 3, 2018).
Georgia Tech sophomore S Kaleb Oliver's second quarter interception of Clemson QB Trevor Lawrence was the second INT of Oliver's career (prev. vs. Alcorn State, Sept. 1, 2018).
Georgia Tech sophomore S Juanyeh Thomas' first-quarter forced fumble was the first of his career.
Georgia Tech redshirt freshman DL Justice Dingle's first-quarter fumble recovery was the first of his career.
Georgia Tech sophomore PK Wesley Wells moved to a perfect 49-for-49 in his career on place-kick attempts by making an extra point, his only kick attempt of the game.
With a 7-yard reception in the fourth quarter, TE Tyler Davis became the first Georgia Tech tight end to catch pass in a game since Collin Peek's 4-yard catch in third quarter vs. Georgia on Nov. 24, 2007.
Redshirt freshman QB James Graham's 28-yard touchdown pass to true freshman Ahmarean Brown in the fourth quarter was Graham's first-career touchdown pass and Brown's' first-career touchdown reception.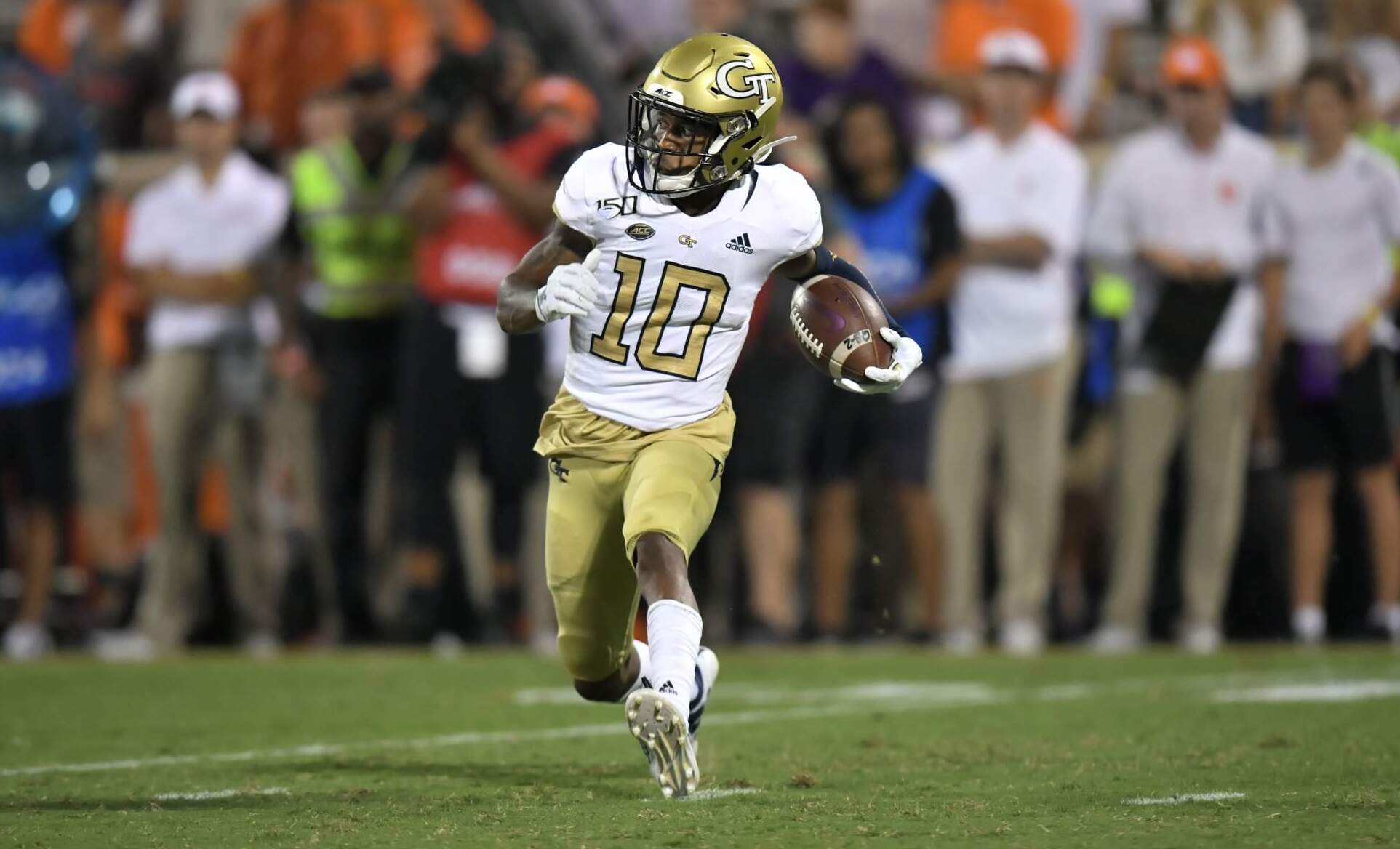 True freshman Ahmarean Brown scored on a 28-yard touchdown pass from redshirt freshman James Graham in the fourth period, the first career touchdown catch and throw for each.
Postgame Quotes
GEORGIA TECH HEAD COACH GEOFF COLLINS
Opening statement:
"I've first got to give a ton of respect to Clemson. Really good football team, really well coached. They did a great job tonight. Twenty-one point swing early. We had chances. We had 4th-and-1. We didn't convert. We got down on the goal line, didn't convert. Turnovers early hurt us. I think the story of the game was big plays. I thought we tackled well. I thought our guys ran to the ball. They had some really nice throws and catches and they broke some big runs. So the explosive plays, when we go back and look at it, limit those and it's a different game. Really proud. We had a bunch of young guys play. There were 22 freshmen who played in the game, 11 true freshmen who played in the game and we only have 11 seniors. I'm really proud of their contribution. We're just going to continue to get better. I'm just proud of the way they fought and of the way they stuck together. Injuries piled up on special teams, but the guys kept rolling in, trying to give their all for each other."
On building from this game:
"Just the tackling piece. Whenever you're playing against elite running backs and an elite offensive line, you can't give them anything. So we've got to make sure we're fitting in the gaps and any little creases where we're going to get exposed. So eliminating them. I do think that, as a whole, we tackled well. Just elite players who find a seam, they got us. Then just the 50-50 balls. Offensively, protecting the football, playing clean. We're still figuring out who we are, what our personnel can do. I'm proud of the offensive line. They went out there and battled. Any group was out there battling."
On Georgia Tech's perseverance:
"They're special. We're going to be so good moving forward. We're just going to get better and better every single week. The conversations as we're coming to the locker room, the belief, the love, I think that will transcend and we will continue to get better every week. Just proud of them. I told them last night how much I love them, how much I respect them and it might even be stronger after the way they fought and stayed together."