Complete game notes | Coach Pastner audio | Bubba Parham audio | Where to watch (RSN affiliates) | Watch online | Listen
THE FLATS – Georgia Tech continues Atlantic Coast Conference play Saturday afternoon with a road game against Pittsburgh at the Petersen Events Center. Tip time is 2 p.m. for the first of two scheduled meetings between the teams this season.
Georgia Tech update (11-12, 5-7 ACC) – Tech sits in a five-way tie for eighth place in the ACC standings, a game and a half out of fifth place, and has four games upcoming with teams also in that tie, including two against Pittsburgh. The Jackets have won two of their last three games in conference play, including a 76-57 verdict over Virginia Tech at home Tuesday night. They are 3-3 on the road in ACC games, winning at NC State, North Carolina and Boston College.
Pittsburgh update (14-9, 5-7 ACC) – The Panthers have dropped three of their last four games, all three losses on the road, at Syracuse, Duke and, most recently, at Notre Dame Wednesday night by an 80-72 score (same score as Tech's loss last Saturday in South Bend). Pitt is 4-2 in ACC games at home this season, including a season-opening triumph over Florida State and wins over Boston College, Miami and North Carolina.
Broadcast information – Live television on the ACC's Regional Sports Networks (Fox Sports South in Atlanta. Online streaming available on ACC Network Extra available through the ESPN app. Radio coverage by Learfield IMG College (680 AM and 93.7 FM the Fan in Atlanta, TuneIn app). Tech broadcast available on satellite radio (XM ch. 383, internet ch. 973).
Head coach Josh Pastner meets the media prior to Thursday's practice
THE TIPOFF
Knotted up – Five teams are tied at 5-7 in the ACC entering the weekend – Georgia Tech, Pittsburgh, Boston College, Clemson and Virginia Tech. The Yellow Jackets have met two of those teams and won both (BC and Virginia Tech), while Pitt has faced one, having beaten Boston College.
An easy one – Georgia Tech's 76-57 win over Virginia Tech Wednesday night featured its largest lead of the season (30 points) and its second-largest margin of victory. Tech's previous five ACC games had been decided by a total of 27 points.
Efficient – Tech has scored at a rate over 100 points per 100 possessions in three straight games, and has exceeded that mark five times in ACC play since the start of January (North Carolina, Boston College, Notre Dame twice, Virginia Tech).
Less than a full deck – Georgia Tech has had its full roster available for only 11 games this season, from Tech's Dec. 22 opener in the Diamond Head Classic, when Jose Alvarado returned from a seven-game injury absence, through Jan. 22 at Louisville. Leading scorer Michael Devoe was sidelined for three games with an injured left foot. Jordan Usher did not play in the season's first seven games, sitting out as a transfer.
Six – The number of different starting lineups Tech has used this season. The most frequent has been Jose Alvarado, Michael Devoe, Jordan Usher, Moses Wright and James Banks III, used 11 times in the last 14 games, interrupted only by Devoe's injury that forced him to miss three games. Moses Wright is the only Jacket to start every game this season.
Offense for defense – Georgia Tech ranks seventh in the ACC in scoring average in conference games (70.17) and 12th in scoring defense (71.67), a reversal of last year's final rankings (15th scoring offense, 7th scoring defense).
All-for-ado – Georgia Tech has averaged 70.1 points and shot 46.2 percent from the floor in the 14 games since Jose Alvarado returned to the court. The Yellow Jackets have shot 50 percent or better in six of those games.
Wright stuff – Moses Wright has scored in double digits in 12 of his last 14 games, averaging 14.1 points and 6.7 rebounds while hitting 53.3 percent of his shots from the floor. The 6-9 junior ranks No. 2 in the ACC in field goal percentage (53.9) and No. 12 in rebound average (7.2).
Big miss – Jose Alvarado has averaged 14.6 points, 4.3 assists and 2.5 steals in 14 games since his return from an ankle injury which sidelined him for seven games. He's averaged 17.2 points over the last 10 games, scoring 20 or more points five times.
Brooklyn burglar – Alvarado's nine steals vs. NC State broke the Tech single-game record of eight set by Kenny Anderson against Duke on Jan. 30, 1991. Only three players in ACC history have had more steals in a game, and only two of those occurred against an ACC opponent. He has averaged 2.5 per game in ACC games, the top figure in the conference.
Ushering in – Jordan Usher made his Tech debut Dec. 18 against Ball State after sitting out the required two semesters after he transferred from Southern California last January. The 6-7 junior guard/forward has averaged 8.3 points and 3.7 rebounds. In Tech's six wins over that stretch, he has averaged 10.1 points (27-48 FG), 4.8 rebounds, 3.0 assists.
No ducking – Georgia Tech's schedule is the 12th-strongest in the nation according to KenPom.com and No. 5 according to the NCAA NET rankings. Tech has played seven games against quad 1 teams and nine against quad 2 teams, five of those 22 against non-conference teams.. The Jackets have two remaining games against quad 1 teams (Louisville, Syracuse), three against quad 2 teams (Pitt, Clemson, Wake Forest). The Jackets' non-conference schedule rates 43rd overall by KenPom, 58th in the NET.
SERIES VS. PITTSBURGH
Pittsburgh won the first three meetings between the two teams after the Panthers became members of the ACC, but the Yellow Jackets have come back to win three of the last five, including a 73-65 win at McCamish Pavilion in the teams' only meeting of the 2018-19 season.
Tech's 69-54 win on its last visit to the Petersen Events Center (Jan. 13, 2018) was the widest margin of victory for either team since Pitt joined the ACC. The other meetings between the two teams as ACC brethren have been decided by an average of 5.7 points.
The teams have played home-and-away only once since the Panthers joined the ACC.
Tech won the first five games in the series, prior to Pitt's entry into the ACC, all of which took place between 1966 and 1989.
The two most entertaining games between Tech and the former Big East member played in the same month of the 1989-90 season, when the Yellow Jackets were on the way to their second ACC title and first Final Four appearance. Bobby Cremins and Paul Evans were the respective head coaches at the time.
Tech overcame an early 26-5 deficit to win the ACC/Big East Challenge game in Hartford in early December, getting 42 points from Dennis Scott, including the game-winner with 8 seconds left. Later in the month, the Panthers came to Atlanta for a Kuppenheimer Classic game at the Omni, and Tech won the game without head coach Bobby Cremins, who was attending his father's funeral. Kenny Anderson recorded a triple-double with 32 points, 12 rebounds and 18 assists.
Tech scored easy wins over Pitt in the first three games of the series, all under head coach Whack Hyder, two of which were played at Alexander Memorial Coliseum on the Tech campus.
Tech is 2-0 against the Panthers' current head coach, Jeff Capel, having scored an 86-65 victory over VCU during the 2003-04 season when Capel was the Rams' head coach.
Junior guard Bubba Parham meets the media prior to Thursday's practice
Moses Wright has reached double digits in points in 11 of his last 13 games, including 17 points at Notre Dame. (photo courtesy of Notre Dame)
WHAT'S TRENDING
Against ACC teams (according to KenPom.com), Tech ranks No. 5 in effective field goal percentage (51.0) against the league, the Yellow Jackets' highest ranking in that category since they were No. 2 in 2010 (49.0). They also are sixth in offensive efficiency (100.1).
The Jackets rank No. 1 in percentage of points scored on two-point field goals (60.3), and have been the No. 1 team in the ACC in that category all four years under Josh Pastner. Tech ranks fifth nationally in all games.
Tech has exceeded 100 points per 100 possessions nine times, six of those games coming since Jan. 4 at North Carolina, which was the Jackets' highest efficiency rating of the season (13.2). Tech exceeded 100 in each of its last two games against Notre Dame and Virginia Tech.
Georgia Tech ranks No. 33 in defensive efficiency according to KenPom.com (92.8 points per 100 possessions), No. 35 nationally in effective defensive field goal percentage (45.5) and 43rd in three-point field goal defense (30.1).
Tech has held 11 opponents this season under 40 percent from the floor (four ACC opponents, Virginia Tech hit 38.2 percent), and eight under 30 percent from three-point range (three ACC opponents, Hokies hit 17.4 percent after coming in at 36.6 percent for the season).
Tech has held five opponents to their lowest offensive efficiency of the season, including two of its foes in Hawai'i – Elon, Arkansas, Nebraska, Boise State and Hawai'i. Six other teams, including NC State (both meetings), Kentucky, Duke and Boston College, posted one of their eight lowest offensive efficiency ratings against the Yellow Jackets.
Georgia Tech's adjusted tempo is 69.2 possessions per game according to KenPom.com (No. 124 in the nation), its best rate and ranking in Josh Pastner's four years at Tech. Tech has played in the mid-60s in each of its last five ACC games, but the Yellow Jackets' tempo in league play (69.3) is the fourth-highest.
Two fouls in the first half? No problem. Georgia Tech ranks No. 1 in the nation, according to KenPom.com, in 2-foul participation, a measure of percentage of available minutes played by players with two fouls (68.0 pct. for Tech). The Jackets led the nation in this category in 2018-19, was fourth in 2017-18 and 35th in 2016-17.
Tech has averaged 70.5 points per game away from home this season (73.8 in its six ACC road games), and averaged 66.2 at McCamish Pavilion.
The Jackets are 6-1 this season when leading at the half, 5-11 when trailing.
None of Georgia Tech's starters played as many as 32 minutes (Moses Wright played 31:56) against Virginia Tech, and the Yellow Jacket reserves played nearly 50 minutes of the game.
Georgia Tech has averaged 39.8 points in the paint over its last 10 games (34 vs. Virginia Tech), compared to 27.6 for its opponents. Only Duke (38-36) and Louisville (32-30) have scored more than Tech in that stretch.
Georgia Tech has averaged just 10 turnovers in its last four games (13 each vs. NC State and Morehouse, five at Notre Dame, 10 vs. Virginia Tech), and just 14.1 in the 14 games since the return of Jose Alvarado to the Yellow Jackets' lineup, compared to 17.4 per game prior to that.
Tech's turnover rate in ACC games is 14.8 per game, and the Jackets are on the plus side of the assist/turnover ratio for the first time this season (181/178). The Jackets have been on the plus side of that ledger in six of the last 10 games, including the last three in a row.
Tech has won the rebounding battle five times and held even twice in 11 games since the beginning of January. The Jackets are plus-17 on the boards in ACC games for the season, averaging around one per game more than their opponents.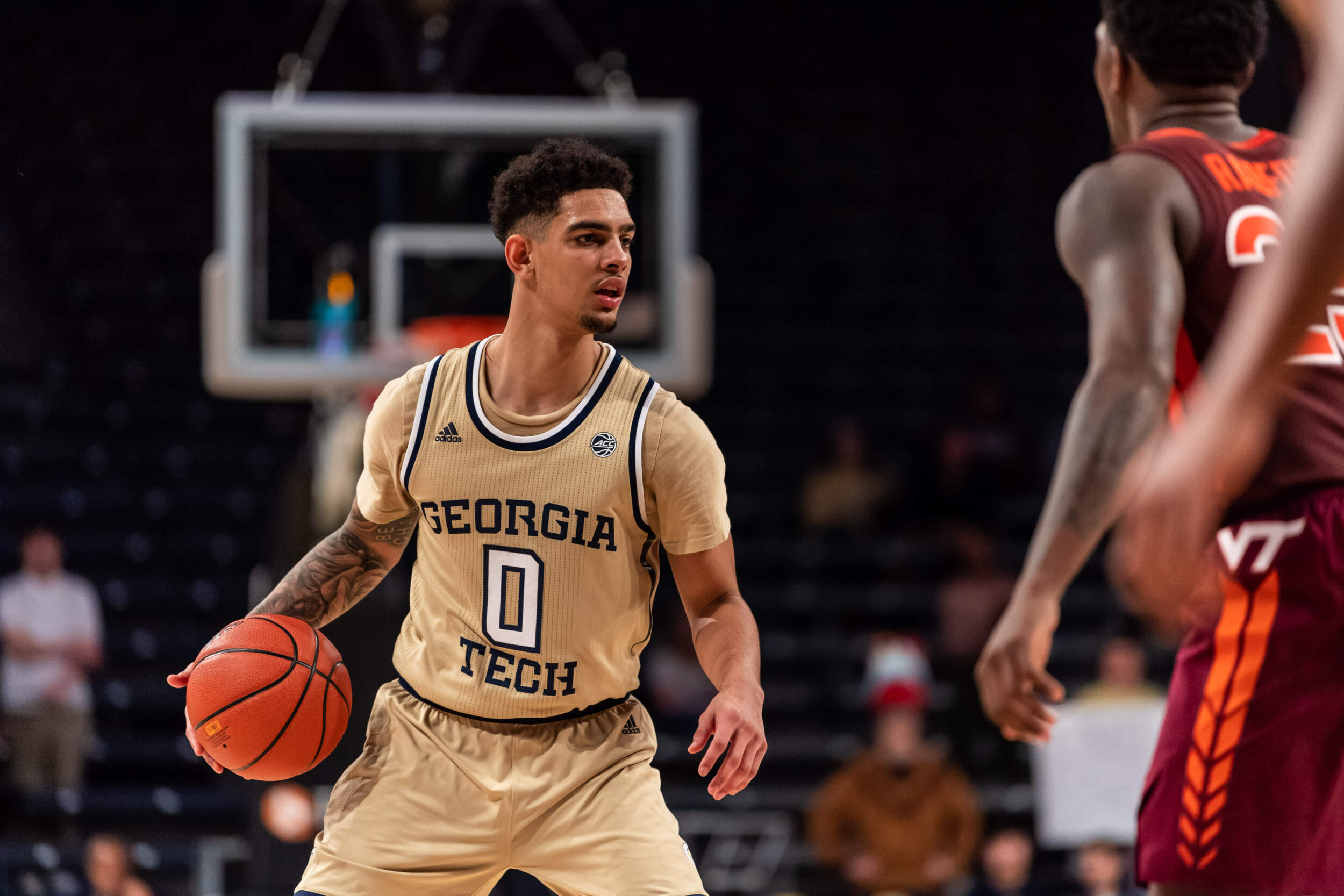 Michael Devoe returned to the court after a three-game absence to score 12 points against Virginia Tech. (photo by Danny Karnik)
PERSONNEL TRENDS
Jose Alvarado scored 20 points to lead the Jackets against Virginia Tech, his fifth 20-point game this season, all since Jan. 4 at North Carolina, and has 16 in his career. He went 8-of-14 from the floor, 3-of-6 from three, with six assists and just one turnover in 29:14. The ACC's steal leader in conference games had two of those.
Alvarado's performance against Virginia Tech elevated him above 900 points for this career. He began the night with 886.
Alvarado has hit 22-of-55 shots (40 pct.) from three-point range in his last 10 games (3-6 vs. Virginia Tech) and is 56-of-113 overall (49.6 pct.) during that stretch. In his last two games – 18-of-33 from the floor, 6-of-13 from three-point range.
Michael Devoe returned to the court and to the starting lineup for the first time since Jan. 22 at Louisville. He missed the last three games with a bruised left foot. The sophomore guard scored 12 points, his 15th double-digit game this season. He went 5-of-9 from the floor with a pair of threes, had four assists and just one turnover in 32 minutes.
Moses Wright scored 14 points (5-10 FG) with seven rebounds against Virginia Tech, his fourth double-digit scoring game in the last six after a streak of eight straight with 10 or more. The 6-9 junior has failed to reach double figures just five times this season.
Wright has connected on 62.7 percent of his free throws (32-of-51) over Tech's last 14 games after going just 4-of-14 in the first nine games of the season.
Bubba Parham scored 10 points against Virginia Tech to notch his sixth double-digit game this season. All of them have come against power conference teams, three of them in ACC games. He went 2-for-4 from three-point range and has connected on 13-of-36 in conference games this season.
James Banks III had seven points and 10 rebounds in last year's victory over Pittsburgh. (photo by Danny Karnik)
Alexander-Tharpe Fund
The Alexander-Tharpe Fund is the fundraising arm of Georgia Tech athletics, providing scholarship, operations and facilities support for Georgia Tech's 400-plus student-athletes. Be a part of developing Georgia Tech's Everyday Champions and helping the Yellow Jackets compete for championships at the highest levels of college athletics by supporting the A-T Fund's Annual Athletic Scholarship Fund, which directly provides scholarships for Georgia Tech student-athletes, and Athletics Initiative 2020, Georgia Tech athletics' ongoing $125 million initiative to allow Tech to recruit the nation's most elite student-athletes, build a better student-athlete once they arrive on The Flats and, ultimately, win! To learn more about supporting the Yellow Jackets, visit atfund.org.   
ABOUT GEORGIA TECH MEN'S BASKETBALL
Georgia Tech's men's basketball team is in its fourth year under head coach Josh Pastner. Tech has been a member of the Atlantic Coast Conference since 1979, won three ACC Championships (1985, 1990, 1993), played in the NCAA Tournament 16 times and played in two Final Fours (1990, 2004). Connect with Georgia Tech Men's Basketball on social media by liking their Facebook Page, or following on Twitter (@GTMBB) and Instagram. For more information on Tech basketball, visit Ramblinwreck.com.
Season tickets for men's basketball can be purchased here.