By Andy Demetra
Georgia Tech ended ACC play with Wake Forest last season.
They open with the Demon Deacons this year.
After two months of tweaking, tinkering and fine-tuning, the Yellow Jackets (8-5, 0-0) finally step into the crucible of conference play Saturday when they host Wake Forest (7-5, 0-0) at McCamish Pavilion.  In a league where "easy" is non-existent, the intensity should start on the opening tip.  Here are the top five notes, quotes and anecdotes from my chart in preparation for Saturday's matchup in Atlanta (2 p.m. ET, Georgia Tech IMG Sports Network):
***
Wake Forest has had a player rank among the league leaders in usage rate each of the last two seasons (usage rate is defined as the percentage of a team's offensive possessions that end with a player making a shot; missing a shot that isn't rebounded by a teammate; or committing a turnover).  Last year the conference was led by Bryant Crawford, a crafty, twitchy point guard who ranked sixth in the ACC in assists.  The year before it was power forward John Collins, whose rim running and potent offensive rebounding made him a first-round pick of the Atlanta Hawks.
Crawford and Collins played vastly different positions, but their usage was unified around a common principle.  Wake Forest, led by fifth-year head coach Danny Manning, likes to generate its offense from a steady diet of pick-and-rolls and high post entries.  Junior Brandon Childress (16.4 ppg) plays with pace, attacks off ball screens and is an adept finisher in transition.  Wake's three-point shooters aren't as plentiful as last year, though 6-5 sophomore Chaundee Brown (11.5 ppg, 37 pct. on threes) has heat-check potential.
Wake Forest also scores a lot of points off free throws – a whopping 26.8 percent, the third-highest average in the nation.  Much of that owes to their ability to offensive rebound well and take advantage of teams that get broken down by their ball screens.  James Banks, Abdoulaye Gueye and Moses Wright's ability to maneuver through screens – and their ability to defensive rebound – could be key.  They'll also need to do a good job "gapping up" Crawford and not giving him unencumbered driving lanes.
Also pay attention to how Georgia Tech defends those screens.  In their matchup in Winston-Salem last year, Tech switched on all ball screens; Wake finished with five turnovers, a season low forced by the Jackets, in a 79-62 loss.  When they met two weeks later in Atlanta, Tech junked those switches and fought over the top of picks.  The result was a season-high 22 turnovers forced in a 64-56 win.  How might Tech negotiate those screens Saturday?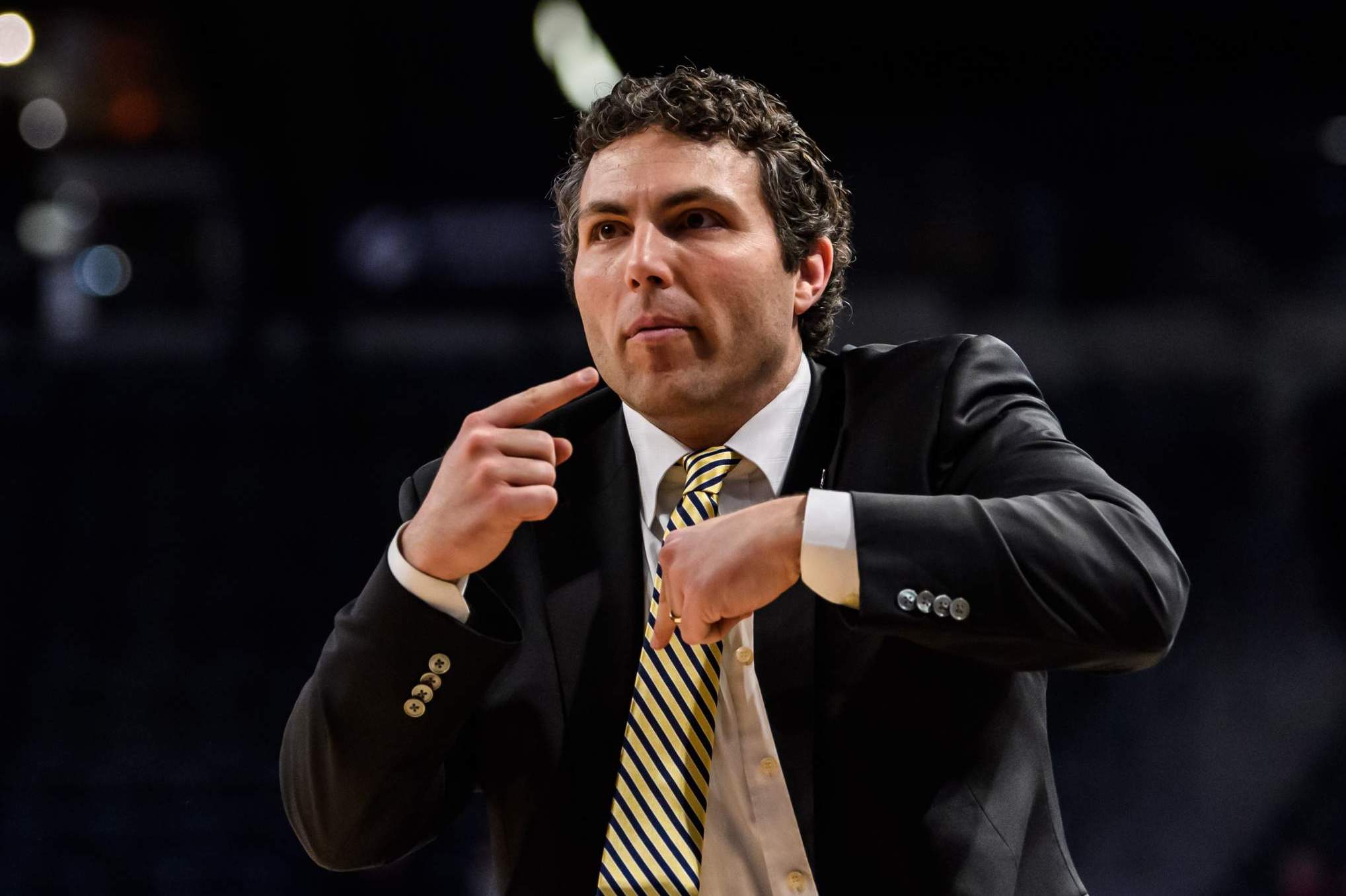 Coach Josh Pastner is 8-1 in conference home openers in his head coaching career.
A shin injury robbed Curtis Haywood II of much of his first trip through the ACC last year.  His shooting, though, could be a key barometer for the Jackets this season.  Look at Haywood's three-point percentages in Georgia Tech's wins versus losses in his career:
Curtis Haywood II – 3pt.%
Wins: 41.8%  (23 of 55)
Losses: 30.0%  (15 of 50)
Wake Forest has allowed 22.9-percent shooting from three over its last six games.
***
In addition to Crawford (turned pro), Wake Forest lost center Doral Moore (turned pro) and guard Keyshawn Woods (grad transfer) off last year's team.  The trio combined to average 39.9 points per game (by comparison, Josh Okogie, Tadric Jackson and Ben Lammers averaged 42.6).
Filling that scoring void has been one of the more talented freshmen in the ACC in 6-8 forward Jaylen Hoard (15.2 ppg, 7.7 rpg).  An athletic finisher and active offensive rebounder, Hoard scored a career-high 23 points and grabbed 15 rebounds in a win over Cornell.  With 60 percent of his shot attempts coming from inside 10 feet, he should challenge the post chops of Wright and Evan Cole, who had a double-double against Wake Forest last season (10 pts., 10 rebs.).  Can the Yellow Jackets make Hoard work on defense and cut his legs as the game wears on?
***
Both of Georgia Tech's point guards have connections – direct or peripheral – to the Demon Deacons.  Freshman Michael Devoe, fresh off a career high-tying 14 points against USC Upstate, took an official visit to Wake Forest.  Jose Alvarado considers former Wake point guard Chris Paul his basketball idol.  The sophomore told me he watches mixtapes of CP3 as part of his pregame routine.
Alvarado and Devoe will direct the Yellow Jackets against a Wake Forest team that ranks last in the ACC in defensive efficiency entering conference play.  Young teams often get taxed by having to stay disciplined for long stretches of defense.  Can Georgia Tech continue to cut hard, not get jammed up in the high post, and make the "plus-one passes" that spurred them to 57 percent shooting over the last two games?  Wake Forest also ranks last in the ACC in turnover percentage defense.  The Jackets need to heed Pastner's calls to cut hard, but they can't sabotage themselves by forcing passes against a Wake Forest defense that won't gamble for steals.
***
Wake Forest guard Torry Johnson, a graduate transfer from Northern Arizona, was coached at NAU by Jack Murphy, a former assistant of Pastner's at Memphis.
Pastner, by the way, is 8-1 in conference home openers as a head coach (6-1 Memphis, 2-0 Georgia Tech).
And apropos of nothing, Pastner has the exact same record as Georgia Tech head coach (42-40) as the Yellow Jackets have in their all-time series with Wake (42-40).
Now that we're prepared, we hope you are as well.  Join us for pregame coverage starting at 1:30 p.m. ET on the Georgia Tech IMG Sports Network.  See you at McCamish.
–AD–