By Andy Demetra | Voice of the Yellow Jackets
Technically, Georgia Tech faces the last remaining unbeaten team in the ACC tonight.
After grinding out a come-from-behind win over North Carolina on Wednesday, the Yellow Jackets (5-3, 1-1 ACC) stay at McCamish Pavilion Sunday for the first of two meetings with Wake Forest.  Few teams have been impacted by COVID more than the Demon Deacons: after a pair of blowout wins over Thanksgiving weekend, Wake Forest (3-0, 0-0 ACC) waited 34 days before playing again, outlasting Catawba College in a shotgun-scheduled game on New Year's Eve.  In between, the Demon Deacons had five games cancelled, including a pair in the ACC.
From a scheme and personnel standpoint, that may make Wake, led by first-year head coach Steve Forbes, one of the bigger mysteries in the ACC heading into 2021.  So what will it take for Georgia Tech to build off its gutsy performance from Wednesday?  Enjoy the top five notes from my chart as Tech looks to extend a 13-game home win streak against the Demon Deacons (6 p.m. ET, Georgia Tech Sports Network from Learfield IMG College):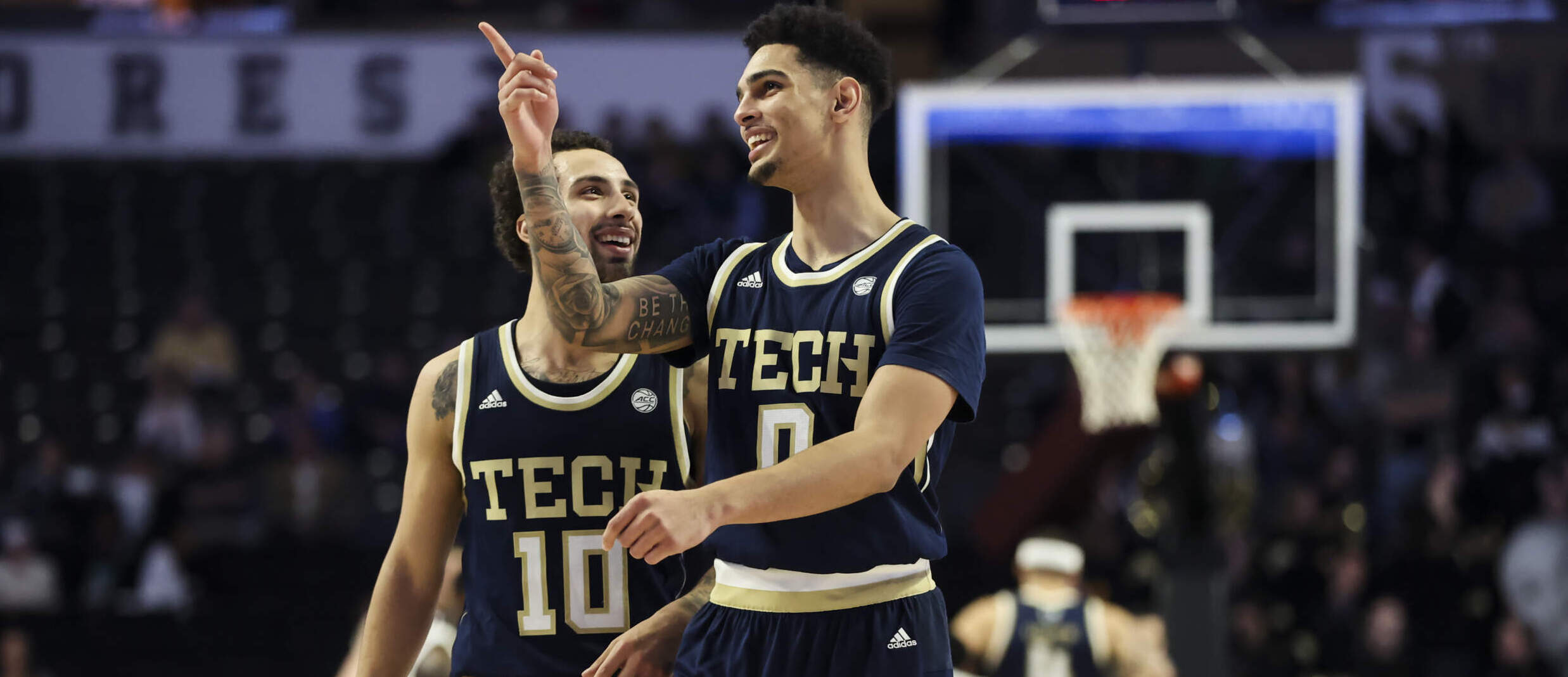 Jose Alvarado and Mochael Devoe combined for 46 points in last year's victory at Wake Forest. (photo by Jaylynn Nash)
Jose Alvarado and Michael Devoe produced their own sendoff to 2020.
The pair had dual 20-point outings in Tech's 72-67 win over North Carolina, marking the first time they each scored 20+ points against an ACC opponent since… Wake Forest last season.
Wake Forest – Feb. 19, 2020
Devoe – 24 pts., 5 assists
Alvarado – 22 pts., 4 assists
*Scored or assisted on 22 of Georgia Tech's 26 FGM
Devoe and Alvarado controlled the game that night with clever feints, strong finishes, and smart passes out of the pick-and-roll in an 86-79 win in Winston-Salem.  They may have come in well-motivated:  Devoe took an official visit to Wake Forest, while Alvarado lists former Demon Deacon legend Chris Paul as his basketball idol.  They now face a Wake defense that likes to deny swing passes and keep the ball on one side of the floor.  The Demon Deacons also hunt for charges and help vigorously from the weak side.
They've only played three games – and against modest competition at that – but the Demon Deacons lead the nation in turnover percentage (33.0 pct.).  Against a team that hasn't had many live games to develop chemistry on offense, Tech can't get overheated against Wake Forest's hustle, and allow the Demon Deacons to score easy baskets off turnovers and fast breaks.
*****
Michael Devoe will look to conjure up more wizardry in his first game back after New Year's.  The junior from Orlando, Fla., told us last year on the "Georgia Tech Basketball Report" that his family's New Year's Day tradition is binge-watching all eight Harry Potter movies.  Wake Forest has felt his magic well: in two career games against the Deacs, Devoe is averaging 20 points on 65.0 percent shooting (13-20).
*****
It understandably stirred angst in Tech fans:  how would the Yellow Jackets hold up against North Carolina's imposing size down low?
Quite well, it turned out.  Yes, Tech was outrebounded by 12, but North Carolina came in ranked second nationally in offensive rebounding percentage (41.8 pct.).  They also scored more than a quarter of their points off second chances.
Tech held them to season lows in both categories:
Category  |  Season average  |  vs. GT
OR%  |  41.8%  |  32.2% (10 OR on 31 FGA)
Second chance pts.  |  26.4% of overall pts.  |  10.4%  (7 of 67)
The Yellow Jackets made stickbacks scarce Wednesday – and in a game that came down to the final possessions, it played an important, if unheralded, part of their win.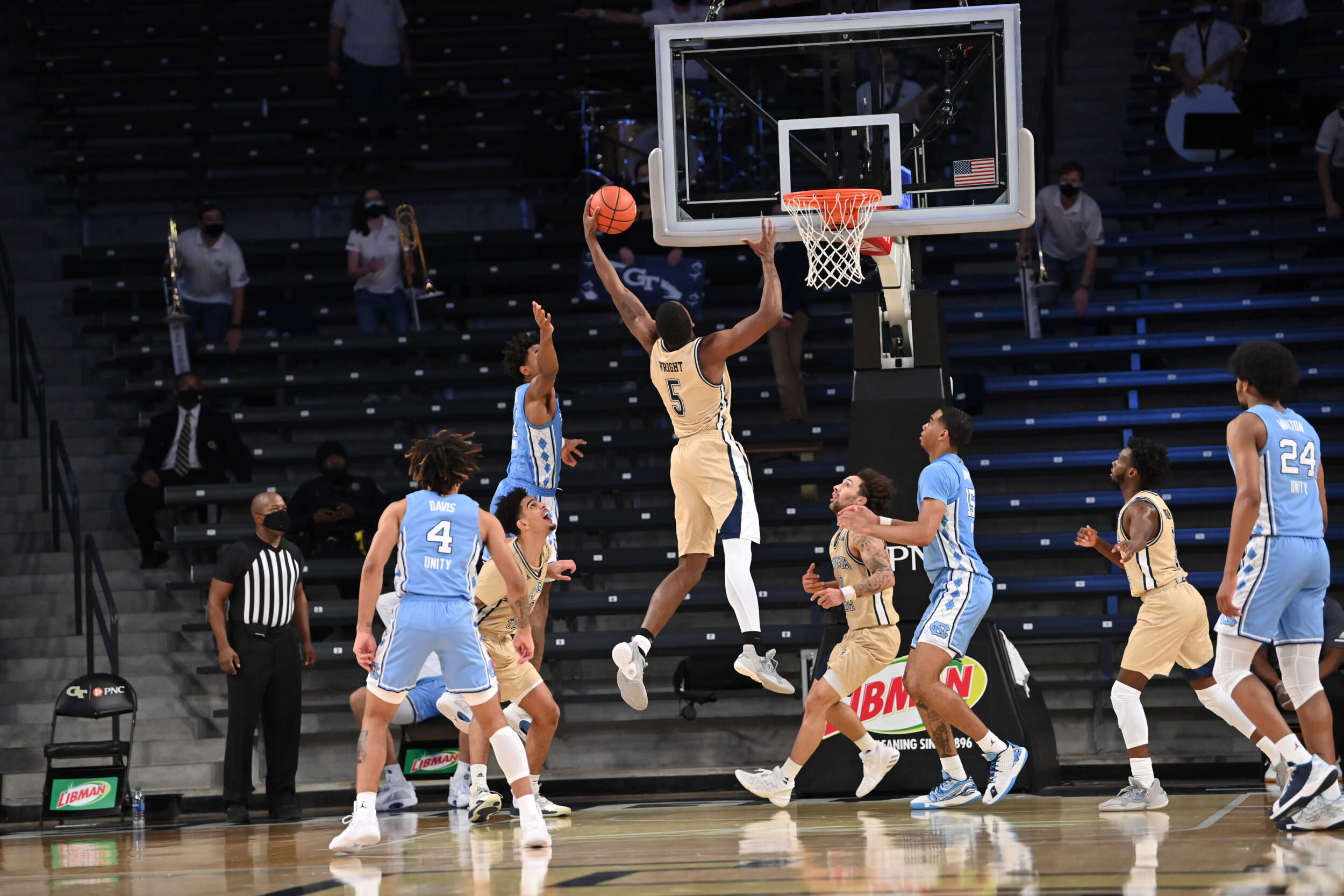 Tech allowed the Tar Heels only seven second-chance points Wednesday night. (photo by Danny Karnik)
Steve Forbes comes to Wake from East Tennessee State, where he averaged 26 wins across five seasons.  With the Demon Deacons losing their top four scorers from a year ago, Forbes plumbed the transfer market heavily, loading up on three grad transfers and two others who gained immediate eligibility (one of them, Houston Baptist transfer Ian DuBose, is out indefinitely).
Expect Wake to use plenty of ball screens and false motion to create its looks, similar to the style Forbes used at ETSU.  Long-range gunner Jonah Antonio (13.0 ppg), a transfer from UNLV, missed the Catawba game with a hamstring injury but is expected to return versus Tech.  The 6-5 guard may be the biggest heatseeker on the Wake roster – 14 of his 15 shots have been from three.  Point guard Daivien Williamson (10.0 ppg) followed Forbes from ETSU and gives the team a steady hand in the backcourt.  Six-foot-6 Jalen Johnson, who originally committed to ETSU as a grad transfer from Tennessee, has shown unexpected range from deep (6-13 3pt.).
Wake's returning players have also contributed.  Guard Jahcobi Neath made his first start of the season against Catawba and poured in a career-high 16 points against Tech last year.  Face-up fours Isaiah Mucius and Ismael Massoud also return; Massoud, who committed to Wake a week before he was scheduled to take an official visit to Tech, more than doubled his season average with 11 points against the Jackets last year.  Though it's a limited sample size, Wake has shown a sizable uptick in its three-point shooting volume compared to the Danny Manning era.
Wake Forest Three-Point Rate
This year:  44.3% of attempts (#45 NCAA)
Last year:   32.9% of attempts (#280 NCAA)
What they may lack in game-forged cohesion, Wake Forest makes up for it with veterans.  Can the Yellow Jackets use their switching defenses to keep the Deacs off-kilter and rob them of any rhythm in their halfcourt offense?
*****
It may take a while to verify, but Forbes may have the best hometown among Division I head coaches:  Lone Tree, Iowa.
*****
Now that we're prepared, we hope you are as well.  Join us for pregame coverage starting at 5:30 p.m. ET on the Georgia Tech Sports Network from Learfield IMG College.  Happy New Year.  See you at McCamish.
–AD–