By Andy Demetra
Josh Pastner believes he's found the key to unlocking Jose Alvarado's scoring.
It involves everything but scoring.
"'You've got to find that mojo, that moxie, and get back to making winning plays,'" Pastner said he told his sophomore point guard recently.  Alvarado, Georgia Tech's leading scorer, is currently mired in a 3-for-30 shooting slump for the Yellow Jackets (11-13, 3-8 ACC).
"'You will get your offensive production back, Jose, when you start getting back to who you were and making winning plays – 50-50 balls, cracking back, first on the floor, charges," Pastner added.  "If you find ways to make those plays, your offense will come.  And regardless of your offense, you will help us find ways to win games."
Those hustle plays, Pastner believes, will ultimately reward a player with his shooting.  He hopes Alvarado can both heed his words and reap the rewards Wednesday – like he did in Georgia Tech's first matchup against Virginia Tech (18-5, 7-4 ACC), when he poured in 20 points in a 52-49 near-upset of the Hokies January 9.
The rematch comes Wednesday at sold-out Cassell Coliseum.  As you get ready for tip-off, here are the top five notes from my chart as Tech looks for its second all-time win in Blacksburg (8 p.m. ET, Learfield IMG College):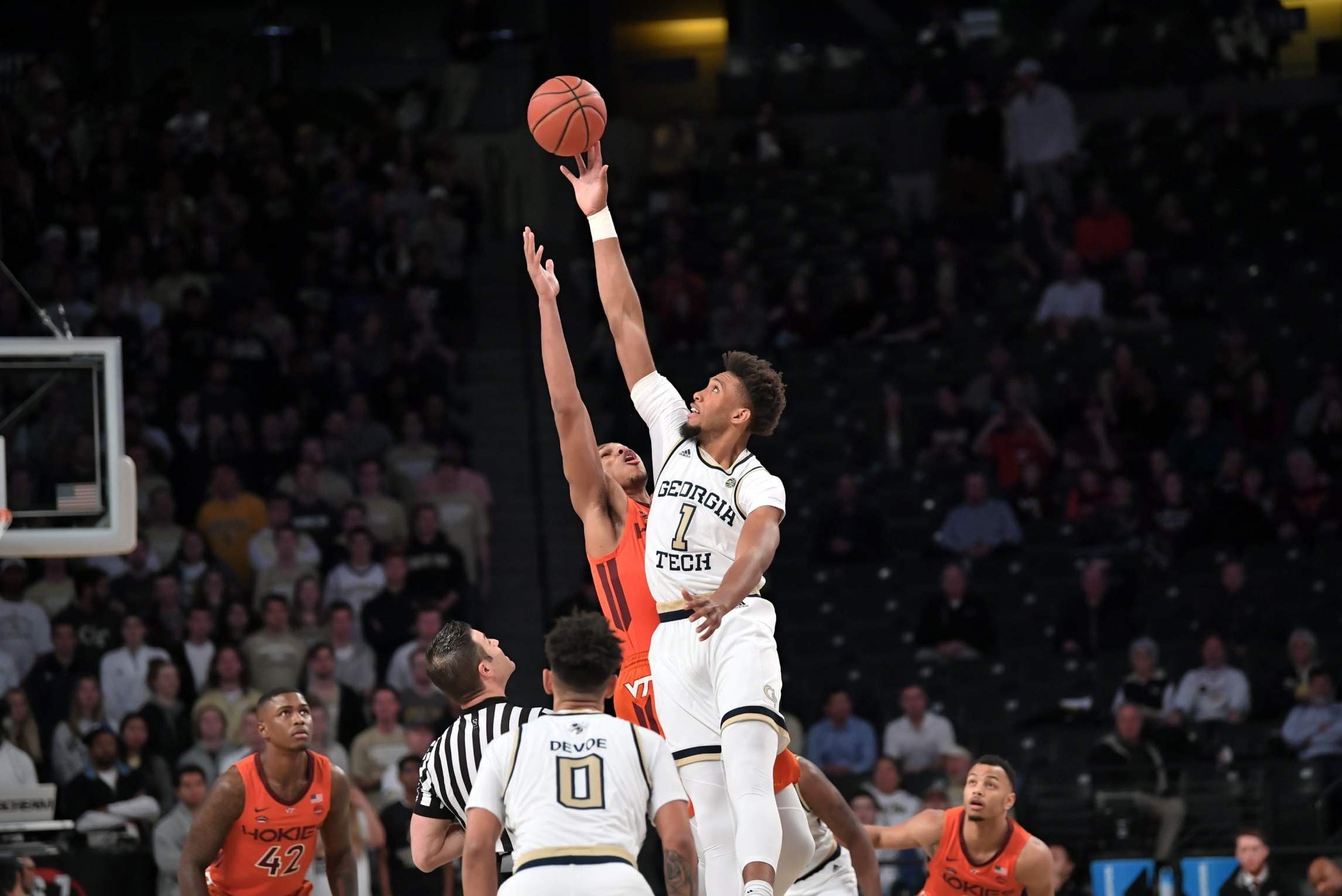 James Banks III has the same number of blocked shots through 11 ACC games this season as Ben Lammers had through 11 games last season.
In two of its last three games, Virginia Tech has been held to 47 points (in a win over NC State) and 51 points (in a Saturday loss to Clemson).
The Hokies have scored 47 or more points in nine halves this year.
Why the downturn?  Virginia Tech played those games without 2nd-team All-ACC point guard Justin Robinson (14.4 ppg, 5.4 apg, 41.1 pct. 3pt.), who has been sidelined with a foot injury.  There may not be a better scorer/distributor in the ACC, and with his speed, ability to read screens, and shoot threes if teams lay underneath him, Robinson has served as the catalyst for Virginia Tech's fast-paced, position-less offense.
With Robinson injured, sophomore Wabissa Bede (3.4 ppg), a pit-bull defender but a limited scorer, has handled the bulk of the point guard duties.  Even with Robinson, Georgia Tech held the Hokies to 5 of 27 three-point shooting and a season-worst offensive efficiency rating when they met last month.  Some might contend that the Hokies missed a lot of open looks that night, but a few points are worth making.  "Open" shots don't always mean "in-rhythm" shots.  And Georgia Tech takes pride in its closeouts, meaning shooters almost always have a body flying at them.  The mere presence of a closeout – or even the knowledge that one is coming –  can often be enough to fractionally throw off a shooter.
Player                                              3pt.%                  vs. GT
Nickeil Alexander-Walker            41.3%                  0-6
Ahmed Hill                                      38.8%                  2-8
Ty Outlaw                                       48.6%                  0-3
Robinson may be out, but the Hokies still play a whiplash-inducing, drive-and-kick style of offense.  Look out for a potentially vengeful Nickeil Alexander-Walker (17.3 ppg, 4.3 rpg), who struggled to find a rhythm against Georgia Tech's zone.  A projected top-10 NBA Draft pick, Alexander-Walker labored through an un-lottery-like 1-for-13 shooting night against the Jackets.  At 6-5 and 205 pounds, he has the ability to score at all three levels.
The Hokies still rank second nationally in three-point percentage (41.5 pct.).  Georgia Tech ranks sixth nationally in three-point defense (27.7 pct.).  Can the Jackets continue to recover hard on the Hokies' shooters and hustle back in transition, making it another grimy offensive night for them?
**
Josh Pastner had a special visitor after practice Monday: his former teammate at Arizona, 1998 Final Four Most Outstanding Player Miles Simon.  He was in town with the Los Angeles Lakers, where he serves as an assistant under another UA alum, Luke Walton.
**
How's this for an eye-catching stat:
Blocks through 11 ACC games
Ben Lammers '16-17:                   29
James Banks '18-19:                     29
Lammers, of course, captured ACC Defensive Player of the Year honors in 2017, highlighted by an 8-block magnum opus at Virginia Tech.
Banks will look to continue his shot-blocking spree against 6-10 Kerry Blackshear, Jr. (14 points, 10 rebounds vs. Georgia Tech), a mobile forward who racks up free throw trips and is hard to move off his spot.  On offense, Banks found himself surrounded by swarming, small-ball double teams, often arriving before the ball landed in his hands.  It resulted in a rough night for Banks from the field (1-5 FG, 2 points).  His and Abdoulaye Gueye's ability to fend those off those double teams – and their teammates' ability to cut hard and create targets for them – could dictate what kind of night Tech has.
**
Defensively, the Hokies play a tenacious, "two to the ball" style highlighted by plenty of hard stunts (they rank 17th nationally in defensive efficiency).  It often makes passing lanes feel barbed-wired, a lesson the Jackets learned last month when they committed 18 turnovers.  Avoiding live-ball turnovers, which enables Virginia Tech to play through its speed, will be key.
The Hokies' style of defense also has another consequence:  a whopping 44.1 percent of opponents' points come off three-pointers, the highest percentage in the nation.  Can Georgia Tech win without being over-reliant on the three?  Or, looking at it more optimistically, are the conditions ripe for players not named Michael Devoe to shake their 22.5-percent three-point shooting malaise in ACC play?
**
Kristian Sjolund had a trans-Atlantic childhood, bouncing between the United States and Norway as his father, Bjorn, worked in the energy and oil field.
Fittingly, Sjolund (pronounced SHO-lund) provided a burst of energy off the bench Sunday.  The 6-7, 200-pound freshman scored eight points against Notre Dame, including a pair of rain-making three-pointers.  Sjolund's playing time figures to continue Wednesday – and if so, it'd create an unlikely second-generation matchup in Blacksburg.  Bjorn Sjolund played collegiately at Florida Atlantic against Kerry Blackshear, Sr., the father of Virginia Tech's redshirt junior forward, who starred at Stetson.  The two battled every year as members of the old Trans American Athletic Conference.
And for kicks, here's a picture of Bjorn Sjolund (second from left) and Kristian's uncle Dag (7) posing with Magic Johnson in the fall of 1994.  Johnson brought a Pepsi-sponsored all-star team to Norway for an exhibition game against the Norwegian national team.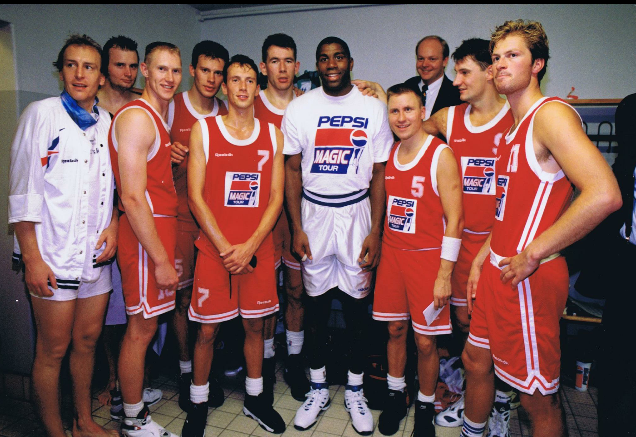 I don't see a resemblance.  Do you?
**
Now that we're prepared, we hope you are as well.  Join us for pregame coverage starting at 7:30 p.m. ET from Learfield IMG College.  See you in Blacksburg.
–AD–