By Andy Demetra
At Josh Okogie's draft night party in Snellville, Ga., last June, sophomore Moses Wright confided to his former teammate that he wanted to switch to Okogie's number 5 for the upcoming year.
Okogie's response, according to Wright: "You better earn it."
The Raleigh, N.C., has strung together some stat lines of late that may earn Okogie's approval.  After going for seven points, seven rebounds and four blocks in the Yellow Jackets' win over Pittsburgh, Wright matched his career high with 19 points in Tech's 80-65 loss to Miami.  To put that into perspective:
Wright had scored 20 points in his previous six games combined
His previous high against an ACC opponent was nine points, most recently against Clemson in January.
"He's got to utilize his length on his arms on his closing out.  [But] I thought he did some good multiple-effort plays. He's a high-level athlete," head coach Josh Pastner said of his 6-9, 210-pound forward.
Wright's resurgence, though, has coincided with some recidivism from James Banks, who went scoreless against the Hurricanes.  The same can be said of Tech's backcourt: Jose Alvarado has averaged 22 points over the past three games, but his backcourt mate, freshman Michael Devoe, has only shot 26 percent (7-of-27) during that span.  At his media gathering Monday, Pastner lamented that Georgia Tech (12-16, 4-11 ACC) hasn't quite gotten everybody to play well at the same time.
"We're not a team that can't be clicking on all cylinders at all time," Pastner said.
They may not have a choice against their next opponent.  The No. 2 Virginia Cavaliers (24-2, 12-2 ACC) bring in their typically rugged defense and high national ranking to a Wednesday night showdown at John Paul Jones Arena.  As you get ready for tip-off, enjoy the top five notes from my chart in preparation for Tech's road match in Charlottesville (7 p.m. ET, Learfield IMG College):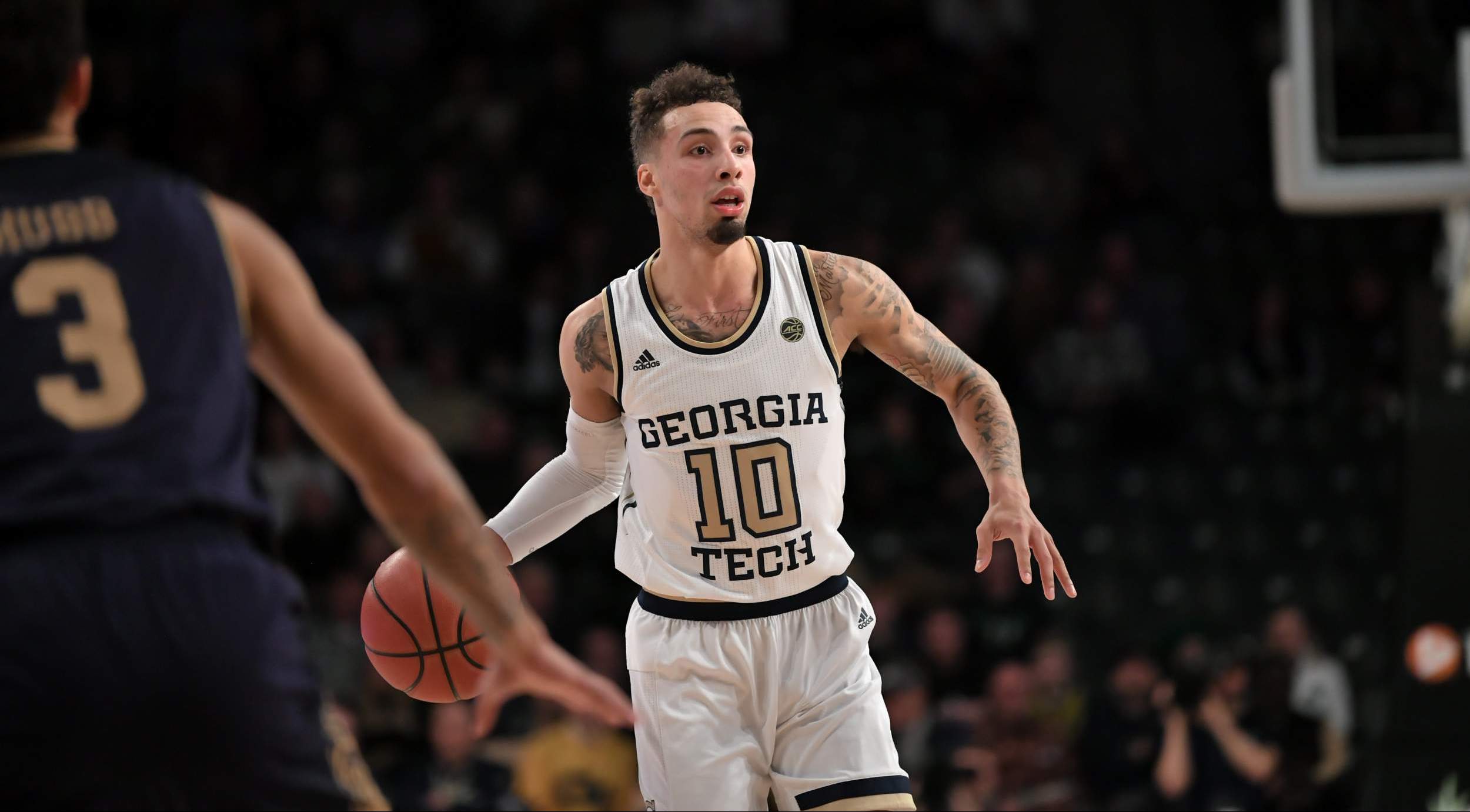 Jose Alvarado has averaged 22 points and hit 21 of 38 shots from the floor over Tech's last three games.
Any discussion of Virginia usually defaults to the Cavaliers' bracing Pack Line defense.  Yet the Cavaliers are just as dangerous offensively:  they enter Wednesday's game with the fourth-highest offensive efficiency rating in the country.
Credit a veteran nucleus of players who can each provide a lift at different times.  Junior guard Kyle Guy (15.2 ppg, 3.0 3pt. FGM/game), described by Pastner as an "electric current," uses change-of-speed cuts to slalom around screens and spot up from three.  His backcourt mate, junior Ty Jerome (12.8 ppg), is more of a dribble pull-up and pick-and-roll artist, but averaged 15 points and five assists against Tech last year.  The Cavaliers also have 6-7 redshirt sophomore De'Andre Hunter (15.2 ppg, 54.3 pct. FG), a versatile, mid-range technician who likes to operate from the elbow, and a pair of pick-and-roll complements in Mamadi Diakite and 7-1 Jay Huff, who combined for 26 points and 12 rebounds against the Cardinals.
As Pastner said Monday, the Cavaliers "take tough shots, and they make tough shots."  The Yellow Jackets will need to stay in front of ball-handlers, an area where they struggled against Miami.  Those breakdowns can often lead to lethal kickouts, which have helped make Virginia the 11th-best three-point shooting team in the nation by percentage (39.1%).  The Cavaliers, though, were bothered by Notre Dame's zone in a grind-it-out win on February 16.  They also missed 15 of 17 threes against Louisville's zone last weekend (Guy and Jerome went a combined 0 for 11).  Don't be surprised if Guy and Jerome try to get engaged early.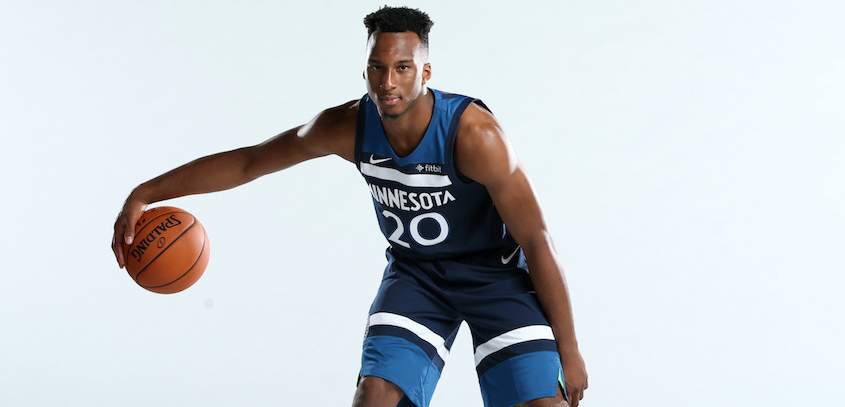 While the Jackets visit the Cavaliers tonight, Josh Okogie and the Minnesota Timberwolves are in Atlanta to take on the Hawks.
Guy, a reigning first-team All-ACC pick, ranks second in the ACC in three-point percentage (42.6 pct.).  Yet the Indianapolis, Ind., native has gone 3 for 15 from three in his last three games against Georgia Tech.
**
Pastner sounded part-coach, part New Age philosopher when describing what he wanted out of his offense Wednesday.
"We need to have the ball flowing with good energy," Pastner said on his radio show.
That may be necessary against Virginia's famed Pack Line defense, which is responsible for the second-best efficiency rating in the country.  As its name suggests, the Cavaliers want to "pack" the lane and play in gaps.  When done right, it forces dribble-drives into help and makes post entries scarce (the Cavaliers double team liberally in the post).
Alvarado and Devoe will also need to handle Virginia's hard hedges, which can stall out possessions and force inert, east-west passes.  Can the Yellow Jackets take care of the basketball and make the Cavaliers work with their cutting and ball movement?  Tech has had success the last couple years with its backdoor cuts against Virginia, and they committed a season-low six turnovers in Charlottesville last season.  Watching how Virginia deploys Hunter, a Naismith Defensive Player of the Year semifinalist, will be an interesting subplot.
**
Tech's resurgent three-point shooting will get a test Wednesday when it faces a Virginia team that leads the nation in three-point defense (26.5 pct.).
For a Tech team that doesn't lean heavily on threes, that may not be a fatal mismatch.  Nonetheless, pay attention to Alvarado.  The Yellow Jackets have faced five teams this year that rank in the top 40 nationally in three-point defense (Duke, Northwestern, UTRGV, Florida A&M, Syracuse).
Alvarado has shot 40 percent from three in those games (8 of 20).
**
While the Yellow Jackets play in Charlottesville, Moses Wright's numerical inspiration will be suiting up in Atlanta.  For the first time as a pro, Josh Okogie will play in his hometown when the Minnesota Timberwolves face the Atlanta Hawks at State Farm Arena.  Happy homecoming Josh!
**
Now that we're prepared, we hope you are as well.  Join us for pregame coverage starting at 6:30 p.m. ET from Learfield IMG College.  See you in Charlottesville.
–AD–