By Andy Demetra
It might have caused Josh Pastner to lose sleep, assuming he slept to begin with.
On Saturday, the notoriously nocturnal Pastner watched again as his team played inspired defense, only to buckle under the weight of self-inflicted mistakes.  Despite holding Duke to a season low in points, Georgia Tech (11-9, 3-4 ACC) couldn't overcome foul trouble and 19 turnovers in a 66-53 loss to the Blue Devils.  They'll now face another up-tempo, glass-pounding, top-10 opponent in No. 9 North Carolina (15-4, 5-1 ACC) at McCamish Pavilion.
The keys ought to look familiar.  Maybe Pastner can rest easier by game's end, too.
As you get ready for tip-off, enjoy the top five notes from my chart before Tuesday's matchup in Atlanta (7 p.m. EST, Georgia Tech IMG Sports Network):
**
From the man who extols the virtues of "violent cuts," Pastner has adopted a new catchphrase lately, one that has a similarly gory feel to it.
"Punch it," Pastner has told his team.
Ordinarily that would be grounds for ejection.  In this context, though, Pastner wants his team to "punch it in" to the gut of the defense with consistent paint touches.  That inside-out play, he believes, can unlock greater efficiency for his offense.
His team has answered the call.  Entering its game against Georgia Dec. 22, Georgia Tech attempted 30 percent of its field goals around the rim, according to the shot tracking software Hoops IQ.  Since the Georgia game, when Pastner implored his team to punch it into the paint, that number has jumped to 39 percent.
% of FGA around the rim
Before Georgia: 30%
After Georgia: 39%
Not surprisingly, the Yellow Jackets rank second in the ACC in field goal percentage in league play.  It only underscores the need to avoid turnovers Tuesday – North Carolina favors a faster pace (5th in NCAA in tempo) and likes to trap in the halfcourt to aid that.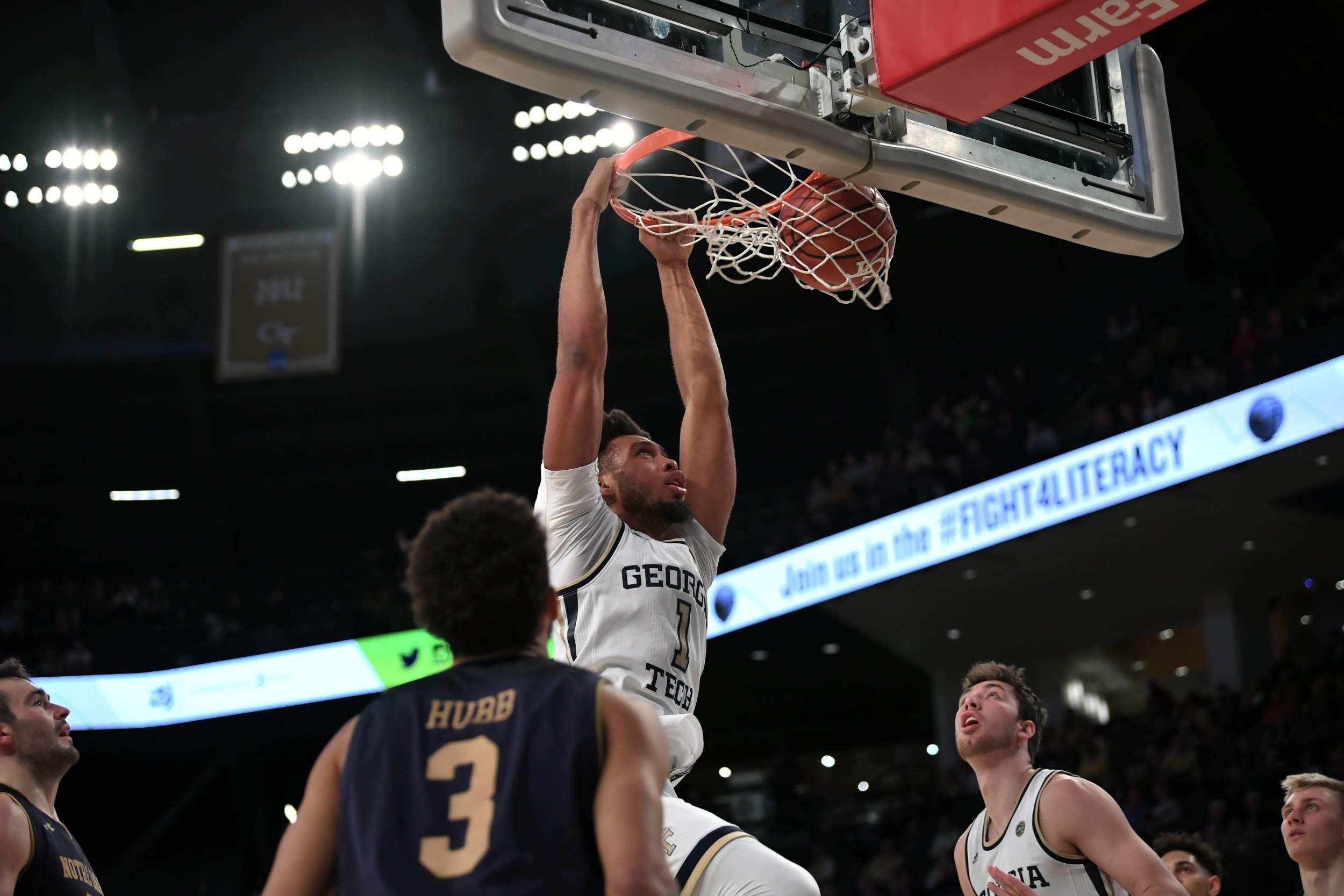 Here's another impressive, albeit granular, statistic about the Jackets.  Among teams that play zone on at least 30 percent of their defensive possessions, Georgia Tech has the best efficiency defense in the nation according to Synergy (0.755 PPP).
Tech's matchup zone has given North Carolina problems in recent years: in their last two meetings the Tar Heels have shot a combined 10 of 47 from three-point range (21 percent).  UNC, however, is coming off a season-high 16 made threes in a blowout win over Virginia Tech.  Six-foot-9 Cameron Johnson (15.5 ppg, 46.5% 3pt.) comes off screens fluidly and gets clean looks with his size.  Freshman Coby White (14.9 ppg, 36.5% 3pt.), a twitchy, 6-3 guard, has a lightning-quick release and can get into the paint.
As much as any team in the country, North Carolina also likes to hunt for shots in secondary transition. Georgia Tech's ability to rush back and set its defense could be key.  Another area to watch:  UNC head coach Roy Williams has leaned on freshmen a little more than usual this year, a group that includes projected lottery pick Nassir Little (10.6 ppg, 4.4 rpg).  Can Georgia Tech's nation-leading zone defense – by one metric, at least – coax some tentativeness out of the Tar Heels' youngsters?
**
From the Department of Symmetry:
Last year, Georgia Tech faced Virginia, the 2-ranked team in the country, then faced North Carolina the next game. This year Georgia Tech faced Duke, the No. 2-ranked team in the country, and faces North Carolina the next game.
Last year, Georgia Tech faced North Carolina when the Tar Heels were 15-4. This year Georgia Tech faces North Carolina when the Tar Heels are 15-4.
The last time North Carolina visited McCamish Pavilion, the Tar Heels were ranked ninth in the country. This year, North Carolina visits McCamish ranked ninth in the country.
**
Coaches are wired to be unimpressed.  Still, did Josh Pastner like James Banks' posterizing dunk of Duke's Zion Williamson?  Were he and James disappointed that it didn't make SportsCenter's Top 10 plays?
"I don't know if he was disappointed, but I would tell James, 'Hey, James, we lost the game and you had [two] rebounds,'" Pastner said on his weekly call-in show.
Foul trouble made for a disjointed day for the Yellow Jackets' 6-9, 243-pound center, who finished with four points.  He'll look to improve against a North Carolina frontcourt headlined by Luke Maye, the ACC's preseason Player of the Year (14.4 ppg, 9.7 rpg).  The 6-8 Maye toggles between the "3" and "4," but has range to the three-point line (he made 4 of 5 three-pointers against Virginia Tech) and can body up smaller defenders.  He also helps UNC punish the glass: the Tar Heels rank 21st nationally in offensive rebounding percentage.  Pay attention to 6-9 Garrison Brooks, an especially rugged offensive rebounder.
North Carolina has outscored Georgia Tech 42-10 in second-chance points in their last two meetings.  Banks will need to create a presence, more than a poster, against the Tar Heels.  Guards Jose Alvarado and Michael Devoe have also drawn praise lately for their defensive rebounding; can that continue Tuesday?
**
North Carolina's Cameron Johnson last played at McCamish February 28, 2017 as a member of the Pitt Panthers.  He scored 13 points on 3-of-7 three-point shooting in a 61-52 loss.
Johnson wore the number 23 at Pitt as a tribute to Michael Jordan.  Something tells me that number wasn't available when he arrived in Chapel Hill.  The Jackets, by the way, had one player adopt a former player's number this season.  Sophomore Moses Wright – a Raleigh native who's more than familiar with the mythology of UNC basketball – told Josh Okogie at his Draft night party that he intended to wear his number 5 this year.
**
Now that we're prepared, we hope you are as well.  Join us for pregame coverage starting at 6:30 p.m. ET on the Georgia Tech IMG Sports Network.  Drive safely and we'll see you at McCamish.
–AD–