Georgia Tech vs. Virginia Tech | Saturday at 3:30 p.m. | Bobby Dodd Stadium
Click HERE for game preview
By Andy Demetra (The Voice of the Yellow Jackets) | Inside The Chart
Home or away, it doesn't matter. It has become ingrained in Tariq Carpenter's pregame routine.
Before each game, the junior safety searches for a military member who's standing on the sidelines and shakes his or her hand. He does it to express his gratitude. He respects the commitment they've made to our country. He knows the sacrifices they're making for their family.
He knows it because he considers himself a product of it.
"There aren't too many people that can say their Mom is in the Army," Carpenter said.
When Georgia Tech lines up for its Heroes Day game against Virginia Tech on Saturday at Bobby Dodd Stadium (3:30 p.m. ET, Georgia Tech Sports Network from Learfield IMG College), Carpenter will do so with his Mom, (Ret.) SSG Demetria Fiffie, cheering him on. After graduating from Central Methodist University in Fayette, Mo., where she played on the basketball team and earned a degree in computer science, Fiffie enlisted in the Army in 2001. She wanted the stable income and health insurance the Army could provide for her two young children. Tariq was two-and-a-half years old. His sister, Alexis Chatmon, was four.
"I was determined to do whatever I needed to do," Demetria said.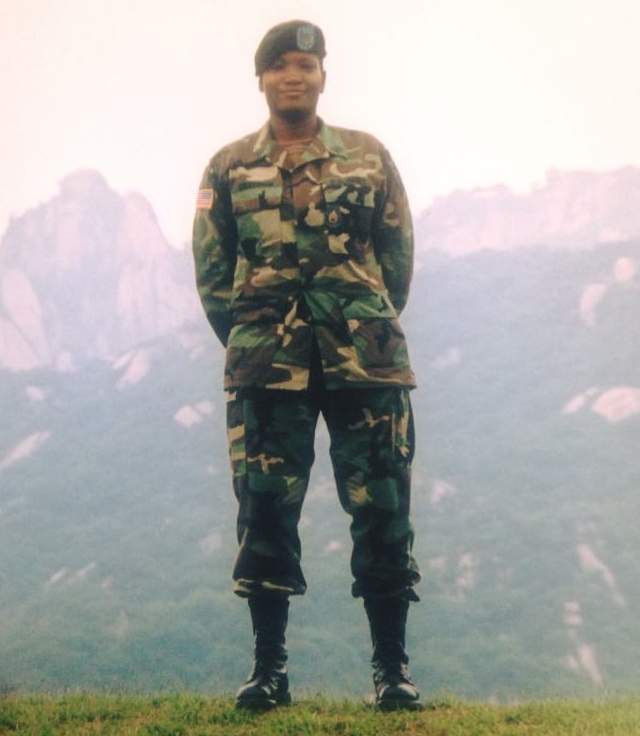 (Ret.) SSG Demetria Fiffie, U.S. Army veteran and mother of Georgia Tech defensive back Tariq Carpenter
Like most children of service members, Carpenter can time-stamp his childhood by his Mom's deployments. Demetria first reported to her duty station at Fort Stewart, Ga., on the morning of Sept. 11, 2001. She was in the dentist's office, finishing up the last part of her processing, when she watched the World Trade Center buildings collapse on television. Her combat service began in late 2002 with a six-month deployment to Kuwait, where she took part in the invasion of Iraq as a member of the 3rd Infantry Division. Next came an overseas tour to Korea. Then two deployments to Iraq. She finished with a stint in Afghanistan in 2010 and 2011. Each time, she sent Tariq and Alexis to live with their grandmother in Little Rock, Ark.
Tariq knows it wasn't easy for his Mom to leave her children behind for months at a time while on deployment. She constantly reminded him and Alexis of the greater purpose she was serving.
"Every time we got on the phone, she always told us she's doing this for the both of us. That kind of made our bond stronger," he said.
Carpenter says he and his sister would call or Skype their Mom often, sometimes every day. He's seen pictures of her posing with her units – "holding guns, all that type of stuff" – but rarely did she go into detail about what she did on her deployments. He remembers being eight or nine years old when he saw some footage of the Iraq war on the news.
"I just know that I was watching it and I was like, 'Dang, my Mom is there right now.' It was scary, but at the same time, I always had all the confidence in the world that she was going to come back," he said.
He's heard fragments of some stories. Demetria was part of Operation Thunder Run, working for the 1st Battalion, 64th Armor Regiment, on the front lines of the invasion of Baghdad. For three months, she lived under her field truck. She also participated in a famous conflict near the Baghdad Zoo, where Iraqi soldiers had killed the zookeepers and let the animals free. American soldiers secured the area, but suddenly had to beware of another threat.
"There were some lions and stuff loose. I had to sleep on top of my truck for about two or three days until they found them," Demetria said. "It was interesting."
She's stayed guarded with Tariq and Alexis about her other experiences.
Tariq Carpenter and his sister, Alexis Chatmon
"There was one time, I moved to Lawton, Okla.," Tariq recalled. "It was an emergency that she had to go overseas to Afghanistan for, like, seven months. She got injured, so she came back early. I'm not sure how she got injured. She hasn't told me yet."
"I've lost combat comrades with OIF-1 [Operation Iraqi Freedom]. Fighting into Baghdad wasn't easy. We lost some people going into Baghdad. When I was in OIF-5 – I was in aviation for eight years – we lost a few pilots. I tried to steer [my children] away from the violent part of it," Demetria said.
But no matter where the Army took her, she always tried to schedule her leaves around football season so she could watch Tariq's rec league games. His favorite memory actually took place during one of the times she was still deployed. Tariq's family had by then moved to Killeen, Texas, near Fort Hood.
"I caught my first pick-six. It was kind of crazy. My stepdad was on the phone with her during that exact play. I remember I was playing corner. They ran a screen play and I jumped it and I ran it all the way back for a touchdown. That's really something I won't ever forget," Carpenter said.
"Growing up as an athlete, I didn't get the support that I maybe could have had. I just make sure I'm determined to give Tariq all the little bit of support he needs," Demetria said.
Demetria Fiffie retired from the Army on Nov. 27, 2014, just shy of 14 years of service. She, Tariq and Alexis settled in Ludowici, Ga., not far from Fort Stewart, before Tariq started high school. There, he blossomed into an all-state player at Long County High School, a fierce, hard-hitting safety who ultimately attracted the attention of Georgia Tech coaches.
This offseason, Carpenter successfully appealed to head coach Geoff Collins to change his uniform number to 2. The number carries a dual meaning for him. Demetria wore it when she played basketball at Central Methodist. But it also represents Carpenter and his older sister, siblings who stayed together while their single Mom sacrificed for them half a world away.
"I'm just grateful, no matter how long she was away from me, that she always made sure she raised me the right way," Tariq said.
That strength, Demetria says, has worked both ways.
"They've been my reason to fight. There's been a time in my life that I wasn't so strong … I wasn't so strong all the time. He and his sister just kept me together. They were my motivation," she said.
On Saturday, as Demetria takes her seat among the other veterans and heroes at Bobby Dodd Stadium, her motivation will be down on the field, looking to make a head-turning play against the Hokies. But before that, Tariq Carpenter has another objective to accomplish, one born out of his love, admiration and respect for his mother.
Until this week, (Ret.) SSG Demetria Fiffie said she had no idea about Tariq's pregame handshake.