GAMEDAY CENTRAL – Georgia Tech vs. Duke (Saturday at 12:20 p.m.)
By Andy Demetra (The Voice of the Yellow Jackets)
Behold the most bored man in college football.
For two weeks he's been pacing the sidelines, forlornly practicing his routine, waiting patiently for a call that won't come.
"I want to see the team doing well, but not being on the field kind of does hurt my heart a little bit," said Pressley Harvin III.
Georgia Tech has been on an offensive tear lately, scoring 63 and 66 points in consecutive blowouts of Bowling Green and Louisville.  That scoring binge, though, has come at a cost: it has turned Harvin, the Yellow Jackets' freshman All-American punter, into a spectator.  With Georgia Tech scoring on 17 of its last 18 drives, the sophomore from Alcolu, S.C., has been trapped in a punting purgatory, kicking only once over the last two games (he did make the most of it, booming a 53-yarder in the fourth quarter against Bowling Green
Halfway through the 2018 season, Harvin only has 14 punts.  Skyler DeLong, the punter for top-ranked Alabama, has 15.  His average of 44.9 yards per punt would rank 18th nationally, except Harvin falls far short of qualifying for the official NCAA statistical rankings (the NCAA requires 3.5 punts per game).
He has instead been dry-docked, an All-American hidden in plain sight.  Even he had a premonition he wouldn't be used much in Tech's 66-31 win over Louisville.
While warming up an hour before kickoff, Harvin said, "[Quality control specialist for special teams] Tim McGrath comes up to us.  'You might get a couple of good punts this week.'  I was like, 'Tim, I don't know.  I don't think we're going to get that many.'"
"We were really anxious to get a road win.  I had that feeling like this might be the game our offense just goes off," he added.
His hunch proved true.  Of the 67 players who made the trip to Louisville, Harvin and long snapper Zach Roberts were the only non-true freshman who didn't see the field.
Not that he expects much sympathy from his teammates.
"It's a great day when a punter doesn't punt," beamed A-Back Qua Searcy.
Pictured: Pressley Harvin III's only action in the past two games.
"[Quarterback] TaQuon [Marshall] and all the guys on the offensive line, they come back after scores like, 'Well, better luck next time,'" Harvin said.
So what's a punter to do?  Harvin says he tries to adhere to the same routine every time Georgia Tech takes the field on offense.  Before a series, he kicks a few balls into the net or watches Roberts warm up.  On third down he heads to the sideline, near the Georgia Tech special teams coaches, and buckles his chinstrap.
Then Georgia Tech gains another first down and Harvin retreats to the net, the routine starting all over, his right leg holstered yet again.  Against Louisville, that inactivity had the 6-foot, 245-pounder dreaming of new ways to get on the field.
"We were up so big and we hadn't punted at all during the game, he just made the joke like, 'Man, I really want to play B-Back or A-Back.'  We just kind of laughed it off, but deep down I think he was really serious," said Searcy.
"I definitely said that," Harvin confirmed.  "I only got one opportunity out there on punt, I want to help the team out as much as I can in any other way I can."
And there lies the existential dilemma of punters.  They all want to show off their leg, but that can't happen without the futility of their teammates.  The less Harvin plays, the better his offense is performing.  And not even the most black-hearted specialist would root for his own team's mediocrity.
So how does Harvin balance his own desire to play with the goals of the team?  The sophomore says he has learned to lean on another valuable trait for a punter: patience.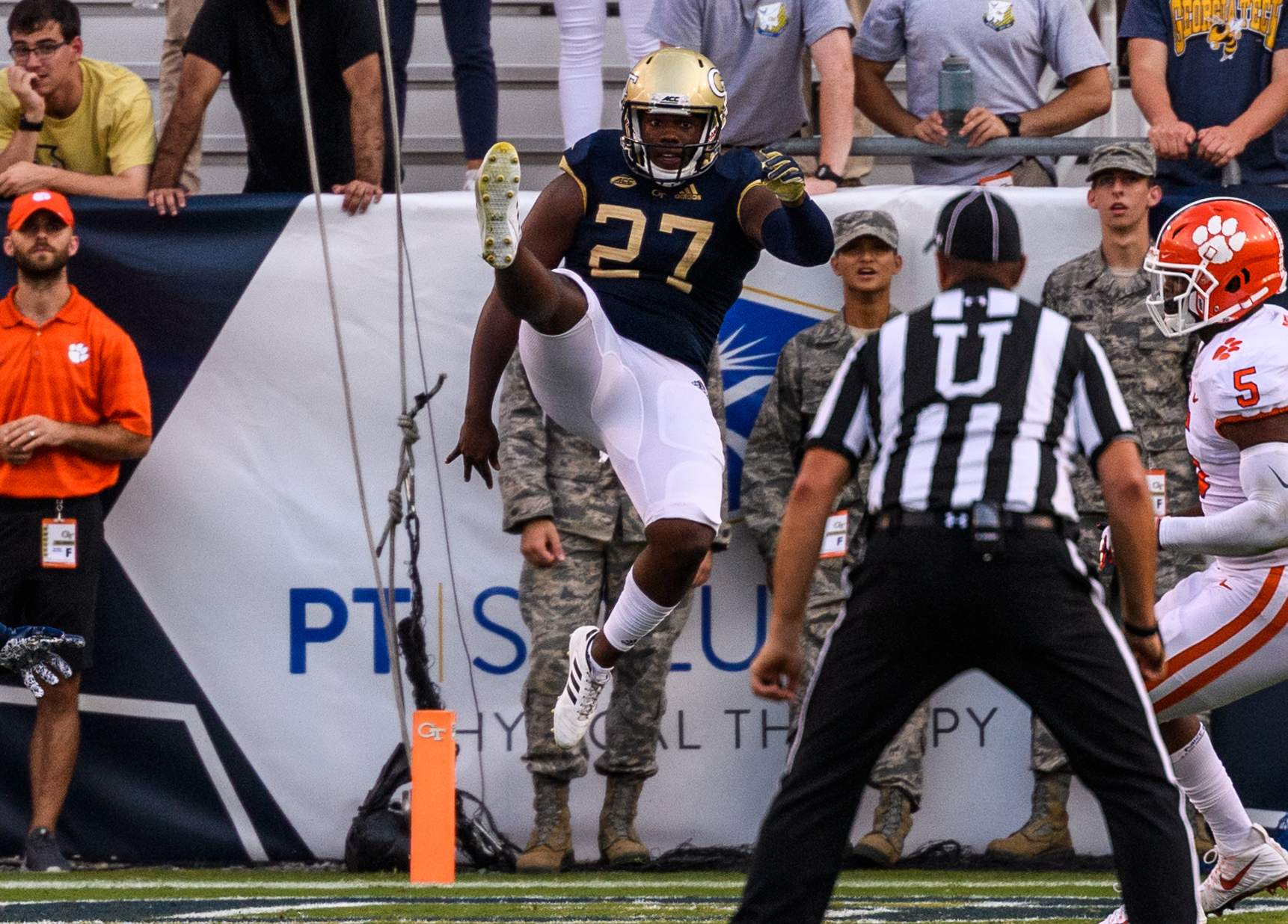 "Playing time is always a good thing to have, but I think I can sacrifice my playing time to make sure the team's doing well," he said.
Besides, with the teeth of Tech's ACC schedule coming up, Harvin knows he'll likely have more opportunities to showcase the leg that led all true freshmen nationally in punting average last year (44.1).  Harvin says he worked hard this offseason to improve his leg strength and flexibility, traits that he hopes will lead to better hang time on punts.  He also incorporated yoga into his training regimen.
"I worked on stretching more than technique over the summer," Harvin said.
He has also gotten comfortable with his new adidas leather Copa cleats, a change in footwear prompted by Georgia Tech's new apparel deal.  Harvin initially had some angst about switching to a new punting shoe – kickers are creatures of habit, after all – but he said a preseason's worth of practice has made him comfortable.
In-game reps, however, have been harder to come by.  Entering Georgia Tech's homecoming matchup against Duke (12:20 p.m. EST, Georgia Tech IMG Sports Network), Harvin has used his cleats more for pacing than punting.
He'll see if that punting drought ends Saturday.  Not that Harvin is rooting for it, of course.  But if the time comes, the most bored man in college football will be ready.