The flu bug has run a sort of three-man weave through Georgia Tech lately, claiming, in some combination, Shembari Phillips, Evan Cole, Michael Devoe and Jose Alvarado over the past week.  The Tech coaching staff hasn't been spared either: assistant coach Julian Swartz missed the last game against Florida State, and director of operations (and avid "Inside The Chart" reader) Tyler Benson has been laid up as well.
That hasn't made the task of snapping a seven-game losing streak any easier for the Yellow Jackets (11-15, 3-10 ACC).  A win, though, may be the ultimate antibiotic, and Georgia Tech will gladly trade flu shots for good shots when it faces a Pittsburgh team (12-14, 2-11 ACC) that has lost 18 straight conference road games.
Here are the top five notes from my chart as the Yellow Jackets look to reward the home fans for staying up late at McCamish (9 p.m. ET, Learfield IMG College):
**
When a team has a 2-11 conference record, it's easy to fixate on the latter number rather than the former.
Yet Pitt's two ACC wins are eye-catching: an 89-86 overtime win over No. 18 Louisville on Jan. 9, followed by a 75-62 upset of No. 16 Florida State five days later.  The Panthers have since dropped nine straight, but after slogging through an 0-18 ACC annus horribilis last year, new head coach Jeff Capel has them playing hard.
That's in spite of Pitt playing three freshmen who combine to average more than half of their points.  Xavier Johnson (16.7 ppg, 4.5 apg), a 6-3 guard, is a punishing driver who leads the ACC in free throw attempts (the only thing more remarkable than his stats is the fact he hasn't won a single ACC Freshman of the Week award).  Trey McGowens (12.1 ppg), also 6-3, whom the Yellow Jackets recruited, complements him as a shooter and creator.  On the wing, 6-6 Au'Diese Toney (8.2 ppg, 5.7 rpg) is an athletic rebounder and slippery finisher in traffic.  Together, they help space the floor for senior Jared Wilson-Frame (11.8 ppg), a stocky three-point specialist who feasts on drive-and-kicks.
As Josh Pastner said on his radio show, Pitt "wants to get downhill at all costs."  Can Georgia Tech's zone confuse the Panthers into making tentative decisions in the halfcourt?  Can they make Johnson and McGowens "see bodies" and challenge their drives without fouling?  Pitt also thrives in the open court; Tech's ability to rush back and set its defense could be key.  So will guard rebounding – the Panthers' guards are especially active crashing the offensive glass.
Pitt's Xavier Johnson is a godbrother to former Georgia Tech star Marcus Georges-Hunt.
Johnson, who needs two points to break the Pitt freshman scoring record, has an indirect connection to a pair of #ProJackets.  First, his godbrother happens to be former Tech guard Marcus Georges-Hunt.  Pastner also recruited Johnson out of Woodbridge, Va., pursuing him along with Michael Devoe.
"I told him and Mike Devoe, 'The first one to commit gets [the scholarship].  And Xavier Johnson wanted to come.  And the only reason I didn't take him at the time was because I didn't know Josh Okogie wouldn't be coming back," Pastner explained.
"At the time I said, 'Hey, based on scholarships and everything else, I'm only going to take the first one to commit.'  Michael committed first.  Xavier called and wanted to come.  I had already accepted Mike's commitment.  Obviously, if I knew that Josh was leaving us, I would have taken Xavier Johnson's commitment.  Man, that just shows you how crazy recruiting is," the Yellow Jackets' head coach added.
Okogie, by the way, paid a visit to practice Monday.  He was in town enjoying the last days of his NBA All-Star break.
**
Here's a stat that may get James Banks' attention.  Pittsburgh ranks last in the nation, getting a shot blocked 15.3 percent of the time.
Part of that owes to Pitt's lack of post size – their tallest rotation players, 6-9 Kene Chukwuka and 6-10 Terrell Brown, don't have high usage rates.  But it also speaks to how aggressively the Panthers plunge into the lane, looking for shots at the rim.
Georgia Tech has gone back to a single-post look lately.  With Pitt undersized in the post, do the Jackets play Banks and Gueye together, similar to how they did against Notre Dame?  They may relish the chance to redeem themselves after shooting a combined 2-for-15 from two-point range against Florida State.  Gueye scored a career-high 16 points against the Panthers last year.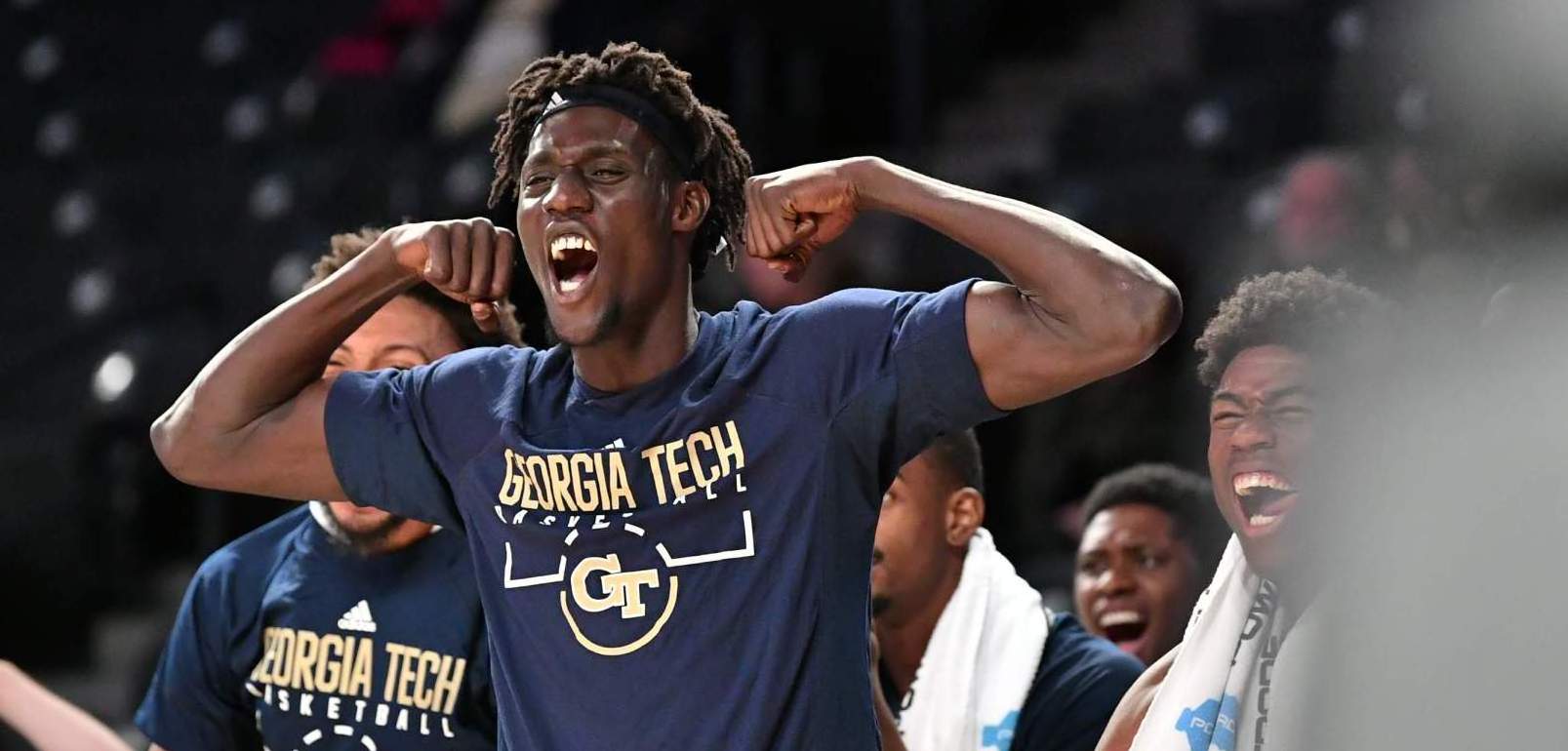 Abdoulaye Gueye scored a career-best 16 points last season against Pittsburgh.
Like Georgia Tech, Pittsburgh has a defensive profile that belies its record.  The Panthers rank 44th nationally in defensive efficiency, though they're also the most offensive rebound-prone team in the ACC.
Pitt – Defense
Efficiency:  #46 NCAA
Defensive Rebounding %:  #335 NCAA
In fact, the only two major-conference teams have a worse defensive rebounding percentage than the Panthers – and one of them is Arkansas, whom Tech beat in Fayetteville Dec. 19.  The Yellow Jackets finished that game with their best offensive rebounding percentage of the season (45.5 percent), with Banks grabbing eight offensive boards.
On the perimeter, Pittsburgh's guards like to get underneath ball handlers and play passing lanes similar to Florida State (Pitt, of course, doesn't possess the length that FSU does).  Pay attention to Johnson, a ballhawk who will look to disrupt Tech's guards up high.  As Pastner alluded to on his show, Tech will need to make better contact on screens to free up its guards.
**
You probably haven't noticed, but the Yellow Jackets enter Wednesday in a state of perfect equilibrium.
Georgia Tech
Points scored: 1687
Points allowed: 1687
Georgia Tech and LIU-Brooklyn are the only two teams in college basketball that currently have a scoring margin of 0.00.
**
Now that we're prepared, we hope you are as well.  Join us for pregame coverage starting at 8:30 p.m. ET from Learfield IMG College.  See you at McCamish.
–AD–