By Andy Demetra
Confidence may be the most sought-after commodity in South Bend Sunday.
As Georgia Tech looks to shake its deep freeze from the field, which has recently reached Polar Vortex levels of chilliness, they head to Notre Dame – fittingly, the forecast calls for snow – for what figures to be another taut finish with the Fighting Irish.  In 11 all-time meetings, the average margin of victory in this series has been a scant 4.6 points.
Last month's game at McCamish played true to type, with Georgia Tech weathering seven second-half lead changes to grind out a 63-61 win.  The Yellow Jackets (11-12, 3-7 ACC) have since dropped four straight, with their field goal percentage dipping to 33.9 percent during that span.
Notre Dame feels that pain as well.  After snapping a five-game losing streak against Boston College Saturday, the Fighting Irish (12-11, 2-8 ACC) slogged through their worst shooting performance of the season Wednesday, connecting on just 30 percent of their field goals in a 62-47 defeat to Miami.
The competition for confidence may dictate the competition on the scoreboard as well.  Enjoy the top five notes from my chart as Tech looks to bookend its losing streak with another win over Notre Dame (6 p.m. ET, Learfield IMG College):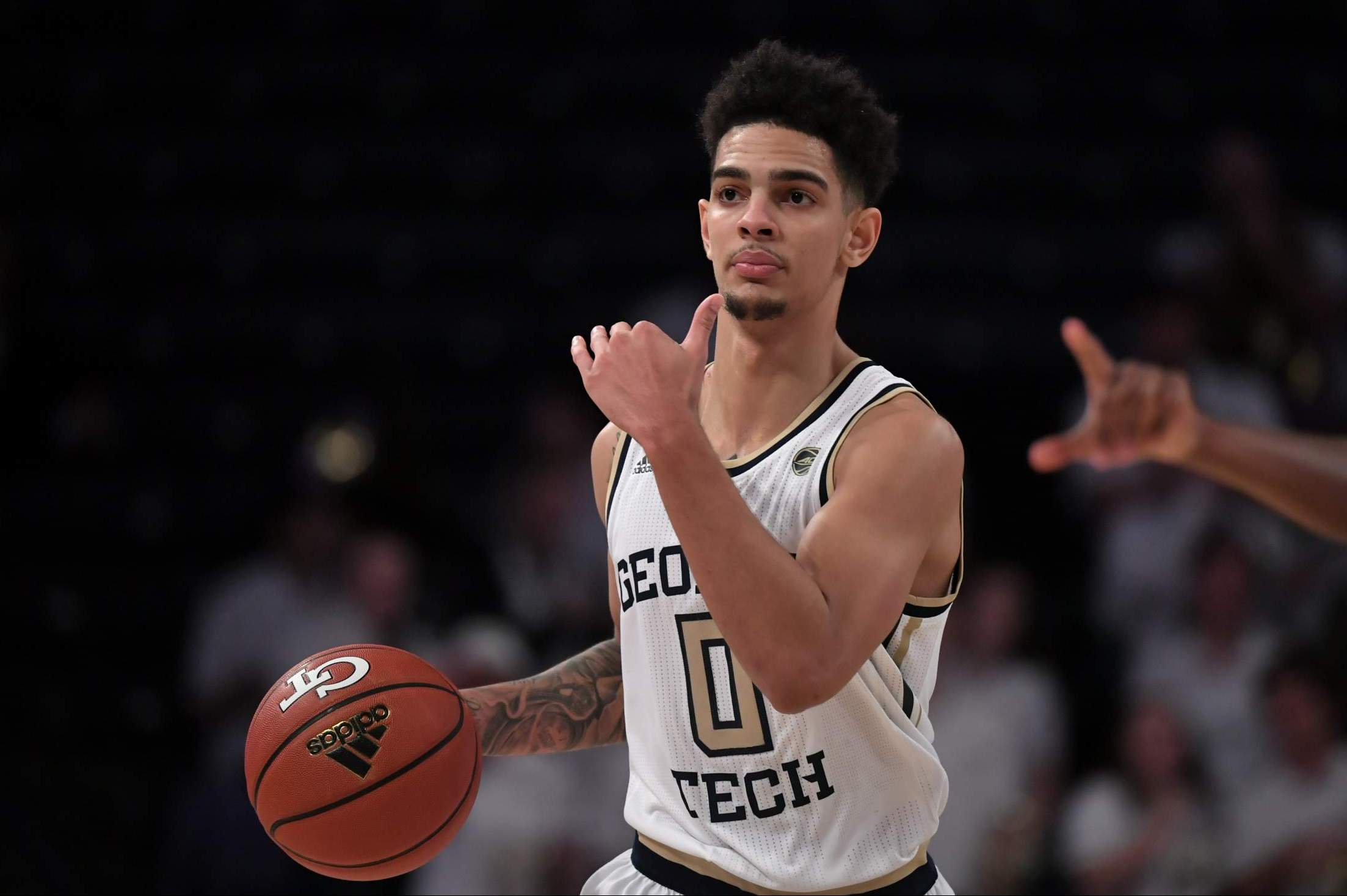 "We have a little bit of a problem going and getting a bucket off our dribble when we don't get anything off our movement.  Somebody that can just go and get a shot.  That's been a problem for us."
Did Josh Pastner say that?  Nope.  That emoting actually came from Notre Dame head coach Mike Brey, whose young team has also languished through some long shooting nights this season.
That included their matchup with Tech Jan. 22, when the Yellow Jackets held them to 32.3-percent field goal shooting (including 7-of-30 from three).  Georgia Tech's guards did a good job maneuvering through Notre Dame's drag screens at the top of the key, preventing leading scorer T.J. Gibbs from finding shots in rhythm.  Wing D.J. Harvey (10.7 ppg) and freshmen Dane Goodwin (7.0 ppg) and Prentiss Hubb (7.5 ppg), the Irish's other top creators on the perimeter, didn't fare much better:
Notre Dame vs. Georgia Tech on Jan. 22
T.J. Gibbs – 2-11 FG, 7 points
D.J. Harvey – 1-8 FG, 4 points
Dane Goodwin – 2-10 FG, 6 points
Prentiss Hubb – 0-4 FG, 0 points
Tech will need to continue to fly around in their recoveries against Notre Dame's five-out motion, especially when defending the slots (extended up the lane lines).  The Fighting Irish still shoot the highest volume of threes in ACC play (47.1 percent of their attempts), with all five players cutting, curling and slipping around the perimeter in search of drives, kickouts and spot-ups.  Look for Gibbs to get activated early: he was held to a season-low two points against Miami.
**
Some context amid the Yellow Jackets' shooting woes: their last four opponents have an average defensive efficiency ranking of 14th nationally.
**
In his courtship of Michael Devoe out of Montverde Academy in Florida, Devoe's head coach said he possessed "J.J. Redick-like" shooting potential according to Josh Pastner.
Earlier in the season that comparison may seemed like hyperbole, if not borderline blasphemy.  But recently – and quietly – Devoe has started to show off his touch.  The Orlando, Fla., native has now made 13 of 32 three-pointers in conference play (40.6 percent), which would rank second among ACC freshmen if he had enough attempts to qualify.
Also, compare Devoe's three-point shooting through his first 10 ACC games to Josh Okogie's first 10 ACC games as a freshman in 2016-17:
Three-point shooting – First 10 ACC games
Michael Devoe '18-19:  13 of 32  (40.6%)
Josh Okogie '16-17:  8 of 20  (40.0%)*
*Okogie finished 42.9% 3pt. ACC            
Notre Dame played mostly zone against the Yellow Jackets at McCamish.  If they stick with that scheme Sunday, can Devoe rise up and knock down the open jumper?  Notre Dame also commits the fewest fouls per game of any team in the nation.  After faltering against Florida State and Clemson, can the Yellow Jackets finish with authority around the rim?
**
The 25-degree weather in South Bend will feel familiar, if not exactly nostalgic, for junior James Banks.  The Decatur, Ga., native played his final season of high school ball at the La Lumiere School, a boarding school in La Porte, Ind., approximately 40 minutes from the Notre Dame campus.  Banks told me he occasionally joined pick-up games at Notre Dame while a student at La Lumiere.
Banks will once again duel with 6-9, 242-pound junior John Mooney (14.3 ppg, 10.7 rpg), the ACC's double-doubles leader who ripped off 22 points and 14 rebounds against the Jackets last month.  A rugged finisher and a ferocious second jumper for offensive rebounds, Mooney helped the Irish to 20 offensive boards against Georgia Tech.  Can Georgia Tech cancel out the back taps and scrambles that allowed the Irish to nearly overcome their poor shooting last month?
Worth noting: Mooney played most of that game at the "5," which limited his ability to step out and shoot the three.  A 43-percent three-point shooter, Mooney didn't attempt one against Tech.  He may test his range more in the rematch (though stretch-four Nate Laszewski did score a career-high 19 points on 4-of-9 three-point shooting in Atlanta).
You may also see Mooney slide to the "4" more thanks to the return of Notre Dame's top center.  The Irish played last month without 6-11 Juwan Durham, a UConn transfer who had been bothered by a bad ankle.  He and Banks rank 1-2 in the ACC in blocked shots.
Blocks per game (ACC games)
Juwan Durham, 2.94
James Banks, 2.45
After swatting a career-high seven shots against Clemson, the Banks-Durham matchup could make for good theater Sunday.
**
Maybe this can reverse the polarity of Georgia Tech's shooting struggles:  on this date in 1996, Drew Barry tied Dennis Scott's school record for three-pointers against an ACC opponent.  Barry drained nine (in 17 attempts) in a 92-83 overtime win over North Carolina.
**
Now that we're prepared, we hope you are as well.  Join us for pregame coverage starting at 5:30 p.m. ET from Learfield IMG College.  See you in South Bend.
-AD-