By Andy Demetra
His words fell somewhere between pleading and pining.
All season long, Josh Pastner had been waiting for his starting guards, Jose Alvarado and Michael Devoe, to play well on the same night.  Alvarado would shine, Devoe would struggle.  Devoe's shooting numbers would rise, Alvarado's would suffer.
As conference play wore on, Pastner racked his brain trying to figure out how to unlock that alchemy.  17 games in, he finally got his wish – and Yellow Jacket fans got a glimpse of how potent that tandem can be in the future.  On Sunday, Alvarado scored 21 points and Devoe 20 in Tech's 81-78 overtime win over Boston College.  Their three-point shooting synched up as well, with Alvarado connecting on 3 of 6 and Devoe 4 of 9.  Perhaps most crucially, they combined for 8 assists and just one turnover in 89 minutes of play.
Alvarado and Devoe also accomplished something else Sunday: they became the first pair of Yellow Jackets to score 20 or more points in the same ACC game since Tadric Jackson had 22 points and Ben Lammers had 20… in a win over NC State last year.
Prior to that, the last time it happened was in 2017, when Josh Okogie scored 27 and Quinton Stephens had 22… in a win over NC State.
That's, of course, where Georgia Tech (13-17, 5-12 ACC) finds itself for the regular season finale Wednesday.  And strong guard play will again be at a premium against an NC State team (20-9, 8-8 ACC) that's backcourt-heavy and turnover-hungry.  Pre-tip reads before the Yellow Jackets and Wolfpack collide for the first time this year (9 p.m. ET, Learfield IMG College):
**
One of Curtis Haywood II's most unheralded strengths could be sorely, if stealthily, missed Wednesday.
Haywood, who matched a career high with 38 minutes played against Boston College, suffered a left ankle injury during the game and will be out indefinitely.  According to Pastner, Haywood is the Yellow Jackets' best inbounds passer, both on press breaks and BLOBs (that's coachspeak for "baseline out of bounds").
Inbounds passes may be a humble, overlooked part of the game, but they could take on added urgency Wednesday.  NC State presses and traps relentlessly in the full court; in the half court, the Wolfpack like to play in passing lanes and deny wing and slot passes.  After consecutive season lows in turnovers against Virginia and Boston College, Tech can't let any casualness creep into their passing.  They'll also need to "run through the pass" and steer clear of any "pick-six" turnovers (NC State forces the most turnovers per game in the ACC).  And who fills Haywood's role as Tech's full-court and BLOB inbounds specialist?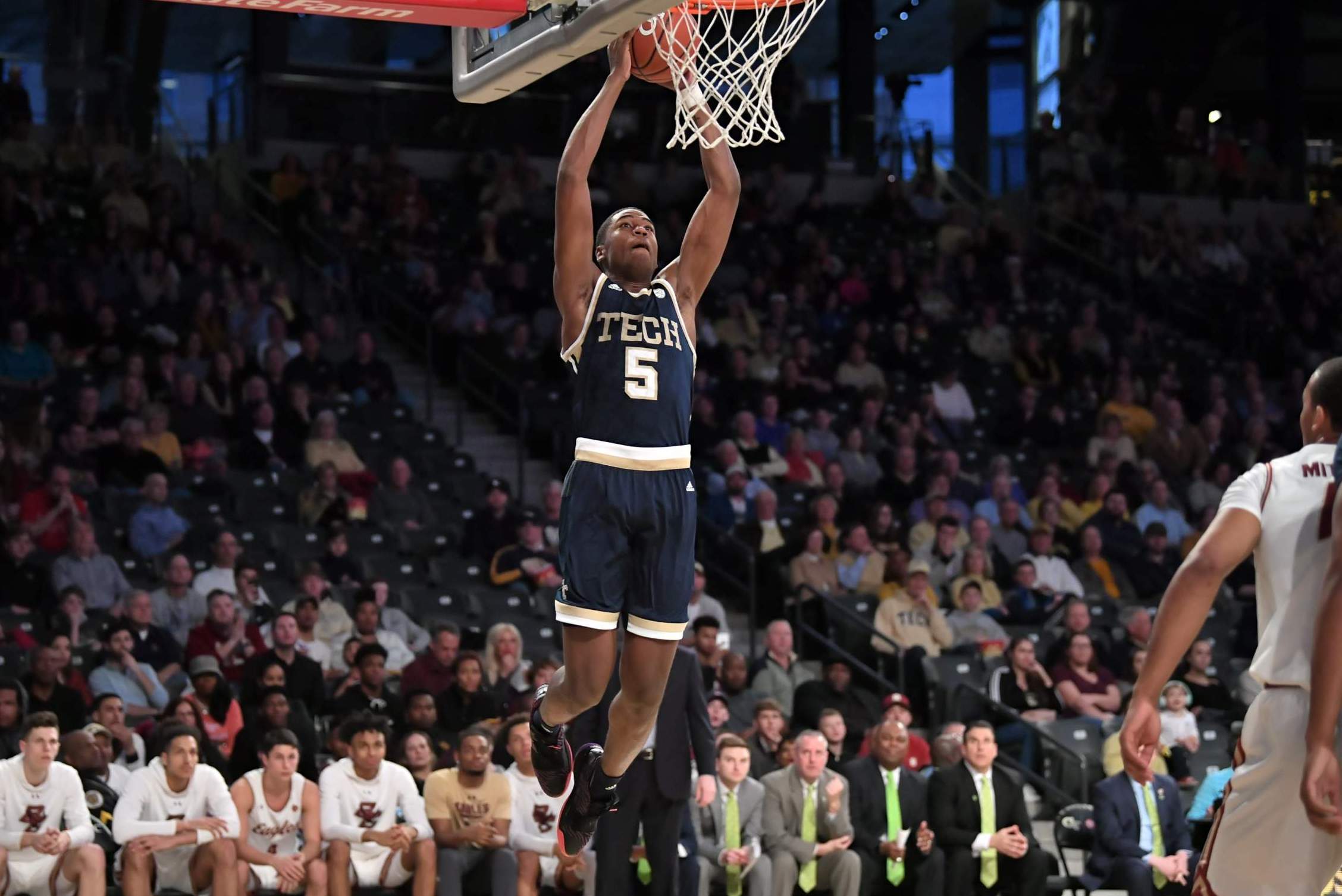 Moses Wright is playing in his hometown for the first time as a Yellow Jacket tonight.
"I said Jose, I recruited the kid who's tough.  I recruited Jose Alvarado, [for whom] winning is more important than breathing… You're going to tell me that you don't think basketball is for you?  I don't want to hear the woe-is-me syndrome.  You are not playing well. And you know who needs to get out of it?  You do.  You've got to snap out of it.  And the only way you're going to snap out of it is if you just get back to work, grind it out, toughen up.  You've got to get through it.  You've got to attack it.  Life isn't easy.  Life isn't fair.  Right now, you're not playing well.  In fact, you stink right now."
That was Josh Pastner, recounting a tough-love conversation he had with Jose Alvarado during the throes of the Alvarado's shooting slump last month.
As the regular season winds down, the sophomore's turnaround has been remarkable.  Check out his numbers over the past 10 games:
Last 5 games – 19.8 ppg, 4.0 apg, 4:1 assist/turnover ratio, 50.8% FG, 42.8% 3pt FG
Previous 5 games – 3.4 ppg, 2.6 apg, 2.1:1 assist/turnover ratio, 14.3% FG, 13% 3pt FG
Alvarado will duel Wednesday with Markell Johnson, NC State's junior point guard (11.5 ppg, 4.1 apg).  Though his assist numbers are down from last year when he led the ACC in that category, Johnson remains a cunning operator in the pick-and-roll.  He also likes to get downhill in transition, similar to Boston College's Ky Bowman.  Tech did a good job preventing Bowman from getting in full locomotion Sunday – according to Pastner, it was their best transition defense in ACC play.  The Jackets also held Johnson to his worst assist-to-turnover ratio in conference play in Tech's 78-75 win over the Wolfpack last year (5A, 5 TO).  Transition defense, a common refrain from Pastner this season, will again be key.
**
Khalid Moore rebounds vs. Boston College in 19 minutes:  3.
Khalid Moore rebounds in his previous 63 minutes:  2.
The freshman from Briarwood, N.Y., could be in line for more minutes in Haywood's absence.  Haywood has the highest defensive rebounding percentage of any of Georgia Tech's guards.  Moore had a sneaky +15 plus-minus – the highest on the team – in the win over BC.
**
At 20-9, the Wolfpack likely appear headed for their second straight NCAA Tournament.  They do, however, have one of the more infamous box scores in college basketball this year.  On January 20, the Wolfpack were held to 24 points – at home – in a 47-24 loss to Virginia Tech.  It also led to one of my favorite number-crunching epiphanies from this year.  The following game, the Wolfpack quadrupled their point total – and still lost by 17.  N.C. State fell to North Carolina 113-96.
Jose Alvarado has averaged 19.8 points and hit better than 50 percent of his shots from the floor in Tech's last five games.
Under second-year head coach Kevin Keatts, State runs an offense that's heavy on pick-and-roll isolations and quick hitters.  In addition to sharpshooters C.J. Bryce (12.0 ppg, 39.8% 3pt.) and Braxton Beverly (10.1 ppg, 38.4% 3pt.) on the perimeter, the Wolfpack also like to send throwback passes to leading scorer Torin Dorn to isolate him on his defender.  At 13.9 points and 6.9 rebounds per game, the 6-6 Dorn has a blink-and-you'll-miss-it first step and is a ferocious offensive rebounder for his size.  DJ Funderburk (6-10), who tied career highs with 18 points and nine rebounds against Florida State Saturday, can be a magnet for fouls underneath.
Meanwhile, pay attention to the foul line on the other end of the floor.  As dynamic as they are offensively, NC State allows the highest free throw rate of any team in the ACC (43.0).  Can the Yellow Jackets identify and attack mismatches when the Wolfpack switch on defense, and grind their way into free throw trips?  Pastner also mentioned that Lammers (7 assists) made some pinpoint passes out of the high post in last year's win.  If they can't mimic Lammers entirely, can Tech keep the ball rotating actively when they play through the foul line?
**
If nothing else, Georgia Tech's frontcourt will be amply motivated Wednesday.  Sophomore Moses Wright, a Raleigh, N.C., native, played at nearby Enloe High but went unrecruited by NC State (among other schools).  Sophomore Evan Cole originally committed to play for Kevin Keatts at UNC-Wilmington.
**
Now that we're prepared, we hope you are as well.  Join us for pregame coverage starting at 8:30 p.m. ET from PNC Arena on Learfield IMG College.  See you in Raleigh.
–AD–