As he waited for his post-game radio interview, Jose Alvarado had plenty to admire as he glanced at his box score.  But the first question he asked didn't concern his career-high 29 points in Georgia Tech's 73-65 win over Pittsburgh.
"How many turnovers did I have?" Alvarado wanted to know.
Technically, it was one – the box score originally said zero, but a scoring error retroactively gave him one the following day – but that did little to scuff an otherwise sterling night for the Yellow Jackets' sophomore point guard.  With Georgia Tech (12-15, 4-10 ACC) looking to shake a seven-game losing streak, Alvarado showed all the qualities that head coach Josh Pastner prized in him out of Brooklyn, N.Y.  Hustle.  Toughness.  The ability to control tempo.  Fearlessness with the ball in his hands.  Not surprisingly, Alvarado has played some of his best all-around basketball in Tech's four ACC wins:
Jose Alvarado in 2018-19 – 4 ACC wins
He'll look to continue that trend against Miami (11-14, 3-10 ACC) in their lone meeting of the season.  Alvarado had 0 assists and 7 turnovers against the Hurricanes last year, an ugly stat line for a point guard – except Pastner called it "one of the best 0-assist, 7-turnover games in college basketball history" because of Alvarado's knack for making gritty, winning plays.
As you get ready for tip-off, enjoy the top notes, quotes and anecdotes from my chart in preparation for Saturday's matchup in Coral Gables (2 p.m. ET, Learfield IMG College):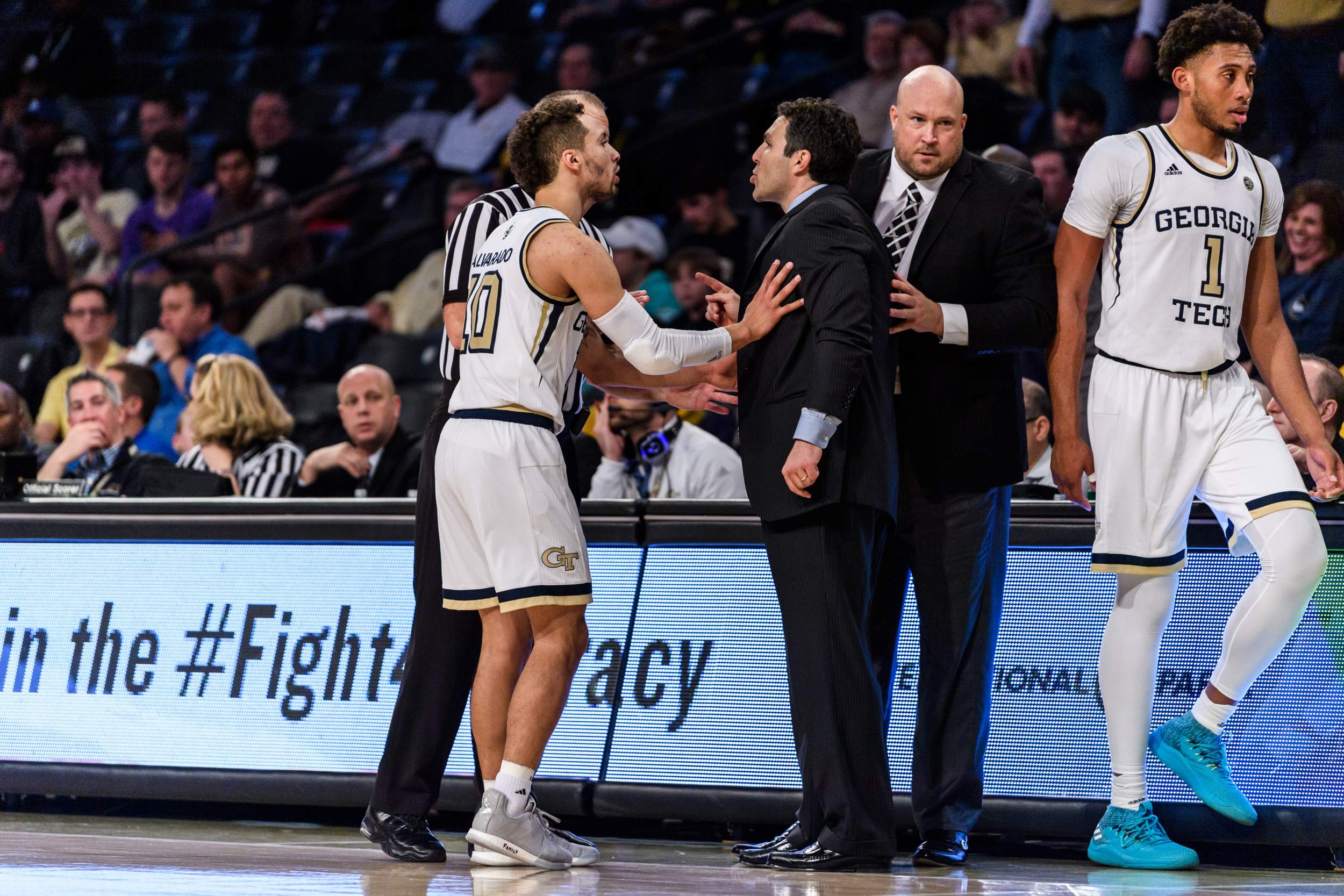 Alvarado will face another diminutive, dangerous point guard Saturday in Miami's 5-7 bottle rocket, sophomore Chris Lykes (16.8 ppg, 3.3 apg).  Lykes would be fun to watch if he weren't so frustrating to guard, a ball-on-a-string dribbler who can stop on a dime, slip through the cracks of a defense, and finish with flair.  He's also a tough defender, which should make his matchup with Alvarado even more entertaining.
Along with 6-10 Ebuka Izundu (10.8 ppg, 8.8 rpg), a powerful rim runner, and three-point specialist D.J. Vasiljevic (11.2 ppg, 38.9 pct. 3pt.), the Hurricanes have a solid triangle of players for their pick-and-roll-heavy offense.  They also feature Zach Johnson (12.6 ppg), a power guard from Florida Gulf Coast who was one of the most sought-after grad transfers last spring, and 6-7 Anthony Lawrence (11.6 ppg), whom associate head coach Eric Reveno said was Miami's best shooter last year.
With a rotation whittled down to seven scholarship players, perhaps no team has welcomed its bye week more than Miami, who last played Sunday in a loss to Boston College.  Georgia Tech will need to move through screens well, run out to shooters, and not allow themselves to get "gapped" in their zone.
Here's another stat that might buoy Yellow Jacket fans:  against teams that rank 1 through 7 in the ACC in offensive efficiency, Georgia Tech is 0-7.
Against teams that rank 8 through 15, Tech is 4-3.
Miami ranks ninth.
**
Alvarado had one more assist that didn't count Wednesday: as he lined up for the national anthem, Buzz motioned for him to tie one of his shoelaces.  Alvarado, ever the teammate, obliged.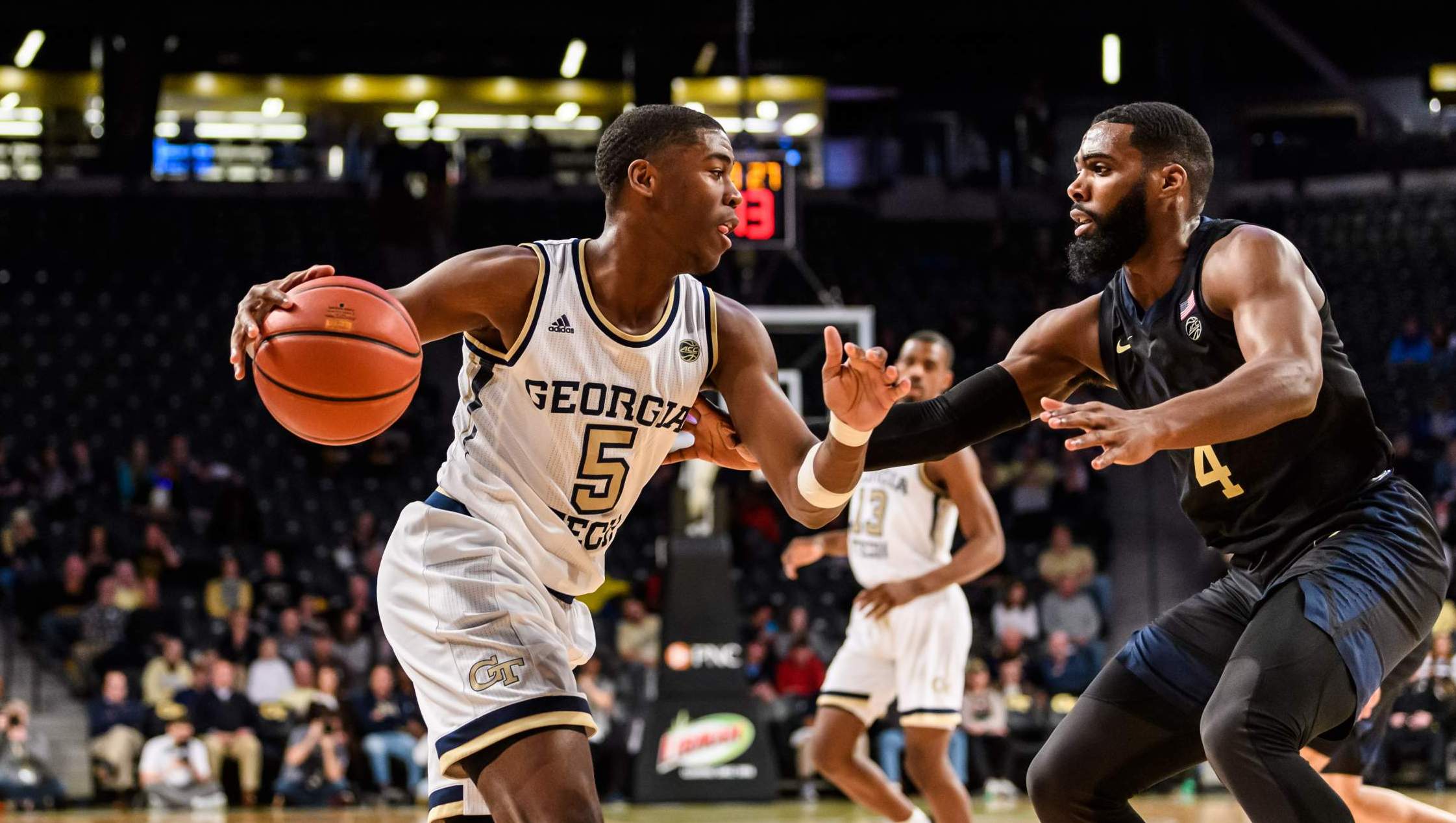 Josh Pastner didn't need to hear the rest of the question.
"Yes," he answered emphatically when asked if Moses Wright had the best ACC game of his career against Pitt.  The sophomore from Raleigh, N.C., only had seven points on 2-of-9 shooting, but chipped in seven rebounds and four blocks, two of which came after James Banks fouled out.  He also made a pair of nervy free throws to extend Tech's lead to five with 1:41 left (Wright entered the game shooting 47 percent from the foul line).  He finished with a team-high +17 plus/minus.
Wright's bounciness could play a role again Saturday.  Miami ranks last in the ACC in rebounding margin in league games (-2.8), though the Hurricanes did outrebound North Carolina in Chapel Hill Feb. 9.  They also foul sparingly, a symptom of their lack of depth.  Opponents only score 13.4 percent of their points from the free throw line against Miami, the third lowest percentage in the country.  Pastner praised his team's cutting and moving against Pittsburgh.  Alvarado, Michael Devoe and even Abdoulaye Gueye will need to shoot with conviction off their dribble-drives and catches around the rim.
**
Miami head coach Jim Larranaga may have more fondness for Khalid Moore than the typical opponent.  Both graduated from Archbishop Molloy High School in Queens, N.Y., albeit 51 years apart (Larranaga Class of 1967, Moore Class of 2018).  When the Yellow Jackets had their game-day shootaround at Notre Dame's low-ceilinged, subterranean practice gym earlier this month, Jose Alvarado, another New York City high school product, joked to Moore that the gym "looked like Molloy."
A five-decade coaching veteran, Larranaga's career has spanned 1,434 games as an assistant or head coach.  He first played against Georgia Tech in his sixth career game, a 91-66 loss as an assistant at Davidson in 1971.
**
A long season can often lead to some surprise stat lines.  Perhaps that's no more true than the following:
Entering the Pitt game, Kristian Sjolund had played 63 minutes in his last three games.
He had played 62 minutes the entire season.
**
Now that we're prepared, we hope you are as well.  Join us for pregame coverage starting at 1:30 p.m. ET from Learfield IMG College.  See you in Coral Gables.
–AD–