GAMEDAY CENTRAL: Georgia Tech at Virginia Tech (Thursday at 7:30 p.m.)
By Andy Demetra (The Voice of the Yellow Jackets) | Inside The Chart
Take a survey around the Georgia Tech locker room and you'll start to notice a disconnect with defensive end Anree Saint-Amour.
"He's one of the best guys I've ever met in my life," said linebacker David Curry.  "He spreads positivity no matter where he is."
"He's definitely somebody you can look up to. Everybody on the team thinks highly of Anree," added senior linebacker Brant Mitchell.
"Anree is definitely one of the nicest guys I've ever met in my life," chimed in senior Desmond Branch, his fellow defensive end.
Are we sure we're talking about the same Saint-Amour? The fire-breathing, quarterback-torturing senior who has created one havoc play after another for the Yellow Jackets' defense? Malice is part of a defensive end's DNA. How does this even compute?
"When you're on the field, it's a battle. They're trying to get a win and we're trying to get a win, and it comes down to whoever wants it the most. You've got to be violent," Saint-Amour explained.
Anree Saint-Amour has 10 tackles, three sacks, three forced fumbles and two quarterback hurries over the last two games.
He smiled as he spoke, a typical reflex for the 6-3, 245-pounder. Saint-Amour may be one of the kindest, most easygoing players in the Georgia Tech locker room, the son of a pastor from Suwanee, Ga. But as Georgia Tech's 3-4 defense evolves under first-year coordinator Nate Woody, Saint-Amour has emerged as his most dependable, destructive playmaker. Heading into Thursday night's showdown with Virginia Tech (7:30 p.m. ET, Georgia Tech IMG Sports Network), he'll look to continue a remarkable string of production:
Against Duke, he finished with two sacks, a forced fumble, and a quarterback hurry that resulted in a Lamont Simmons interception;
Against Louisville, he forced a pair of fumbles, becoming the first Yellow Jacket with two forced fumbles in a game since D.J. White in the 2013 Music City Bowl;
Against Bowling Green, Saint-Amour recorded his first career interception, a three-yard pick-six in the Yellow Jackets' 63-17 win. In doing so, he became the first Tech defensive lineman with an interception return for a touchdown since Georgia Tech Hall of Famer Michael Johnson in 2008.
None of this surprises Branch, his teammate on the defensive line, who marvels at the "ridiculous" amount of weight Saint-Amour can throw around in the weight room.
"He's a real live, athletic, freak, genetic goofball," said Branch, who joked that his numbers are down because Saint-Amour keeps getting to the quarterback first.
Saint-Amour posted solid numbers in 2017, finishing second on the team in sacks (2.5), tackles for loss (5.5) and quarterback hurries (3). But according to head coach Paul Johnson, the Yellow Jackets' change to a 3-4 has weaponized him even more.
"He probably [has] a little more movement and slanting in what we're doing now, penetration and getting upfield. That kind of plays right into his wheelhouse," Johnson said on his weekly radio show.
Saint-Amour offered his own perspective. "It's a simple defense. You're not forced to think too much. Also, it's a big attacking defense. You hit a gap and you go," he said.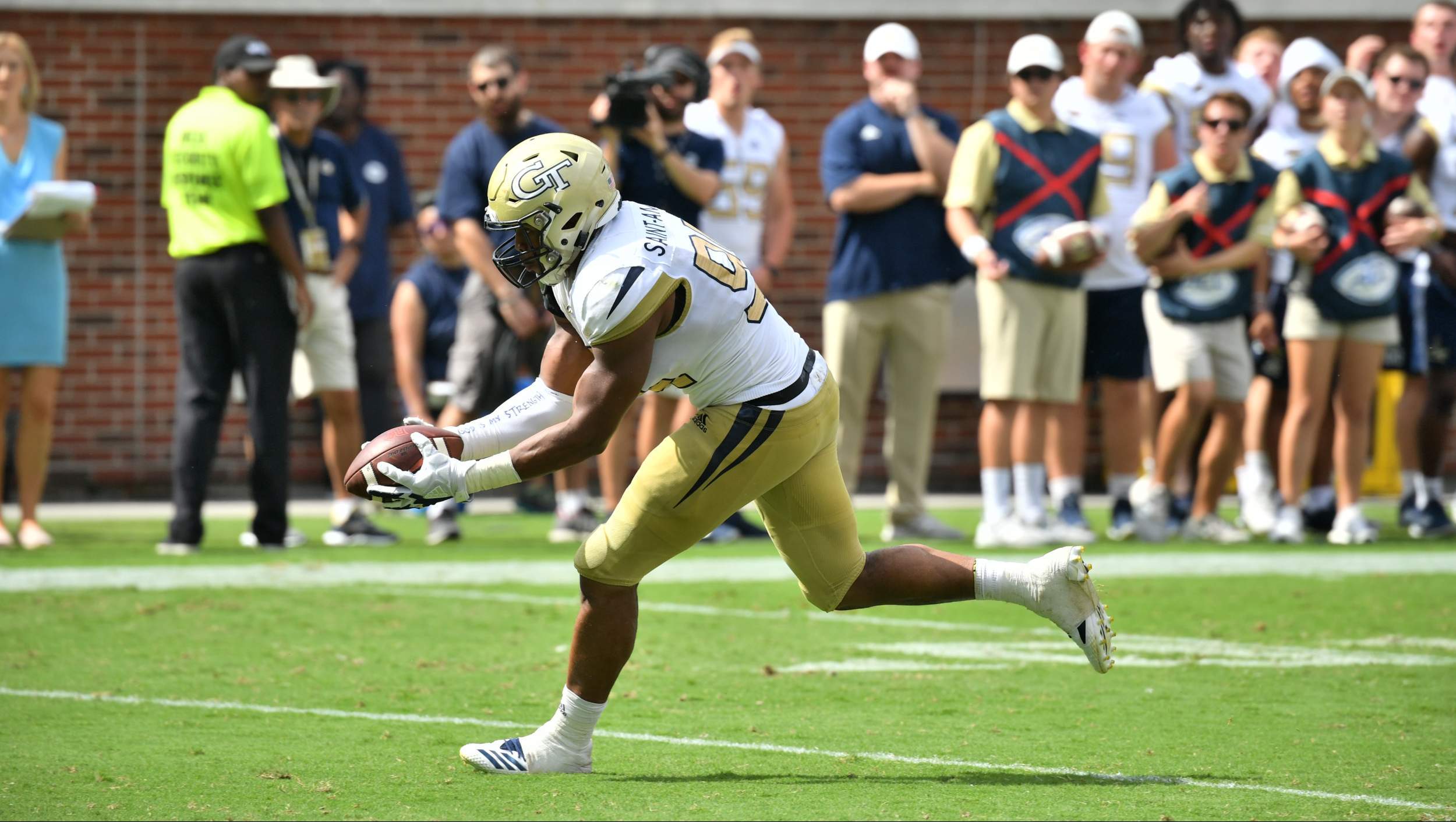 Saint-Amour's first-career interception led to his first-career touchdown against Bowling Green.
He may seem like a natural in it, but for any player entering his senior season, switching to a new scheme can cause some apprehension. Saint-Amour said it took him a while to feel fully confident in Tech's new defense.
"In the spring, we had some success with it but that was just the basics of the defense, and it was against the option. We hadn't seen it against a [different] offense until we got to fall camp," he explained.
"I felt like maybe after the third game of the season, I felt more comfortable with it."
Those havoc plays, he believes, are the end result of his improved grasp of the scheme. In turn, Saint-Amour has started to build an all-ACC-caliber resume while embodying the weapon that Woody has used to describe his defense.
"At the beginning of the year, he came up with this concept of our defense being like a broad ax. The whole thing was that our defense was supposed to be swift, it was supposed to be fast and it was supposed to be powerful. That's what we're looking to represent," Saint-Amour said.
Entering the final week of October, he certainly didn't expect Georgia Tech's won-loss record to match its new defensive alignment (3-4, 1-3 ACC). Saint-Amour may feel pressure to change that, but it won't come at the expense of his pleasant demeanor. He owes much of that to his faith: his father, Manfred, is a pastor at Emmanuel Haitian Alliance Church in Lithonia, Ga. That spirituality extends to his day-to-day activities with teammates, as Saint-Amour leads team members in a breakdown after a prayer.
He also takes pride in his Haitian heritage. His parents immigrated to the United States from Aux Cayes and at his father's church, sermons are delivered in English and Creole. Saint-Amour can still speak some of his family's mother tongue. When prompted, he can even teach a few Creole phrases.
"'Sak pase,' is a big slang [word] that we say. And then we say, 'M'ap boule.' It's like saying, 'What's going on?' And you say, 'I'm hot,' like 'Everything's good,'" he said.
"M'ap boule" may also describe Anree Saint-Amour's play of late. As the Yellow Jackets head to Blacksburg, he'll look to continue creating havoc on opposing offenses – his torment, as always, served with a smile.