By Andy Demetra | Voice of the Yellow Jackets
Jordan Usher opened the folding chair and placed his cell phone on the seat.
The Canton, Ga., native had just joined the Georgia Tech basketball team following a midseason transfer from Southern Cal.  After sitting on the bench for the Yellow Jackets' ACC game against Virginia Tech, the 6-7, 220-pounder wanted to get in a workout on the McCamish Pavilion floor, the chair serving as his imaginary defender on the wing.
But first, Usher needed some musical accompaniment.  And the music he cued up from his cell phone may have turned as many heads as one of his high-wire dunks.
It's not a regular part of his rotation, but Usher likes to listen to classical music.  He'll put it on to mellow his mind before a stressful game.  He puts it on when he studies, searching YouTube for hours-long mixes.  And he occasionally trains with it, too (he prefers songs in C minor).
The music, of course, seems completely at odds with Usher the player, a kinetic, aggressive wing who's averaging 8.4 points per game for coach Josh Pastner's Yellow Jackets.  But as his junior season progresses, Pastner believes Usher's game, like his taste in music, has become more refined.
"He's understanding what it takes to become a basketball player," Pastner said on "GT:60."  "I've told Jordan, your motor has to be running in transition offense, and defensive and offensive rebounding.  But in halfcourt offense, your motor has to slow down.  He's getting better at becoming a basketball player with his footwork, with not rushing everything."
"I'm really proud of what he's doing on the glass, trying to make the right play and really finding the open man," he added.
Pastner noted his growth again Tuesday when Usher had nine points, six assists, one turnover, and a career-high four steals in Tech's 82-54 win over Morehouse.  As the calendar turns to February, Usher may be the clearest barometer yet of Georgia Tech's wins and losses:
Usher Offensive Rating (KenPom)
Wins:  117.0
Losses:  60.4
Cue up some C minor.  Georgia Tech (10-11, 4-6 ACC) may need his intensity to avenge a loss last month to Notre Dame (12-8, 3-6 ACC) at McCamish.  Enjoy more pre-tip reads as the Yellow Jackets shoot for their first ACC win over the Irish in South Bend (12 p.m. ET, Georgia Tech Sports Network from Learfield IMG College):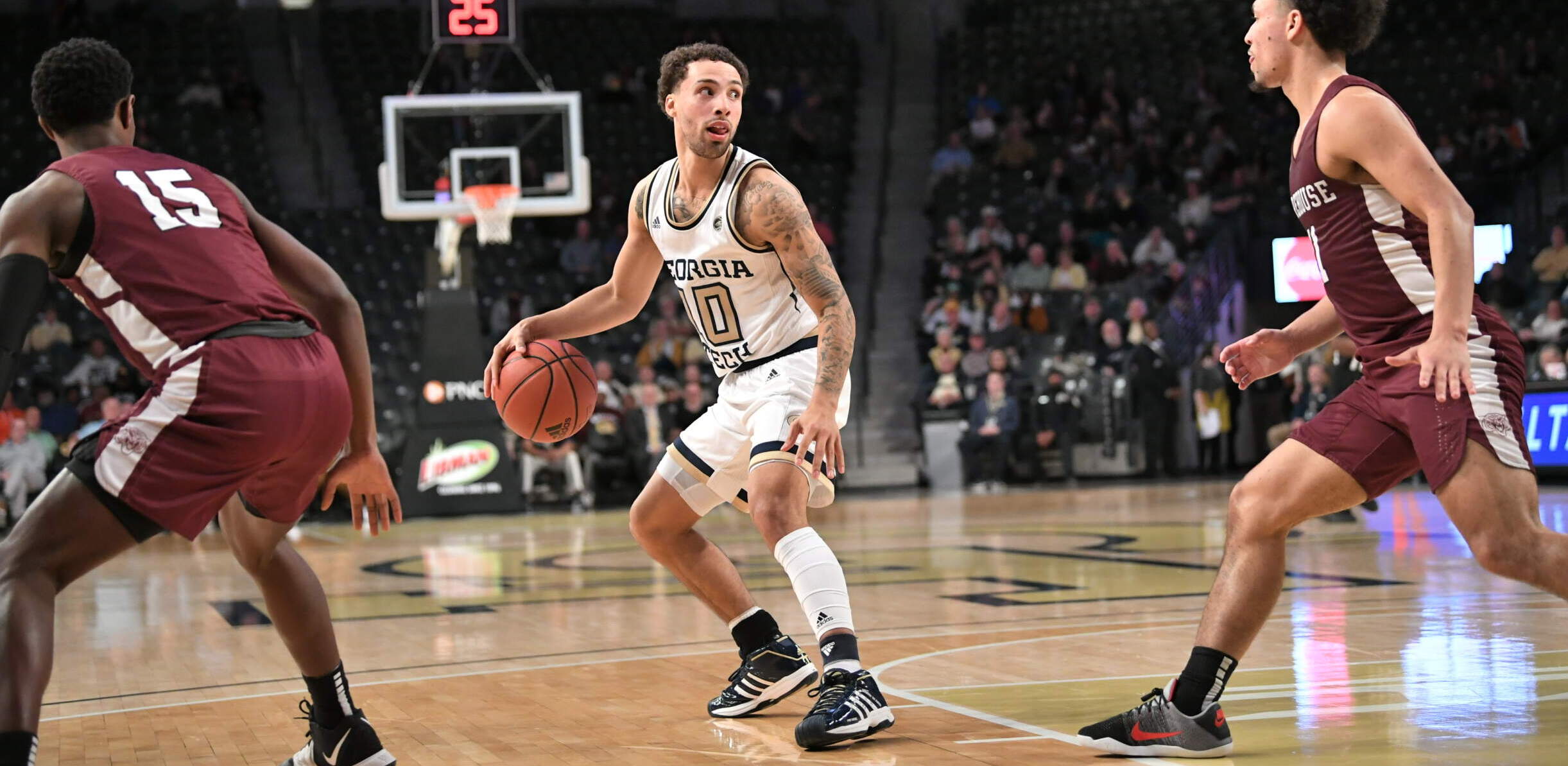 Josh Pastner has been on a season-long crusade to cut down on turnovers.  Those cries may take on greater urgency against Notre Dame.
Some simple math may explain why.  The Fighting Irish rarely turn the ball over, an annual staple under head coach Mike Brey.  Notre Dame averages 9.8 turnovers per game, second lowest in the country.  Georgia Tech averages 16.4.
Notre Dame also ranks second in the ACC in offensive efficiency in league games (1.09 pts./possession).  With Tech and Notre Dame playing at near-identical tempos in conference play, that's 6-7 more points the Irish project to score based on the extra possessions they gain from turnovers.  When the average margin of victory in this series is 5.1 points in ACC play, those points tend to come in handy.
That may partly explain why Tech lost to Notre Dame January 16 despite shooting 51.7 percent for the game.  Can the Jackets avoid any careless, forced passes and cut down on the "possession gap" Saturday?
**
Notre Dame features 6-10 stretch-four Nate Laszewski, who poured in a season-high 18 points in the Irish's 90-80 win over Wake Forest Wednesday.  He also has an interesting sibling connection:  his sister, Abby, played at McCamish Pavilion December 5 when Georgia Tech faced Wisconsin in the ACC/Big Ten Challenge.  Abby Laszewski led the Badgers with 10 points.
**
Another way Georgia Tech can even out a possession gap against Notre Dame: creating extra possessions by offensive rebounds.
Oddly, that didn't materialize last month.  Despite Notre Dame ranking 12th in the ACC in defensive rebounding percentage in conference games, Georgia Tech had its second-worst offensive rebounding percentage of the season against the Irish:
Rebounding Percentages
Notre Dame OR% defense:  32.7%
Georgia Tech OR% vs. ND:  17.9%
Whenever the words "rebounding" and "Notre Dame" are used in the same sentence, the name "John Mooney" has to contractually be included as well.  The 6-9, 245-pound senior (15.9 ppg, 13.4 rpg) ranks second in the nation in rebounds and gives the Irish a cagey presence in their four-out motion offense.  Defensively, the Jackets did a good job denying Mooney touches on the block, especially with James Banks guarding him.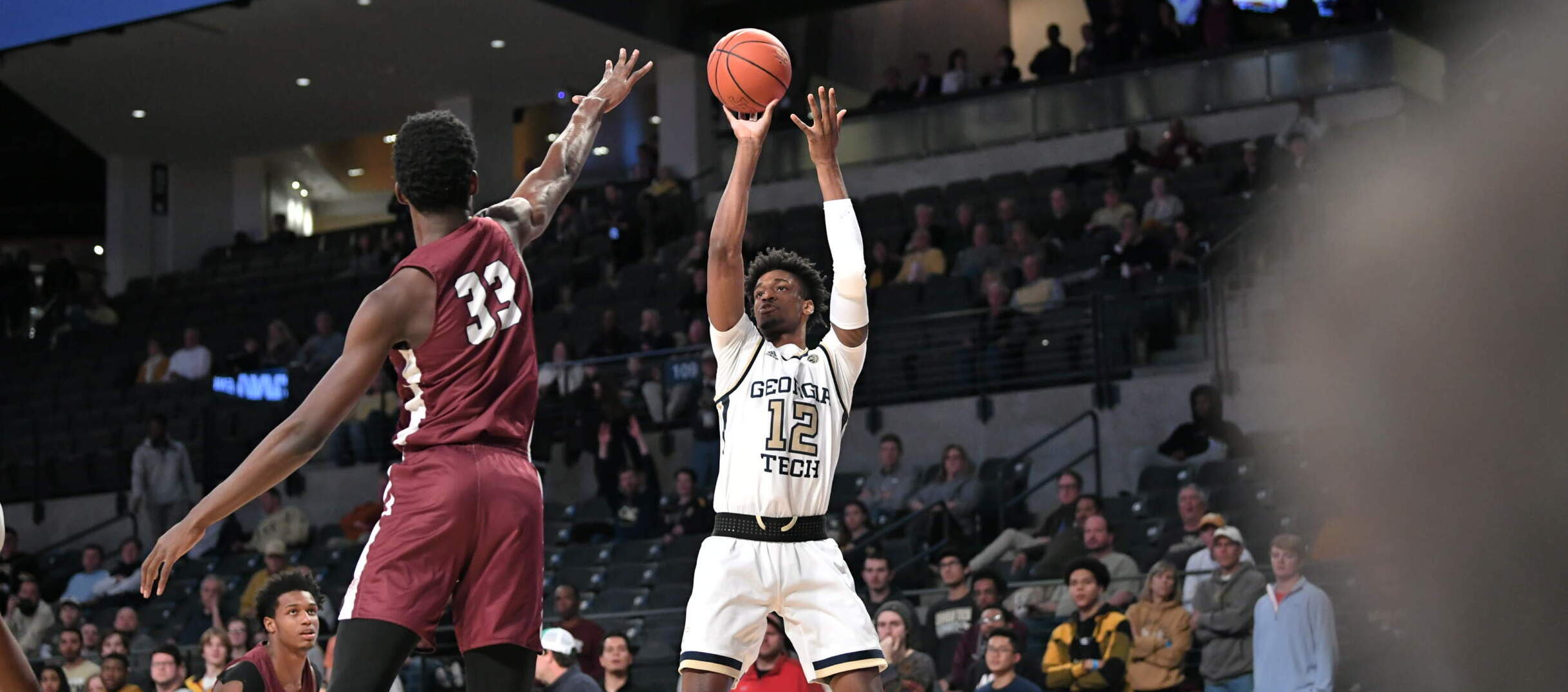 Michael Devoe had 22 points.  Jose Alvarado had a career-high nine assists.  Yet Tech's backcourt was outdueled last month by Notre Dame's guard tandem of T.J. Gibbs and Prentiss Hubb, who combined for 42 points and turned into sentient flame emojis in the second half.
In almost every instance, Notre Dame's halfcourt possession began with Gibbs or Hubb getting downhill off a wing screen; both deftly used the strong and open sides of their picks to keep Tech's defenders off-balance.  The Jackets, fearful of giving up a kickout three, often didn't send a ball-side help defender to cut them off once they got inside the lane.  Three first-half fouls also robbed Alvarado of his usual aggressiveness.
Georgia Tech only played one possession of zone versus Notre Dame, a stark contrast from its typical switching defenses.  Will that ratio change Saturday?  Pay attention to Gibbs, who slogged through a 1-for-11 shooting night against Wake Forest.  He may try to get engaged early.
**
His minutes have receded.  His impact has not.
Devoe's foot injury has freed up more playing time lately for sophomore Khalid Moore, who has started the last two games in his absence.  Moore led the Yellow Jackets in plus-minus in each of those games.
Khalid Moore +/-
N.C. State: +13
Morehouse: +32
Moore, Usher and the rest of Tech's wings will have to be locked in against 6-6 Dane Goodwin (12.0 ppg), a sophomore whom Pastner called Notre Dame's X-factor because of his scoring punch off the bench.  Goodwin thrives on coming off drag screens for threes, though he can also attack closeouts and pull up at the elbows.
**
Now that we're prepared, we hope you are as well.  Join us for pregame coverage starting at 11:30 a.m. ET on the Georgia Tech Sports Network from Learfield IMG College as well as our TuneIn and Georgia Tech Gameday apps.  See you in South Bend.
–AD–