They savored their win over North Carolina – and the gas station snacks that came with it – but Georgia Tech knows the taste of victory can't linger for long in the ACC.   Not with the No. 2 team in the nation awaiting them at McCamish Pavilion Wednesday.
Even with the exodus of Zion Williamson, R.J. Barrett, Cam Reddish, et. al, to the NBA Draft, the Duke Blue Devils (13-1, 3-0 ACC) come into Atlanta with their customary high national ranking and raft of highly-touted freshmen.  The Blue Devils and Yellow Jackets also come in off their best shooting percentages of the season – Georgia Tech (7-7, 2-2 ACC) with a 59-percent effort against North Carolina, Duke with a 59.7-percent performance in a 95-62 rout of Miami.
That spurred an intense practice when the Yellow Jackets gathered Monday to begin their preparation for the league-leading Blue Devils.  The savoring from Chapel Hill is over.  The hunger for another ACC win has taken its place.
Here are the top five notes from my chart in preparation for tonight's sold-out matchup at McCamish Pavilion (9 p.m. ET, Georgia Tech Sports Network from Learfield IMG College):
**
Georgia Tech pitched a pair of rare shutouts Saturday: they didn't allow a single fast-break or second-chance point from North Carolina in the first half.  The Tar Heels routinely play at one of the faster paces in the ACC, and dive-bombing the offensive glass has been a longtime staple of Roy Williams' teams.
The Yellow Jackets will have to lock in on those areas again Wednesday.  Duke ranks fourth in the nation in offensive rebounding percentage (39.3 percent), and Pastner describes the Blue Devils as an elite transition team.  Duke is also a vastly improved three-point shooting team (35.3 percent) from a year ago, when they languished near the bottom of the ACC in three-point percentage.  With freshman Cassius Stanley figuring to get more minutes in place of injured guard Wendell Moore Jr., Duke actually becomes a more dangerous three-point shooting team as a whole.
Key for Wednesday: can the Yellow Jackets prevent Duke from getting the stickbacks and backtaps that lead to deflating kickout threes?  And can they avoid the clogged-paint turnovers and blocked shots that Duke can catalyze into transition baskets?  After scoring 25 points and dishing out a career-high eight assists against North Carolina, Jose Alvarado will face a pair of clingy on-ball defenders in Duke's Tre Jones and Jordan Goldwire.  He and the rest of Tech's guards will need to attack the top foot of their defenders to get downhill in the half-court.
**
Jose Alvarado's six steals against North Carolina were the most by a Yellow Jacket versus an ACC opponent since Iman Shumpert had six against Wake Forest in 2011.  Remarkably, Jose had five steals in the opening 7:36 of the game.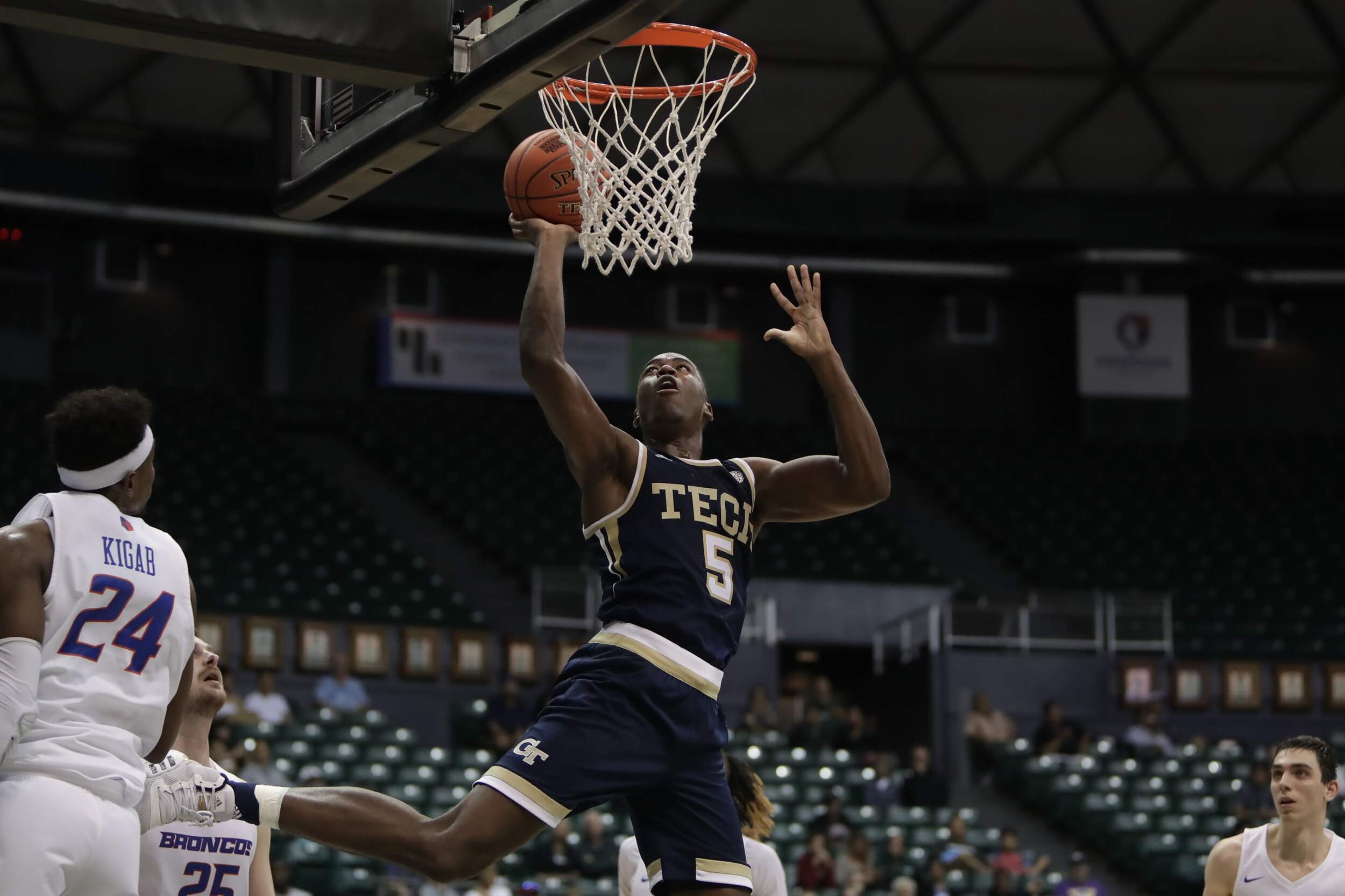 "It was pretty cool, and of course it took off, but afterwards I was a little more depressed that we lost that game."
-James Banks, reflecting on his poster dunk against future No. 1 pick Zion Williamson in last year's Duke game.
Williamson has left for the NBA – you may have heard –  but Banks will now duel with another potential lottery pick in freshman Vernon Carey Jr.  A 6-10, 270-pound left-hander, Carey torched Miami for 24 points and nine rebounds over the weekend, and can both face up in isolation or muscle his way around the post.  Can Tech's guards force Duke into making off-target entry passes so Carey and fellow big Javin DeLaurier can't pin down as effectively?
**
Moses Wright's development can be charted any number of ways, but the forward's junior-year renaissance may best be exemplified by this:
| | | | |
| --- | --- | --- | --- |
| Game | Minutes | Points | Rebounds |
| Syracuse '18-19 | 0 | 0 | 0 |
| Syracuse '19-20 | 28 | 17 | 9 |
| | | | |
| @ Florida State '18-19 | 4 | 0 | 2 |
| @ Florida State '19-20 | 36 | 13 | 10 |
| | | | |
| North Carolina '18-19 | 15 | 4 | 4 |
| North Carolina '19-20 | 38 | 22 | 7 |
Against the same opponents where he struggled to earn his coaches' trust last year, Wright has delivered one impactful performance after another.  The Raleigh, N.C., native only played seven minutes against the Blue Devils last season.  Can he engineer a similar turnaround against the Blue Devils?  Wright may duel at the "4" against 6-9 freshman Matthew Hurt, Duke's leading scorer in ACC play (15.3 ppg, 41% 3pt.), a pick-and-pop threat who can also straight-line drive from the top of the key.
**
Michael Devoe and Vernon Carey, Jr., have already met once before: Devoe's Montverde (Fla.) Academy team beat Carey's NSU University School in the GEICO High School Nationals championship game in March of 2018.  Devoe, a senior, outscored Carey, a junior, 15 to 12.  Bonus fact: the game was played at New York's Christ the King High School, alma mater of Tech's Jose Alvarado.
**
Now that we're prepared, we hope you are as well.  Join us for pregame coverage starting at 8:30 p.m. ET on the Georgia Tech Sports Network from Learfield IMG College.  See you at McCamish.