By Andy Demetra
At least they can save paper on the scouting report.
Florida State (15-5, 3-4 ACC), Georgia Tech's next opponent Saturday, has a profile very similar to the Yellow Jackets' last two opponents.  Like Duke and North Carolina, the No. 25 Seminoles run the floor, extend on defense, and rebound relentlessly.  Like the Tar Heels, they're rested, ranked, and in the middle of a three-point shooting resurgence.
It's a daunting stretch for sure.  But given the last week, Georgia Tech (11-10, 3-5 ACC) doesn't figure to be fazed by Florida State's pace and length.
That familiarity could be key as they head to the Donald L. Tucker Civic Center for the halfway mark of conference play.  Pre-tip reads before Georgia Tech and Florida State renew acquaintances in Tallahassee (12 p.m. ET, Georgia Tech IMG Sports Network):
**
That gale-force wind you'll hear upon entering the Tucker Center? That's the sound of FSU fans collectively exhaling after they realize Josh Okogie no longer plays for the Yellow Jackets.  In two career games against the Seminoles, Okogie averaged a staggering 25.5 points, 15.0 rebounds and 5.0 assists, his high motor proving a constant headache for FSU's hyper-athletic lineups.
The Seminoles, though, have a player who's made his own Okogie-like impact in the series – and he still has eligibility. Six-foot-7 senior Terance Mann has twice recorded a career high in points against Georgia Tech:
Terance Mann vs. Georgia Tech
2015-16 – 6-7 FG, 1-1 3pt, 5-6 FT, 18 points*
2017-18 – 10-13 FG, 0-1 3pt, 11-12 FT, 30 points*
*-Career high at the time
Mann has the ability to spot up or bear down on defenders with power drives, with the touch to finish through contact (note the volume of free throws he's shot against Tech).  He's part of a lineup full of athletic, bouncy multi-tools who can put teams on skates, a group that includes guard Trent Forrest (9.5 ppg) and forward Phil Cofer (8.4 ppg).  The Yellow Jackets will have to "shrink the floor" and not get over-extended in the halfcourt.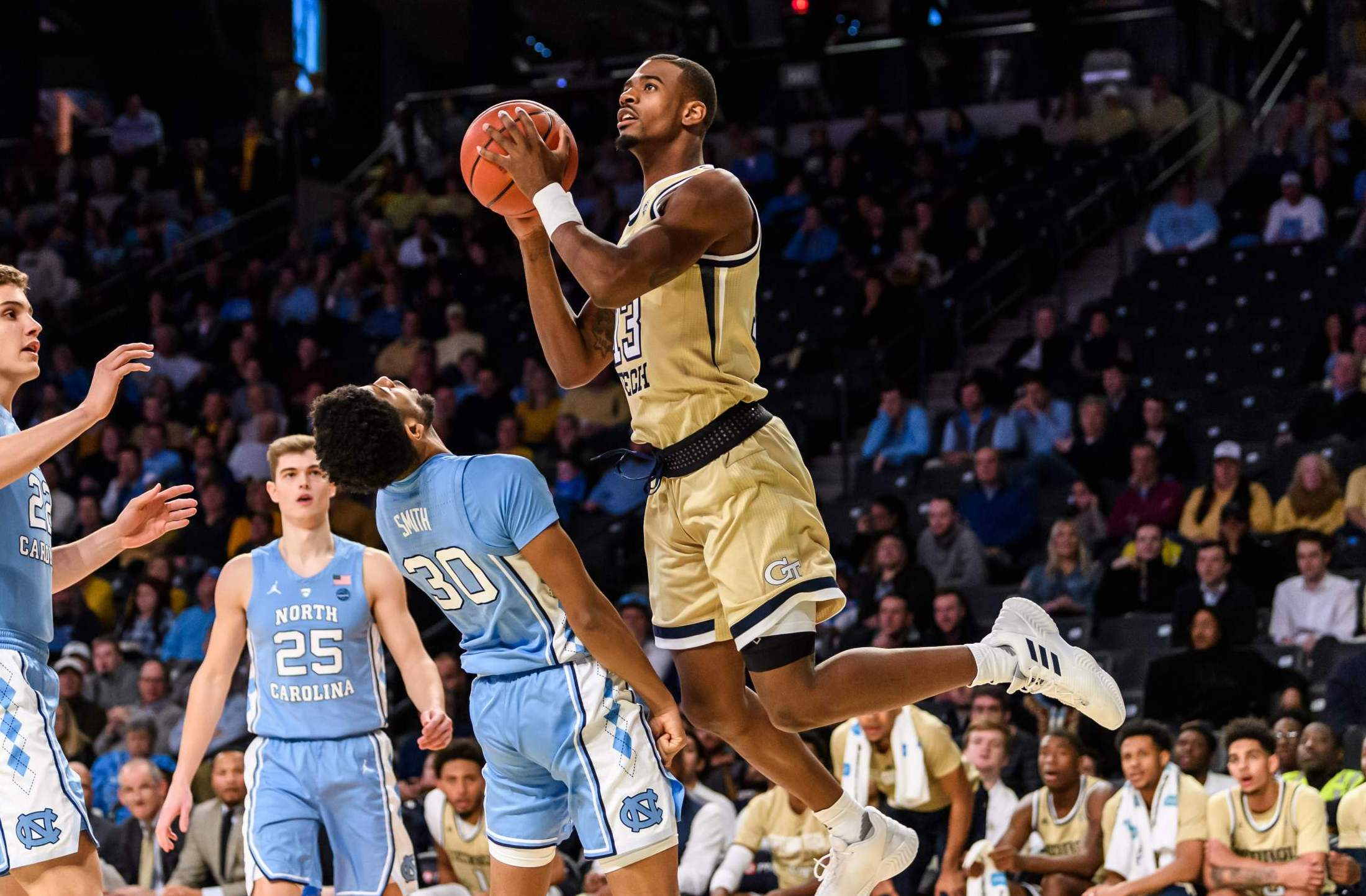 Jose Alvarado and Curtis Haywood (above) enter the weekend tied for the ACC lead in steals in league play (2.1).  The Yellow Jackets, in fact, have three players ranked in the top five:
Steals per game – ACC only
Jose Alvarado – 2.1
Curtis Haywood – 2.1
Trey McGowens (Pitt) – 2.0
Zach Johnson (Miami) – 2.0
Michael Devoe – 2.0
Alvarado and Haywood are linked in another way: in their last four road games, they've each shot 9 of 20 from three-point range (45.0 pct.).  Their ability to splash threes in tandem could be important, especially with FSU connecting on 22 three-pointers over its last two games.  Pay attention to M.J. Walker (8 for his last 9 from three), a Jonesboro, Ga., native who lurks for spot-ups when FSU's ballhandlers collapse and kick.
**
A sprained ankle against North Carolina won't stop Alvarado from suiting up against Florida State Saturday (at this point, nothing short of an amputation will).  After doing some sleuthing on KenPom, I found that Alvarado has an offensive rating of 100 or more in nine career ACC games.
Six of them have come on the road.
That includes a then-career-high 23 points against Florida State in Tallahassee last year.  Defensively, FSU likes to use its length to overplay and shoot gaps.  They can take those chances, of course, because their athleticism gives them ample time to recover.  Cofer, a Fayetteville, Ga., native, is an active help-side defender, while 7-4 Christ Koumadje is as a one-man layup repellent.
After a desultory 35.0-percent shooting performance against North Carolina, hone in on these areas Saturday.  Can Georgia Tech's guards attack closeouts?  Can they take advantage of those denials with hard cuts and backdoor passes?  And can Tech's big men "hold their seal" when stepping out in the high post?  If so, it could create the looks that FSU's athleticism denies.
**
Dikembe Mutombo had a courtside seat for Georgia Tech's game against Florida State at McCamish in 2017 (pity the poor person who had to sit behind him).  Mutombo was there to support his nephew, Florida State forward Mfiondu Kabengele, then sitting out as a redshirt.
After posting decent numbers as a freshman, Kabengele has emerged as a leading candidate for ACC Sixth Man of the Year in 2019 (13.1 ppg, 5.2 rpg).  At 6-10 Kabengele has guard-like agility – not surprising for someone who played guard through his junior year of high school.  He's also a walking foul magnet:  Kabengele ranks sixth nationally in fouls drawn per 40 minutes.  Abdoulaye Gueye, who has scored in double digits in a career-best five straight games, was handcuffed by foul trouble last year against the Noles.
**
Duke and North Carolina both ranked in the top 25 nationally in offensive rebounding percentage when they faced Tech.  Stickbacks, though, weren't a steady part of their diet:  Georgia Tech outscored them by a combined +5 in second-chance points.  Florida State comes in ranked 20th in the nation in offensive rebounding percentage.  Pay attention to Mann, whom Pastner has called the best offensive rebounding guard in the ACC.
**
It's not uncommon to find second-generation college basketball players.  Florida State, though, has something unique: three of their rotation players have Moms who played college hoops.  Terance Mann's Mom starred at Georgetown; M.J. Walker's Mom won a Division II national championship at Hampton; and Phil Cofer's Mom played for the late Pat Summitt at Tennessee.
**
Now that we're prepared, we hope you are as well.  Join us for pregame coverage starting at 11:30 a.m. ET on the Georgia Tech IMG Sports Network.  See you in Tallahassee.
–AD–