By Andy Demetra | Voice of the Yellow Jackets
If Georgia Tech wants to break another COVID-shaped piñata Tuesday, they'll first need to crack something even tougher.
The Yellow Jackets went viral – figuratively – for their creative locker room celebration following their win over Nebraska in the ACC-Big Ten Challenge last week.  Their next win would rattle through the Internet for entirely different reasons:  No. 15 Florida State (3-0, 0-0 ACC), their opponent in the ACC opener, owns a 26-game home win streak at the Donald L. Tucker Center.  That includes a 70-58 win over the Yellow Jackets on New Year's Eve last year.
Georgia Tech (2-2, 0-0 ACC) will try to make the candy flow again Tuesday – and this time, make it taste even sweeter.
Enjoy the top five notes from my chart in preparation for the first step in Georgia Tech's ACC journey (8:30 p.m. ET, Georgia Tech Sports Network from Learfield IMG College):
*****
Earlier this week, Josh Pastner texted Florida State head coach Leonard Hamilton with a question.  In truth, it read more like a statement of wonder.
"I said, 'Where do you find these guys?'" Pastner told me in our pre-game radio interview.
Pastner was referring to the Seminoles' annual parade of seven-footers – Hamilton counts three in his rotation this year, led by 7-1 sophomore Balsa Koprivica.  They're part of another Brobdingnagian FSU team that leads the nation in average height according to KenPom.com (79.3" per rotation player).
That length enables the Seminoles to extend high into passing lanes and swarm ball-handlers on dribble-drives.  Yet Georgia Tech has already chopped down one tall team when it beat Kentucky (#4 NCAA average height) at State Farm Arena December 6.  What can the Yellow Jackets learn from that matchup as they prepare to face FSU?
Georgia Tech reversed the ball quickly, which opened driving lanes and created clean looks on the back sides of plays. If the Seminoles deny hard on Moses Wright in the high post, can the Yellow Jackets swing the ball sharply and get the long, agile Seminoles out of position with their "plus-one" passes?  They've had success recently with backdoor plays against FSU.
The Jackets made kickout threes, which could be available Tuesday given FSU's desire to gang-challenge shots at the rim.
Georgia Tech's guards rebounded well.
Tech protected the ball, committing just six turnovers. That may be a more difficult task against Florida State, which forces a turnover on 26.6 percent of opponents' possessions (15th NCAA). Pastner said the Jackets will need to avoid the pick-six turnovers that often serve as Florida State's smelling salts.
Pastner also noted that his team will have to play with good "foot advantage" – his term for catching passes and pivoting with strength so his players can gain leverage on taller defenders.  Georgia Tech will likely play a smaller lineup for a third straight game Tuesday.  Can they check those same boxes against another long lineup in the Seminoles?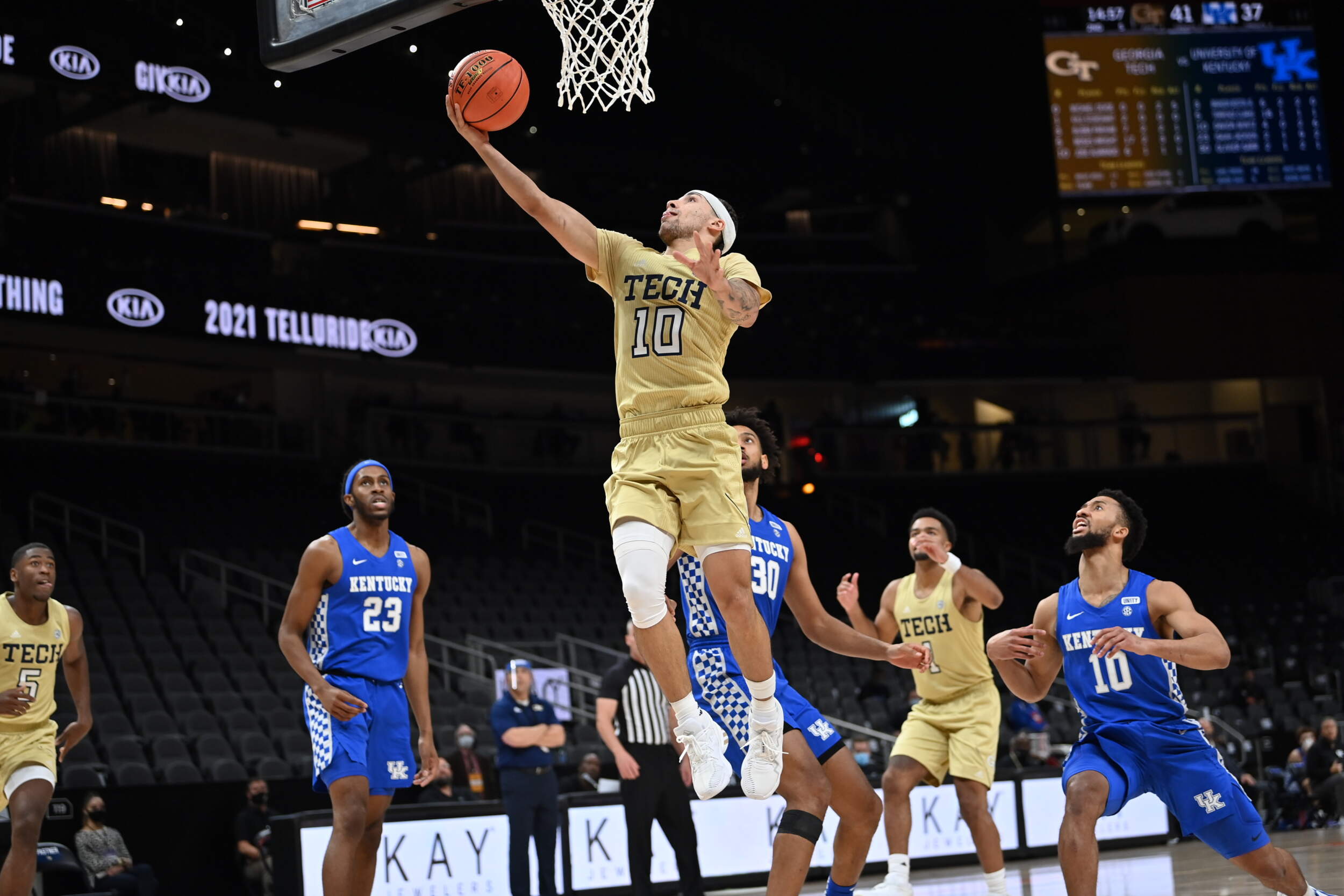 No, your eyes aren't deceiving you.  In another Great Moment In Opponent Nomenclature©, Florida State's roster features both a RayQuan (Evans) and a RaiQuan (Gray).  Evans may hold the naming rights edge:  according to FSU's notes, his name was inspired by Raekwon of the Wu-Tang Clan.
Gray, a 6-8, 260-pound redshirt junior who plays both inside and out, is described by Pastner as a Draymond Green-type who can stretch the floor and create mismatches.  He's one of the spokes of a balanced, spread-it-and-drive offense that also features 6-9 freshman Scottie Barnes, a likely high lottery pick who can play all five positions.  Jordan Usher and Khalid Moore, who's coming off one of the better all-around games of his career against Nebraska, will need to blend their athleticism and toughness if they want to triumph against Florida State's versatile wings.
Can the Yellow Jackets bring the Ruckus?  Can It Be All So Simple?  We'll see. (That's a Wu-Tang reference.)
*****
Both teams' lead guards will look to exorcise some recent demons in the series.
Jose Alvarado hung 23 points at the Tucker Center as a freshman, but has struggled in his two games since.  FSU's M.J. Walker, who comes in averaging a team-leading 17.7 points per game, ranks just outside the top 10 in school history in made three-pointers. The Yellow Jackets, though, haven't exactly abetted that climb:
Jose Alvarado (last 2 games at FSU): 0-9 on 3-point field goals (2-20 FG)
M.J. Walker (3 career games vs. GT): 3-12 on 3-point field goals
Alvarado and Walker may not go head-to-head Tuesday – the Seminoles switch on almost every ball screen, and 6-6 Anthony Polite is a rangy, well-regarded defender who could draw the assignment on him – but pay attention to how well those two get their offenses going.
It's no surprise considering he's an Orlando native, but junior Michael Devoe has several connections weaving through the Florida State roster.  As a freshman and sophomore he attended the rival high school of Wyatt Wilkes, FSU's reserve three-point shooting specialist.  He later teamed with Koprovica at Montverde Academy in Florida.  And as a senior he beat Barnes in the GEICO High School national championship game in New York City.
Pastner downplayed Devoe's early three-point shooting struggles, insisting that "those shots will fall."  Worth noting:  Devoe made 47.5 percent of his three-point attempts away from McCamish last year.  That included a 6-of-8 three-point performance in Tallahassee.
*****
"A couple years ago when I had kidney stones and we had to play against North Carolina, that's what it felt like.  It was about as painful." – FSU coach Leonard Hamilton, on his team's play against Georgia Tech's matchup zone last year.
Compliment accepted.  Odd, but accepted.
*****
Now that we're prepared, we hope you are as well.  Join us for pregame coverage starting at 8 p.m. ET on the Georgia Tech Sports Network from Learfield IMG College.  See you in Tallahassee!
AD