By Andy Demetra | Voice of the Yellow Jackets
He adopted the acronym and introduced it after practice Thursday.
Josh Pastner is a man of many mantras – you can probably stitch them all onto decorative throw pillows at this point – but Georgia Tech's head coach crafted another one ahead of his team's final three regular season games.
"I've been talking about T.T.W. – 'toughest team wins,'" Pastner said in his post-game radio interview Saturday.
Take away the scouting reports, the nuance and the strategy, Pastner says, and that's what Georgia Tech's final stretch of games boils down to.  Who can make the plays under pressure?  Who doesn't flinch in the face of adversity?  Who stays poised as the postseason stakes get bigger?
It may not overtake #THWg as the most hallowed shorthand in Tech history, but "T.T.W." did its job Saturday.  After a 13-point lead dissolved into a five-point halftime deficit against Syracuse, Georgia Tech (13-8, 9-6 ACC) rediscovered its toughness in the second half, shooting 60 percent en route to an 84-77 win.
The Yellow Jackets will look to abide by that mantra again Tuesday when they host Duke (11-9, 9-7 ACC), another team fighting for its postseason life.  They may need even more toughness given their recent history with the Blue Devils: Tech has lost 14 straight to Duke, its longest current losing streak against an ACC opponent.
Determination, desperation – it will all be coursing through McCamish Pavilion in Georgia Tech's final home game of the season.  Enjoy the top notes, quotes and anecdotes from my chart in preparation for tonight's Senior Night matchup in Atlanta (8 p.m. ET, Georgia Tech Sports Network from Learfield IMG College):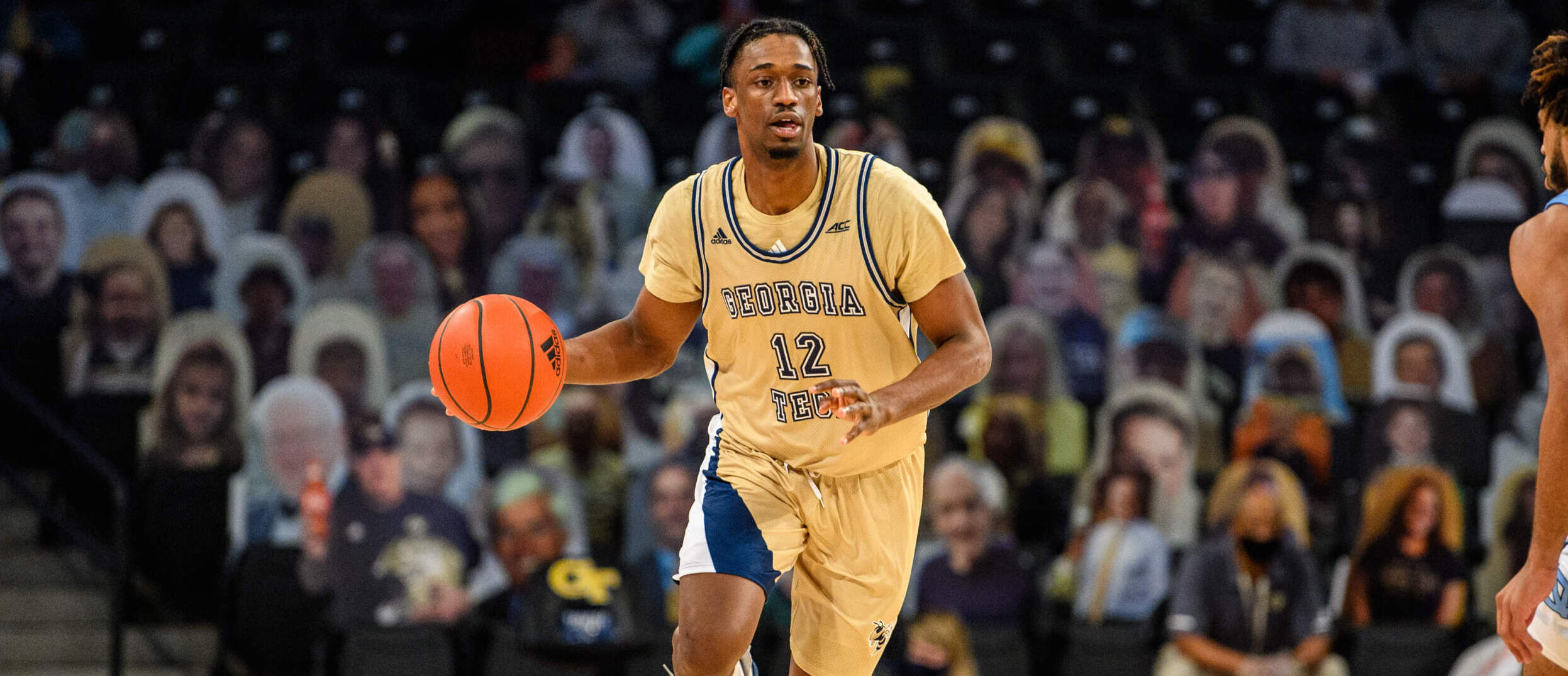 Khalid Moore score dnine points in Tech's Jan. 26 loss at Duke, and has started Tech's last four games, averaging 6.0 ppg and 3.8 rpg. (photo by Danny Karnik)
In an ordinary year, Duke wouldn't even bother with a bubble.  Yet after a 7-8 start, the Blue Devils looked to be in dire shape for extending their 24-year streak of making the NCAA Tournament.  Those chances took a further hit February 15 when projected lottery pick Jalen Johnson (11.1 ppg, 6.2 rpg), who scored 18 points in Duke's 75-68 win over Georgia Tech in late January, opted out for the rest of the season.
Then an altogether unsurprising thing happened: Duke started to play like Duke again.  The Blue Devils promptly ripped off four straight wins, including an upset of No. 7 Virginia, to muscle their way back onto the bubble.  Their momentum stalled Saturday in an overtime loss to Louisville, but even without Johnson, the Blue Devils have looked like a reborn offense.
So why the improvement?  They've taken better care of the basketball.  In the absence of Johnson, they're playing a more traditional post in 7-foot, 243-pound freshman Mark Williams.  That's given Matthew Hurt (19.3 ppg, 6.4 rpg, 45.8% 3pt.), the Blue Devils' finesse, 6-9 flamethrower, more freedom to roam the perimeter.  Hurt, the ACC's leading scorer, scored a career-high 37 points against Louisville, using a nearly unblockable, Larry Bird-esque high release to get off his shot.  In addition to being an industrious rebounder and shot blocker, Williams gives the Blue Devils a hard-to-move pindown target on the block.  Guard D.J. Steward (13.1 ppg), the ACC's leading freshman scorer, has also improved.  He was a handful against the Yellow Jackets in Durham, combining power drives to the rim with an ability to knock down three-pointers off reversals.  Steward scored 19 points against Tech, but he'll be looking to shake off a 2-for-13 shooting performance against Louisville.
Georgia Tech has done a good job lately of clogging airspace against their opponents' top shooters.  Can they keep that up against the likes of Hurt and Steward?  And can they defend more soundly against Duke's dribble-drives from the slots?  The Blue Devils rank 337th in the nation in Free Throw Rate (FTA / FGA), but enjoyed their third-highest rate of the season against the Yellow Jackets.
*****
Tuesday's game pits the two most recent winners of the ACC Player of the Week award.  Their floor games may differ, but Moses Wright and Matthew Hurt have both caught fire in late February:
PPG                       FG%
Moses Wright                    23.4                        66.7%
Matthew Hurt                   24.7                        62.2%
Wright will look to rebound from a 6-of-17 shooting night against the Blue Devils in January.  Also pay attention to Khalid Moore – the junior posted a +9 plus-minus in Durham and could give Tech some much-needed versatility on defense.
*****
Come March, everybody's record becomes a Rorschach test.  What do you see in a team's numbers?  Is their record stronger than it looks? Weaker?
Consider this:  Georgia Tech comes in to Tuesday's game in sixth place in the ACC standings.  Now look at the KenPom conference strength of schedules of the teams ranked ahead of them:
Conf. SOS
Florida State (10-3)           11
Virginia (12-4)           10
Virginia Tech (10-5)           15
Louisville (8-4)                 7
Clemson (9-5)           5
Georgia Tech (9-6)           1
The Yellow Jackets have played Florida State, Virginia and Clemson twice, and played Louisville and Virginia Tech on the road.  Duke, a half-game behind Tech in the ACC standings, has a KenPom conference strength of schedule of 13th.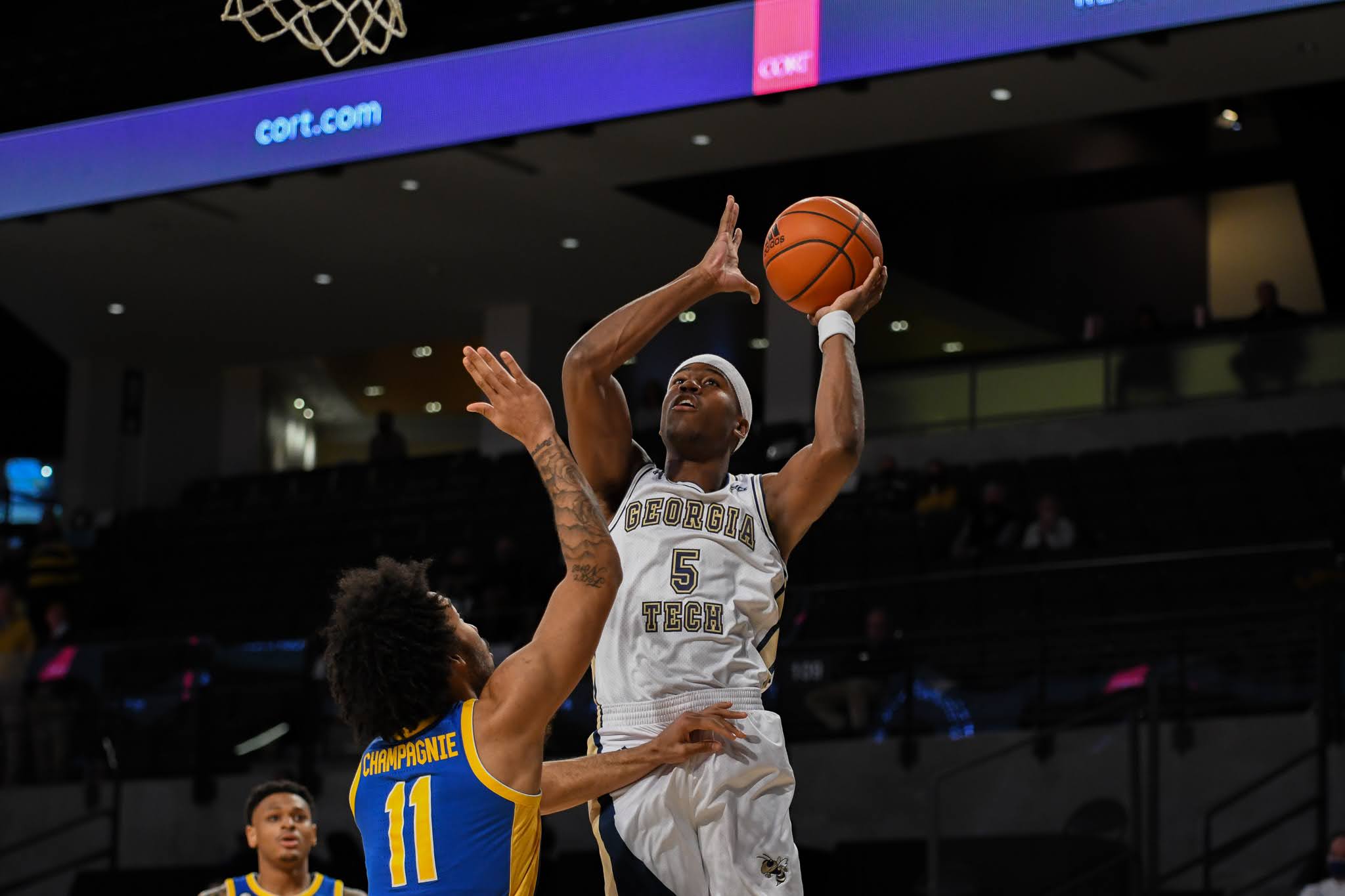 Moses Wright has had a remarkable four-game stretch, averaging 23.5 points and 10.5 rebounds while connecting on 67.2 percent of his shots from the floor. (photo by Anthony McClellan)
On the surface, it may seem tempting to fire away from three against Duke.  The Blue Devils are tied for the worst 3pt. FG% defense in the ACC, allowing opponents to shoot 37.4% from beyond the arc.
Another set of data points may tell a different story.  Look at the split in Duke's record when opponents attempt more than a third of their shots from three-point range against them:
Three-Point Rate*           Duke Record
>33%                                     7-2
<33%                                     4-7
*-Three Point Rate:  3pt. FGA / Total FGA
Georgia Tech was seduced into too many early-shot clock threes in its matchup in Durham, resulting in a Three-Point Rate of 37.5%.  Can they find the balance between selectiveness and aggressiveness when hunting for threes Tuesday?  They also may need to do a better job attacking the weak side of pick-and-rolls, which they did well versus Virginia Tech but did unevenly at Cameron Indoor.  The Blue Devils have been hedging ball screens a lot more with Williams.
*****
Among the many once-in-a-decade performances he's turned in this year, Moses Wright tacked on another one Saturday.
Only twice in the last decade has a Georgia Tech player grabbed nine or more offensive rebounds in a game.
Wright has both of them (11 vs. Georgia State, 9 vs. Syracuse).
*****
Now that we're prepared, we hope you are as well.  Join us for pregame coverage starting at 7:30 p.m. ET on the Georgia Tech Sports Network from Learfield IMG College.  For the last time this year, we'll see you at McCamish.
–AD–