By Andy Demetra | Voice of the Yellow Jackets
Josh Pastner loves film.  Binge-watches it at all hours.  Probably gets calluses from all the pausing, rewinding and fast-forwarding he does.
Even among his coaching peers, Pastner is considered an outlier.  Georgia Tech's fifth-year head coach takes bleary-eyed pride in breaking down every play, sniffing out every tendency, looking to find some molecular detail that could unlock the key to the next win.
That obsession carries over to Tech's film sessions, which can be … let's say exhaustive.  Yet when Pastner gathered his players before their practice Monday, the film study of their 64-62 loss to No. 13 Virginia was extreme even by his standards.
The Yellow Jackets watched every single play of the game.
Not a compilation.  Not a few key clips.  Every single possession, offense and defense, from start to finish.
Pastner didn't do it to make a statement or browbeat his players.  He believed, as he reiterated Monday, that his team played well enough to beat the ACC-leading Cavaliers.  Rather, he did it to reinforce that small details can often make the difference between a stinging loss and a road upset.  Georgia Tech (7-4, 3-2 ACC) will try to heed that message and re-write the ending Tuesday when it stays on the road to face Duke (5-5, 3-3 ACC) at Cameron Indoor Stadium.
Pastner loves watching film.  Come Tuesday night, when he clicks "play" on the next marathon film session, he hopes to love the result even more.  Enjoy the top notes from my chart as Georgia Tech seeks its first win in Durham since 2004 (9 p.m. ET, Georgia Tech Sports Network from Learfield IMG College):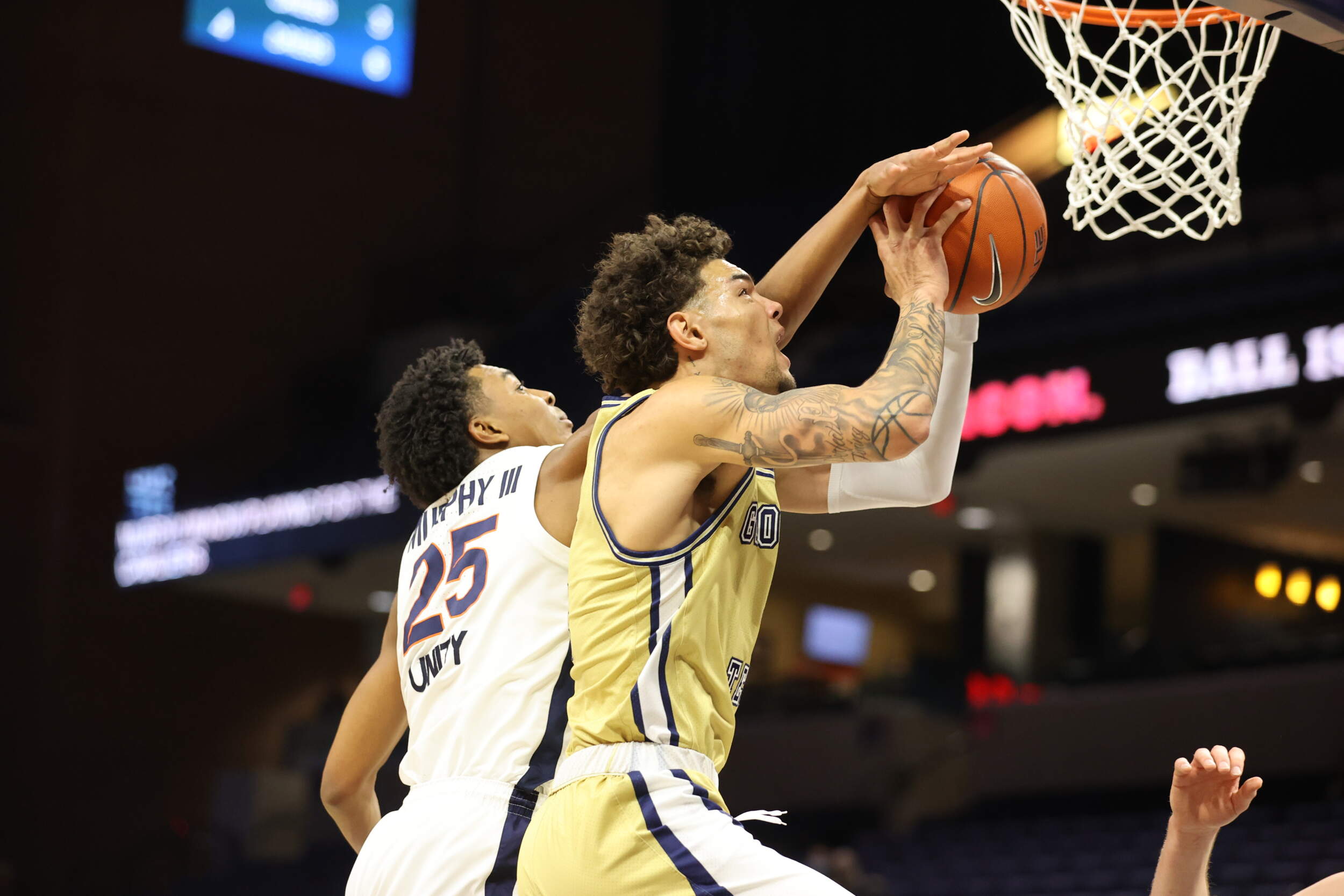 In ACC games, Jordan Usher has scored 72 percent of his points in the first half. (photo by Keith Lucas)
Duke hasn't looked quite as Duke-ish lately:  the Blue Devils come in unranked and carrying a three-game ACC losing streak after falling to Louisville 70-65.  Injuries, inexperience and interruptions to their schedule haven't allowed the Devils to put it all together yet.  But Mike Krzyzewski's team remains formidable thanks to the steady play of sophomore Matthew Hurt, the ACC's second-leading scorer and third-leading rebounder (19.4 ppg, 8.2 rpg).
Like Virginia's Jay Huff, Hurt is the rare seven-footer who can step out and shoot the three – his 47.3 percent average leads the ACC.  The Blue Devils like to run him in a variety of pick-and-pop action around the halfcourt, where he uses a high release – Larry Bird-esque, according to Pastner – and a litany of pump fakes to get off his shot.  He also has a slithery game in the low post.
However, Duke has struggled to find a secondary three-point shooter to complement Hurt:
Duke 3pt.% (minus Matthew Hurt)
ACC wins:  36.7% (18 of 49)
ACC losses:  21.9% (14 of 64)
Georgia Tech still lags in last place in the ACC in three-point defense (38.0%), and Pastner said the Jackets didn't close out with consistent enough urgency against Virginia's three-point shooters.  Pay attention to that barometer Tuesday.  It could determine whether Tech's game will Hurt or not.
*****
One last footnote from Georgia Tech's shooting spree against Clemson: two years ago, on February 6, 2019 at McCamish Pavilion, Tech made 13 of 43 field goals in a 65-42 loss to the Tigers.
Last week the Yellow Jackets made 16 of 27 three-pointers against Clemson.
The Jackets will face a Duke team that's playing far more 3-2 zone this year, a departure from its normally orthodox man-to-man.  They also don't have the fearsome shot blockers of seasons past – after finishing first and second in the nation in blocks over the last two years, the Blue Devils rank sixth in the ACC this year.  Given Georgia Tech's recent scoring binge from three – they've made a remarkable 46 percent from deep over their last six games – will the Blue Devils gamble with more man-to-man than they have lately?
The ACC's top two theft artists, Jose Alvarado and Duke's Jordan Goldwire, face off tonight. (photo by Danny Karnik)
Every team aspires to have a closer, a clutch, cold-blooded playmaker who can take over down the stretch.  But as Major League Baseball has shown us, it doesn't hurt to have an opener, either.
While it's still a small sample size, Jordan Usher seems to have stepped into that role for the Yellow Jackets.  In Georgia Tech's five ACC games, 72 percent of Usher's points have come in the first half.
Game – 1st half points/2nd half points
Florida State – 10/2
North Carolina – 11/3
Wake Forest – 0/1
Clemson – 13/9
Virginia – 15/4
TOTAL – 49/19
*****
They may be struggling by Duke standards, but the Blue Devils still have their usual raft of highly-rated freshmen led by point-forward Jalen Johnson (11.6 ppg, 7.6 rpg).  The 6-9 Johnson (24 points, 15 rebounds, 7 assists vs. Pittsburgh) has a blend of slashing and passing that's put him in the lottery of most NBA mock drafts.  Guard D.J. Steward (13.1 ppg) is considered the best shooter in the class, while point guard Jeremy Roach (10.0 ppg) may look to get re-engaged following a scoreless night against Louisville.
When Duke had success scoring in its 73-64 win over Georgia Tech last year, they often attacked Tech's zone by driving the slots, which led to kickouts and "plus-one" passes for three.  Georgia Tech has confounded two highly-rated freshman backcourts this year in Kentucky and North Carolina.  Can they do the same to a young Duke backcourt that will be hungry to snap its three-game losing streak?
*****
The ACC's top two steal merchants go head-to-head Tuesday in Jose Alvarado (2.73 spg) and Duke senior Jordan Goldwire (2.50 spg).  A former Norcross Blue Devil and high school teammate of Kyle Sturdivant, the 6-2 Goldwire likes playing in passing lanes and gives Duke a steady point-of-attack presence on defense.
He also represents one of the more unique recruiting stories in recent Duke history.  A relatively modest three-star guard, Goldwire originally committed to Eastern Kentucky before Duke surprised many with a late Spring offer.  According to an article on Kentucky.com, that inspired Josh Pastner to send EKU head coach Dan McHale a tongue-in-cheek text.
"I've lost respect for you as a recruiter," Pastner told him.
*****
Now that we're prepared, we hope you are as well.  Join us starting with pregame coverage at 8:30 p.m. ET on the Georgia Tech Sports Network from Learfield IMG College.  See you in Durham.