By Andy Demetra
Josh Pastner doesn't curse, doesn't drink caffeine, and as we learned on his radio show Monday, detests the mere act of yawning.
"I always tell my coaches and players, do not ever let me see you yawn.  Turn the other way, go put your face in the corner," Pastner said, smiling but serious.
So no, not even his team's recent shooting woes have caused Pastner to cuss, pound coffee or lose yet more sleep while trying to find a solution.  Besides, in spite of Tech's struggles from deep (they've made 5 of their last 37 from three), the Yellow Jackets' abstemious head coach knows his team isn't that far off.
"We're executing and running good stuff.  Offensively we're getting great looks.  Yes, it's frustrating they're not going in, and I don't have a solution other than we just have to stay the course because they're due to go in.  We're getting great shots," Pastner explained, noting that his staff charted every shot his team has attempted during ACC play.  Eighty percent of them, they concluded, were good looks.
In one statistic at least, their next opponent could offer a cure.  Clemson (13-8, 3-5 ACC) throttled Wake Forest 64-37 on Sunday, holding the Demon Deacons to 3-of-22 from three-point range.  But they also rank last in the ACC in three-point defense (36.5 pct.).  And as Pastner added, the Tigers had been struggling entering their Jan. 16 matchup with Georgia Tech.
They made 7 of 16 threes in a 72-60 win.
Clemson
Previous 2 games:  8-39 3pt., 30.8% FG overall
Vs. Georgia Tech 1/16: 7-16 3pt., 50.9% FG
Georgia Tech
Previous 2 games:  5-37 3pt., 31.7% FG overall
Vs. Clemson 2/6: ???
That, combined with a raucous McCamish Pavilion crowd, could give Georgia Tech (11-11, 3-6 ACC) the ideal conditions to break its thaw from the field.  Enjoy the top notes from my chart before the Yellow Jackets and Tigers have their rematch in Atlanta (7 p.m. ET, Learfield IMG College):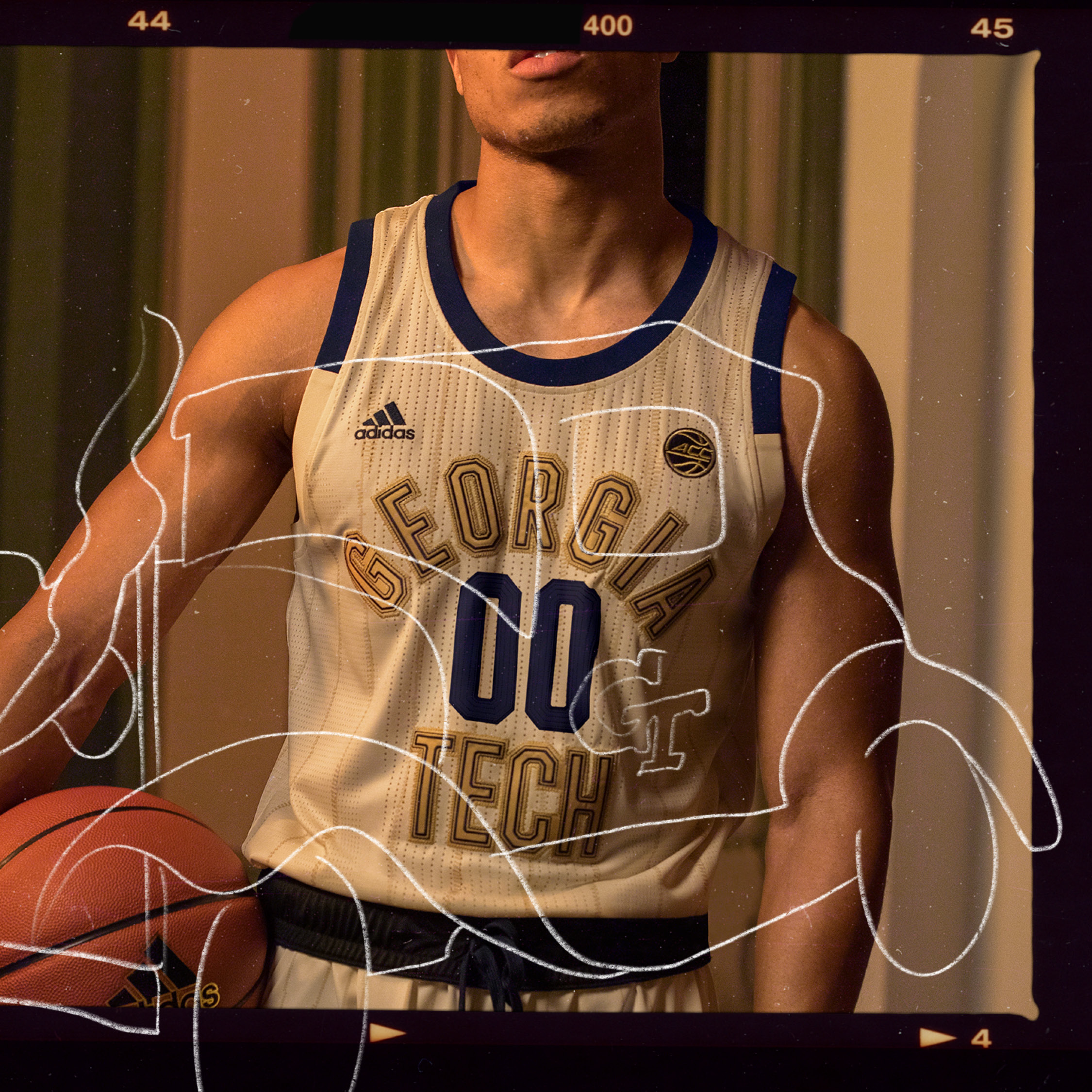 Georgia Tech will debut its "Harlem Renaissance" Adidas uniforms (see above) on Wednesday, an alternate set that pays homage to the Harlem Renaissance era of basketball.
It's not quite home cooking, but perhaps the tribute to his hometown will have the same restorative effects on Jose Alvarado.  A long, athletic defense often throws undersized guards off-kilter, and the sophomore failed to find his shooting touch against Florida State.  For just the second time in his career, Alvarado was held scoreless (0-10 FG, 0-5 3pt.); the only other time was against Duke, when he fractured his elbow 12 minutes in.
In its game last month, Clemson put 6-8 wing David Skara, rather than guards Marcquise Reed or Shelton Mitchell, on Alvarado.  Skara is regarded as the Tigers' best defender; with him setting the tone, Clemson hedged and recovered hard, forcing plenty of flattened-out, late shot-clock possessions.  Can Georgia Tech keep the ball moving to the second and third side, reversing and feeding the post, giving themselves clean looks before the shot clock winds down?
**
A number you've probably overlooked:  senior Brandon Alston has made 20 of his last 21 free throw attempts, and is 10-of-10 in ACC play.
**
What else did we learn from last month's game?  The same thing a lot of ACC teams have discovered: that Marcquise Reed is a one-man migraine.  The 6-3 guard, whom FSU head coach Leonard Hamilton called "one of the best one-on-one players in the league," finished with a career-high 30 points on 10-of-13 shooting against the Yellow Jackets.  Time and again he wriggled around wing screens and finished with a soft pull-up, one of his trademarks shots.  It will be interesting to see if Georgia Tech switches its ball-screen coverage on Reed – they mainly had their on-ball defender come over the top of him – and use different looks to jam up his efficiency.
Once Reed collapses the defense, he has several options.  The Tigers don't shoot a high volume of threes – they rank 14th in ACC play in three-point rate – but Skara shoots 39 percent.  Six-foot-7 Aamir Simms (9.1 ppg, 4.5 rpg) can use his athleticism to take advantage of broken floors.  Six-foot-9, 245-pound Elijah Thomas (23 points, 10 rebounds, 7 blocks against Wake Forest) likes to catch-and-rip and make brute-force moves to the basket.  He also feasts on drop-off passes if defenders step up to deny Reed or Shelton Mitchell on dribble-drives.  Can James Banks and Abdoulaye Gueye avoid foul trouble as they slide and recover on Clemson's bigs?  Clemson had the highest offensive efficiency rating (1.15 PPP) of any team this season against Georgia Tech.
**
As they passed each other in the post-game handshake line, Florida State center Christ Koumadje drew Abdoulaye Gueye near.
"You got me," Gueye says Koumadje told him.
Gueye led the Yellow Jackets with 15 points against the Seminoles, once again showing off his cagey assortment of duck-ins, step-throughs and feints in the lane.  That included some post-ups on Koumadje, the ACC's tallest player at 7-4.
Koumadje had reason to be impressed.  Gueye says the two have known each other since their early teens, when Koumadje moved from his native Chad to Gueye's hometown of Dakar, Senegal, to pursue his basketball dreams.
Since returning to the Yellow Jackets' lineup, Gueye has averaged 14.0 points per game while leading the team in field goal attempts.  He missed the Clemson game with a medical issue; without him, Georgia Tech fell behind 14-0, then allowed a 7-0 run to start the second half.  With Gueye back in the lineup, how might he tilt the axis of the halfcourt against Clemson's 33rd-ranked efficiency defense?
**
James Banks and Florida State's M.J. Walker shared more than a spot in the starting lineup Saturday.  It turns out they're actually cousins.  He and Walker, a Jonesboro, Ga., native, played together on the USA Basketball U18 national team in the summer of 2016.
**
Now that we're prepared, we hope you are as well.  Join us for pregame coverage starting at 6:30 p.m. ET on Learfield IMG College.  See you at McCamish.
–AD–