By Andy Demetra
One moved from another conference, the other from another continent.  Their ambitions, though, were the same: to earn a degree from Georgia Tech and test themselves at the highest level in the ACC.
On Sunday night, the careers of Brandon Alston, Georgia Tech's graduate transfer guard from Lehigh, and Abdoulaye Gueye, its fifth-year forward from Dakar, Senegal, will come to a close at McCamish Pavilion when the Yellow Jackets (12-17, 4-12 ACC) celebrate Senior Day against Boston College (14-13, 5-10 ACC).  Both have given Josh Pastner a durable, veteran presence on his young Georgia Tech team, with Alston averaging 38% from three-point range and Gueye a career-best 51 percent from the floor.  Along with fourth-year junior Sylvester Ogbonda, who will also participate in Senior Day ceremonies, they'll look for one last victory on their home floor in a game that will be crucial for ACC Tournament seeding.
Enjoy your pre-tip reads as Tech tries to ride the momentum of the home crowd one last time in 2019 (6 p.m ET, Learfield IMG College):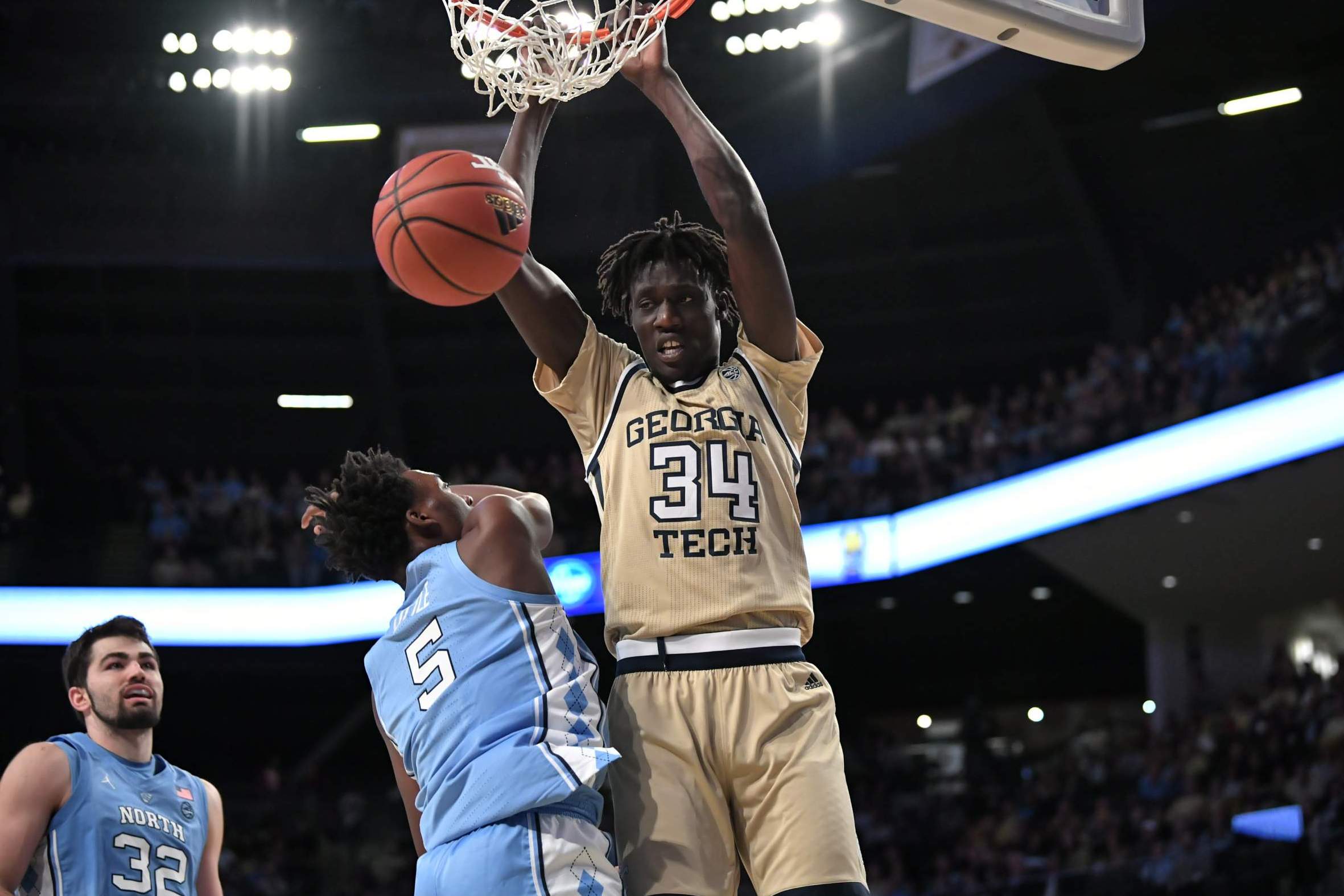 Abdoulaye Gueye has averaged nearly nine points and shot a career-best 51.5 percent from the floor in ACC games this season.
In a league overflowing with explosive athletes, the best one may reside in Chestnut Hill.  Junior Ky Bowman (6-1) is a do-it-all guard who can shoot, pass and single-handedly trigger fast breaks with his defensive rebounding (19.4 ppg, 7.7 rpg, 4.0 apg).  Bowman proved a handful in two wins over Georgia Tech last year, averaging 21.5 points, 9.0 rebounds and 5.0 assists.  The Havelock, N.C., native has burst and bounce when working off pick-and-rolls, and 6-11 Nik Popovic, who had a career-high 20 against Tech in last year's ACC Tournament, gives him a capable sidekick in that action.  BC also has Jordan Chatman (13.4 ppg, 37.0 pct. 3pt.) who can make defenses pay for laying underneath screens or getting sucked in on initial penetration.
Georgia Tech struggled to stay in front of Virginia's pick-and-rolls Wednesday.  Can they force Bowman to go left and set their defense early to prevent him from using his athleticism in the open court?
**
Sometimes the scouting report tells you to let a player shoot.  So even though the Jackets shouldn't have sagged off anyone beyond the three-point line when protecting a three-point lead, the numbers still favored Tech when Boston College's Steffon Mitchell caught a pass in the corner with 35 seconds left last February.
Mitchell, though, knocked down the three, sending the game into overtime in a game Boston College won 80-72.  How snake-bitten was Tech last year?   Mitchell missed his next 14 three-pointers.  He's 1-of-14 from three this year, though he does give the Eagles a multi-faceted "4" man who can also bang for rebounds (7.7 rpg).  Though undersized, the Yellow Jackets will need to match Mitchell's chops on the boards.  Moses Wright may be a willing volunteer:  the sophomore has 19 rebounds in his last three games.
Moses Wright has started Tech's last four games and given the Jackets an offensive boost inside.
As much as the Yellow Jackets want to put the Virginia game behind them, it did give them some advance training for Sunday.  Like the Cavaliers, the Eagles hedge hard on ball screens, hoping to flatten out possessions in the halfcourt.  If guards Jose Alvarado and Michael Devoe can maneuver around those hedges and swing the ball sharply, they could create some 4-on-3 or 3-on-2 backside opportunities.  In spite of the loss, Tech only committed seven turnovers against Virginia, the first time all year the Yellow Jackets finished with a turnover count in the single digits.  Can Georgia Tech's guards also attack the paint with authority like Tadric Jackson did?  Jackson scored a career-high 29 points in consecutive years against BC, often the result of his trademark power drives.  In his last four games, Devoe has only made 4-of-16 two-point field goals.
**
Boston College features the brother tandem of Jairus and Jared Hamilton.  Like most brothers, they seem to do everything together:  both average an identical 5.9 points per game on 42 percent field goal shooting.
**
A.D. Gueye's growth has been well-documented, from someone Josh Pastner initially thought wasn't an ACC-caliber player to a valuable part of his low-post rotation.  Gueye comes into Sunday's home finale averaging 8.9 points per game in ACC play.
To put that in perspective, Gueye scored eight points total in ACC play his first two seasons.
**
Now that we're prepared, we hope you are as well.  Join us for pregame coverage starting at 5:30 p.m. ET from Learfield IMG College.  For the last time, we'll see you at McCamish.