By Andy Demetra
Coming off its most suspenseful – and successful – stretch of ACC play, Georgia Tech heads into the postseason with a new burst of confidence.
An overtime win against Boston College, followed by a last-second upset of NC State, has propelled the Yellow Jackets (14-17, 6-12 ACC) to the 10-seed for the 2019 ACC Tournament at the Spectrum Center in Charlotte.  Awaiting them is a familiar team in an unfamiliar spot:  Notre Dame (13-18, 3-15 ACC), one of the Jackets' permanent home-and-home opponents, who fell to last place in the ACC following a 56-53 loss to Pittsburgh.  Since beating Tech on February 10, Notre Dame has dropped seven straight.
Georgia Tech can relate; after beating Notre Dame in Atlanta Jan. 22, the Yellow Jackets lost seven straight of their own.
Then again, no seeds are sacred come tournament time, and the Georgia Tech-Notre Dame series has historically played tight.
Buckle up.  The opening round should be fiercely contested in Charlotte.  Pre-tip reads before Tech and Notre Dame meet for the first time at the ACC Tournament (approximately 2 p.m. ET, Learfield IMG College):
**
They managed the first time.  They weren't so lucky in the rematch.
Defensive rebounds were a constant source of angst against Notre Dame, with Georgia Tech allowing its two highest offensive rebounding rates of the season against the Irish.
Georgia Tech – Worst OR% allowed of season
Notre Dame (home) 4%
Notre Dame (away) 5%
So how did a Notre Dame team that ranked 14th in the ACC in rebounding margin in league play (-5.3) dominate the offensive glass so thoroughly?  Was there anything specific to the Fighting Irish – personnel, matchups, the Irish's style – that made defensive rebounding so problematic?
Head coach Josh Pastner chalks it up more to the idiosyncrasies of his zone defense.
"Guys in all five spots are constantly moving and changing.  What happens is, you get out of areas.  You get out of positions," Pastner said on his radio show.
Notre Dame's ball movement and high three-point shooting volume (more on that later) can cause lots of hard closeouts, which perhaps leaves Tech more vulnerable on the defensive glass.  It also doesn't help that the Irish have the ACC's top rebounder, 6-9, 242-pound John Mooney (14.1 ppg, 11.2 rpg), marauding around the paint.
Mooney will likely come out determined after scoring just four points on 1-of-11 shooting against Pitt, the first time he didn't crack double figures in league play.  A third-team All-ACC selection, Mooney has a soft touch from the baseline and is a rugged finisher around the rim.  Can the Jackets get both the guard rebounding and gang rebounding they need to keep Notre Dame at bay?
Michael Devoe has given the Jackets a rare combination of productivity and durability in his rookie season.  Entering conference tournament week, the Orlando, Fla., native ranks seventh among all major-conference freshmen in minutes played (991).
He has company in the ACC.  The major-conference leader is Duke's R.J. Barrett.  Tied for third?  Notre Dame guard Prentiss Hubb (8.2 ppg, 4.0 apg), who started to emerge down the stretch.
Most minutes played – Power-6 conferences (Freshmen)
(Entering March 12)
R.J. Barrett (Duke)
Romeo Langford (Indiana)
Prentiss Hubb (Notre Dame)
Tyrese Haliburton (Iowa State)
Devon Dodson (Kansas)
Andrew Nembhard (Florida)
Michael Devoe (Georgia Tech)
Pastner prescribed turnovers as a key to the game.  Notre Dame rarely beats itself – the Irish rank sixth nationally in fewest turnovers per game – so the Jackets can't gift-wrap them extra possessions in a game that already figures to play slow.  Junior T.J. Gibbs, who scored 18 points Georgia Tech February 10, is especially crafty playing the gaps.
**
Two personnel changes could drastically reshape how the third matchup of the season plays out.
Moses Wright played just three combined minutes against Notre Dame during the regular season, finishing with zero points.  The sophomore from Raleigh, N.C., enters the ACC Tournament amid the best stretch of his young career, highlighted by an 18-point, 8-rebound effort against N.C. State.  His ability to run the floor and defensive rebound could be crucial.
Meanwhile, Notre Dame's D.J. Harvey had his own 18-point, 8-rebound stat line against Georgia Tech in South Bend.  The 6-6 sophomore showed an aptitude for slicing through Tech's zone and scoring from the midrange.  Harvey, however, has missed the last two games with a pulled hamstring, and his status for the ACC Tournament remains uncertain.  If he can't play, 6-10 freshman Nate Laszewski, who scored a career-high 23 points on 6-of-9 three-point shooting in the Irish's regular season finale against Pitt, could appropriate most of his minutes at the "4."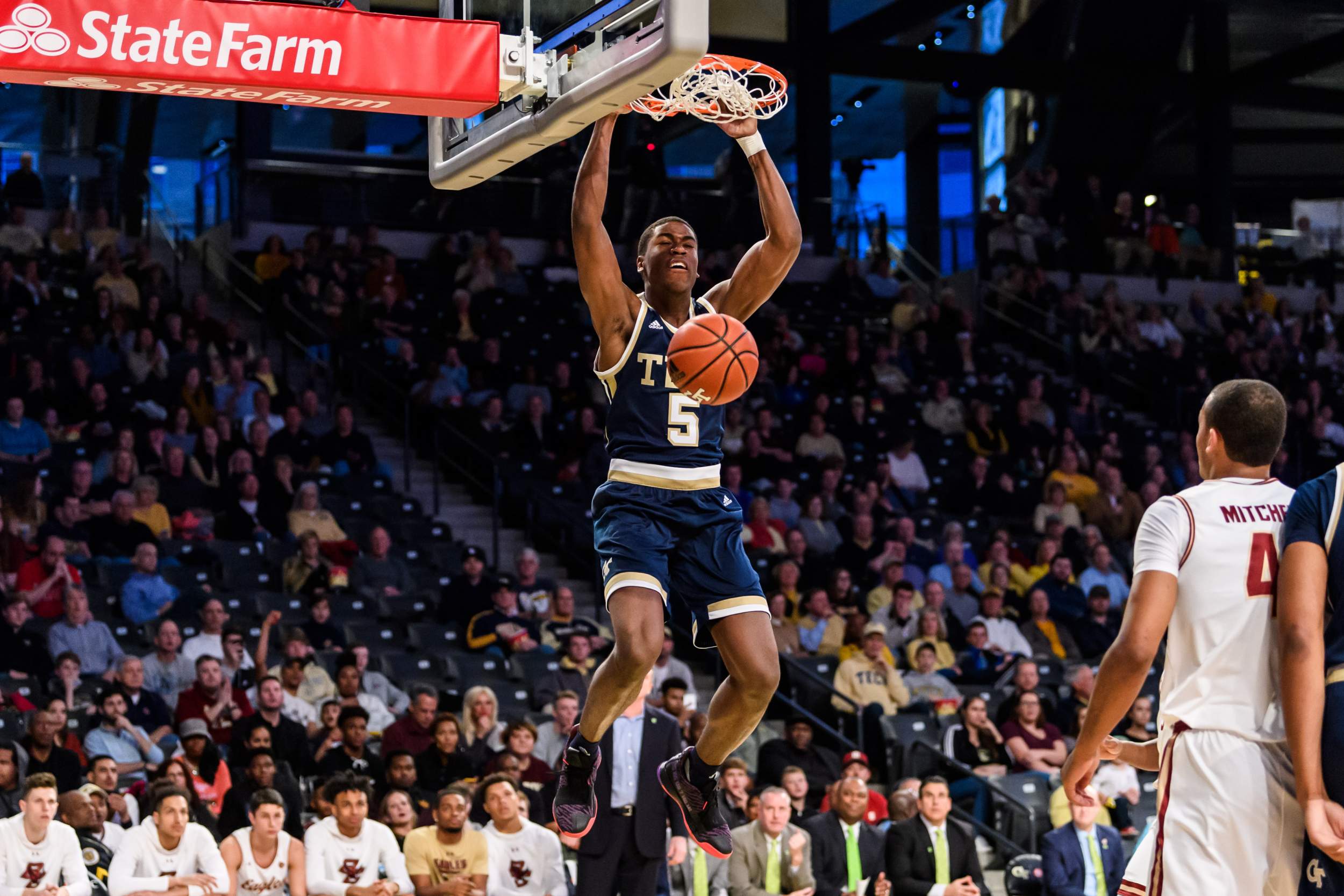 As a wise man once said, "Statistics are like hostages.  Torture them long enough, and they'll tell you anything you want."
Still, the Yellow Jackets just finished off an impressive run of three-point defense during the regular season.  Tech held an astonishing eight ACC opponents to 25 percent or less from three-point range.
Virginia, the nation's leader in three-point percentage defense, only had five.
That may come in handy against a Notre Dame team that attempts the highest volume of threes in ACC play – 46.5 percent of their overall attempts, according to KenPom.  Laszewski, who made four three-pointers against the Jackets in Atlanta, likes to range and relocate near the corners, while Gibbs prefers to elevate from the slots.  Notre Dame only shot 23 percent and 22 percent from beyond the arc in its two regular season meetings against Tech.
**
Georgia Tech's newest tradition was born of tardiness.
After their 73-59 win at Syracuse January 12, the Yellow Jackets learned that their plane would be delayed.  To pass the time – and toast the victory – Pastner declared that the team would stop at a gas station near the airport so players and staff could get snacks.
The players gleefully loaded up, grabbing technicolor armfuls of candy, juice and chips.  Team nutritionist Leah Thomas looked on in bemusement. The cashier looked like she was about to get dunked on.  Inspired, Pastner said they'd stop for snacks after every road win.
That led to the now-viral video of Pastner, addressing his team in the locker room following Tech's win over NC State, uttering the six words that sent his team into paroxysms of joy:
"We're going to a gas station!"
Pastner was noncommittal on whether Tuesday's matchup in Charlotte would qualify as a road game.  With Tech bowing out in the first round of the ACC Tournament each of the last two years, the taste of victory will gladly do instead.
**
Now that we're prepared, we hope you are as well.  Join us for pregame coverage starting at 2 p.m. ET from Learfield IMG College.  See you in Charlotte.
–AD–