Wednesday Results | Thursday Diving Heat Sheet | Thursday Swimming Heat Sheet
Greensboro, N.C.  – Georgia Tech junior Camryn Hidalgo won gold on the 1-meter board with a score of 313.10, to highlight the first day of the ACC Championships in Greensboro, N.C.
"There is no better way to start off championship season than with a gold medal," Toni M. And Richard L. Bergmark swimming and diving head coach Courtney Shealy Hart said. "I'm incredibly proud of Cami for becoming an ACC Champion and then I'm also proud of the lifetime bests that our team recorded as part of the relays. Today was a good day for Georgia Tech and we'll look to keep building on this start tomorrow."
The Jackets saw both relay teams turn in season-best finishes that were top 10 in program history. The 800 free relay team of Emily Ilgenfritz, Kyrsten Davis, Kristen Hepler and Brooke Switzer finished in a season-best time of 7:14.08, which is the sixth fastest in program history. And the 200 medley relay group of Caroline Lee, Nicole Williams, Chloe Miller and Allie Paschal finished in a season-best 1:40.94, which ranks seventh all time.
Georgia Tech returns to the pool and the boards tomorrow, with prelims at 10 a.m. and finals at 5 p.m. Finals will be streaming live on ACC Network Extra.
ACC Network Extra (ACCNX) programming is available online via the ESPN app or WatchESPN.com. Viewers must subscribe to a cable/satellite/digital provider that carries the ACC Network to view ACCNX programming.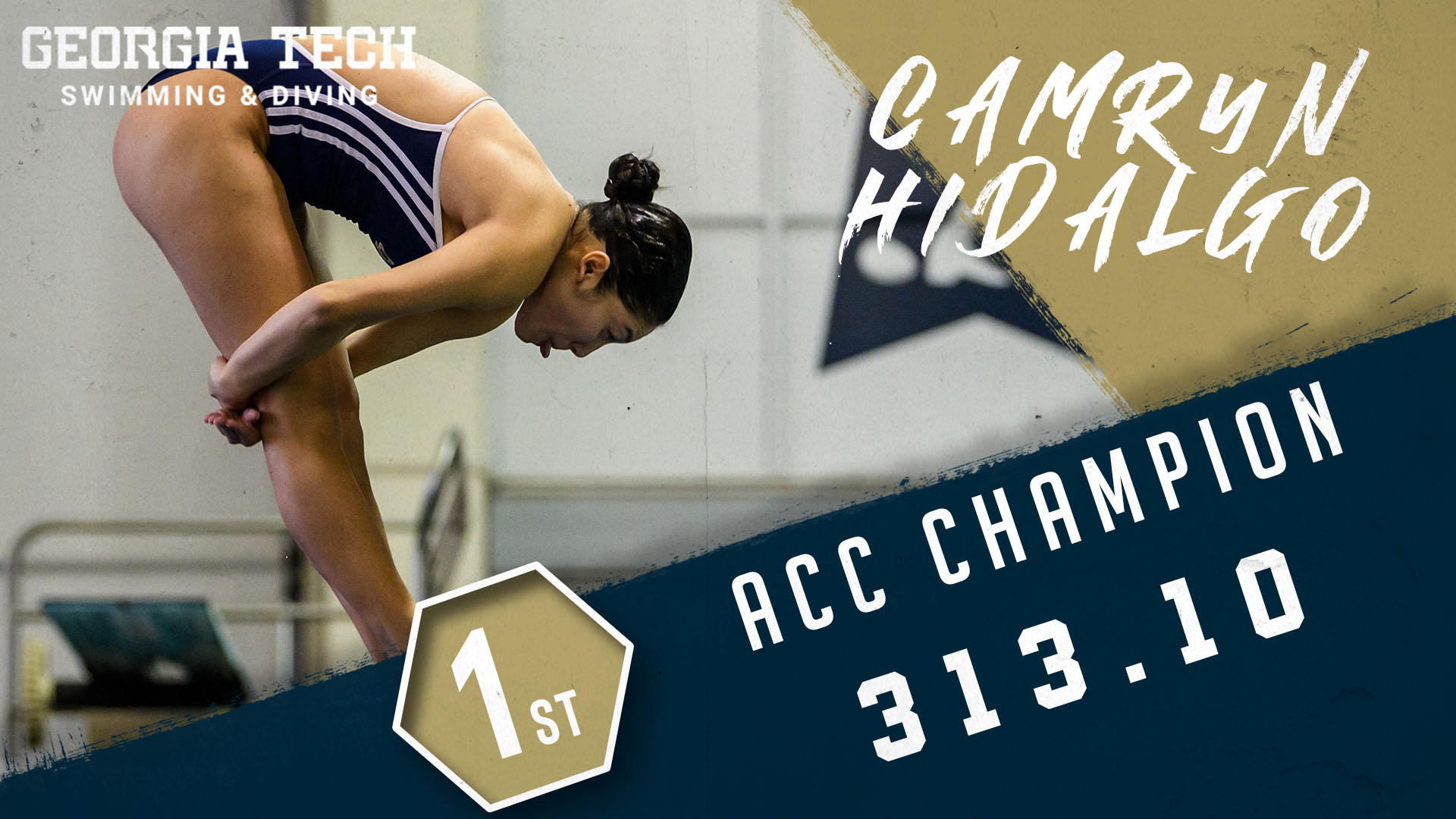 Post-Meet Quotes
Georgia Tech Diving Coach John Ames:
"Cami's training, without getting into too much detail, has not been without some setbacks physically. I think that is what makes this so special. She had to sit for a while due to a concussion earlier in the season; she really only started diving like her old self in the last few weeks."
Junior Camryn Hidalgo:
"I do not look at the score when I compete. I had no idea where my placement was. I did not know if I was in last or first, I was really focusing on going slow and listening to my coach … I do not think the team expectations have changed. A win is really fun. But, for me individually I go into the meet really positively. I do not shoot for any specific place because that kind of thinking plays with my mind. Coach Mike said it; everyone has to do what they can do individually."
Alexander-Tharpe Fund
The Alexander-Tharpe Fund is the fundraising arm of Georgia Tech athletics, providing scholarship, operations and facilities support for Georgia Tech's 400-plus student-athletes. Be a part of developing Georgia Tech's Everyday Champions and helping the Yellow Jackets compete for championships at the highest levels of college athletics by supporting the A-T Fund's Annual Athletic Scholarship Fund, which directly provides scholarships for Georgia Tech student-athletes, and Athletics Initiative 2020, Georgia Tech athletics' ongoing $125 million initiative to allow Tech to recruit the nation's most elite student-athletes, build a better student-athlete once they arrive on The Flats and, ultimately, win! To learn more about supporting the Yellow Jackets, visit atfund.org.   
For the latest information on Georgia Tech Yellow Jackets Swimming & Diving, follow us on Twitter (@GTSwimDive), Instagram (@GTSwimDive), and Facebook (Georgia Tech Swimming & Diving) or visit us at www.ramblinwreck.com.
-#TogetherWeSwarm-