ATHENS, Ga. – Junior Georgia Tech diver Camryn Hidalgo completed the sweep for the NCAA Championships, qualifying for the third-straight day on Wednesday afternoon on platform at the Zone B Championships in Athens, Ga.
Scoring 527.60 cumulative points on platform, Hidalgo finished third overall to punch her ticket to another Nationals event. Her finals score of 283.95 earned her an Olympic Trials cut as well, qualifying her for the 2020 U.S. Olympic Team Trials, which will be held June 14-21 in Indianapolis, Ind.
By qualifying for NCAA's on 1-meter, 3-meter and platform, the junior from Mission Viejo, Calif. joins elite company, becoming the first Yellow Jacket on the women's team to dive all three boards since All-Americans Hannah Krimm and Stephanie England in 2008. Between the men's and women's teams, only four divers have previously competed at NCAA's in all three events (Brandon Makinson – 2011; Evan Stowers – 2006-07).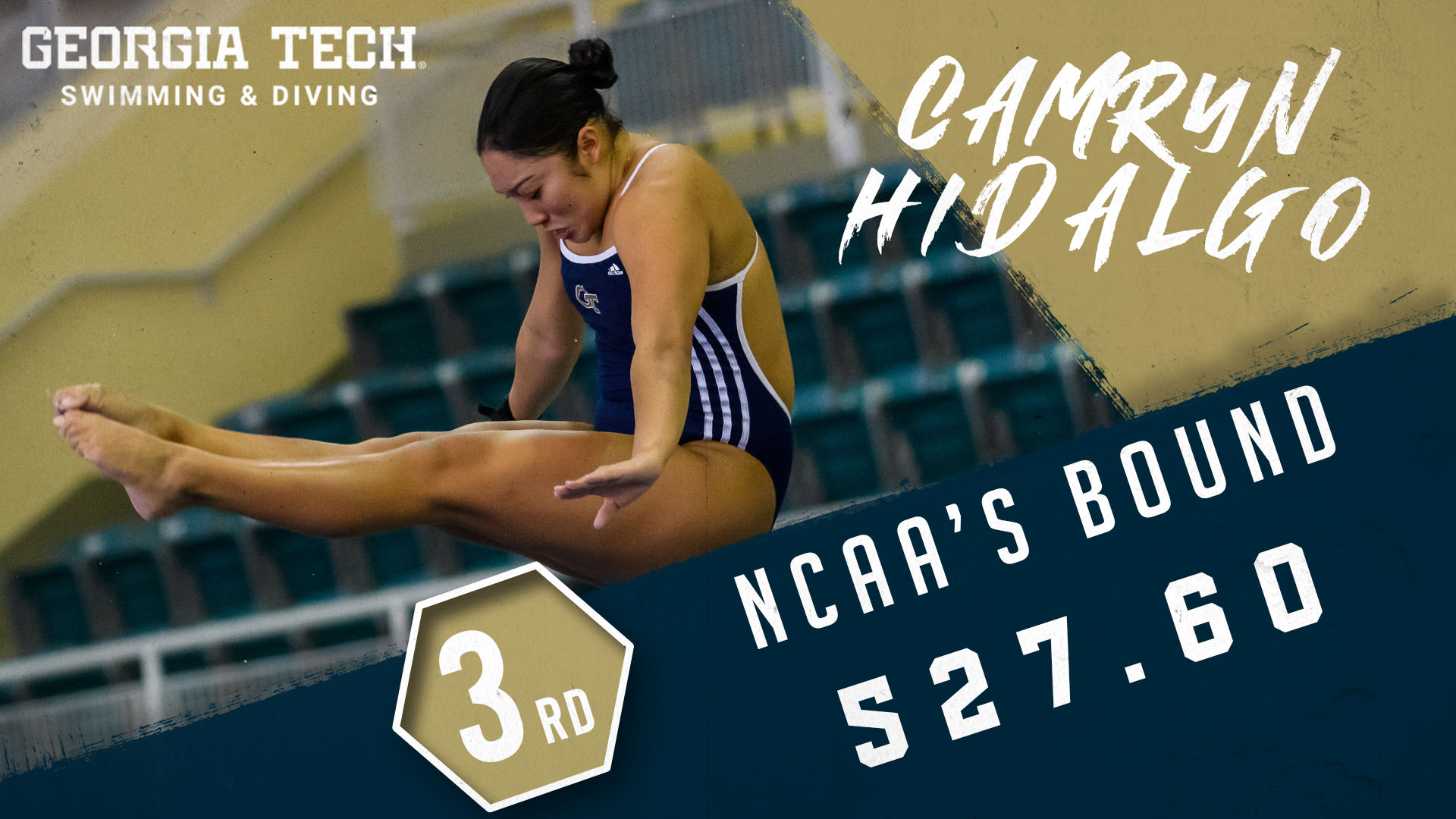 Also competing for Georgia Tech on Wednesday was freshman diver Ruben Lechuga, who placed 13th overall on the platform with a final score of 578.85.
Kelsey Dekshenieks, Paige Gohr and Carmen Woodruff also represented the Jackets. Dekshenieks finished in the top-30 with a score of 196.95, while Gohr and Woodruff finished with scores of 187.00 and 185.95, respectively.
Hidalgo will compete alongside teammate Emily Ilgenfritz at the 2020 NCAA Division I Women's Swimming and Diving Championships on March 18-21 in Athens, Ga. The NCAA also announced today that Yellow Jackets Caio Pumputis, Christian Ferraro and Kyle Barone will compete at the 2020 NCAA Division I Men's Swimming and Diving Championships on March 25-28 in Indianapolis, Ind.
Alexander-Tharpe Fund
The Alexander-Tharpe Fund is the fundraising arm of Georgia Tech athletics, providing scholarship, operations and facilities support for Georgia Tech's 400-plus student-athletes. Be a part of developing Georgia Tech's Everyday Champions and helping the Yellow Jackets compete for championships at the highest levels of college athletics by supporting the A-T Fund's Annual Athletic Scholarship Fund, which directly provides scholarships for Georgia Tech student-athletes, and Athletics Initiative 2020, Georgia Tech athletics' ongoing $125 million initiative to allow Tech to recruit the nation's most elite student-athletes, build a better student-athlete once they arrive on The Flats and, ultimately, win! To learn more about supporting the Yellow Jackets, visit atfund.org.   
For the latest information on Georgia Tech Yellow Jackets Swimming & Diving, follow us on Twitter (@GTSwimDive), Instagram (@GTSwimDive), and Facebook (Georgia Tech Swimming & Diving) or visit us at www.ramblinwreck.com.