Jack Thompson is getting ready — sort of — to go into the Georgia Tech Sports Hall of Fame after more than half of a century spent on The Flats. When he is inducted on Friday, Sept. 21, he will be in a well-deserved, yet unexpected territory at the same time.
Jack has never been about himself. For 51 years, he has been all about the Yellow Jackets and athletics. His order from Bobby Dodd, who hired him to work for head football coach Bud Carson, was to "take care of the players."
The man has been to so many Tech inductions that he may know more than half the membership, and when it comes to sport on The Flats, few people know as much compared to Jack, the ultimate Jacket.
And there is no chance anybody has raised more money for athletics than Jack.
When he was hired by former football coach Bud Carson in 1968 as director of football recruiting, the Louisville native drew close to his goal of becoming a coach, and for the next 12 years he chased players. His job eventually evolved to many areas reporting to him and included recruiting money.
Soon after Homer Rice was hired as the athletic director in 1980, he recognized that Thompson was fabulously gifted at forming relationships. Having spent several years splitting his time between recruiting football players and receiving donations, he was named by the new boss as an associate athletic director for development. Eventually, "senior" was added to his title.
Since 1982, with this administrator fully dedicated to fund raising, the Alexander-Tharpe Fund raised nearly $600 million with Thompson in the lead. Every athletic facility has been renovated or built in his time, with funds for each having been raised by Jack and his associates.
After retiring from the A-T Fund Feb. 1, though he is still involved, he did not move far. Thompson's new office is across the hall from the current athletic director, Todd Stansbury, where Jack is senior assistant to the athletic director.
There is something else fantastic about Thompson. He has probably connected more former Georgia Tech student-athletes to jobs than anybody who has ever lived, and if they need help or advice, Jack often hears from them.
Still, after working for former Tech athletic directors Bobby Dodd, Doug Weaver, Homer Rice, Dave Braine, Dan Radakovich, Mike Bobinski and Stansbury — over half of the athletic directors in Tech's history – he still seems surprised that he has been tabbed for induction.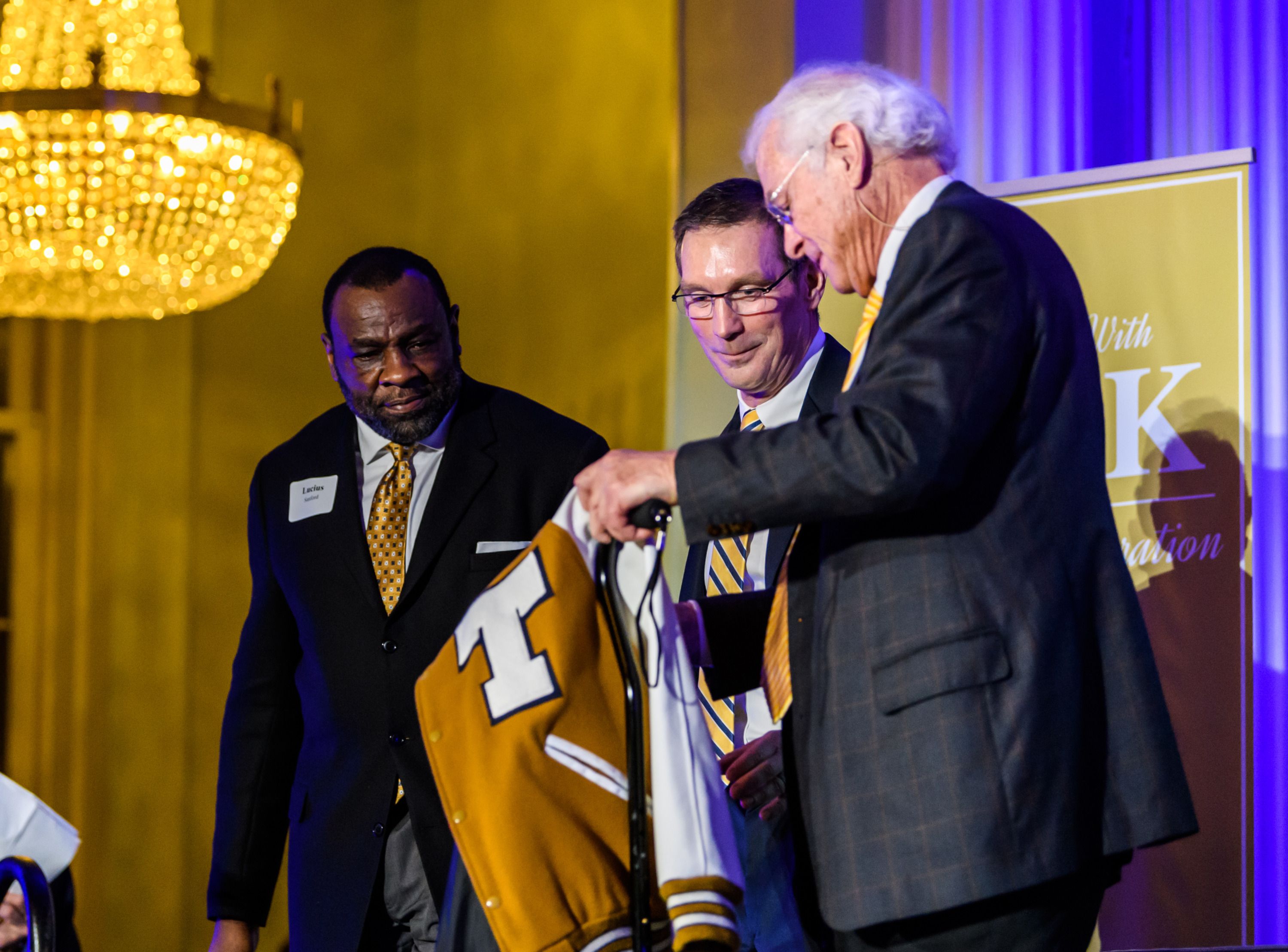 Here are a few of his thoughts.
Question: Where were you when you learned that you are going into the Hall of Fame?
Answer:  "Actually, one of our alumni contacted me. Steve Mooney, who is a prominent lawyer here in town, played for us for [Rodgers and] Bill Curry [from 1978-'81]. He sent me an e-mail and he called me. Totally, totally unexpected . . . I think he nominated me.
"Mike Stamus (associate director of sports information) was the one that officially notified me. I think he just sent me an e-mail. I would have received it here (in the office), and then Steve called me and I asked him to be my presenter."
Q: How did you react?
A: "I could not have been more shocked or surprised. Totally unexpected. When you look at the administrators that are in the Hall of Fame, like John McKenna, Bobby Dodd and Homer Rice, [William Alexander, John Heisman], that's a group; I am so honored. I am still pinching myself. When you think about the Georgia Tech Hall of Fame … it's just hard to believe."
Q: Will Mooney — a former linebacker-turned local attorney whose 17-yard sack of Notre Dame quarterback Blair Kiel late in a 1980 game in Curry's first season forced a punt to preserve a 3-3 tie against the No. 1-ranked team in the nation — be your presenter?
A: "He is going to be although I understand that they're not going to have stand-up presenters this year. Everything is going to be on video. He's been a dear friend and a great lawyer for a long time, so I am sure he will do fine."
Q: Who will you mention in your induction speech?
A: "The players, coaches, alumni and athletic directors I have worked for, certainly I won't be able to name them all because it would take too long, but without the Georgia Tech alumni, any successes that I have had in my life are owed to the tremendous support that I've gotten from Georgia Tech people.
"The first 12 years at Georgia Tech, when I was involved in football, were great fun years, but the time that I have been working with the A-T Fund and fundraising have been tremendously rewarding, and the people who I've gotten to meet and know well … I'd like to think that I'm a reasonably good people person.
Q: Have you been treated differently since your induction was announced?
A: "The people who know it, many people have congratulated me … I don't think a lot of people know. To be honest, I have not mentioned it to but very few people, however people are starting to hear more about it."
Q: Do you know all of your fellow inductees?
A: "Most of the athletes that I see now are those that I recruited, or athletes who I have helped or am currently helping find jobs. That's another big thing that we do here; we work hard to get our athletes jobs, and many of them show up in my office.
"I certainly know of all the inductees, I have watched them play and read about them and said hello to them, but it would not be right to say that I know all of them well."
Q: You seem a bit askew about all of this. Have you had time to process what is happening?
A: "It's an incredible honor that I would have never, ever in my life have expected. It is an honor that you're interviewing me, but it is hard to get my arms around it."