Georgia Tech heads west to take on Arkansas on Dec. 19 for the sixth meeting between the programs. The Jackets and the Razorbacks last met in 2015, with the White and Gold grabbing a 83-73 victory at the Barclays Center in Brooklyn, N.Y.
This is the 12th in a series of previews of the Yellow Jackets' non-conference opponents.
Location: Fayetteville, Ark.
Conference: Southeastern Conference (SEC)
Home arena: Bud Walton Arena (19,200)
2017-18 record: 23-12, 10-8 in SEC (tied for 4th)
Postseason: lost in first round of NCAA Tournament to Butler, 79-62
NCAA postseason appearances (Last): 32, (2018)
All-time series record: Tech leads, 4-1
Head coach: Mike Anderson (eighth season)
Starters returning/lost: 2/3
Top scorer returning: Daniel Gafford, F, 6-11 (11.8)
Top rebounder returning: Daniel Gafford, F, 6-11 (6.2)
Quick preview for 2018-19
Arkansas looks forward to another winning season, despite losing two of its leading scorers from last year. Head coach Mike Anderson will look to sophomore Daniel Gafford to help lead a young team. The Razorbacks add eight freshmen to its 2018-19 roster, ranked as the 25th best class in the nation by ESPN. Arkansas tips off the season against Texas, Nov. 9.
Quick recap of 2017-18
The Razorbacks had a successful 2017-18 campaign that included 20+ wins for the fourth time in the last five seasons. Arkansas also downed four top-25 teams last year in No. 14 Minnesota, No. 19 Tennessee, No. 21 Texas A&M and No. 12 Auburn. In the SEC Tournament, the Hogs made it to the semifinals, where they fell, 84-66 to Tennessee. However, Arkansas received an at-large bid to the NCAA Tournament, but suffered a 79-62 loss to No. 10 seeded Butler in the first round.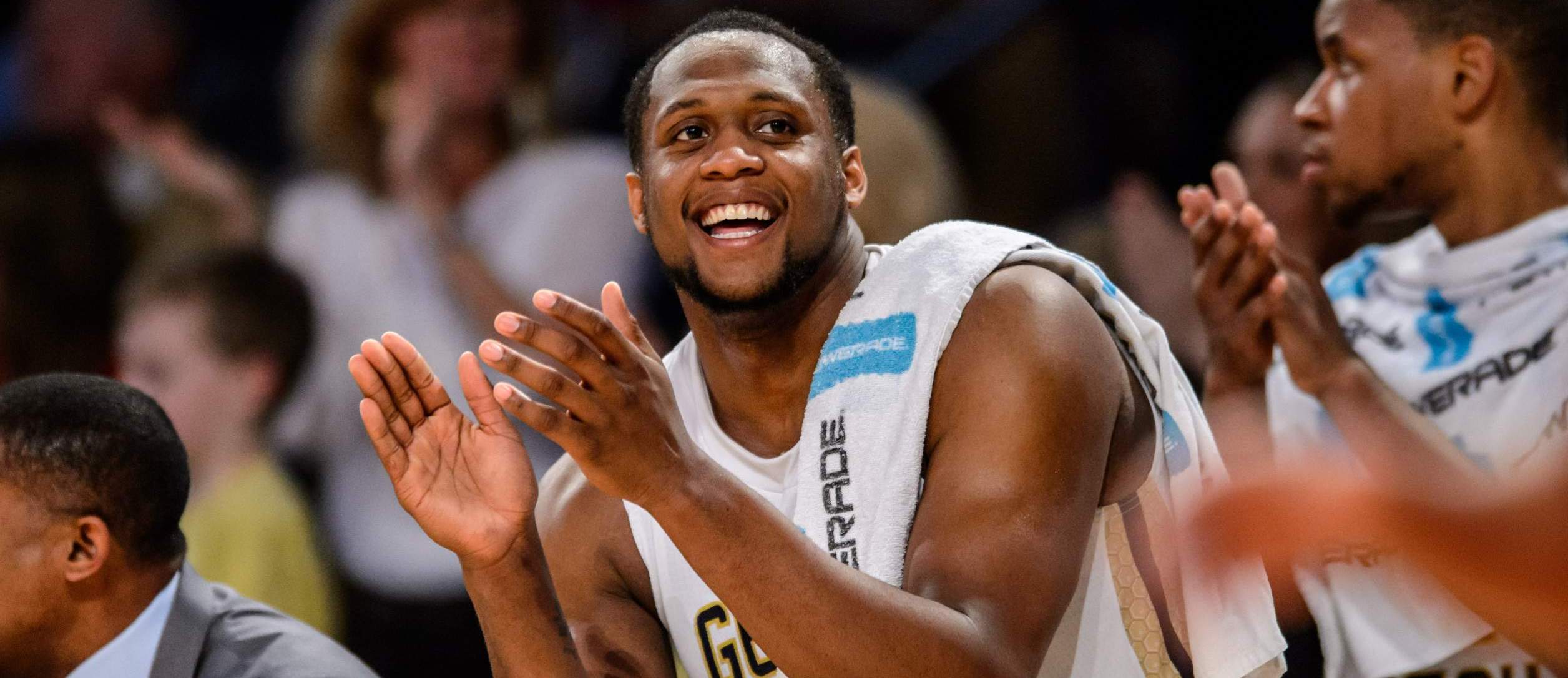 Charles Mitchell scored 18 points and grabbed a career-high 18 rebounds in Georgia Tech's last meeting against Arkansas in 2015.
Greatest Program Accomplishment
The greatest program accomplishment for the Razorbacks came in 1994 when they claimed their first NCAA Championship title over the Duke Blue Devils, 76-72. Arkansas had competed in several NCAA Final Fours, but never made a title game appearance until the '94 season. The game came down to the wire, knotted 70-all with under two minutes remaining. Three free throws made the difference and clinched the historic victory for Arkansas.
Greatest player in program history
Hailing from Little Rock, Ark., Sidney Moncrief played for the Razorbacks from 1975-79. Moncrief led Arkansas to the 1978 Final Four, while creating a winning tradition for the program. In his collegiate career, the guard was named a three-time All-American and SWC Player of the Year. Moncrief ranks second on the Razorbacks' all-time scoring list with a total of 2,066 points. In 1979 he was selected fifth overall in the NBA Draft to the Milwaukee Bucks, where he played for 10 seasons. During his professional career he was a five-time NBA All-Star, a two-time NBA Defensive Player of the Year and his No. 4 jersey was retired from the Bucks. He averaged 15.6 ppg, 4.7 rpg and 3.6 apg throughout his 11 years in the league. Moncrief was inducted into the College Basketball Hall of Fame in 2018.
Place to visit on campus or in the city
About 10 minutes away from Arkansas' campus is the heart of downtown Fayetteville where visitors can choose from various activities. One of the most popular attractions is TheatreSquared, which puts on locally and nationally produced acclaimed productions. Visitors can choose from a variety of shows that premiere every week at the theater. Another great place to visit is the Fayetteville Downtown Square and Gardens. A year round farmer's market is the main attraction in the community, where visitors can walk around, try different foods and enjoy music.