Final Box Score (pdf) | Full game book/play-by-play (pdf) | Final stats (html) | Multimedia  | Postgame Notes
Raleigh, N.C. – James Banks III knocked down two pressure-packed free throws with 2.1 seconds left in overtime, completing a 20-point, 13-rebound night and lifting Georgia Tech to an 82-81 overtime victory over NC State Tuesday night at PNC Arena.
In the season opener for both teams, the Yellow Jackets rallied from a 15-point deficit late in the first half behind a solid offensive effort in which Tech shot 60 percent from the floor after intermission, and a stout defensive stand that limited the Wolfpack to 36.4 percent in the second half and 1-for-4 in the extra period.
Tech never led in regulation, and remained behind until Banks' basket tied the game for the first time at 48-48 with 13:35 left. Tech tied the game five more times before the end of the second period, the last coming on another Banks field goal with 1:37 left, making the score 75-all.
In overtime, the lead changed four times in addition to two more ties. Freshman Asanti Price gave Tech its first lead at 78-75 with a three-point basket, his only field goal of the game, on the Jackets' first possession. Braxton Beverly hit a pair of free throws and a jumper in the paint to posh the Wolfpack ahead 79-78, with 2:07 left.
Michael Devoe, who tied his career high with 22 points, put Tech back on top with a jumper 17 seconds later before C.J. Bryce hit a pair of free throws to give NC State its last lead at 81-80 with 35 seconds remaining. Bryce led the Wolfpack with 24 points.
Alvarado turned the ball over on the next possession, but the Wolfpack did likewise, giving Tech another chance. Alvarado missed a three-pointer, Khalid Moore got the rebound and fed Banks, who got fouled trying to score. He calmly made the two free throws with 2.1 seconds left. Beverly's halfcourt heave at the buzzer was off the mark.
Alvarado finished the game with 10 points and six assists, while Raleigh native Moses Wright scored 12 and Khalid Moore added 11, putting all five Georgia Tech starters in double figures for the night.
Four other Wolfpackers also reached double figures in the game, with Jericole Hellems scoring 15, Pat Andree and Devon Daniels chipping in 12 each and Beverly adding 11.
Tech returns to action Monday, Nov. 11, hosting Elon for its home opener at McCamish Pavilion. Tipoff is at 7:30 p.m., and the game will be streamed live online via ACC Network Extra.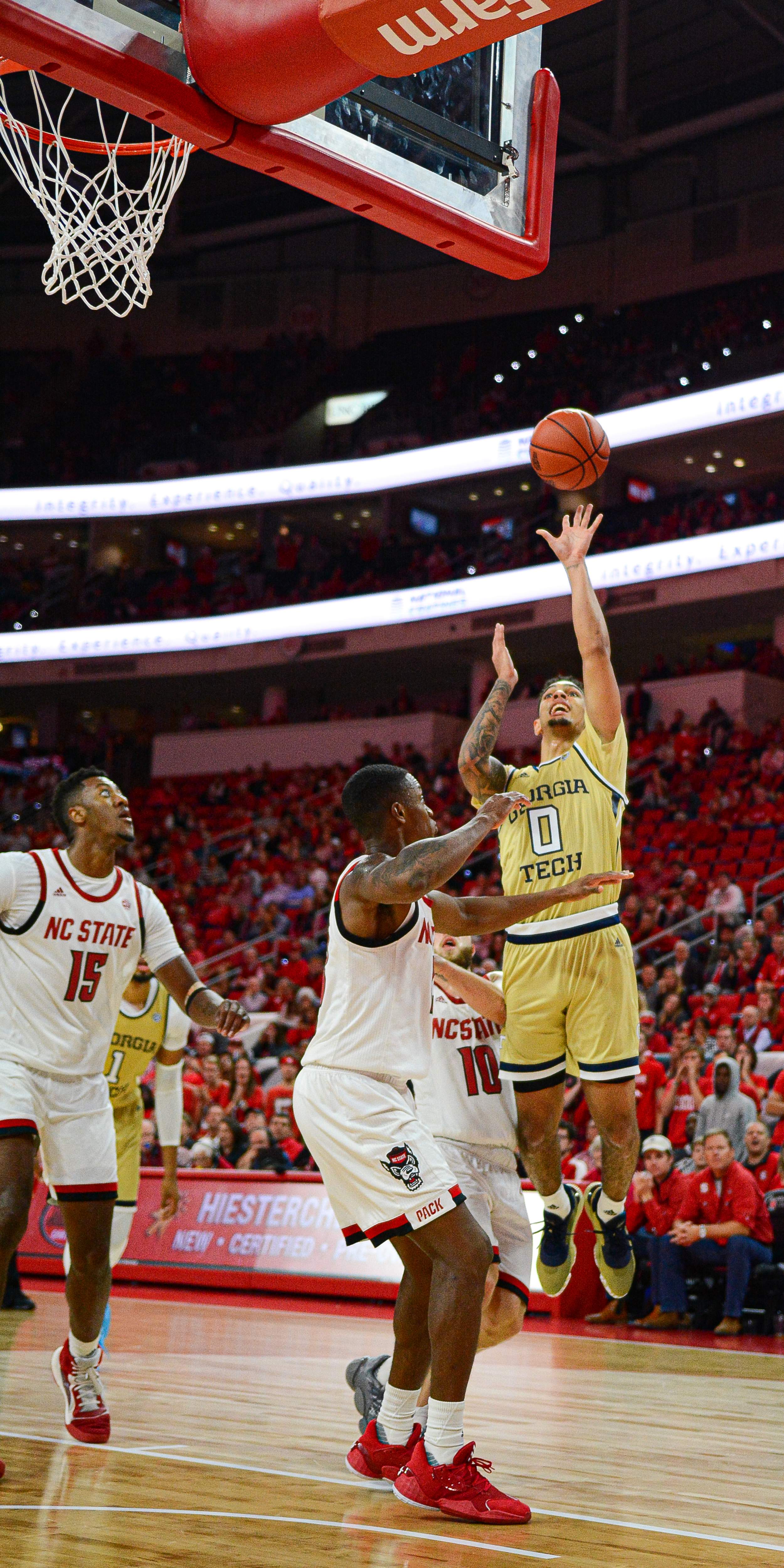 Michael Devoe tied his career high in points with 22 against the Wolfpack. (photo by David Tracey)
Post-Game Notes
TEAM NOTES
For the first time since Dec. 1, 1979, Georgia Tech began the season with a road game and with an ACC game (lost 55-37 at Virginia). That was the Yellow Jackets' first season as a member of the ACC.
Georgia Tech has won its last three games at PNC Arena (including a vacated win the 2016-17 season) after winning just once in 12 trips prior from the time NC State began playing its home games there.
All five starters scored in double figures for Georgia Tech. It was the first time that five Jackets reached double figures since last Dec. 22 vs. Kennesaw State. It was the first time Tech placed all five starters in double figures since Feb. 4, 2018 at Boston College (all five starters plus one reserve).
Georgia Tech shot 49.2 percent in the game (30-for-61), falling just short of extending to four straight games having shot 50 percent or better from the floor. Tech finished last season by hitting 50.8 percent against Boston College, 58.1 percent at NC State and 51.7 percent against Notre Dame in the ACC Tournament.
Tech converted 60 percent of its field goals in the second half to bring the Jackets back from a 7-point halftime deficit.
The 15-point deficit was the largest from which Tech has rallied to win a road game under Josh Pastner, and matched the largest overall (15 points vs. Boston College at home on Feb. 11, 2017).
NC State connected on five of its first eight three-point attempts in the game, and also converted three free throws when fouled on another attempt, but made only two of eight thereafter.
Tech held the Wolfpack to 38 percent overall from the floor, 35.1 percent after halftime. Tech is 37-13 under Josh Pastner when holding opponents under 40 percent.
PASTNER'S KEY METRICS
Assists to made field goals: Tech assisted on 20 of its 30 field goals (66.7 percent) and six players had at least one. The Jackets finished last season at 57.4 percent overall (46th in the nation) and 56.4 percent in ACC games. Tech's nightly goal is 60 percent.
Free throws made to opponents' attempts: Tech went 16-of-22 from the free throw line, while NC State was 20-of-23, NOT accomplishing its nightly mission of making more free throws than the opponent attempts. The Jackets are 39-17 under Josh Pastner when attempting more free throws than the opponent.
Turnovers: Tech committed 18 in the game to NC State's 13. The Jackets averaged 14.3 turnovers per game in ACC play, and only forced 11.3, last year. Target each night is to commit 11 or fewer, which Tech met only three times all season (all in the last four games). More telling for Tech under Josh Pastner is that when Tech has committed fewer turnovers than its opponent, it is 22-15. When it has committed more, it is 23-30.
Guard rebounding: Tech's players outside of Banks, Cole and Wright collected nine of the Jackets' 29 defensive rebounds.
INDIVIDUAL NOTES
James Banks posted his eighth career double-double and his fourth in an ACC game. Stat line – 20 points (8-14 FG, 4-4 FT), 13 rebounds, 5 blocked shots, 3 assists.
Banks played the final 9:15 of regulation and all of overtime with four fouls, getting six of his points, three rebounds and one assist in that time.
Moses Wright scored 12 points (6-of-9) before fouling out with 10:05 left in the game. He has scored 30 points in two games vs. hometown team (18 last March 6, 12 tonight).
Jose Alvarado reached double digits for the 37th time in his career. With seven assists and three turnovers, the junior has 33 assists against 11 turnovers in his last seven games dating back to last Feb. 20 against Pittsburgh. Alvarado picked up his fourth foul with 16:54 left in regulation and managed to avoid fouling out.
Michael Devoe posted 16th double digit game and tied his career high of 22 points first set at Virginia Tech last year (2/13). The sophomore was perfect shooting in the second half – 4-for-4 from the floor, two 3s, and 2-for-2 from the foul line. He finished the game 7-of-12 from the floor, 3-of-4 on 3s, and 5-of-6 from the foul line, adding three assists and a steal with only two turnovers in a team-high 41:54.
Best plus/minus game? Khalid Moore (+8), who had 11 points, four rebounds, three assists and six steals in 39:20. He logged his fourth double-digit scoring game, and second in a row (11 vs. Notre Dame in 2019 ACC Tournament).
Alvarado (2-for-7) and Devoe (3-for-4) combined to go 5-of-11 from three-point land. They combined to convert 37.7 percent in ACC games last year.
Georgia Tech at NC State
Photos by David Tracey
Multimedia