Final Stats (.html) | Final Stats (.pdf) | Postgame Notes | Multimedia | Photo Gallery
PITTSBURGH – Miscues by Georgia Tech would stall its second-half rally as Pitt's first-half lead allowed it to grab the divisional victory, 24-19, on Saturday afternoon at Heinz Field.
The Panthers (2-1, 1-0 ACC) built a 21-point advantage off three unanswered touchdowns in the first half, two of which came from running back Qadree Ollison. The  Yellow Jackets (1-2, 0-1 ACC) struggled to find rhythm and momentum in the first half, but finally cracked through with a 1-yard touchdown from QB TaQuon Marshall with 8:43 left in the third.
It wouldn't be until Tech's free safety Malik Rivera's third-quarter interception and 42-yard return that set up an eventual 7-yard touchdown for Marshall that the Jackets got within 12.
On the next time out, Marshall found Brad Stewart for back-to-back 13-yard receptions to get Georgia Tech to set up another short run, this time a 3-yard rush from Clinton Lynch, to pull within five. Unfortunately for the Jackets, the final scoring drive left just 37 seconds on the game clock, sealing the win for Pitt.
The Panthers' 335 yards of total offense were spearheaded by quarterback Kenny Pickett, who finished 16-23-1 for 197 yards, while Ollison and Darrin Hall led the ground game, rushing for 91 and 29 yards, respectively. Ollison finished with his two touchdowns with his feet while Hall punched home one.
Georgia Tech finished with 386 yards of offense with 320 rushing yards. Marshall led the backs with 103 yards and two touchdowns off 28 carries, while Jordan Mason fell 6 yards shy of 100 yards off 10 attempts.
Defensively, Tariq Carpenter and Brant Mitchell led Tech with five tackles apiece. Carpenter also recorded a tackle-for-loss and an imperative bass breakup. Pitt was led by Damar Hamlin, Rashad Weaver and Quintin Wirginis, each with seven tackles
The Yellow Jackets return home for a two-game homestand that begins against Clemson on Saturday, Sept. 22. Kickoff is set for 3:30 p.m. and will air on ESPN or ABC.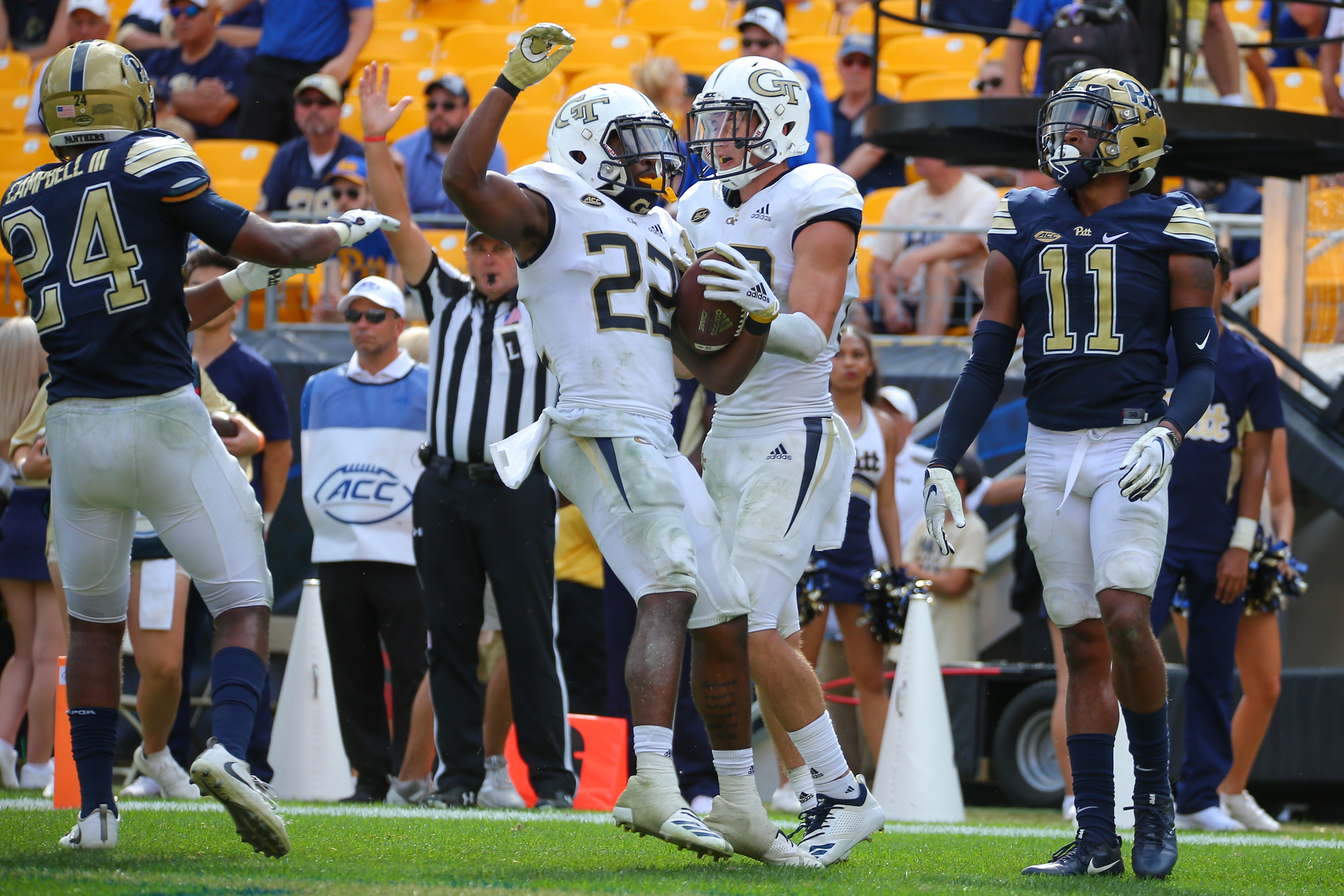 Clinton Lynch's three-yard touchdown run capped a 99-yard drive and pulled Georgia Tech within five points late in the fourth quarter (credit: Jeffrey Gamza).
---
Georgia Tech dropped its seventh-straight game away from Bobby Dodd Stadium and its sixth-straight true road game. The Yellow Jackets have not won away from Bobby Dodd Stadium since a 33-18 win over Kentucky in the 2016 TaxSlayer Bowl (Dec. 31, 2016) and have not won a true road game since a 28-27 win at Georgia (Nov. 26, 2016).
Georgia Tech fell to 5-8 all-time against Pitt, including a 3-3 mark since the Panthers joined the ACC in 2013. GT also fell to 1-5 all-time at Pitt.
Georgia Tech was held scoreless in the opening half of a game for the first time since it didn't score in the first half of a 26-7 loss to Clemson on Sept. 22, 2016.
With 320 rushing yards, Georgia Tech has rushed for 40,030 yards in 132 games under head coach Paul Johnson. Johnson's previous team, Navy, is the only other NCAA Division I FBS team to rush for at least 40,000 yards since Johnson's arrival at Georgia Tech in 2008.
Individual Notes
Senior QB TaQuon Marshall ran for two touchdowns (one and seven yards), giving him 22 rushing touchdowns for his career. With 22 career rushing touchdowns, Marshall moved into a tie for third in Georgia Tech history for rushing touchdowns by a QB with his predecessor as starting QB, Justin Thomas (2013-16).
Senior DB Malik Rivera made the first interception of his Georgia Tech career in the third quarter. Rivera had one interception in three seasons at Wofford before transferring to GT as a graduate student prior to this season.
Junior OL Kenny Cooper made his first appearance of the season after missing the first two games of the year due to a lower-body injury. Cooper, a member of the official watch list for the Rimington Trophy (presented to college football's top center), saw time at right guard.
Sophomore LB Bruce Jordan-Swilling made his first appearance of the season after missing the first two games of the year due to injury. Jordan-Swilling started the game at ILB in place of junior David Curry, who was suspended for the first half of the game due to a targeting call in the second half of last week's game at USF.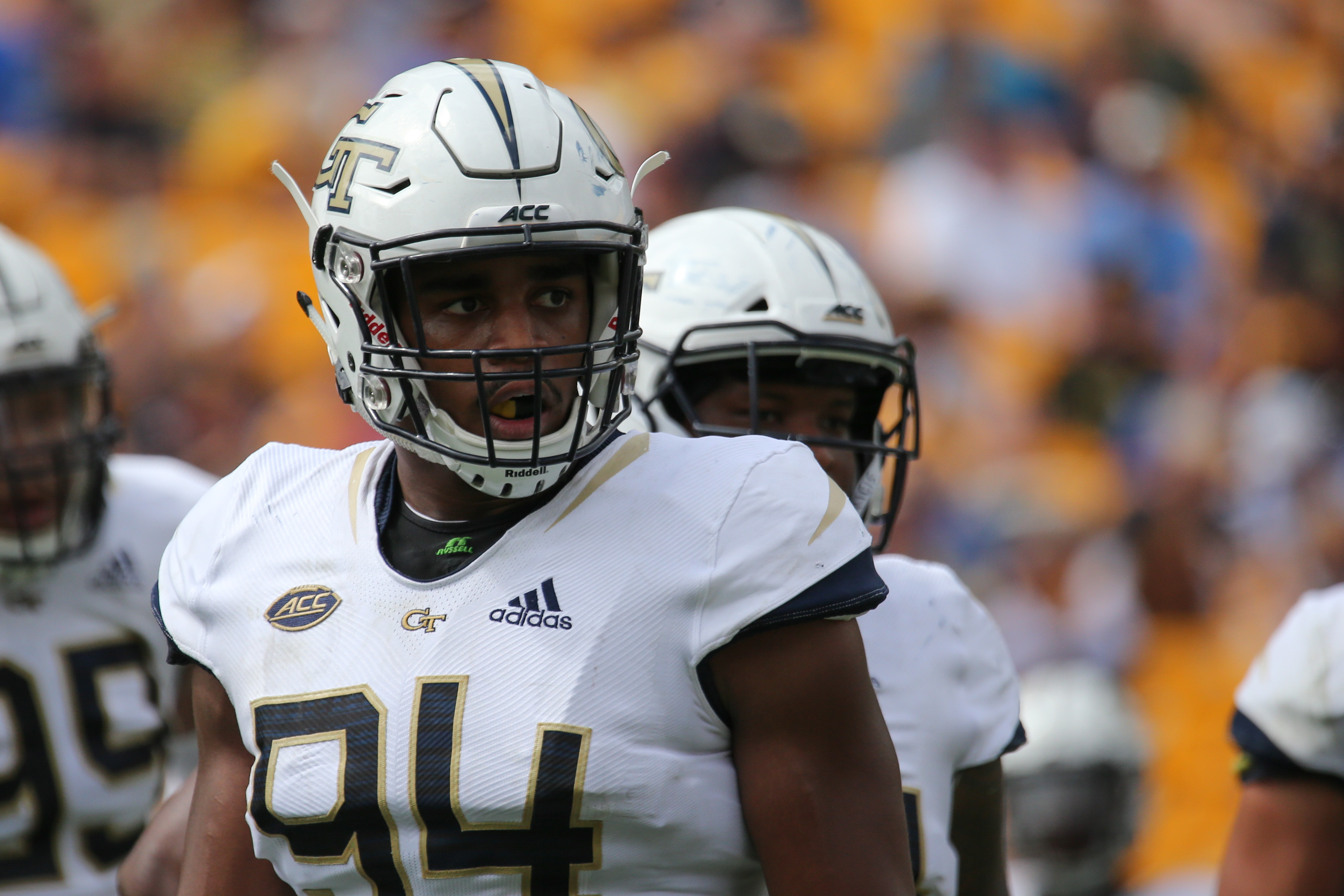 Defensive end Anree Saint-Amour had four tackles, a tackle for loss and two quarterback hurries on Saturday at Pitt. (credit: Jeffrey Gamza).
---
ACC Digital Network Highlights (Video)
Head coach Paul Johnson postgame press conference (Audio)