Final Box Score (.pdf) | Full gamebook/play-by-play (.pdf) | Multimedia | Photo Gallery | Postgame Quotes | Postgame Notes
THE FLATS – Jose Alvarado scored a game-high 23 points and Georgia Tech men's basketball sent seniors James Banks and Shembari Phillips out with a 73-57 Senior Night victory over visiting Pitt on Wednesday night at McCamish Pavilion.
With the triumph, Georgia Tech (16-14, 10-9 ACC) clinched its first .500 record in Atlantic Coast Conference play in 13 years (2006-07) and reached double-digit ACC wins for the for the first time since it won the regular-season conference championship with a 13-3 league mark in 1995-96. The Yellow Jackets can finish above .500 in ACC play for the first time since 2003-04 with a win in Friday's season finale at Clemson (7 p.m. – ESPN2).
Wednesday's win was the Jackets' seventh-straight home victory and, for the fourth time during the seven-game win streak at McCamish Pavilion, Tech never trailed. Tech held all seven of those teams to fewer than 60 points.
Thirteen of Alvarado's 23 points came after the break, as Georgia Tech stretched its nine-point halftime advantage (30-21) to as many as 21 points. In addition to the 23 points, Alvarado pulled down nine rebounds, falling just one board short of a second-career double-double. With his first basket of the game, he reached the 1,000-point milestone for his career.
Michael Devoe, Jordan Usher and Evan Cole rounded out four Yellow Jackets in double-figures with 13, 10 and 10 points, respectively. Banks pulled down nine rebounds in his final home game as a Jacket and Phillips drained a three-pointer before both players were removed to a standing ovation in the game's final minute.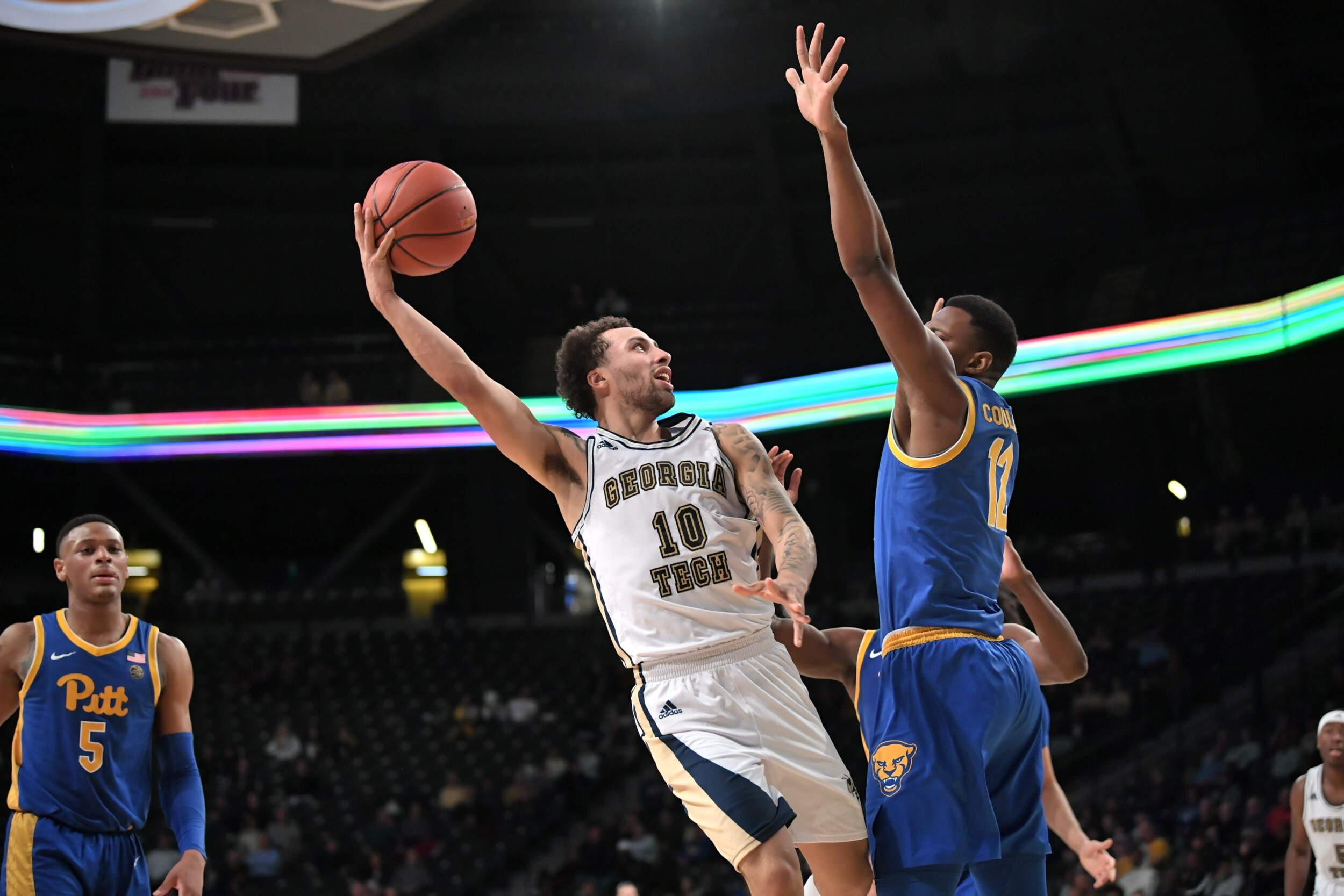 Jose Alvarado had a game-high 23 points and a game-high-tying nine rebounds in Wednesday's win over Pitt (photo by Danny Karnik)
Post-Game Notes
TEAM NOTES
With its win over Pittsburgh, Georgia Tech secured its first winning season, technically, since the 2015-16 team went 21-15. Josh Pastner's first Tech team in 2016-17 finished 21-16, but all 21 victories have been vacated by the NCAA Committee on Infractions.
With a win Friday at Clemson, Tech has a chance to finish its ACC schedule over .500 first time since the 2003-04 season (finished 9-7 before advancing to the national championship game). The Jackets have guaranteed themselves at least a .500 conference record for the first time since the 2006-07 season.
Tech will finish with at least a tie for fifth in the ACC if it can win at Clemson on Friday. That would be the Yellow Jackets' highest conference finish since tying for fourth place in the 2004-05 season.
Tech won its final seven home games (six of them ACC games) after starting the season 3-6 within the confines of McCamish Pavilion. The Jacket have won five of their last six games overall, and eight of their last 11 since a Jan. 22 loss at Louisville.
Tech has won its last six ACC home games, its first six-game winning streak in the league at home since the Jackets finished the 1995-96 season 8-0 in home ACC games.
Tech limited its seven straight home opponents to fewer than 60 points, going back to the Yellow Jackets' 64-58 win over NC State on Jan. 25. In those seven games, Tech's foes averaged 57.1 points, shot 38 percent from the floor overall, 20.7 percent from three-point range.
Tech altered its regular lineup to give a start to senior guard Shembari Phillips, who replaced Jose Alvarado in the lineup. It created the seventh different starting lineup for the Yellow Jackets this season. Phillips has not started a game in 2019-20, but started the first six games of the 2918-19 season.
Tech improved to 11-2 this season when leading at the half.
Tech has won the rebounding battle 10 times and held even twice in 15 games since the beginning of January. The Jackets are plus-49 on the boards in ACC games for the season, averaging 2.6 per game more than their opponents.
Tech has hit 45-of-121 (37.2 percent) of its three-point attempts in its last eight games. The Jackets went 7-of-15 against Pittsburgh, and have hit 33.8 percent from distance in ACC games this season, which ranks No. 6 in the conference.
Over its last 10 ACC games (7-3 record), Tech has averaged 70.2 points, has shot 46 percent from the floor, and 34.2 percent from three-point range. The Jackets also have a plus-4.5 scoring margin and a plus-4.9 rebound margin, have scored 14.3 points per game from the foul line and reduced its turnover rate to 15.1. Opponents have shot 40.1 percent from the floor, 24.2 percent from three-point range.
Tech did not have a player foul out for the third straight game, even though the Jackets were whistled for 22 fouls. Twenty-two Georgia Tech players have fouled out this season, the most for the Yellow Jackets since the 1989-90 season (28 in 38 games). In conference play, 15 Jackets have fouled out, the most ever for the Jackets in an ACC season.
INDIVIDUAL NOTES
With his first field goal of the game, at 18:41 of the first half, Jose Alvarado reached 1,000 points for his career, becoming the 45th Georgia Tech player to cross that milestone. The 6-foot junior now has 1,021 career points.
Alvarado (23 points, 8-16 FG, 2-6 3pt, 5-5 FT) has made a three-point basket in 17 straight games. That is the longest streak for a Tech player since Adam Smith knocked down a three in 24 straight games during the 2015-16 season.
Over Tech's last 10 ACC games, from Jan. 25 vs. NC State to the present, Alvarado has averaged 18.6 points, hit 47.8 percent of his shots from the floor, 36.2 percent of his three-point attempts and 77.8 percent of his free throws. He also has averaged 3.5 assists, 2.7 steals and 4.3 rebounds.
Michael Devoe (13 points, 4-7 FG, 3-4 3pt, 2-2 FT) has made a three-point field goal in nine straight games. His longest streak is 13 games, last year as a freshman.
Over the same 10-game ACC stretch, Devoe is averaging 15.1 points while connecting on 51.3 percent of his field goals, 48.5 percent of his three-point attempts and 85.2 percent of his foul shots. He also is averaging 4.8 assists and 3.9 rebounds.
Alvarado and Devoe have combined to score 40.1 percent of Tech's points and sink 39.3 percent of their three-point attempts in ACC games, 47.1 percent overall from the floor. Over the aforementioned 10 ACC games, they have accounted for 43.7 percent of Tech's scoring, shot 49.1 percent from the floor, 40.7 percent from three-point range and 80.6 percent of their free throws collectively.
Jordan Usher had 10 points against Pittsburgh (along with four rebounds and four assists) for his seventh double-digit game this season. Tech has won five of the seven games in which he has scored in double digits.
James Banks III scored just two points against Pitt but had nine rebounds, four blocked shots, four steals and two assists.
Evan Cole posted his second double-figure game this season with 10 points (4-7 FG, 2-2 FT) against Pittsburgh. He had 11 against NC State on Jan. 25. Tech won both games.
Last eight games for Michael Devoe (all in double digits) – 16.1 points per game, 4.8 assists per game, 50.6 percent (44-of-87) from the floor, 42.9 percent (15-for-35) from three-point range, 83.9 percent (26-of-31) from the free throw line. He has hit 42.6 percent of his threes in ACC games.
Moses Wright has failed to reach double figures in points in Tech's last two games. He scored eight (4-9 FG) against Pitt with just three rebounds, but added three assists and two blocks. The 6-9 junior has scored 10 or more points in all but seven games this season.
Seniors James Banks (left) and Shembari Phillips (second from right) were honored prior to Wednesday's home finale at McCamish Pavilion (photo by Danny Karnik)
Multimedia