Final Box Score (.pdf) | Full game book/play-by-play (.pdf) | Multimedia | Postgame Quotes | Postgame Notes
Chapel Hill, N.C. – Jose Alvarado scored 25 points and Moses Wright added 22 as Georgia Tech used stifling defense and a dominant first half to upend North Carolina, 96-83, on Saturday at the Dean Smith Center.
Georgia Tech (7-7, 2-2 ACC) started the game with a 19-2 run and didn't allow a North Carolina field goal for the first 13:10 of the game as the Jackets' defense held North Carolina (8-6, 1-2 ACC) to an 0-for-15 start from the field.
The Jackets forced 10 first-half turnovers with nine steals to give them a 47-27 halftime lead, the largest by any opponent in the history of the Dean Smith Center. The Tar Heels shot just 30 percent (7-of-23) in the first half as Georgia Tech led by as many as 24.
North Carolina pulled to within nine at the under-16 timeout of the second half, but Tech was able to weather the storm behind Alvarado, who scored 16 of his season-high 25 in the second half and registered eight assists in the game.
James Banks III scored 12 points with seven rebounds, and Bubba Parham added 11 and three assists for the Jackets, who shot 63 percent in the second half and finished the game at 59 percent.
Garrison Brooks scored a career-high 35 points to lead the Tar Heels before fouling out late in the game.
The Yellow Jackets return home to play their first home game since mid-December when they face No. 2 Duke on Wednesday, Jan. 8 at 9 p.m. The game will be televised on the ACC Network.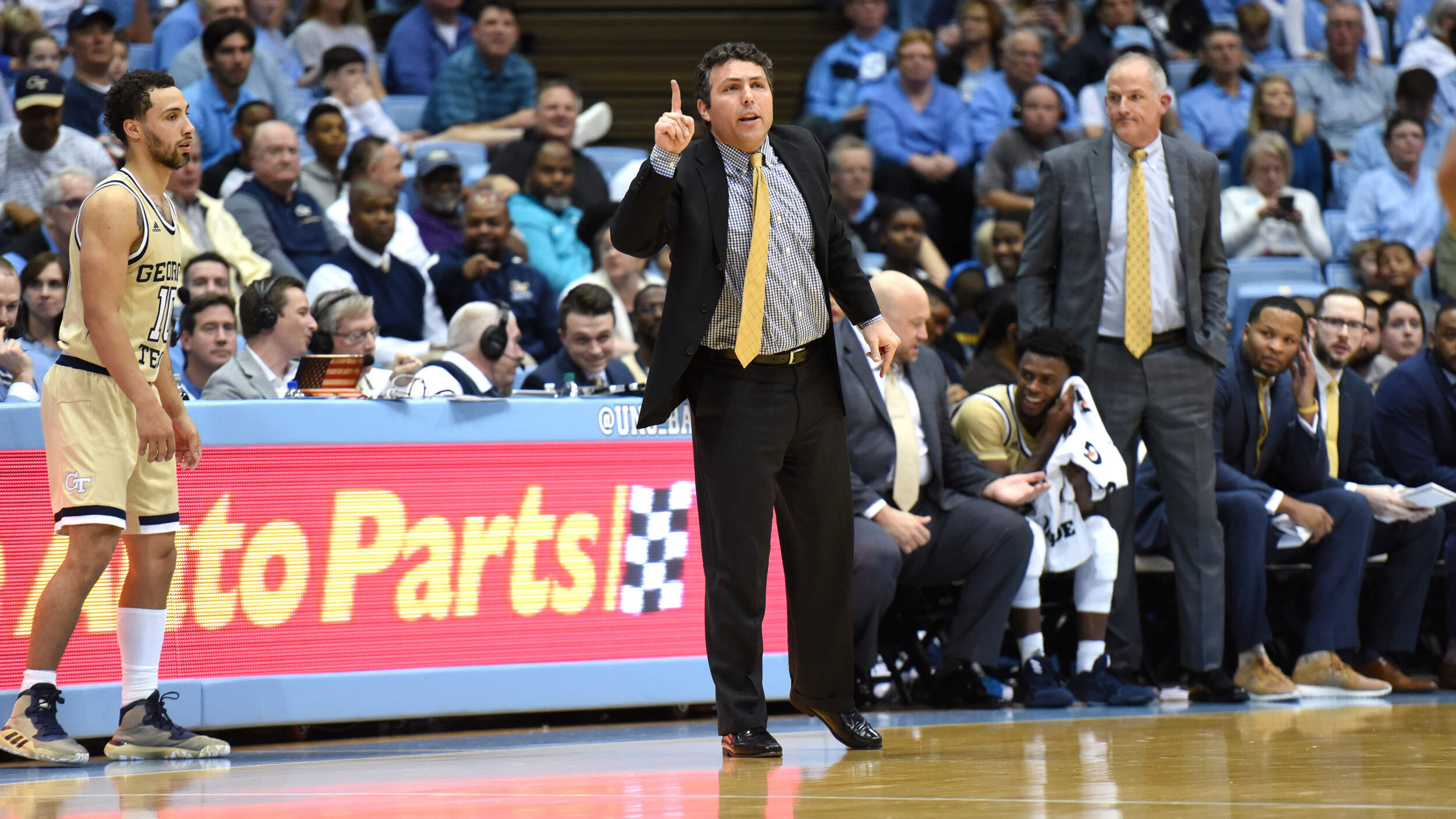 Georgia Tech won at Chapel Hill for the first time since 2010, and has won at Chapel Hill and Raleigh in the same season for the first time since the 1995-96 season. (photos by Jeff Camarati)
Post-Game Notes
The win marks the first for Georgia Tech in Chapel Hill since Jan. 10, 2010. It also marked the first time the Yellow Jackets have won in Chapel Hill and Raleigh since the 1995-96 season.
Tech outscored UNC 58-34 in the paint, its highest mark this season.
Tech shot 63 percent in the second half and 59 percent for the game, its highest mark since hitting 59.1 percent last season at Syracuse.
Tech hit 18-of-24 shots from the free throw line against North Carolina and has connected on 73-of-97 (75.2 pct.) in its last five games. Tech had not hit the 70-percent mark since making 72.7 percent in the season opener at NC State but has done so in five consecutive games.
Tech's 96 points matched the most the Yellow Jackets have scored in a game at North Carolina, tying a 96-89 victory in 1994, and the most the Tar Heels have allowed at home since 2003.
The 96 points matched a high for Tech under Josh Pastner (96 vs. Tusculum in the 2016-17 season) and was the most for the Yellow Jackets since hitting 100 twice in the first three games of the 2015-16 season.
Tech had not scored more points against an ACC team since a 114-112 double-overtime loss to Wake Forest in the 2007 ACC Tournament.
With a 47-27 lead at the half, Tech improved to 3-0 this season and 40-12 under Josh Pastner when leading at halftime.
Tech turned the ball over just 13 times after committing 23 in its last outing against Florida State. The Jackets caused 15 North Carolina miscues, improving their record to 25-16 under Pastner when Tech has committed fewer turnovers than its opponent.
Tech's 58 points in the paint were 10 more than its previous high this season (48 vs. Nebraska), its 21 points off turnovers matched a season high (21 vs. Syracuse) and its 26 bench points were 10 more than its previous season best (16 vs. Elon).
Tech's 96 points, 36 field goals and 11 steals were the most against UNC this season.
Tech's 19 assists tied Wofford for the most against UNC this season.
Tech is 4-4 away from home this season, 2-1 in ACC games.
Moses Wright scored a season-high 22 points at North Carolina and pulled down seven boards on 9-for-13 shooting. He has averaged 17.6 points and 7.8 rebounds in his last five games, connecting on 36-of-59 of his shots from the floor (61.0 percent). In Tech's two wins against the schools in his home area (Raleigh, N.C.), the 6-9 junior has scored 34 points, hitting 15-of-22 shots from the floor with 16 rebounds.
Wright is Tech's high scorer in ACC games at 16 points per game, and he has hit 55.8 percent of his shots from the floor against the league.
Jose Alvarado turned in his best outing of the year at North Carolina with season-highs of 25 points on 8-of-12 from the field and 4-of-6 from deep. He posted career-bests of six steals and eight assists. It was his second highest scoring game, career-wise, behind his 29 points against Pittsburgh last Feb. 20.
Bubba Parham notched his fifth double-figure scoring game of the season with 11 points at North Carolina, going 6-for-6 from the foul line. All five of his double-figure games have come against power-conference foes (Georgia, Arkansas, Syracuse, Kentucky and North Carolina).
James Banks III has averaged 12.0 points and 7.3 rebounds against ACC teams this season, hitting 59.4 percent of his shots from the floor.
Michael Devoe snapped a five-game streak of double-figure scoring games at North Carolina (four points, three rebounds, two assists), but remains the Tech leader and the No. 5 scorer in the ACC at 16.9 points per game. He has hit 43.9 percent of his three-point tries in all games, 52.6 percent in ACC games.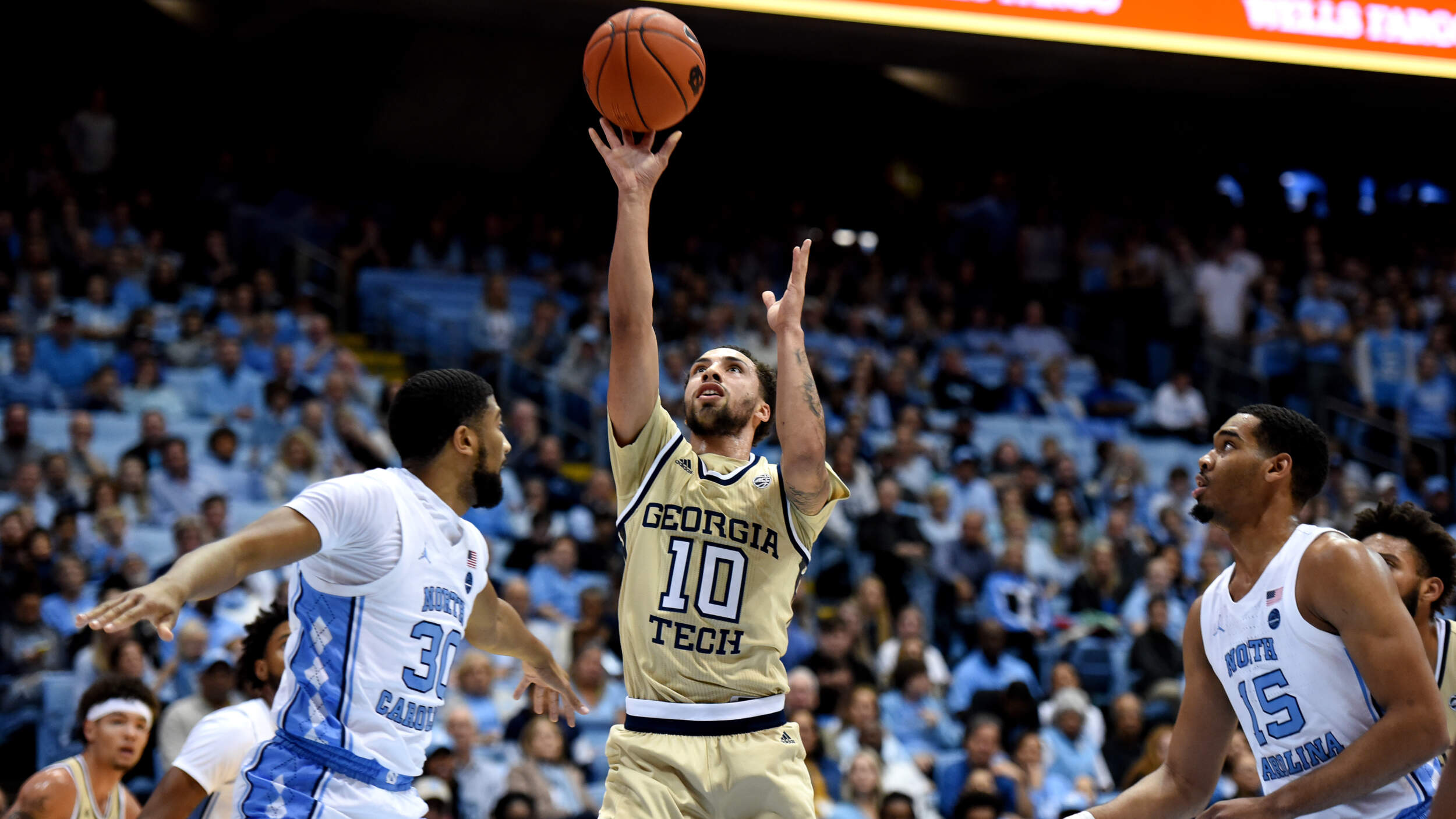 Jose Alvarado's 25 points were his most since scoring his career high of 29 last February against Pittsburgh, and he had career highs of eight assists and six steals. (photos by Jeff Camarati)
Multimedia