Box Score (.pdf) | Full gamebook (.pdf) | Multimedia | Photo Gallery | Postgame Notes
LINCOLN, Neb. – Backed by a 24-point performance by senior guard Jose Alvarado, Georgia Tech men's basketball used a second-half surge to defeat Nebraska, 75-64, in an ACC/Big Ten Challenge matchup on Wednesday night at Pinnacle Bank Arena.
Georgia Tech (2-2) faced its largest deficit of the game at 43-37 with 14:34 remaining in the game, but outscored Nebraska 38-21 the rest of the way to pull away for the victory.
Playing with four fouls, Alvarado led the Yellow Jackets' late-game rally,  as he scored 19 of his game-high 24 points in the final 10 minutes of the game.
Tech shot 50.0 percent from the field in the second half and also forced 13 Nebraska turnovers in the final 20 minutes. Senior guard Bubba Parham snagged three of the Jackets' eight steals on the evening.
Led by Alvarado, four Yellow Jackets scored in double figures, with senior forward Moses Wright tallying 13 points, junior guard Michael Devoe scoring 12 and junior forward Khalid Moore adding 11. Devoe helped stake Tech to a 32-30 halftime lead by scoring all 12 of his points in the first half.
Nebraska (3-2) was led by Kobe Webster, who finished with 20 points on six made threes. Dalano Banton and Teddy Allen also reached double-digits in scoring for the Huskers putting up 17 and 10 points, respectively.
The Yellow Jackets topped Nebraska in the ACC/Big Ten Challenge for the second-straight year. Last season, Tech downed the Cornhuskers, 73-56, in Atlanta.
Georgia Tech returns to action Tuesday, Dec. 15, when it opens Atlantic Coast Conference play Florida State. Tipoff is slated for at 8:30 p.m. at the Donald L. Tucker Center in Tallahassee, Fla., and the game will be televised live on ACC Network.
Jose Alvarado scored 19 of his game-high 24 points in the final 10 minutes of Georgia Tech's 75-64 win at Nebraska (photo courtesy of USA Today Sports Images).
Post-Game Notes
TEAM NOTES
Georgia Tech is now 9-11 in ACC/Big Ten Challenge games, 3-8 in Challenge games on the road.
Tech is 9-8 away from McCamish Pavilion since the beginning of the 2019-20 season, 7-7 in true road games.
Four Tech players reached double figures in scoring against Nebraska. At least four Jackets have reached double digits in every game this season, and five have done so twice (Georgia State, Kentucky).
Tech has committed fewer than 10 turnovers (9 vs. Nebraska, 6 vs. Kentucky) for the second straight game, not coincidentally winning both. That's the first time the Jackets have had single-digit turnovers in back-to-back games since late in the 2018-19 season (Virginia and Boston College).
Tech has forced 37 turnovers over its past two games and scored 48 points from them.
Tech has scored 70 or more points in four straight games for just the second time under head coach Josh Pastner. The Yellow Jackets did so in their first four games of the 2017 NIT. Tech has not scored 70 in five straight games since the 2015-16 season.
Tech held an opponent under 40 percent shooting from the floor for the first time this season, and the Yellow Jackets are 50-14 under Josh Pastner when they do so.
INDIVIDUAL HIGHLIGHTS
Jose Alvarado overcame foul trouble (three in the first half, fourth early in second half) to lead the Jackets with 24 points, 19 of them in the second half. He accounted for 11 of Tech's 16 points in a second-half stretch in which Tech went from a 49-all tie to ahead 65-56. The senior from Brooklyn, N.Y. hit 7-of-12 shots from the floor, including 3-of-5 from three-point range, and 7-of-8 from the foul line. All three of his triples came in the aforementioned second-half stretch.
Alvarado (has made a three-point basket in 22 straight games, the longest streak for a Tech player since Adam Smith knocked down a three in 24 straight games during the 2015-16 season. Alvarado added one assist and two steals against the Wildcats.
Alvarado scored 20 or more points for the 20th time in his career (twice this season) and moved into a tie for No. 36 (with Brook Steppe) on Tech's all-time scoring list with 1,105 points. He needs 31 points to reach 35th.
Alvarado ranks No. 10 on Tech's all-time list for steals (161), and he is the ACC's active leader.
Michael Devoe bounced back from the first scoreless game of his career (0-6 FG vs. Kentucky) and returned to double digits with 12 points at Nebraska, all in the first half. His ledger included a pair of three-point field goals, and he went 4-for-9 from the floor..
Khalid Moore hit double digits (11 points) for the first time since getting 10 last Dec. 14 at Kentucky. It was the sixth double digit game of his career, and he hit 5-of-7 shots from the floor. He added eight rebounds, one off his career high of nine set against Elon last season
Moses Wright failed to score 20 or more points for the first time this season, but scored 11 of his 13 points in the second half as the Jackets rallied from a six-point deficit to beat Nebraska. Wright has scored in double digits in 28 of 35 games dating back to the beginning of the 2019-20 season. Wright leads the ACC in scoring at 21.3 points per game while hitting 56.4 percent of his field goals (9th), and is the No. 2-leading rebounder (now at 10.0 per game).
Wright added eight rebounds, four assists and two blocks against the Cornhuskers, and did not turn the ball over for the first time this season.
Bubba Parham made his second start of the season and scored seven points (1-9 FG, 1-8 3pt FG) with four rebounds and three steals at Nebraska. It was his first game under double digits this season, but he is averaging 13.0 points across four games and hitting 43.9 percent of his shots from the floor. Parham also had no turnovers for the second straight game and has just two for the season (with nine assists).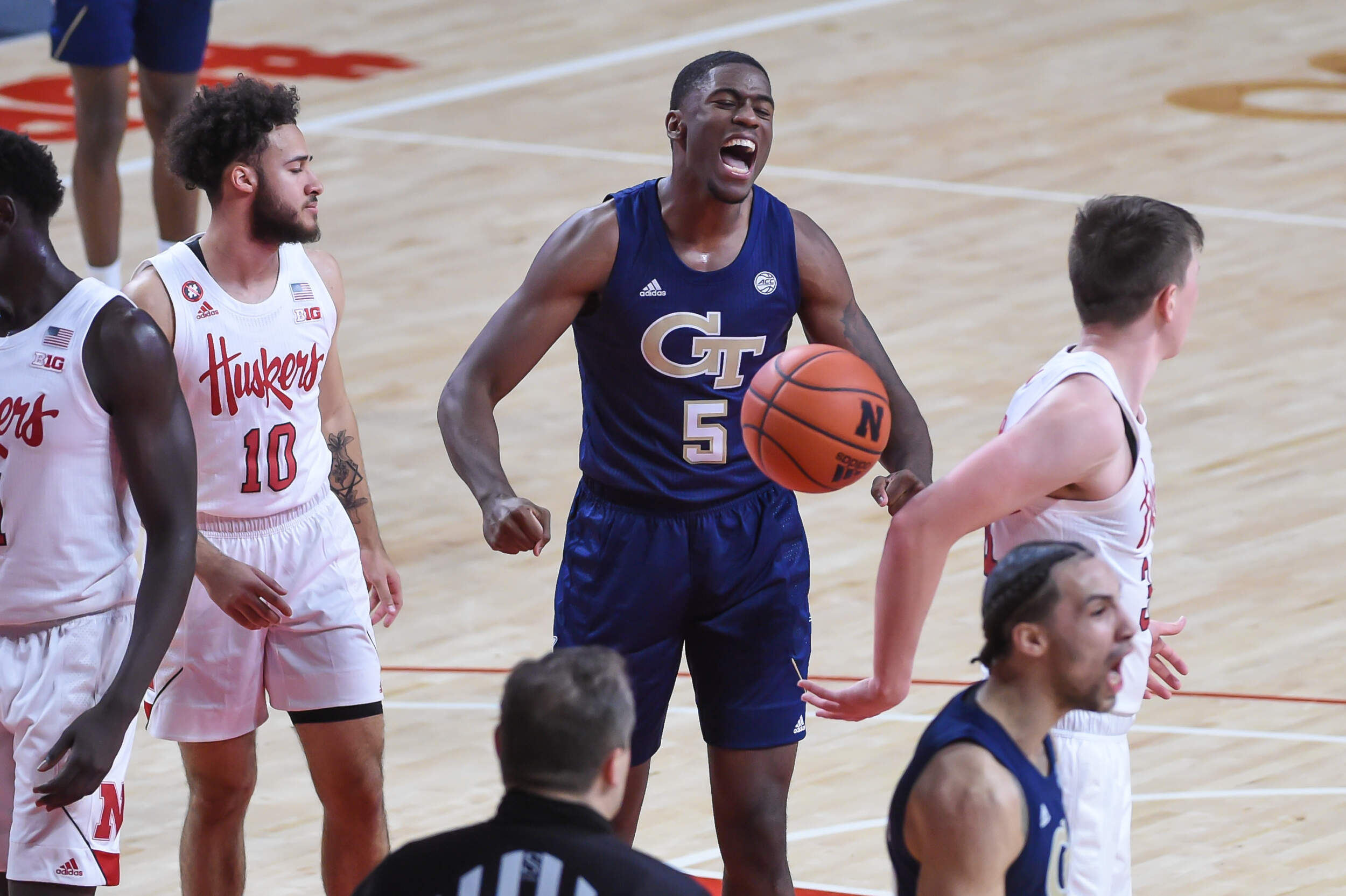 Moses Wright celebrates in the waning minutes of Georgia Tech's 75-64 win at Nebraska (photo courtesy of USA Today Sports Images).
Post-Game Press Conferences
Senior guard Jose Alvarado
Senior forward Moses Wright
Head coach Josh Pastner