Final Box Score (.pdf) | Full gamebook/play-by-play (.pdf) | Multimedia | Photo Gallery | Postgame Notes
Louisville, Ky. – Michael Devoe scored a game-high 21 points, but his potential go-ahead three in the game's final seconds came up short after Georgia Tech battled back from a late double-digit deficit and fell to No. 6 Louisville, 68-64, Wednesday night at the KFC Yum! Center in Louisville, Ky.
Trailing by 11 with just under with five minutes the play, Georgia Tech (8-11, 3-6 ACC) went on a 10-0 run and cut the deficit to just one on a drive and dish from Devoe to James Banks III with 1:12 left. After forcing a turnover on the other end, Jose Alvarado and Moses Wright each missed shot attempts before fouling Malik Williams, who converted one of two free throws to put Louisville up by two. But Devoe's open three-point attempt from straight away bounced off the front of the rim as Louisville (16-3, 7-1 ACC) escaped to win its fifth straight game.
Devoe led four Jackets in double figures, scoring a game-high 21 points while hitting 7-of-14 shots from the floor. Alvarado scored 13 and added a career-high 10 rebounds, Banks added 12 points and seven boards and Wright chipped in 11.
Up next, Georgia Tech returns home to take on NC State at 4 p.m. Saturday, Jan. 25 at McCamish Pavilion. The game will be televised on the ACC's Regional Sports Network.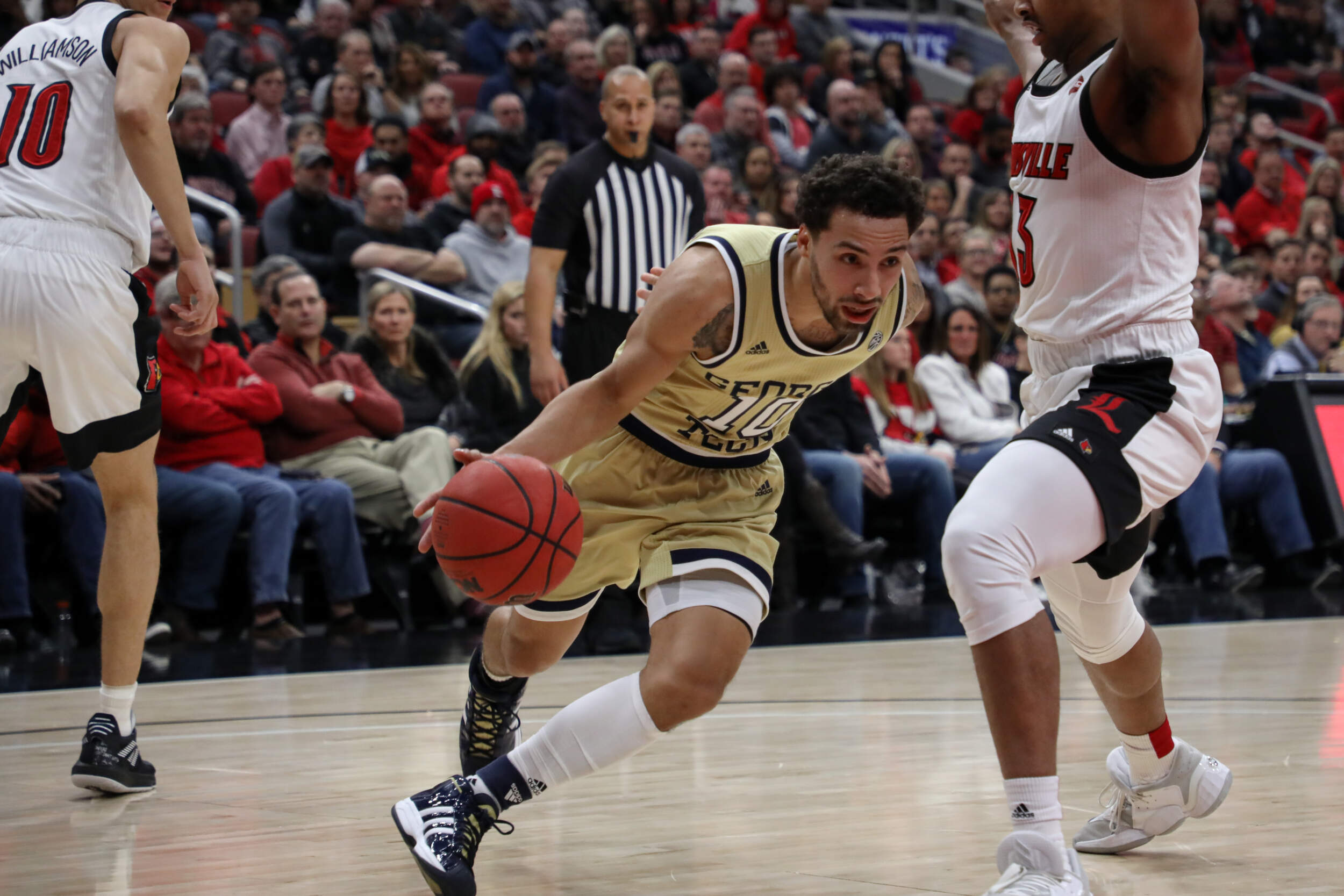 Jose Alvarado achieved his first career double-double with 13 points and 10 rebounds (photos by Evan Brown).
Post-Game Notes
Tech shot 15-of-20 (75 pct.) from the foul line against Louisville, after going just 13-of-24 in its previous two games.
Georgia Tech shot 61.9 percent from the field in the first half, and 46 percent for the game against a Louisville team that has held opponents to 37 percent this season.
Tech's starters scored all 68 of the team's points against Louisville.
The Jackets held a slight rebounding edge in the game, 34-33.
Devoe shot 7-of-14 against Louisville, and is 19-of-32 (59 pct.) over his last three games.
Alvarado pulled down a career-high 10 rebounds (his previous high was nine). He also added 13 points to record his first career double-double.
Alvarado is averaging 16.5 points in his last two games after not reaching double figures in his previous two.
Moses Wright scored 11 points, reaching double digits for the seventh time in eight games (photos by Evan Brown).
"They have two of the better guards in our league that I've seen so far, and I thought they completely controlled the game in the first half, Alvarado and Devoe. We didn't face Alvarado a year ago. Those two guys completely got wherever they wanted to in the first half. And once you offer that little of resistance to start the game, why wouldn't your confidence grow, not that those guys need any more confidence for Georgia Tech, but why wouldn't your confidence grow when you're getting anywhere you want? And I thought it opened up driving lanes for other players, guys like Jordan Usher, Moses Wright, I thought those guys were really playing well off of a really, really good tandem."
"I know that Georgia Tech has lost some close ones. They've been in every game. I have a ton of respect for their talent level, the stuff they run. The way they try to keep you off balance going man to zone. I mean, they've been in every game they won three road games, out of four, three out of five now and we escaped by the skin of our teeth and, I think Georgia Tech had a lot to do with that."
"Josh is a really good dude. He gives credit to teams and coaches I've played against them before. He gives credit to other teams and coaches. When he wins, and when he loses, he's gracious. He understands that we all go through ups and downs with our team. He doesn't get up here and just talk about what his team didn't do. Both teams have scholarships and I got a lot of respect and really appreciate, whatever he said. Because I know he's a genuinely good guy."
Louisville head coach Chris Mack
Multimedia