Final Box Score (.pdf) | Full gamebook/play-by-play (.pdf) | Multimedia | Photo Gallery | Postgame Notes
THE FLATS – In the longest game in Georgia Tech men's basketball history, Moses Wright's 31 points and 19 rebounds weren't enough for the Yellow Jackets, as they dropped a 123-120, four-overtime decision to neighboring Georgia State in the season opener for both teams on Wednesday night/Thursday morning at McCamish Pavilion.
In the first four-overtime game in Georgia Tech's 106-season history, Wright was one of our Yellow Jackets to record a double-double, believed to be the first time that has happened in program annals.
Georgia Tech, which trailed by as many as 11 points in the second half and rallied from a five-point deficit with a little more than five minutes to go in regulation to send the contest to overtime, had its best chance to win the game in the third extra period. Senior Jose Alvarado made a pair of free throws to give the Yellow Jackets a 109-105 lead with just 21 seconds remaining in the third OT. Georgia State's Justin Roberts cut the Tech advantage to 109-108 on a 3-pointer with 12 seconds to go in the period and fouled Alvarado with six seconds left. Alvarado made the first of the two free-throw attempts but missed the second, which led to a fast-break opportunity for the Panthers after the rebound. Wright fouled GSU's Collin Moore with just one second left on the clock, and Moore made both free throws to send the game to a fourth OT knotted at 110-110.
Tech led 116-114 with less than two minutes to go in the fourth and final overtime period, but turned the ball over on back-to-back possessions to allow GSU to put together a 5-0 run that gave the Panthers the lead for good.
Wright led five Yellow Jackets in double-figures with his career-high 31 points and snared the most rebounds in a game by a Tech player in nearly five years. Alvarado scored 29 points with 10 rebounds, Michael Devoe scored 24 with 12 boards, Bubba Parham scored 16 and Jordan Usher added 15 (with 10 rebounds) to round out the five Jackets in double figures. Wright's double-double was the eighth of his career, while the others accomplished the feat for the first time.
Roberts led Georgia State with 26 points and Kane Williams added 21 points and 12 rebounds for the Panthers.
After playing 60 minutes in Wednesday's opener, Georgia Tech returns to action in less than 48 hours when it hosts Mercer on Friday night at 8 p.m. The game will be televised on the ACC's Regional Sports Networks, which includes Fox Sports South in Atlanta.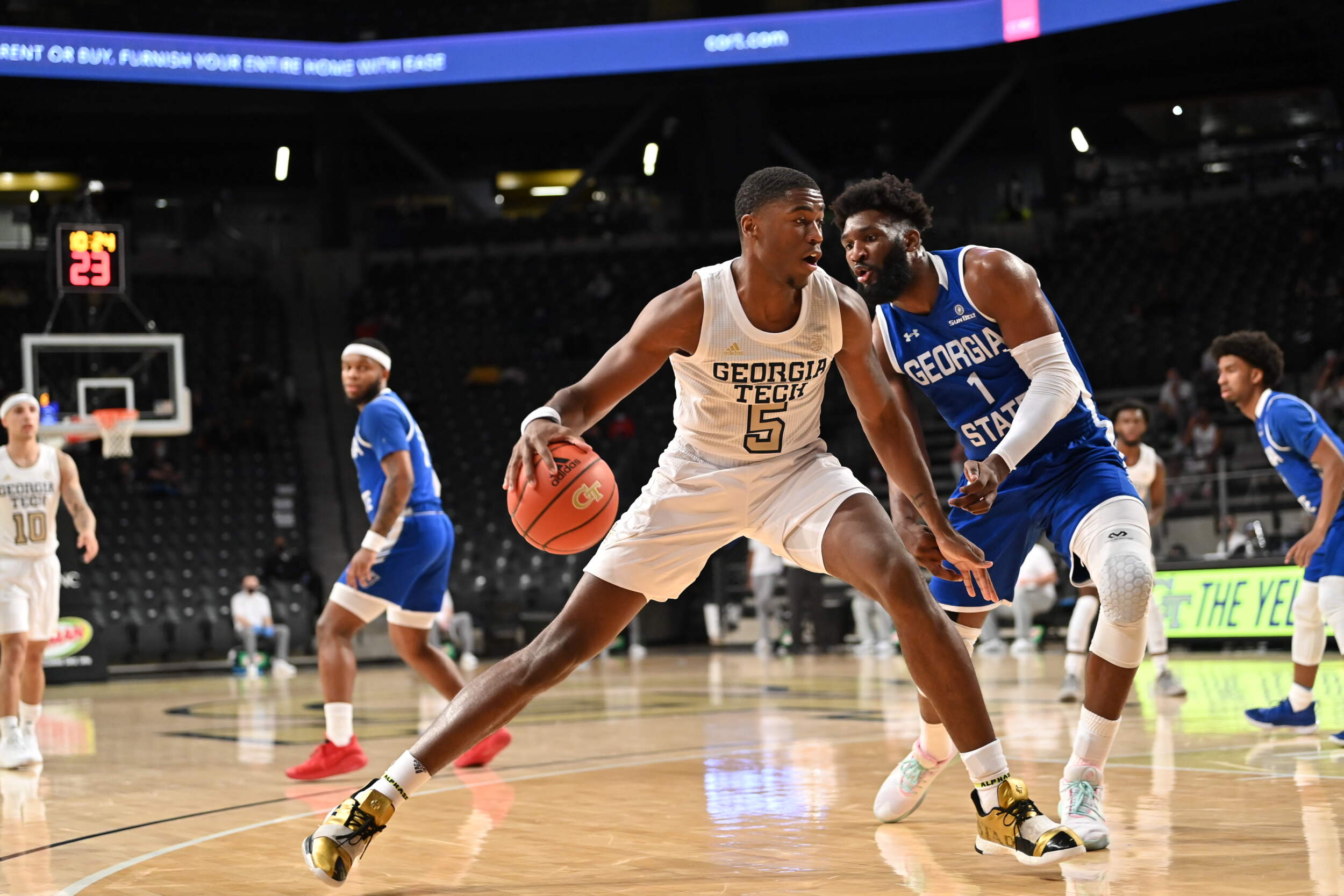 Moses Wright recorded only the second 30-point, 20-rebound game in Georgia Tech history in Wednesday's season opener (photo by Danny Karnik)
Post-Game Notes
TEAM NOTES
Tech played the first quadruple-overtime game in program history. It was the fourth in ACC history (4 by NC State (110) vs. Wake Forest (103), March 4, 1989; by NC State (78) vs. Canisius (79), March 6, 1956; by North Carolina (113) vs. Tulane (106), Feb. 14, 1976)
For the second straight year, Tech began its season with an overtime game. Tech is 64-61 all-time in overtime games. Tonight was the first OT game for the Jackets since their loss to Arkansas last Nov. 25; the Jackets beat NC State on the road to open the 2019-20 season.
The combined 243 points by Georgia Tech and Georgia State were a school record and surpassed the previous mark by 14 points. Tech and Loyola Marymount combined to score 229 points (a 135-94 Tech victory) on Dec. 22, 1990 at the Omni Arena in Atlanta. Seven players scored 20 or more points in the game.
The 120 points scored by Tech were the third-most in program history behind the 135 vs. Loyola Marymount and 121 scored against Georgia State in 1989. The 123 points by Georgia State were a school record for the Panthers and the most ever yielded by the Jackets (previous 121 in a regulation game by UCLA, Dec. 27, 1969).
Tech's 98 field goal attempts tied for the fifth most in program history, while the Jackets' 41 free throws were the second most, and the 59 free throw attempts were a school record (previous: 56 vs. Furman in a regulation game, Dec. 22, 1971). Tech's 70 rebounds tied for fourth most in program history.
Five Tech players reached double figures for the first time since the Jackets' 64-58 win over Louisville last Feb. 12. Tech placed five players in double digits twice last season.
Among the notable performances in the game were four double-doubles by Georgia Tech players – Moses Wright (31 points, 19 rebounds), Jose Alvarado (29 points, 10 rebounds), Michael Devoe (24 points, 12 rebounds) and Jordan Usher (15 points, 10 boards). They were the first double-doubles in the careers of Alvarado, Devoe and Usher.
Tech is 3-2 in season openers under head coach Josh Pastner and has won 11 of its last 13 season openers (lost to UCLA to begin the 2017-18 season). Tech last lost a season opener at home on Nov. 29, 2007 (83-74 to UNC Greensboro).
The loss to Georgia State snapped a four-game winning streak for the Jackets, as well as a seven-game home winning streak.
INDIVIDUAL HIGHLIGHTS
Jose Alvarado tied his career high with 29 points against Georgia State (29 vs. Pittsburgh on 2/20/2019) and notched the 52nd double-figure game of his career (16 as a freshman, 20 as a sophomore, 15 as a junior). He also grabbed 10 rebounds to post his first career double-double
Alvarado (29 points, 2-7 3pt FG) has made a three-point basket in 19 straight games. That is the longest streak for a Tech player since Adam Smith knocked down a three in 24 straight games during the 2015-16 season.
Alvarado had six steals to improve his career total to 158, and sits No. 10 on Tech's all-time list.
Michael Devoe posted the first double-double of his career (24 points, 12 rebounds) and reached double figures for the 37th time in his career. He had 21 double-digit games last season, 15 as a freshman.
Devoe (3-of-13 3pt FG) has made a three-point field goal in 11 straight games. His longest streak is 13 games, accomplished as a freshman.
Moses Wright (31 points, 19 rebounds) was one rebound shy of becoming the second Tech player to record 30 or more points and 20 or more rebounds in one game. His 19 rebounds were the most for a Tech player since 2016. Tech's last 20-rebound game occurred in 1974. Wright recorded the eighth double-double of his career; he had seven last season.
Wright notched his second career 30-point game (scored 33 at Syracuse last February), and his fourth career game of 20 or more points against the Panthers. Wright has scored in double digits in 25 of 32 games dating back to the beginning of the 2019-20 season.
Wright set career highs for rebounds (19), offensive rebounds (11), free throws (14) and free throw attempts (22). His 22 free throw attempts tied a school record set by Kenny Anderson on Dec. 19, 1990 against Georgia, which was a triple-overtime game. The Tech record for a regulation game is 21 by Tom Hammonds vs. Iowa State (March 18, 1988).
Bubba Parham's 16 points were a career high in a Tech uniform, and he reached double figures for the seventh time as a Yellow Jacket.
Jordan Usher notched his ninth double-digit game as a Yellow Jacket with 15 points against the Panthers and set a personal best with 10 rebounds.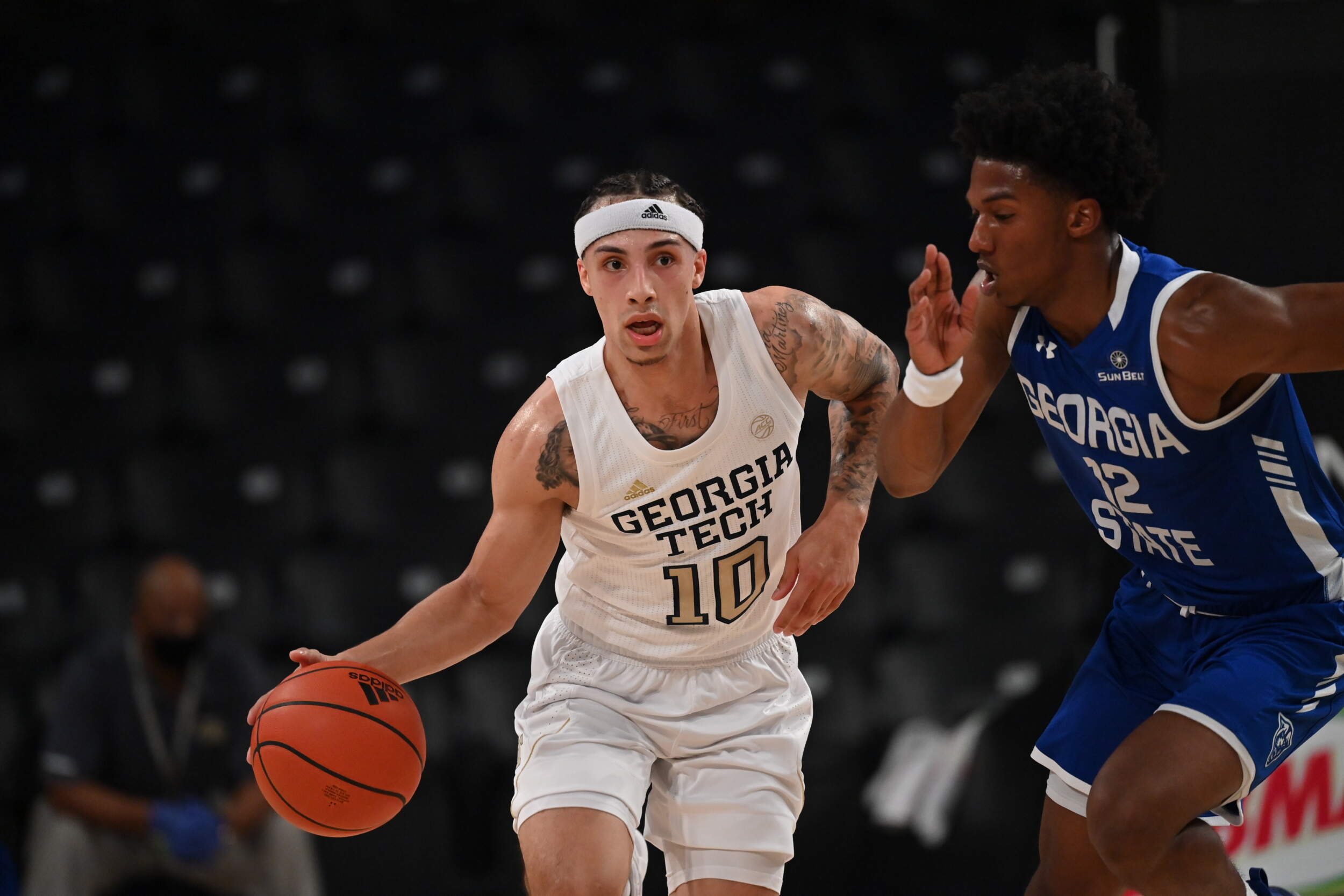 Jose Alvarado scored 29 points and had six steals in the season opener against Georgia State (photo by Danny Karnik)
Multimedia
Postgame press conference video with Coach Josh Pastner, Moses Wright and Jose Alvarado