Box Score (.pdf) | Full gamebook (.pdf) | Multimedia | Photo Gallery | Postgame Notes
THE FLATS – Senior guard Jose Alvarado scored 29 points, tying his career-high, while leading Georgia Tech to a 97-69 victory over Delaware State on Sunday night at McCamish Pavilion.
Georgia Tech (4-3, 0-1 ACC) shot 55.0-percent from the field, including a 39.1-percent mark from three-point range. Tech held the Hornets (0-3, 0-0 MEAC) to just 43.4-percent shooting, only allowing a 30.8-percent showing from DSU from beyond the arc.
Four Yellow Jackets put up double-digits in scoring, making it the sixth game this season that Tech has had at least four double-digit scorers. Alvarado was 11-of-14 shooting overall, setting a new career-best in made field goals. Senior forward Moses Wright added 16 points on 7-of-9 shooting. Junior forward Khalid Moore and senior forward Jordan Usher also had double-digits in scoring at 11- and 10-points, respectively.
At half, the Yellow Jackets found themselves up 40-30. Alvarado led Tech in scoring in the first-half, putting up 12-points as he drained his last four shots of the half. Defensively in that half, Tech forced 13 total turnovers, scoring 14 points off of those opportunities. Usher posted season-highs with four assists and three steals all before intermission. Usher would finish the game tying his career-highs in assists, six, and steals, four.
The Hornets brought it to within a two-possession game in the second at the 17:45 mark after junior forward Ameer Bennett scored three points off of an and-one. Tech answered back with a 33-9 run over the next seven-and-a-half minutes, with Alvarado scoring 17 of his points during that time span. Helping to seal up the win, Tech had a slight 35-to-30 advantage in rebounding as freshman center Saba Gigiberias' game- and career-high six rebounds led the Jackets efforts on the boards.
Senior guard Myles Carter was Delaware State's top-scorer with a 17-point performance.
The Yellow Jackets return to action on Wednesday, Dec. 23, as they hit the road to take on UAB (7-1, 0-0 C-USA) at Bartow Arena. Tipoff is set for 8 p.m. (EST), and the game will be broadcast on CBS Sports Network.
Senior guard Jose Alvarado had a 29-point performance to lead the field in scoring, setting a new career-high in the process. (photo by Danny Karnik)
Post-Game Notes
TEAM NOTES
Georgia Tech starting lineup: Jose Alvarado, Bubba Parham, Michael Devoe, Jordan Usher, Moses Wright (5th time this season, lineup is 4-1)
Georgia Tech remained unbeaten in 35 all-time games against members of the Mid-Eastern Athletic Conference.
Tech's 97 points were its most in a regulation game under Josh Pastner and its most since scoring 107 against Green Bay on Nov. 19, 2015.
Tech's 25 assists were its most since recording 29 vs. Kennesaw State on Dec. 28, 2018.
Tech made 13 straight FG at one point in second half, finishing the half at 62.5 percent and the game at 55 percent, a season high.
Tech forced 20-or-more turnovers for the third time this season, and is plus-27 in that category this season. Tech has forced 79 over its past five games and scored 89 points from them.
Tech has averaged just 9.26 turnovers over its last five games, a total of 46, compared to 37 in its first two games. The Yellow Jackets committed just nine against Delaware State and has a plus-33 turnover margin in its last five games.
Tech has connected on 18 of its 45 three-point attempts in its last two games (40 percent) and is up to 32.3 percent for the season. The Jackets are averaging 7.7 made threes per game, 2.5 per game more than they made in 2019-20. Conversely, opponents are connecting on 38.6 percent from beyond the arc and averaging 8.7 made threes (Delaware State was 8-for-26).
Tech's accuracy from the free throw line is well above its 2019-20 norm. The Jackets have hit 74.4 percent from the charity stripe (22-of-28 vs. Delaware State), compared to 67.7 last season. Tech has scored 17.0 points per game at the stripe, 4.0 points better than last season.
Tech used every player on its roster, save for injured freshman Jordan Meka, for the first time this season, and 12 of the 16 players scored.
INDIVIDUAL HIGHLIGHTS
Jose Alvarado (29 points, 11-of-14 FG, 4-of-5 3pt FG, 3-of-3 FT) tied his career high in points, set previously against Pittsburgh in the 2018-19 season and again vs. Georgia State in this year's season opener. The senior scored 20-plus points for the third time this season and for the 21st time in his career, and he has 10 20-plus efforts in his last 25 games dating back to last season's victory at North Carolina. The 6-foot senior has scored in double digits in five of seven games this season, and 57 times for his career.
Alvarado moved into 35th place in career scoring with his performance against Delaware State, having scored 1,152 points in his career. He needs two points to reach Jim Caldwell in 34th
Alvarado, who matched his career high with four three-point field goals against Delaware State, has made a three-point basket in 25 straight games. He moved up to 12th place on Tech's all-time list for three-pointers with 14.
Alvarado remains 10th on the program's all-time list for steals (167), but needs just one to pull even with Kenny Anderson for ninth place. The senior went over 300 career assists with his five against Delaware State and is 16th all-time with 303. He also is in 36th place in career scoring (1,123 points).
Moses Wright, the leading scorer in the ACC, scored 16 points on 7-of-9 shooting from the floor, 2-of-2 from the foul line. Since the beginning of the 2019-20 season, Wright has hit double figures in 30 of 38 games, including all seven this season. He has connected on 57.5 percent of his shots from the floor this season. The 6-9 senior added three assists and two steals against the Hornets.
Wright now has 832 points in his career, and elevated his career rebound total of 465. He is bidding to become the 21st player in Tech history with 1,000 points and 500 rebounds in a career.
Bubba Parham, making his fifth straight start for the Yellow Jackets this season, has hit at least one three-point basket in six of Tech's seven games this season, and has 211) for his career. He leads the team in attempts (11-of-39) this season. Parham did not turn the ball over for the fourth time this season and has just three total with 15 assists.
Jordan Usher (10 points, 3-5 FG, 3-3 FT, 5 rebounds) hit double figures for fifth time in seven games this season, and tied career highs for assists (6) and steals (4).
Khalid Moore notched his second double-digit game this season (11 points, 2-3 FG, 2-2 3pt FG, 5-6 FT), also had 11 vs. Kentucky. The 6-7 junior has turned the ball over just once in his last five games. The 6-7 junior has played 21 minutes or more in five of seven games this season.
Freshman Tristan Maxwell, junior David Didenko and walk-ons Coleman Boyd, Niko Broadway, Jehloni James, Shaheed Medlock and Malachi Rice saw their first action of the season.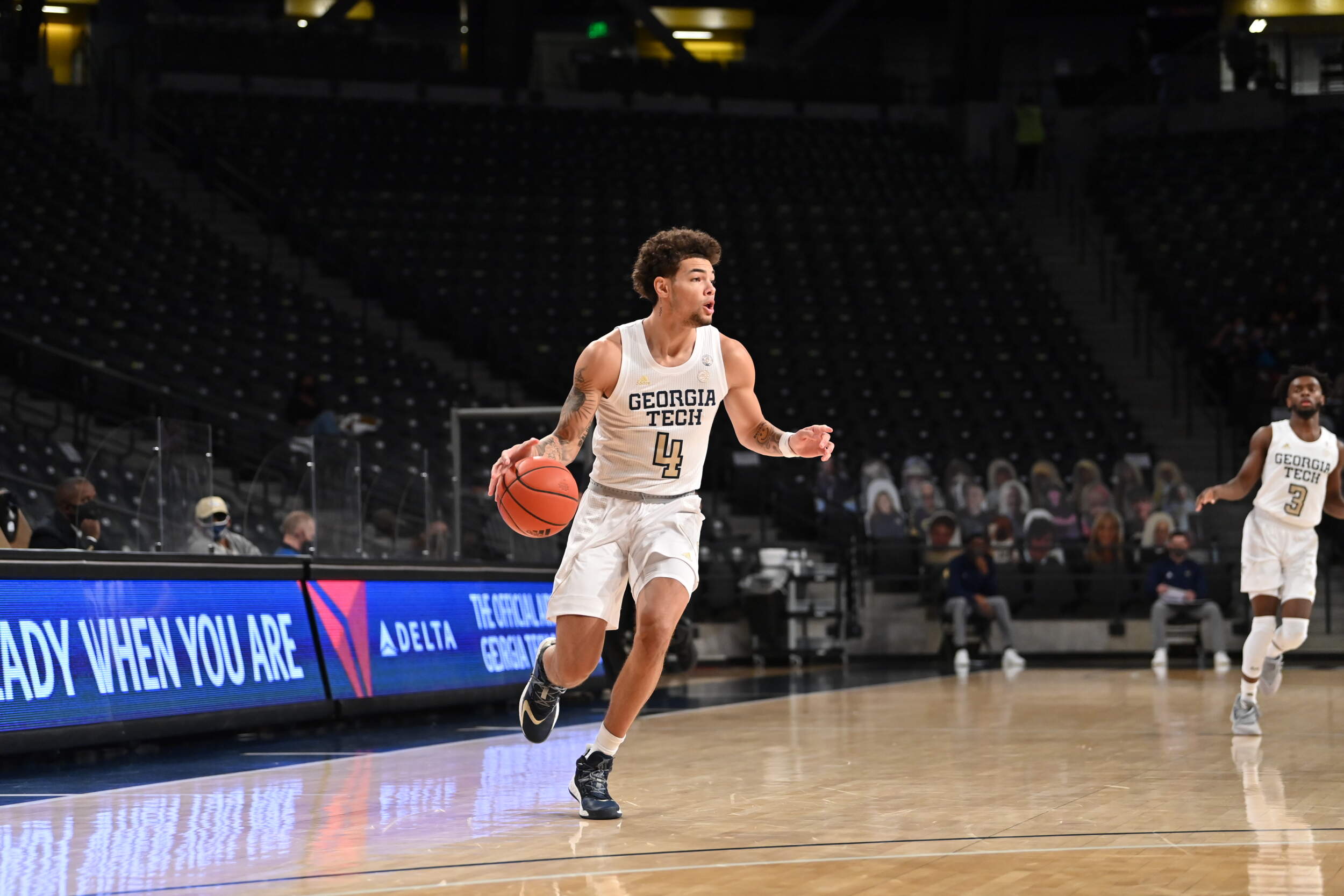 Senior forward Jordan Usher tied career-highs in assists, six, and steals, four, on Sunday evening. (photo by Danny Karnik)
Game Highlights
Post-Game Press Conferences
Jose Alvarado and head coach Josh Pastner