Final Box Score (.pdf) | Full game book/play-by-play (.pdf) | Multimedia | Photo Gallery | Postgame Notes
Honolulu, Hawai'i – Jordan Usher and Moses Wright scored 18 points each to lead four players in double figures as Georgia Tech overcame an eight-point second-half deficit to defeat Boise State, 74-60, Sunday in the opening round of the Diamond Head Classic at the Stan Sheriff Center.
Tech (5-5) moves on to face Houston, an 81-56 winner Sunday over Portland, in the semifinals of the tournament. Tipoff is at 7 p.m. Eastern time, and the game will be televised live on ESPN2. The Broncos (6-5) will face the Pilots in a consolation bracket game at 4:30 p.m.
The Yellow Jackets, who trailed by five at intermission and by eight early in the second half, snapped a three-game losing streak after going on a 20-2 run midway through the second half, turning a 41-38 deficit into a 58-43 advantage. Wright started the run with an old-fashioned three-point play, scoring at the basket while drawing a foul and making the free throw to tie the game at 41-all with 14:44 to play. Usher gave the Jackets the lead for good on a three-point basket two minutes later.
Wright did not miss a shot in the game, going 7-for-7 from the floor, including a three-point basket on his first shot attempt, and 3-for-3 from the charity stripe. He scored nine of his points during the run, while Usher scored seven. Usher finished the game 6-of-10 from the floor and 5-of-6 from the line.
Jose Alvarado made his first appearance for the Jackets since Nov. 20, having missed seven of the last eight games with an ankle injury. The junior point guard started and played 30 minutes, scoring 14 points and playing tough defense in the second half. He was out of the game during Tech's go-ahead spurt, but with the Jackets still ahead by 12, he re-entered the game with 5:32 to go and scored Tech's next 10 points on a pair of three-point shots and four free throws to keep the Broncos (6-5) at bay.
Tech shot 54.8 percent in the second half and scored 48 points, one more than it scored in its last game against Ball State Wednesday night. The Jackets clamped down on the Broncos to the tune of 30.8 percent after intermission and 33.3 percent for the game.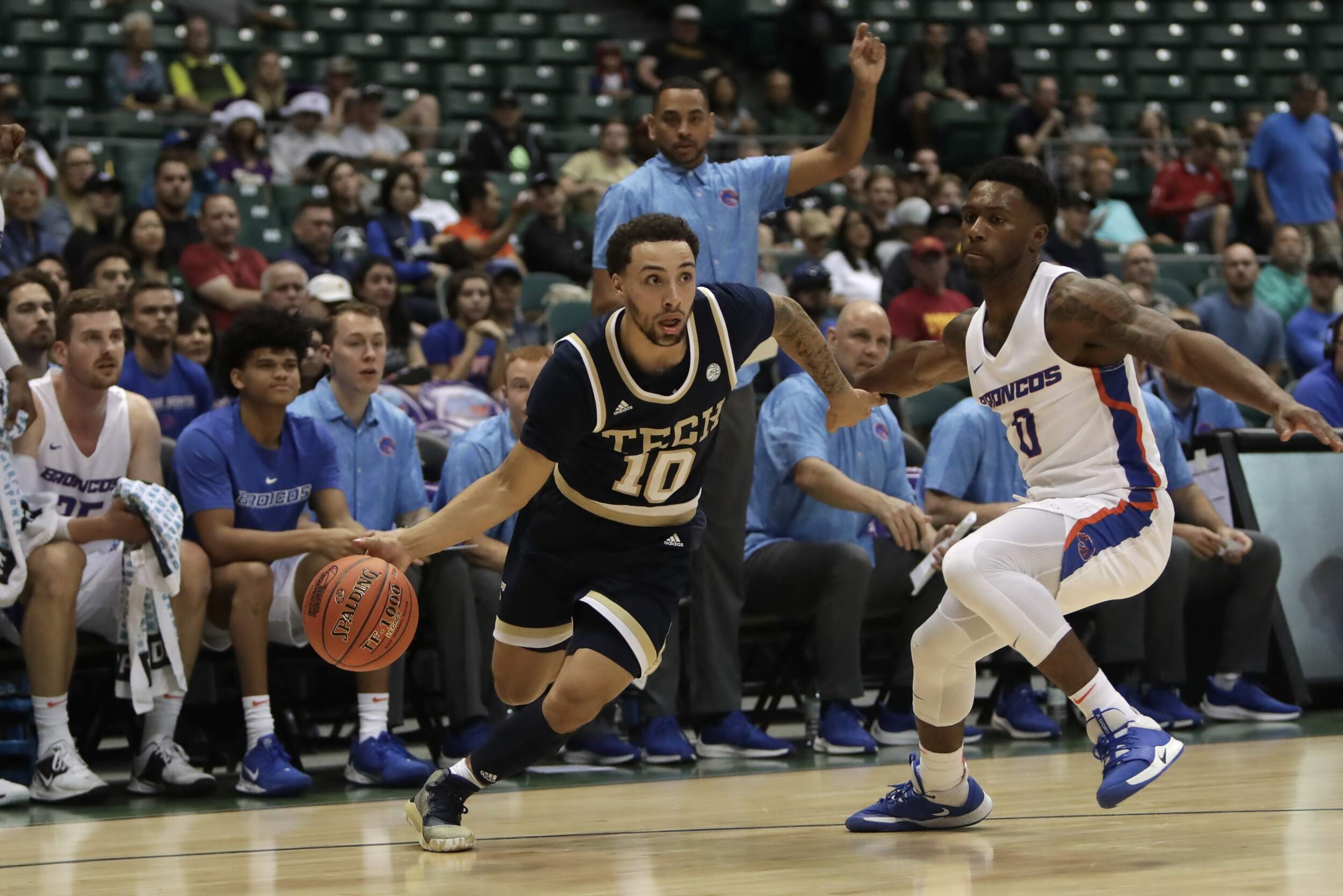 Jose Alvarado saw the court for the first time since Nov. 20, starting and scoring 14 points in 30 minutes. (photo by Courtney Metzger)
Post-Game Notes
TEAM NOTES
Tech is 2-2 on the road this season, 3-3 at home.
Tech shot 54.8 percent in the second half against Boise State, and 48.2 percent for the game, its best percentage since hitting 52 percent against Bethune-Cookman on Dec. 1.
Tech has trailed at halftime in eight of 10 games this season, but has won three of those eight games. The Jackets are 13-45 under Josh Pastner when trailing at the half.
Tech's 48 second-half points against Boise State were one more than it scored in its last game against Ball State, which was a season low.
Tech, third in the nation in blocked shots coming into the game, blocked five against Boise State and has 16 in its last four games, dropping its average to 6.4 per game this season.
Tech has connected on just 31-of-123 three-point field goals in its last six games (25.2 percent, 5-for-23 vs. Boise State) after hitting 21-of-63 (33.3 percent) in the first three games of the season. The Jackets are hitting 27.8 percent for the season.
Since the beginning of the 2018-19 season, Tech has held 24 opponents, including nine ACC foes, under 40 percent from the floor. Six Tech opponents this season have shot under 40 percent, and the Jackets are yielding 38.1 percent from the floor.
The Jackets have limited 19 opponents, nine in the ACC, to 30 percent or less from three-point range in the same time frame.
Tech's 43-27 rebound advantage against Boise State was its second best (47-30 over Arkansas).
Tech hit 15-of-20 from the free throw line (75 pct.) against Boise State, 11-of-14 in the second half. It was the Jackets' best percentage this season. Tech had not hit the 70-percent mark since making 72.7 percent in the season opener at NC State.
INDIVIDUAL NOTES
Jose Alvarado played for the first time since Georgia Tech's fourth game of the season at Georgia, when he played 17:53. He had missed seven of Tech's last eight games since the opener at NC State with a high ankle sprain. The junior point guard played 29:32 against Boise State and scored 14 points (4-14 FG), including 10 in a row for the Jackets in the final 5:32.
Jordan Usher notched his first double-figure scoring game for the Jackets, scoring 18 to share the team high against Boise State. The 6-7 junior hit 6-of-10 shots from the floor, including his only three-pointer which gave Tech a permanent lead with under 13 minutes to go in the game. He also had seven rebounds and two assists.
Moses Wright has averaged 13.3 points and 8.8 rebounds over his last six games, which includes a season low two points and four boards against Ball State on Dec. 18. He has hit 60 percent of his shots from the floor over that stretch. He tied his season high of 18 points (Georgia and Nebraska) against Boise State and grabbed nine rebounds, sharing the team high in both categories against the Broncos. The 6-9 junior did not miss a shot in the game, hitting 7-of-7 from the floor, including his only three-point attempt, and 3-for-3 from the foul line. Wright also tied a season high by blocking three shots.
Michael Devoe, the ACC's fifth-leading scorer, has hit double figures in each of Tech's last two games after scoring just 12 total in the two games prior. He scored 13 on 6-of-14 shooting against Boise State and matched his career high for rebounds with nine. The 6-5 sophomore continues to struggle from three-point range, however, missing on all six of his attempts against Boise State, and is 2-of-19 in Tech's last four games.
James Banks III played a season-low 21:03 and had five points with seven rebounds against Boise State. The 6-10 senior grabbed two key offensive rebounds for the Jackets in the final 1:41.
Banks blocked one shot against Boise State, and has 34 in 10 games this season for an average of 3.4, still No. 1 in the ACC and nearly one block per game more than last season.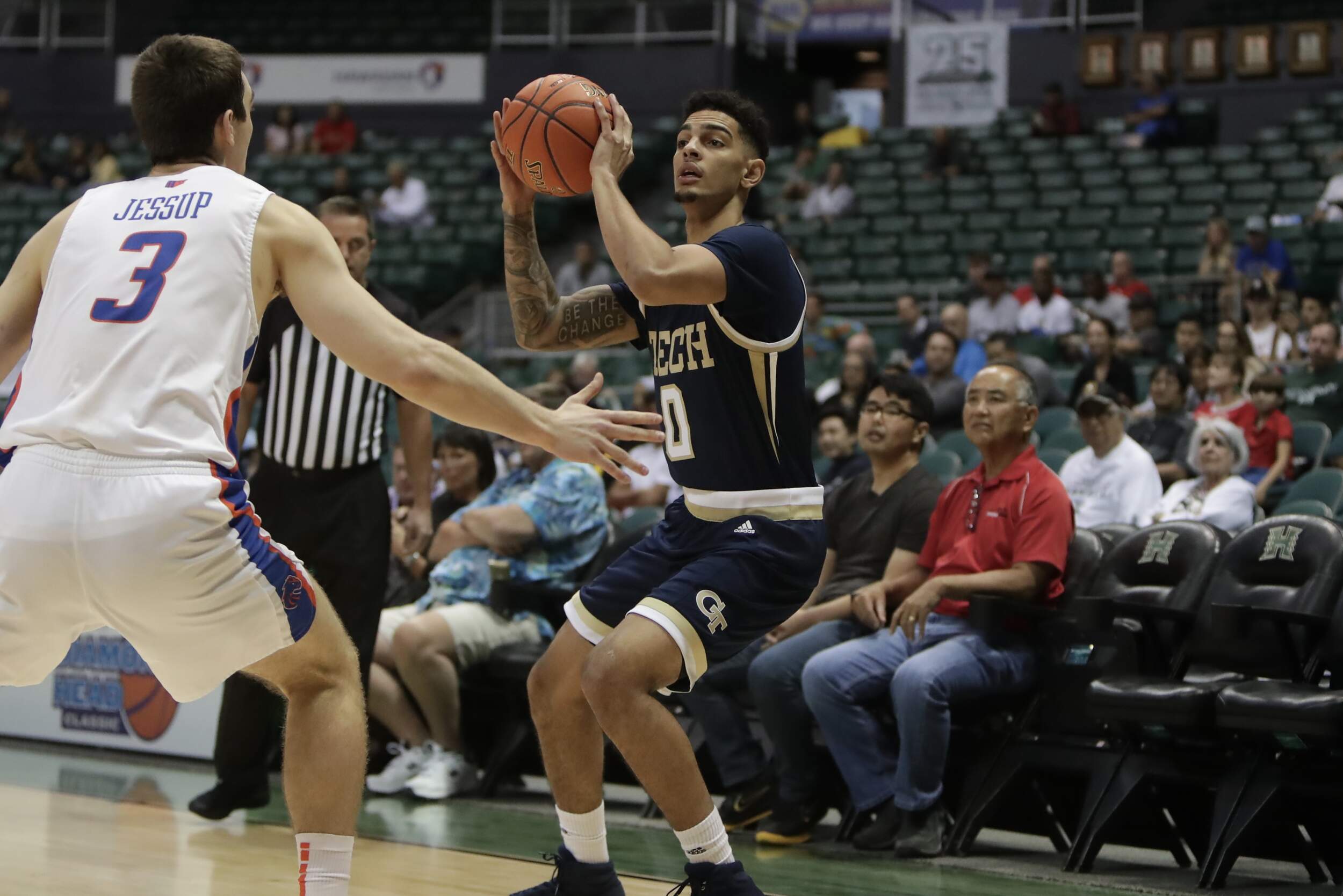 Michael Devoe scored 13 points for the Yellow Jackets. (photo by Courtney Metzger)
Multimedia