THE FLATS  –  Georgia Tech continues its 40th season of Atlantic Coast Conference basketball Saturday afternoon with a 12 p.m. regionally-televised matinee contest against No. 2/2 Duke at Cameron Indoor Stadium.
Tech (11-8, 3-3 ACC), in its third season under head coach Josh Pastner, returned to .500 in ACC play Tuesday night with a 63-61 victory over Notre Dame at McCamish Pavilion. The Yellow Jacket, who have played four of their first six ACC games at home, are 1-1 on the road this season, having won at Syracuse and lost at Clemson. Tech also has a non-conference win at Arkansas on its ledger.
Duke (16-2, 5-1 ACC), in its 39th season under head coach Mike Krzyzewski, returns home following a 79-64 win at Pittsburgh Tuesday night. The Blue Devils are 2-1 at home in conference play, having defeated Clemson and Virginia and falling to Syracuse in overtime. Duke averages a conference-high 88.6 points per game this season.
Saturday's game will be broadcast live on the ACC's Raycom Sports Network (Peachtree TV in Atlanta), and will be streamed live on ACC Network Extra, available through the ESPN app. Radio coverage is provided on the Georgia Tech IMG Sports Network, airing in Atlanta on 680 AM and 93.7 FM the Fan. The Tech broadcast is available on satellite radio (Sirius ch. 134, XM ch. 193, internet ch. 955).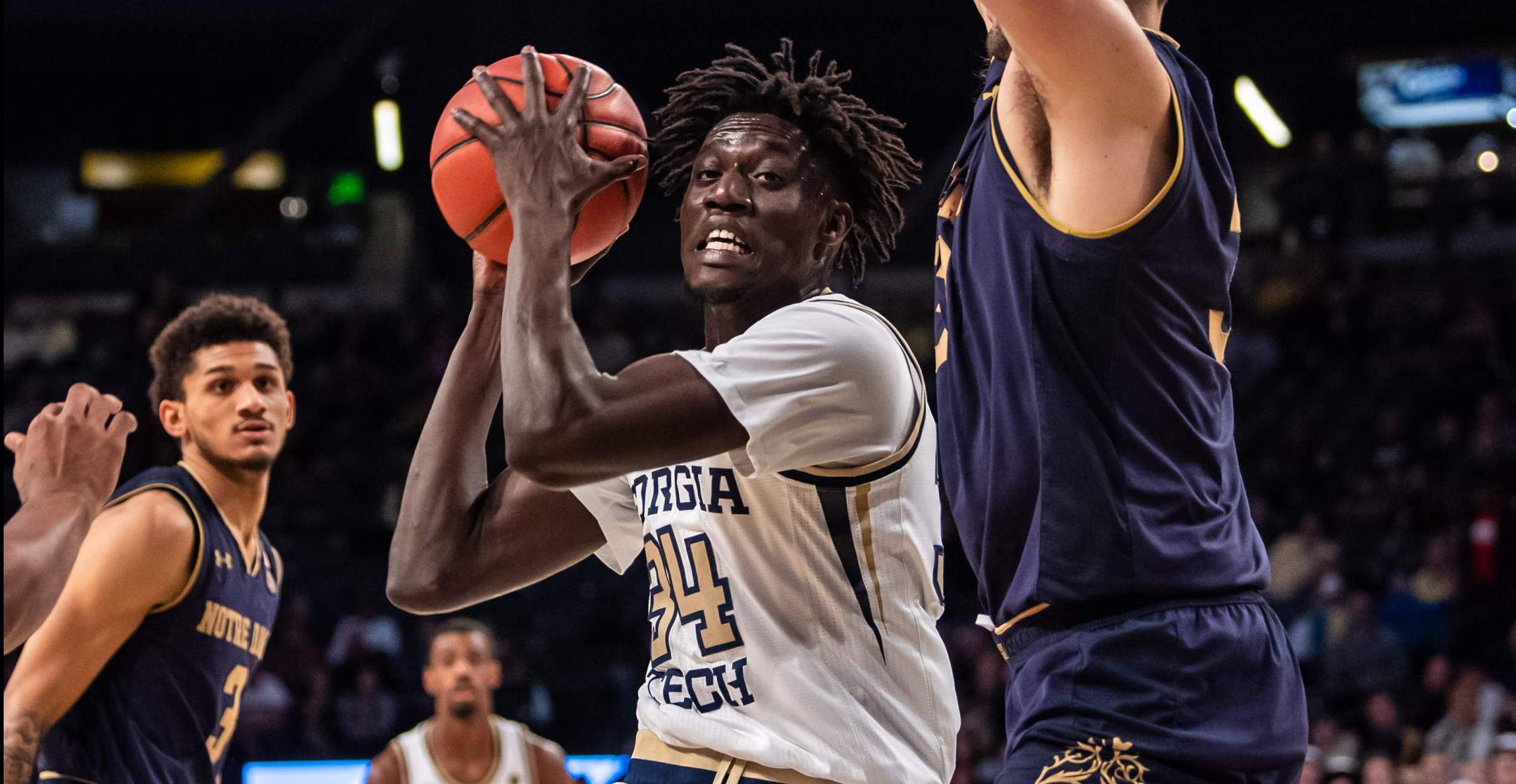 Abdoulaye Gueye has averaged 9.3 points and shot 51.7 percent from the floor in ACC games.
STARTING LINEUP
They're back – Georgia Tech welcomed back two key players – senior forward Abdoulaye Gueye and sophomore guard Jose Alvarado for its win over Notre Dame. Alvarado missed last Saturday's game against Louisville with a groin injury suffered Jan. 16 in Tech's loss at Clemson. Gueye missed both games with a medical condition stemming from a cramping episode suffered at Syracuse on Jan. 12.
Banks and Gueye – James Banks III and Abdoulaye Gueye have given Georgia Tech an increasingly reliable frontcourt combination in ACC play. The duo shared the floor for more than 56 minutes in wins over Syracuse and Notre Dame (Gueye was sidelined for games against Clemson and Louisville) and the Jackets outscored those teams by 13 points when they both were on the court.
The Bank is open – In 18 games at Georgia Tech, James Banks III has exceeded his 46-game totals at Texas in every offensive category. Banks has six double-doubles this season for the Jackets, fourth most in the ACC.
Guard your yard – Georgia Tech ranks No. 2 in the ACC in scoring defense (67.0 ppg), field goal percentage defense (38.5 pct.) and three-point percentage defense (27.6 pct.) against conference opponents. The Jackets rank No. 1 in steals (8.5 pg) and fourth in blocked shots (5.2 pg).
Below average – Wake Forest and Clemson are the only opponents to exceed their season scoring averages against Tech this season – breakdown by game: Lamar 81.8 (69), Tennessee 85.5 (66), East Carolina 71.1 (54), UTRGV 70.2 (44), Prairie View A&M 69.2 (54), Northwestern 73.5 (67), St. John's 83.9 (76), Florida A&M 63.2 (40), Gardner-Webb 82.9 (79), Arkansas 81.8 (69), Georgia 79.2 (70), Kennesaw State 62.5 (57), USC Upstate 70.9 (63), Virginia Tech 81.1 (52), Syracuse 70.9 (59), Louisville 79.9 (79), Notre Dame 74.7 (61).
Rising up – Since its Dec. 22 game against Georgia, in which the Yellow Jackets scored 59 points and shot 32.3 percent from the floor, Georgia Tech has averaged 69.2 points, shot 51 percent from the floor, 32.5 percent from three-point range and assisted on 65.3 percent of its made field goals (130-of-199).
"Blue" streak – Georgia Tech has lost its last 11 meetings with Duke. The Yellow Jackets' last win over the Blue Devils was a 71-67 decision at Alexander Memorial Coliseum on Jan. 9, 2010, when current Utah Jazz forward Derrick Favors was a Tech freshman. Tech's last win in Durham occurred March 3, 2004, a 76-68 win that helped propel the Yellow Jackets to their second Final Four appearance.
Tough at home – Tech is 14-8 against ACC teams at home under Josh Pastner, 5-4 against top-25 ACC teams.
Tough slate – Tech ends the month of January with games against No. 2 Duke on the road and No. 11 North Carolina at home. The Jackets began their conference slate two years ago with the same two opponents, defeating North Carolina at home before losing at Duke.
Going deep – Georgia Tech has deployed eight different starting lineups this season, and 10 Yellow Jackets have started three or more games. Tech has deployed at least nine players in five of its ACC games to date (eight at Syracuse). Tech's bench has played 33.7 percent of available minutes, 104th in the nation according to KenPom.com (national average is 30.8 pct.). Tech reserves are outscoring there opponents 23.6 to 16.4 per game.
SERIES VS. DUKE
Georgia Tech and Duke have met only once each of the past four seasons, including an 80-69 Duke victory last Feb. 11 at McCamish Pavilion.
Duke has won 35 of the last 38 games in the series, including the last 11 in a row.
The Blue Devils won 11 of the last 13 meetings at Alexander Memorial Coliseum and posted a 21-13 lead over Tech in games played on the Jackets' former home court, as well as a 28-15 mark in games played in Atlanta. Duke has won all three of its visits to McCamish Pavilion.
Duke leads the overall series 72-23, and is 60-19 against Tech since the Jackets joined the ACC.
Tech's best stretch of the series occurred between 1982 and 1989, with 10 wins in 17 meetings. Tech has never won more than two in a row.
Tech is 19-58 against Duke teams coached by Mike Krzyzewski, 12-22 in games played in Atlanta.
Tech has won just five of 40 games played at Cameron Indoor Stadium, the first four coming in (1959, 1984, 1987 and 1996). Tech's most recent win occurred on Mar. 3, 2004 in a 76-68 victory, which snapped a 41-game homecourt winning streak for the Blue Devils.
Tech is 3-7 against the Blue Devils in ACC Tournament encounters. Tech defeated Duke on the way to each of its three tournament titles, including semifinal victories in 1985 and 1990 and a first-round triumph in 1993. The Blue Devils have defeated Tech three times in championship games (1986, 2005, 2010).
ABOUT GEORGIA TECH MEN'S BASKETBALL
Georgia Tech's men's basketball team is in its third year under head coach Josh Pastner. Tech has been a member of the Atlantic Coast Conference since 1979, won three ACC Championships (1985, 1990, 1993), played in the NCAA Tournament 16 times and played in two Final Fours (1990, 2004). Connect with Georgia Tech Men's Basketball on social media by liking their Facebook Page, or following on Twitter (@GTMBB) and Instagram.
For more information on Tech basketball, visit Ramblinwreck.com. Tickets for men's basketball can be purchased here.