****Note that TV coverage of Wednesday's game at Nebraska has shifted from ESPNU to ESPN2
THE FLATS – Following a dominant win over No. 20 Kentucky on Sunday, Georgia Tech returns to action with its first true road game of the season Wednesday at 7:15 p.m. Eastern time when the Yellow Jackets take on Nebraska in the ACC/Big Ten Challenge at Pinnacle Bank Arena in Lincoln, Neb.
The Yellow Jackets (1-2, 0-0 ACC) shook off a pair of home losses to Georgia state and Mercer during Thanksgiving week Sunday with a resounding 79-62 victory over the Wildcats at the Holiday Hoopgiving event at State Farm Arena, Tech's first win over a top-25 non-conference opponent in 14 years. Returning four starters from last year's fifth-place ACC team, including a pair of All-ACC honorees in guards Jose Alvarado and Michael Devoe, Tech has its most experienced and deepest roster yet under head coach Josh Pastner, now in his fifth season on The Flats.
In its second season under head coach Fred Hoiberg, Nebraska (3-1) is playing its first game in eight days, having had a scheduled game against Florida A&M Sunday cancelled. The Cornhuskers began their season with four games, all at home, over a seven-day stretch, defeating McNeese State (102-55) on Nov. 25 before dropping a 69-66 decision to Nevada on Thanksgiving Day. They rebounded with wins over North Dakota State on Nov. 28 and South Dakota Dec. 1.
Wednesday's game will be televised nationally on ESPN2 and will be streamed live on the ESPN app. Radio coverage is provided by the Georgia Tech Sports Network by LearfieldIMG College, with flagship station WCNN-Radio (680 AM, 93.7 FM) in Atlanta. The Tech broadcasts can be heard on satellite radio (SiriusXM Ch. 380, internet Ch. 970) and the TuneIn app.
Sophomore guard Kyle Sturdivant speaks with the media.
SERIES VS. NEBRASKA
Wednesday night's game marks the second straight meeting between Georgia Tech and Nebraska in the annual ACC/Big Ten Challenge. Georgia Tech captured a 73-56 win last December 4 at McCamish Pavilion, playing the game without injured point guard Jose Alvarado.
This will be Tech's first-ever trip to the state of Nebraska to play a men's basketball game.
The Yellow Jackets and Cornhuskers met once prior to last season's game, a 66-49 Tech win on Dec. 28, 1983 in the Cotton States Classic, an annual tournament played in the old Omni arena in downtown Atlanta.
TECH IN THE ACC/BIG TEN CHALLENGE
Georgia Tech has an 8-11 mark in the Big Ten/ACC Challenge after capturing a 73-56 victory over Nebraska at home last season.
Tech and Northwestern have met five times in the Challenge, its most frequent opponent. The Yellow Jackets dropped the first two, then won the next two before the Wildcats prevailed in 2018. Tech is 1-1 at home, Northwestern 2-1.
Tech and Penn State have met three times in the annual event, with the Nittany Lions taking two of the three meetings.
Tech has played Illinois (2012 and 2013) and Northwestern (2010 and 2011, 2017 and 2018) in consecutive years.
Tech has played nine "home" games in the series and has a 6-3 record in those contests. Four of the games were played at Alexander Memorial Coliseum, where Tech defeated Wisconsin (2001) and Michigan (2004) and went 1-1 against Penn State (2006, 2008). Two others were played at Philips Arena, an 80-77 loss to Michigan in the first Challenge game in 1999, and a 76-60 loss to Northwestern in 2011.
The Yellow Jackets have a 2-8 mark in Big Ten/ACC Challenge games on the road. The Yellow Jackets' scored a 73-53 win at Ohio State in 2003, the year in which Tech reached the NCAA Championship game, and won at Northwestern in 2014. Tech also has visited Iowa, Minnesota, Michigan State, Indiana and Northwestern (three times).
Maryland and Purdue are the only Big Ten teams the Yellow Jackets have not faced in the annual series.
Head coach Josh Pastner speaks to the media.
THE TIPOFF
Late start – Due to Covid-19, the NCAA pushed back the start of the 2020-21 season to Nov. 25, two weeks later than normal. Division I teams are allowed to play a maximum of 27 games. The ACC will play a 20-game schedule for the second straight year, and teams are allowed a maximum of seven non-conference games. Tech has seven non-conference games scheduled, none yet postponed.
Tech and Nebraska are meeting for the second straight year, and the Yellow jackets are making their first-ever trip to the state of Nebraska.
Tech ranks second in the ACC in scoring average (90.67 points per game), much of that a product of its 123-120, four-overtime opening loss to Georgia State. However, the Jackets scored 77 in regulation of that game, and have scored more than 70 points in each game this season, something which has happened only one other time under Josh Pastner (Morehouse, Notre Dame and Virginia Tech last season).
Small ball – Tech moved 6-9 senior Moses Wright, who has played the "4" position most of his career, into the "5" spot and started 5-10 senior Bubba Parham against Kentucky. The re-alignment worked as the Jackets shot 51.7 percent, hit eight three-point field goals, turned the ball over just six times and forced 21 from the Wildcats.
Wright didn't receive ACC Player of the Week honors when he averaged 25.5 points and 12.5 rebounds in the Yellow Jackets' opening two games, but he was honored Monday for his 21-point, 7-rebound, 3-block game against Kentucky.
Tech has four of the top seven players in the ACC in average minutes played (Jose Alvarado, Moses Wright, Michael Devoe, Bubba Parham). Notre Dame has the other three.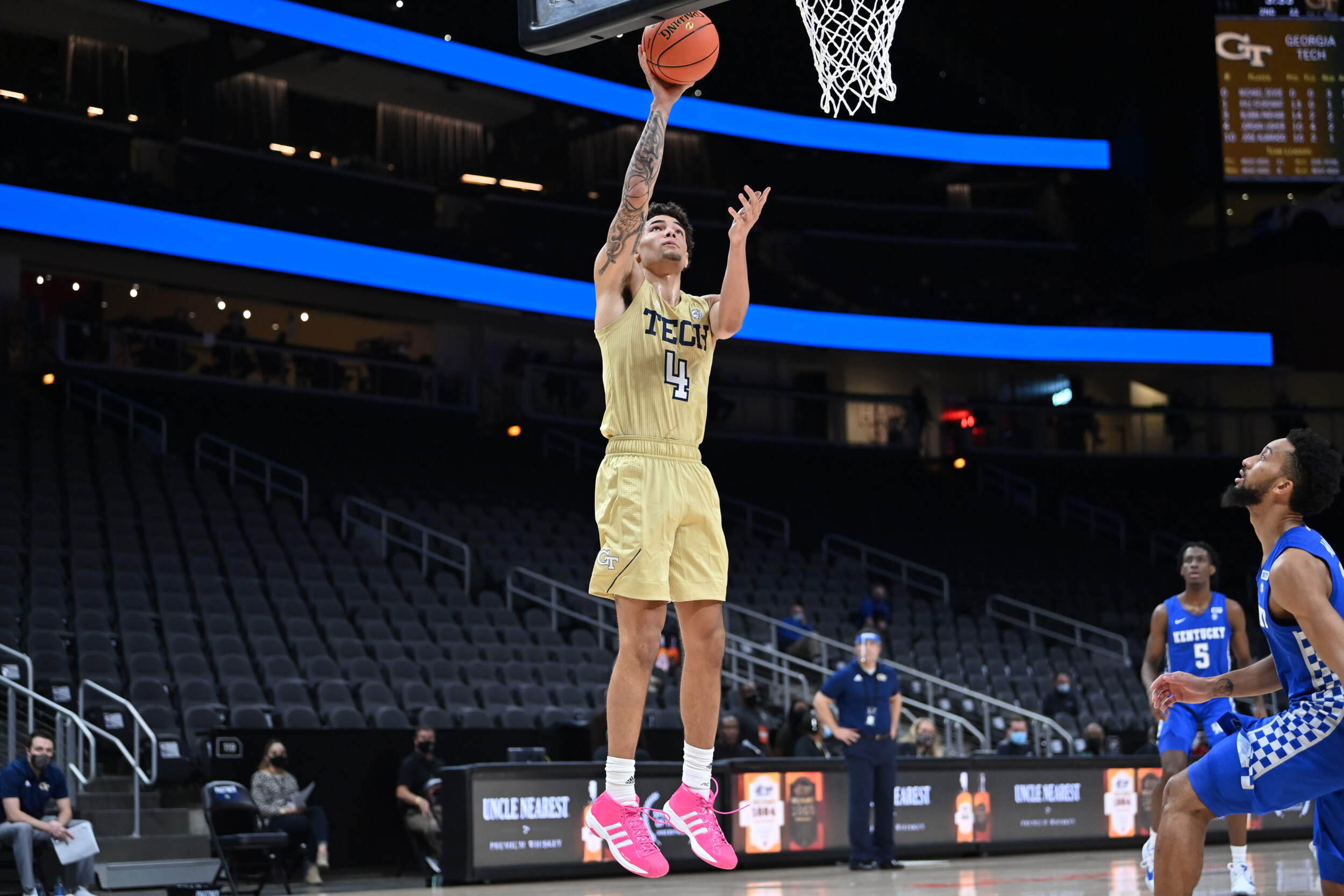 Jordan Usher has scored in double figures in all three games this season. (all photos by Danny Karnik)
Alexander-Tharpe Fund
The Alexander-Tharpe Fund is the fundraising arm of Georgia Tech athletics, providing scholarship, operations and facilities support for Georgia Tech's 400-plus student-athletes. Be a part of developing Georgia Tech's Everyday Champions and helping the Yellow Jackets compete for championships at the highest levels of college athletics by supporting the A-T Fund's Annual Athletic Scholarship Fund, which directly provides scholarships for Georgia Tech student-athletes, and Athletics Initiative 2020, Georgia Tech athletics' ongoing $125 million initiative to allow Tech to recruit the nation's most elite student-athletes, build a better student-athlete once they arrive on The Flats and, ultimately, win! To learn more about supporting the Yellow Jackets, visit atfund.org.   
ABOUT GEORGIA TECH MEN'S BASKETBALL
Georgia Tech's men's basketball team is beginning its fifth year under head coach Josh Pastner, having finished fifth in the ACC in 2019-20, the program's highest finish since 2005. Tech has been a member of the Atlantic Coast Conference since 1979, won three ACC Championships (1985, 1990, 1993), played in the NCAA Tournament 16 times and played in two Final Fours (1990, 2004). Connect with Georgia Tech Men's Basketball on social media by liking their Facebook Page, or following on Twitter (@GTMBB) and Instagram. For more information on Tech basketball, visit Ramblinwreck.com.