Complete game notes   |  Coach Pastner audio  |  Watch online  |  Live Stats and Game Audio
THE FLATS  –  Georgia Tech continues its 40th season of Atlantic Coast Conference basketball Saturday evening with a 6 p.m. nationally-televised contest against Syracuse at the Carrier Dome in Syracuse, N.Y. It is the Yellow Jackets' first road game since a 69-65 victory at Arkansas on Dec. 19.
Tech (9-6, 1-1 ACC), in its third season under head coach Josh Pastner, is 1-2 on the road this season, having dropped a 66-53 decision at No. 5 Tennessee on Nov. 13 and a 67-61 verdict at Northwestern on Nov. 28. The Yellow Jackets had a three-game winning streak snapped Wednesday night in a 52-49 homecourt loss to No. 9 Virginia Tech at McCamish Pavilion.
Syracuse (11-4, 2-0 ACC), in its 43rd season under head coach Jim Boeheim, has won four straight games, including a 72-62 victory at Notre Dame and a 61-53 home win over Clemson in its first two conference games. The Orange, 9-2 in the Carrier Dome this season, rank third in the ACC in scoring defense and fourth in field goal percentage defense.
Saturday's game will be broadcast live on ESPN2, and will be streamed live through the ESPN app. Radio coverage is provided on the Georgia Tech IMG Sports Network, airing in Atlanta on 680 AM and 93.7 FM the Fan. The Tech broadcast is available on satellite radio (XM ch. 389, internet ch. 980).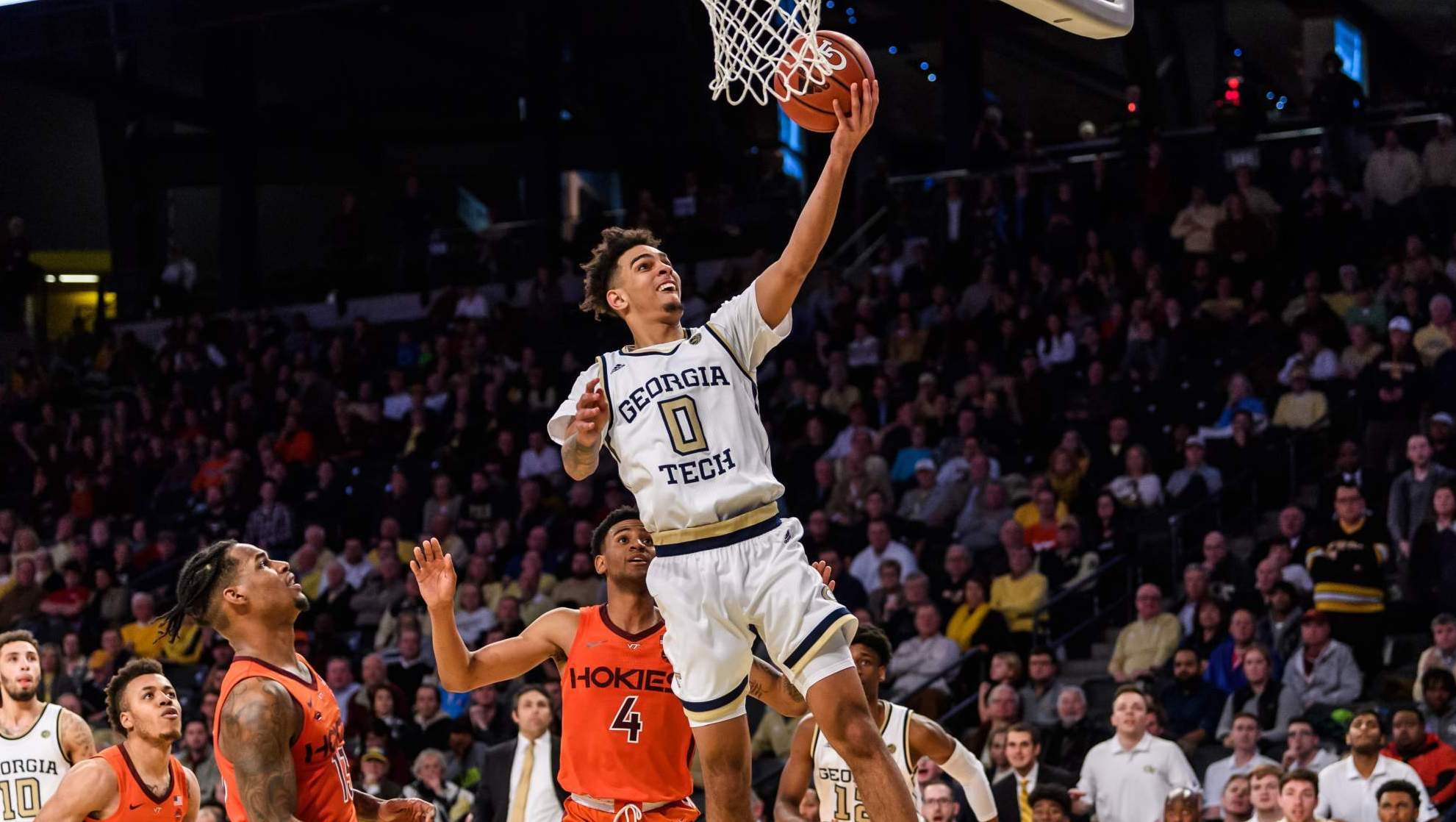 Michael Devoe scored a layup on the Yellow Jackets' first offensive possession against Virginia Tech.
STARTING LINEUP
Roadies – Tech is playing its first road game since a 69-65 victory at Arkansas on Dec. 19. In between, the Yellow Jackets won three of five games at home. Tech is playing two consecutive game on the road against teams whose colors are orange and purple.
Tough at home – Tech is 13-7 against ACC teams at home under Pastner, 5-4 against top-25 ACC teams.
Tough slate – January shapes up as a rugged month as Virginia Tech, Syracuse, Clemson, Duke and North Carolina all made the NCAA Tournament field last season. Duke is currently No. 1 in the nation, while Virginia Tech and North Carolina are both in the top 10. Clemson and Syracuse were ranked in the top 25 to begin the season.
Defending well – Georgia Tech ranks fourth in the ACC in scoring defense (No. 20 nationally), No. 3 in field goal percentage defense (No. 10 nationally) and No. 2 in three-point percentage defense (No. 8 nationally). The Jackets are also third in blocked shots and in fifth in steals.
Below average – Wake Forest is the only team to exceed its season scoring average against Tech this season – breakdown by game: Lamar 81.8 (69), Tennessee 85.5 (66), East Carolina 71.1 (54), UTRGV 70.2 (44), Prairie View A&M 69.2 (54), Northwestern 73.5 (67), St. John's 83.9 (76), Florida A&M 63.2 (40), Gardner-Webb 82.9 (79), Arkansas 81.8 (69), Georgia 79.2 (70), Kennesaw State 62.5 (57), USC Upstate 70.9 (63), Virginia Tech 81.1 (52).
Creating offense with defense – Georgia Tech has forced an average of 14.7 turnovers per game, about one per game more than last season (ranks 8th in ACC, No. 102 in NCAA). Tech has turned those into 16.7 points per game (23.5 percent of total points).
Freshmen emerge – Guard Michael Devoe and forward Khalid Moore have started Tech's last six games. Tech has deployed five different starting lineups this season.
Longer bench – Tech has deployed at least eight players for significant minutes in each of its games so far, including nine in each of its two ACC games to date. Tech's bench has played 33.6 percent of available minutes, 101st in the nation according to KenPom.com (national average is 31 pct.). Tech reserves are outscoring there opponents 27.4 to 16.3 per game).
689 – Career points for Brandon Alston, the most of any current Tech player. Georgia Tech finished last season with a trio of 1,000-point career scorers on its roster for the first time since 1989.
SERIES VS. SYRACUSE
Tech and Syracuse have split six meetings between the two teams since joining the ACC and are even through 10 meetings in the history of the series, which dates back to the 1986 NCAA Tournament.
Tech and Syracuse have played home-and-away only once since the Orange joined the ACC, with each team winning at home during the 2016-17 season.
Other than Syracuse's 90-61 win at the Carrier Dome late in the 2016-17 season, the other five meetings as ACC brethren have been decided by six points or fewer.
Tech has won two of the three meetings between the two teams at McCamish Pavilion, including a 55-51 decision last season and a 71-65 win in February of 2017.
Tech has won once in three trips to the Carrier Dome, a 67-62 decision on March 4, 2014, with the Orange ranked No. 7 in the nation.
Three of the first four games in the series were played on neutral courts, the first of which had the highest stakes, a second-round NCAA Tournament game at the Omni in Atlanta in 1985.
The last meeting between the two teams before Syracuse joined the ACC occurred in the championship game of the Legends Classic in Atlantic City in 2010, and ninth-ranked Syracuse survived a 32-point effort by Brian Oliver (who later transferred to Seton Hall) to win, 80-76.
Tech's first trip to the Carrier Dome came in December of 2003, when the Orange, led by freshmen Carmelo Anthony and Gerry McNamara, routed the Jackets with its freshman duo of Chris Bosh and Jarrett Jack, 92-65, and eventually won the national championship.
Syracuse had never played on Tech's campus until the 2014-15 season, but the Yellow Jackets did host the 13th-ranked Orange in a Delta Air Lines Classic for Kids game at Philips Arena in 2001. Jim Boeheim missed the game due to prostate surgery and the Yellow Jackets won by 16.
COACH PASTNER AUDIO FROM FRIDAY
ABOUT GEORGIA TECH MEN'S BASKETBALL
Georgia Tech's men's basketball team is in its third year under head coach Josh Pastner. Tech has been a member of the Atlantic Coast Conference since 1979, won three ACC Championships (1985, 1990, 1993), played in the NCAA Tournament 16 times and played in two Final Fours (1990, 2004). Connect with Georgia Tech Men's Basketball on social media by liking their Facebook Page, or following on Twitter (@GTMBB) and Instagram.
For more information on Tech basketball, visit Ramblinwreck.com. Tickets for men's basketball can be purchased here.
#TogetherWeSwarm