THE FLATS – Playing its second road game in four days, Georgia Tech returns to the court Tuesday for a 9 p.m. Atlantic Coast Conference contest against Duke at Cameron Indoor Stadium in Durham, N.C.
The Yellow Jackets (7-4, 3-2 ACC) sit in seventh place in the ACC standing after seeing their five-game winning streak snapped Saturday night at No. 13/12 Virginia, a 64-62 defeat in which Tech had led by 11. The Jackets had defeated No. 20 Clemson, Wake Forest in North Carolina in succession, by an average of 13 points, around a 17-day COVID pause. Tech remains one of the ACC's highest scoring teams – third at 78.73 points per game overall, and rank No. 2 in scoring defense in conference games (64.80 ppg).
The Blue Devils (5-5, 3-3 ACC) have lost their last three games, all on the road to No. 20 Virginia Tech, Pittsburgh and Louisville, by a total of 18 points, following a 3-0 ACC start. The Blue Devils started conference play with victories over Notre Dame, Boston College and Wake Forest. Duke ranks fourth in the ACC in scoring offense, 10th in scoring defense, in league play.
Wednesday's game will be televised nationally on ESPN and will be streamed live on the ESPN app. Radio coverage is provided by the Georgia Tech Sports Network by Learfield IMG College, with flagship station WCNN-Radio (680 AM, 93.7 FM) in Atlanta. The Tech broadcast can be heard on SiriusXM Ch. 387 and the TuneIn app.
Head coach Josh Pastner on Monday's ACC coaches teleconference.
THE TIPOFF
Nuthin' but Net – Georgia Tech holds its highest position (No. 56) in the NCAA NET rankings since the system was instituted, having jumped 12 spots after its win over Clemson. The Jackets are No. 59 in KenPom's ratings, their highest position during the conference portion of the season since February of 2016.
Top shooters – Georgia Tech leads the ACC in three-point shooting accuracy at 44.5 percent in conference games. In five seasons under Josh Pastner, Tech's ranking has been 15, 15, 12, 6 and now 1.
Making their points – Tech no longer leads the ACC in scoring after its 64-62 loss at No. 13 Virginia, but is No. 3 at 78.73 points per game. Tech is No. 2 in the ACC in field goal percentage (47.5 pct.) and No. 3 in three-point shooting (38.1 pct.). According to KenPom.com, Tech has the league's fifth-most efficient offense, and ranks third in effective field goal percentage and fourth in turnover percentage.
Balance – Four Tech starters are averaging in double figure points for the season, led by Jose Alvarado at 17.4 points per game, and also in ACC games, led by Michael Devoe at 16.6.
Dynamic duo – Michael Devoe and Jose Alvarado are averaging 16.6 and 16.0 points per game in ACC games, ranking No. 6 and 9, respectively. They have shot 53.6 percent from the floor combined (59-of-110) and 49.1 percent (26-of-53) from three-point range. The Jackets are 4-1 this season when both players score in double digits, including two ACC wins.
Triple threat – Jose Alvarado, Michael Devoe and Bubba Parham have hit 42-of-87 collectively (48.3 percent) from three-point range in Tech's last six games, and are 32-of-67 (47.8 percent) against the ACC.
Call me Ush – Perhaps the least talked-about member of Tech's starting lineup, Jordan Usher grabbed some attention by scoring 21 points vs. Clemson and 19 at Virginia in Tech's last two games (15-23 FG, 7-12 3pt FG, 10 rebounds, four assists. The 6-7 senior wing has eight double-digit games this season and is averaging 12.4 points (54.2 pct. FG) in ACC games.
Small ball – Tech moved 6-9 senior Moses Wright, who has played the "4" position most of his career, into the "5" spot and started 5-10 senior Bubba Parham beginning with the Dec. 6 win over Kentucky. The re-alignment has worked as the Jackets have shot 49.8 percent from the floor, hit 9.2 three-point field goals per game (41.3 percent), turned the ball over just 89 times and forced 144 in its last nine games. Tech also has assisted on 62.8 percent of its field goals in that stretch.
Size doesn't matter – Since going to its small starting lineup, Tech has seen only 16 of its shots blocked after having 13 swatted away in its first two games. Virginia had seven of those 16. At the time of Tech's meetings with them, Kentucky ranked No. 4, Nebraska No. 28, FSU No. 1 and North Carolina No. 8 in average height, according to KenPom.com. The Jackets rank No. 289.
Ball security – The Jackets rank No. 2 in the ACC and No. 20 nationally in assist/turnover ratio (1.45), and they rank No. 2 in the ACC and No. 20 nationally in turnover margin (plus-4.4). Only Virginia and Notre Dame have turned the ball over fewer times per game than has Tech (11.45) in all games, and Tech has forced the third-most average turnovers. Tech's top seven scorers all have positive assist/turnover ratios.
Minutemen – Four Tech starters rank among the top 20 players in the ACC in average minutes played – Jose Alvarado (3rd), Moses Wright (5th), Michael Devoe (14th), Bubba Parham (19th).
Comparison shopping – Georgia Tech and Duke both own victories over Wake Forest (Tech by 70-54, Duke by 79-68). It is the team's only common opponent to date.
Devil of a time – Tech is looking for its first win over Duke since Jan. 9, 2010 (a 71-67 win in Atlanta), having lost 13 in a row to the Blue Devils, and its first win at Cameron Indoor Stadium since March 3, 2004, when the Jackets were on their way to the Final Four.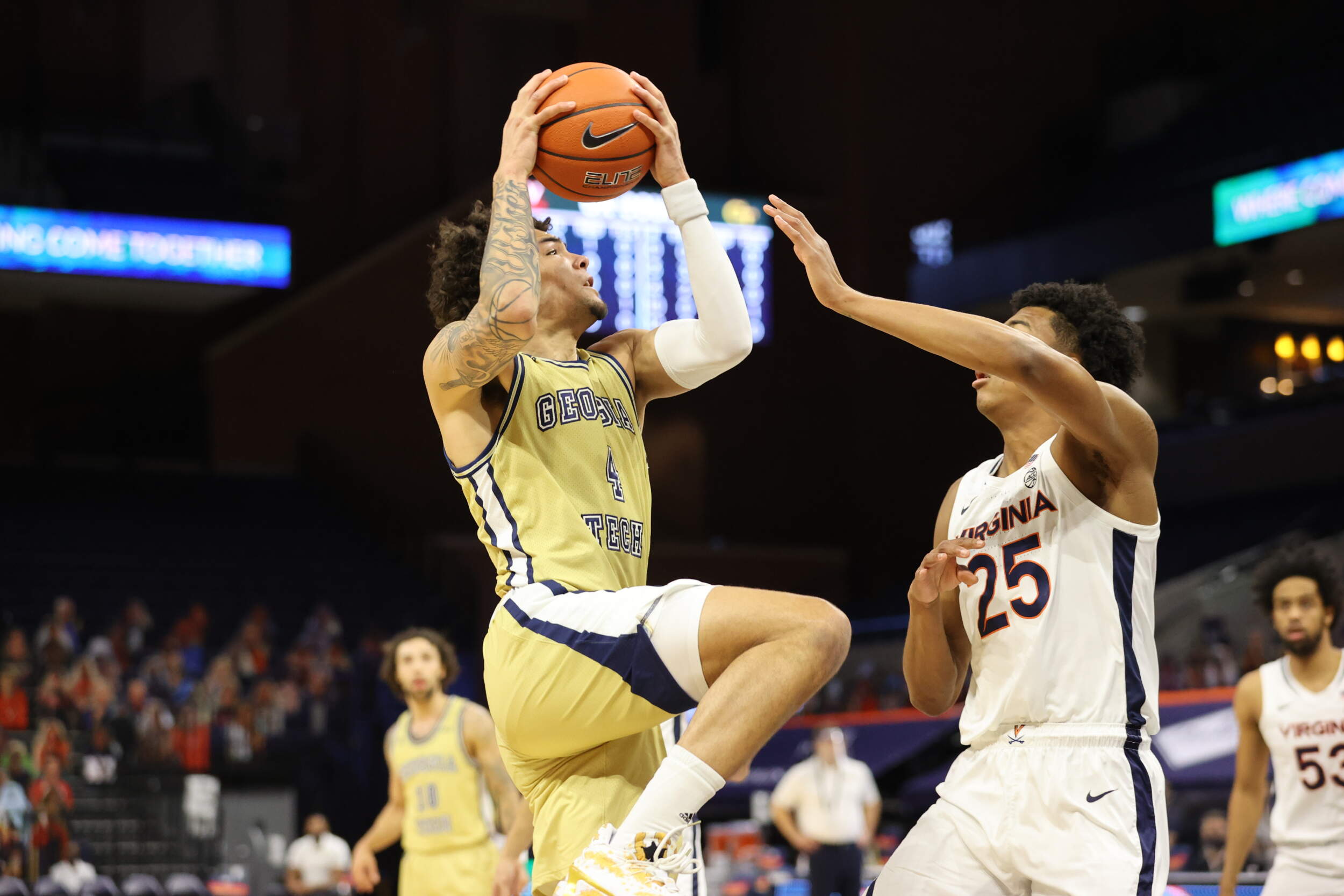 Jordan Usher has averaged 20 points over Tech's last two games, hitting 15 of 23 shots from the floor and 7 of 12 from three-point range. (photo by Keith Lucas)
SERIES VS. DUKE
Georgia Tech and Duke have met only once each of the past six seasons, including a 73-64 Blue Devil win last Jan. 8 in Atlanta in the teams' most recent game … Duke has won 37 of the last 40 games in the series, including the last 13 in a row … Duke leads the overall series 74-23, and is 62-19 against Tech since the Jackets joined the ACC … Tech has won just five of 41 games played at Cameron Indoor Stadium, the first four coming in (1959, 1984, 1987 and 1996). Tech's last win occurred on Mar. 3, 2004 in a 76-68 victory, which snapped a 41-game homecourt winning streak for the Blue Devils and helped propel the Jackets to the Final Four.
THEY SAID IT
"They exploit you with their quickness. This is the quickest team we've played 1-5."  – Virginia head coach Tony Bennett
TEAM TRENDS
Four of Tech's starters are averaging in double figures in scoring for the season, only Bubba Parham below that mark at 8.3 points per game. Four or more Yellow Jackets have reached double figures in five games this season, at least three in all games except Wake Forest, in which only Jose Alvarado and Michael Devoe hit double digits.
Tech has turned the ball over just 11.5 times per game this season, most impressively Moses Wright who has just 15 turnovers in more than 394 minutes of action, and Bubba Parham, who has only six in 357 minutes. The Yellow Jackets are plus-4.3 in that category this season, ranking No. 2 in the ACC. Tech was minus-2.4 last year and ranked 14th. In ACC games, Tech ranks No. 2 at plus-4.6.
Tech's accuracy and production from the free throw line was well above its 2019-20 norm until recently. The Jackets are just 27-of-44 from the stripe in their last four games and have scored just 7.8 points per game from the stripe in ACC games.
Tech made great strides in its offensive efficiency during the latter part of last season and continues to progress, ranking No. 37 nationally at 111.4, its highest ranking under Josh Pastner. The Jackets have managed to exceed one point per possession in 10 of 11 games this season (Tech reached that benchmark 11 times in 2019-20). Only Florida State held Tech under that mark (94.8) this season.
According to KenPom.com, Tech ranks No. 4 in the nation in experience (average 2.57 years per player) and No. 9 in minutes continuity (75.4 percent), a measure of playing minutes from 2019-20 carrying over to 2020-21.
Two fouls in the first half? No problem. Georgia Tech ranks No. 6 in the nation, a measure of percentage of available minutes played by players with two fouls (68.9 percent for Tech). Tech led the nation in this category each of the last two seasons, and were fourth in 2017-18.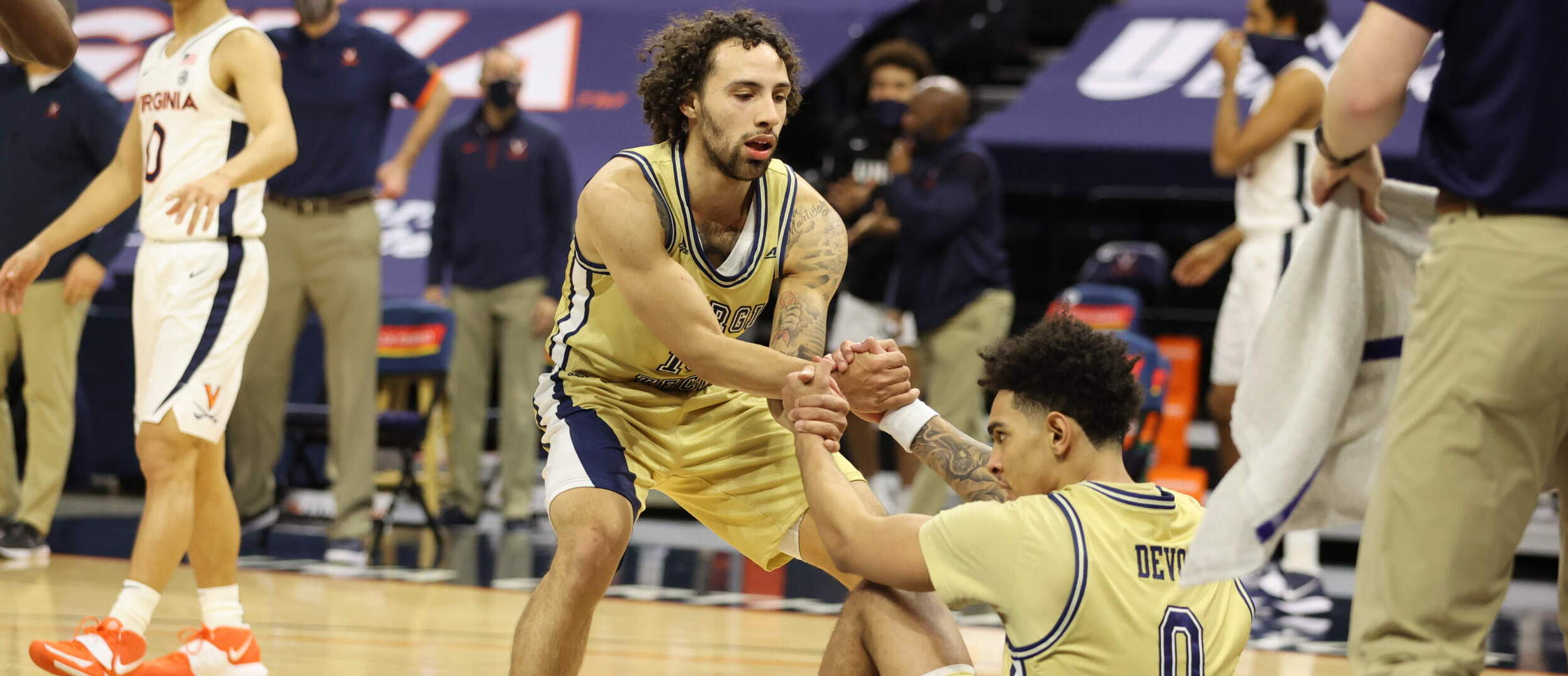 Jose Alvarado and Michael Devoe rank No. 6 and 9, respectively, in the ACC in conference-game scoring. (photo by Keith Lucas)
Alexander-Tharpe Fund
The Alexander-Tharpe Fund is the fundraising arm of Georgia Tech athletics, providing scholarship, operations and facilities support for Georgia Tech's 400-plus student-athletes. Be a part of developing Georgia Tech's Everyday Champions and helping the Yellow Jackets compete for championships at the highest levels of college athletics by supporting the A-T Fund's Annual Athletic Scholarship Fund, which directly provides scholarships for Georgia Tech student-athletes, and the Support The Swarm Fund, created to give fans an opportunity to help Georgia Tech athletics maintain its recent momentum through the financial challenges of the Covid-19 pandemic! To learn more about supporting the Yellow Jackets, visit atfund.org. 
ABOUT GEORGIA TECH MEN'S BASKETBALL
Georgia Tech's men's basketball team is in its fifth season under head coach Josh Pastner, having finished fifth in the ACC in 2019-20, the program's highest finish since 2005. Tech has been a member of the Atlantic Coast Conference since 1979, won three ACC Championships (1985, 1990, 1993), played in the NCAA Tournament 16 times and played in two Final Fours (1990, 2004). Connect with Georgia Tech Men's Basketball on social media by liking their Facebook Page, or following on Twitter (@GTMBB) and Instagram. For more information on Tech basketball, visit Ramblinwreck.com.