THE FLATS  –  Georgia Tech returns Atlanta to play the first of two straight home games in the Atlantic Coast Conference Saturday afternoon, when the Yellow Jackets host No. 17/19 Florida State for the second of two games this season against the Seminoles. Tipoff is set for 2 p.m. at McCamish Pavilion.
Tech (11-14, 3-9 ACC), in its third season under head coach Josh Pastner, has lost six straight games and eight of its last nine, winning only against Notre Dame at home on Jan. 22 in that stretch. The Yellow Jackets are 9-6 at home this season, 2-4 in conference play with victories over Wake Forest and the Fighting Irish. Tech lost the first meeting against Florida State, 59-49 on Feb. 2 in Tallahassee.
Florida State (19-5, 7-4 ACC), in its 17th season under head coach Leonard Hamilton, has won six straight games since a 1-4 start to its ACC schedule. The streak includes the Feb. 2 win over Tech and victories over Miami and Syracuse on the road, where the Seminoles are 3-3 this season.
Saturday's game will be broadcast live on the ACC's Raycom Sports Network, and will be streamed live on ACC Network Extra, available through the ESPN app. Radio coverage is provided on the Georgia Tech IMG Sports Network, airing in Atlanta on 680 AM and 93.7 FM the Fan. The Tech broadcast is available on satellite radio (Sirius ch. 119, XM ch. 194, internet ch. 976).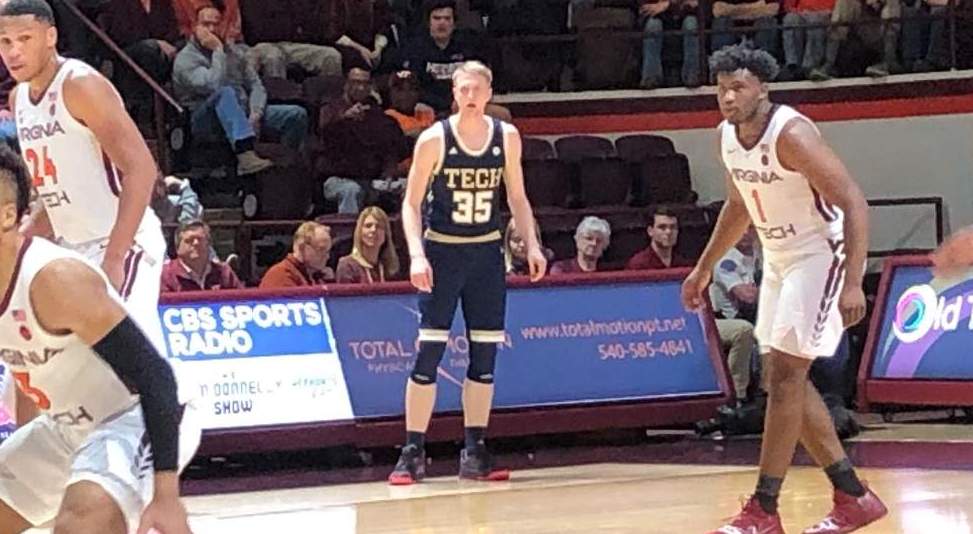 Freshman Kristian Sjolund has played 36 minutes and scored 19 points in Tech's last two games.
STARTING LINEUP
Closure – The Florida State game is the last of a four-game stretch against teams it has already played – Clemson (L, L), Notre Dame (W, L), Virginia Tech (L, L) and Florida State (L).
Comforts of home – Tech plays its next two games at home after playing three of four on the road. After hosting Pittsburgh Tuesday night, the Yellow Jackets close out their schedule with three of four on the road.
Buzz saw – Georgia Tech has lost six straight games, with the first four opponents in the midst of winning streaks. Duke has won eight straifght games, while North Carolina won seven in a row before losing to Virginia Monday night. Florida State has won its last six, and Clemson won four straight before a Wednesday night loss to Miami. Those four teams rank among the nation's top 20 in defensive efficiency according to KenPom.com.
One in the middle – In an attempt to juice up its offense, Georgia Tech returned to a one-post alignment Wednesday night at Virginia Tech, with James Banks III starting in the middle with four perimeter players. It produced the Yellow Jackets' highest point total since Jan. 12 and its best shooting effort since Jan. 22. Tech had played a two-post alignment in the first half of the ACC schedule to take advantage of the improvement of James Banks III and Abdoulaye Gueye. The duo shared the floor for more than 56 minutes in wins over Syracuse and Notre Dame and had shared the floor for 67 percent of the time in Tech's previous five games.
The Bank is open – In 24 games at Georgia Tech, James Banks III has exceeded his 46-game totals at Texas in every offensive category, as well as blocked shots and steals. Banks has six double-doubles this season for the Jackets, fourth most in the ACC.
Guard your yard – Georgia Tech ranks No. 5 in the ACC in scoring defense (67.8 ppg), No 4 in field goal percentage defense (40.3 pct.) and No. 3 in three-point percentage defense (29.7 pct.) against conference opponents. The Jackets rank No. 3 in steals (7.3 pg) and No. 3 in blocked shots (5.2 pg).
Below average – Georgia Tech has faced three of the nation's top 10 teams in offensive efficiency as ranked by KenPom.com – Tennessee (2), Duke (3) and Virginia Tech (10) – and held them to an average of 61.3 points. Each posted their lowest efficiency rating of the season against the Jackets. North Carolina is No. 9, and the Jackets held the Tar Heels to their fourth-lowest rating of the season. Florida State is No. 28, and was held to their second-lowest rating this season in the teams' first meeting Feb. 2.
Going young – Georgia Tech's seven freshmen and sophomores have played 66.4 percent of the minutes for Tech in ACC games.
Going deep – Georgia Tech has deployed 10 different starting lineups this season, and 10 Yellow Jackets have started three or more games.
Longer bench – Tech has utilized at least eight players in all of its ACC games to date. Tech's bench has played 32.8 percent of available minutes, No. 116 in the nation according to KenPom.com (national average is 30.7 pct.). Tech reserves are outscoring their opponents 21.4 to 15.4 per game.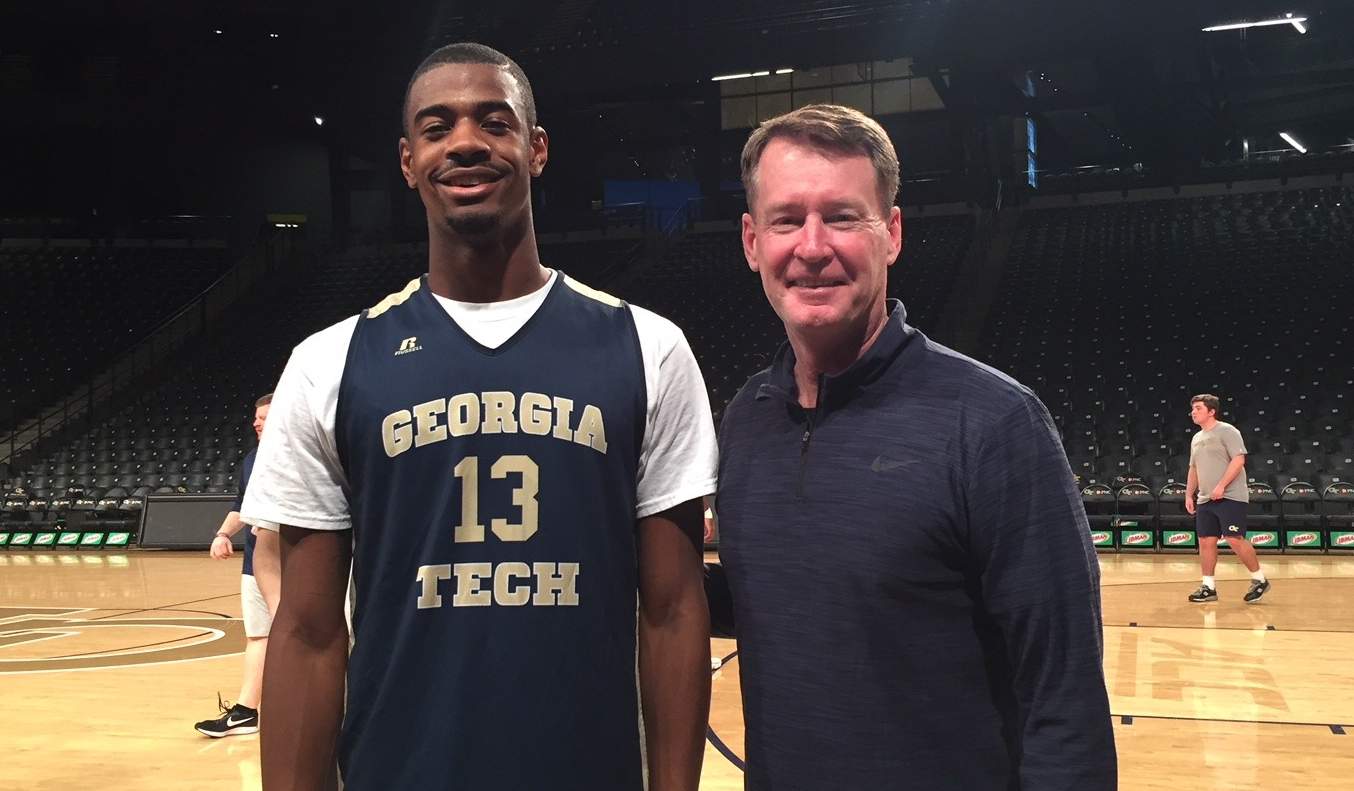 A couple of Oklahoma natives, sophomore Curtis Haywood II and legendary Tech point guard Mark Price. Price will be honored Saturday as part of Georgia Tech's annual Letterwinners Weekend.
LETTERWINNERS WEEKEND
Georgia Tech is celebrating its annual Letterwinners Weekend during Saturday's game with Florida State, with more than 70 former players and coaches gathering to attend the game, and many of them will compete in the annual Letterwinners Game following the Tech-FSU game Saturday on the main floor of McCamish Pavilion.
Tech will honor legendary guard Mark Price during Saturday's game. The four-time All-ACC guard, whose No. 25 jersey has been retired by Georgia Tech and his NBA team, the Cleveland Cavaliers, will sign autographs before the game on the main concourse, and the first 1,000 fans through the doors will receive a replica Mark Price jersey.
Tech also will honor the late Ben Jobe, a member of Cremins' first coaching staff at Georgia Tech and someone who was instrumental in recruiting Price to Tech. Jobe was a head coach on the collegiate level for 31 years, achieving his greatest success during a 10-year stint at Southern University.
Other notable former Yellow Jackets expected to attend are legendary head coach Bobby Cremins, who also is serving as the Raycom Sports color analyst for Saturday's game, Tech's first All-American Roger Kaiser, 2004 Final Four stars Marvin Lewis and Clarence Moore, 1985 ACC Championship team members Bruce Dalrymple and Craig Neal, and 1993 ACC championship team member Drew Barry.
SERIES VS. FLORIDA STATE
Florida State has won 12 of the last 14 meetings in the series, including a 59-49 victory in Tallahassee in the teams' first regular-season meeting of 2018-19. The Seminoles have won the last two meetings in the series, both in Tallahassee. The Jackets won the last meeting in Atlanta, a 78-56 win on Jan. 25, 2017.
Tech and FSU have met just once each of the last eight seasons. The teams are meeting home-and-away in the same regular season for the first time since 2009-10.
Going back to the teams' March 6, 2004 meeting, 10 of the 20 games have been decided by four or fewer points.
Since FSU joined the ACC, Tech is 19-27 against the Seminoles. Florida State won the first six in a row, Tech followed by winning five straight, and is 14-21 against the Seminoles since then.
In those 46 games, 21 have been decided by four points or less, 32 by fewer than 10 points. One of those games went to double-overtime, which the Yellow Jackets won 111-108 on Feb. 11, 1999 in Tallahassee.
Tech is 17-17 against the Seminoles in Atlanta, all but four of those games at Alexander Memorial Coliseum.
Tech is 8-15 against Seminoles teams led by head coach Leonard Hamilton. Tech is 9-15 against Hamilton overall, with a victory over his Miami team in December of 1997.
Tech is 11-22 in games played in Tallahassee, including an 8-15 mark at the Donald L. Tucker Civic Center, formerly known as the Tallahassee-Leon County Civic Center.
Tech and Florida State were both members of the old Metro Conference from 1976-78, and the Seminoles won three of those four meetings.
Florida State has won both ACC Tournament meetings between the schools, including a 64-62 win at the Georgia Dome in 2009.
ABOUT GEORGIA TECH MEN'S BASKETBALL
Georgia Tech's men's basketball team is in its third year under head coach Josh Pastner. Tech has been a member of the Atlantic Coast Conference since 1979, won three ACC Championships (1985, 1990, 1993), played in the NCAA Tournament 16 times and played in two Final Fours (1990, 2004). Connect with Georgia Tech Men's Basketball on social media by liking their Facebook Page, or following on Twitter (@GTMBB) and Instagram.
For more information on Tech basketball, visit Ramblinwreck.com. Tickets for men's basketball can be purchased here.