THE FLATS  –  Continuing a closing stretch run with its final home game of the 2018-19 season, Georgia Tech hosts Boston College Sunday evening for a 6 p.m. nationally-televised Atlantic Coast Conference basketball game McCamish Pavilion.
Tech (12-17, 4-12 ACC), in its third season under head coach Josh Pastner, has lost nine of its last 10 games after dropping an 81-51 contest at No. 2 Virginia Wednesday night. Tech's only victory since Jan. 22 came last Wednesday night in a 73-65 decision over Pittsburgh. The Yellow Jackets, 10-7 at home this season but 3-5 in ACC play, sit alone in 13th place in the ACC standings, a half-game behind Miami and Wake Forest.
Boston College (14-13, 5-10 ACC), in its fifth season under head coach Jim Christian, has won three of its last five games and sits alon in 10th place in the ACC standings. All three of those victories have come at home, including a 66-59 decision over Louisville Wednesday night. The Eagles are 1-7 on the road this season in conferencve play, having won at Wake Forest back on Jan. 26.
Sunday's game will be broadcast live on ESPNU and will be streamed live on the internet through the ESPN app, available through the ESPN app. Radio coverage is provided on the Georgia Tech IMG Sports Network, airing in Atlanta on 680 AM and 93.7 FM the Fan. The Tech broadcast is available on satellite radio (Sirius ch. 84, XM ch. 84, internet ch. 84).
THREE SENIORS SAY FAREWELL
Sunday night will mark the final regular-season home game for three Georgia Tech seniors – Brandon Alston, Abdoulaye Gueye and Sylvester Ogbonda.
Alston, a 6-5 guard from Vienna, Va., is finishing his second season as a graduate transfer after three years at Lehigh, and has played in 56 games as a Yellow jackets, starting 24 while averaging 6.3 points per game. He is finishing his master's degree in ecnomics this semester.
Ogbonda, a 6-10 center from Port Harcourt, Nigeria, attended National Christian Academy in Washington, D.C., before coming to Tech, where he is a fourth-year junior in terms of athletic eligibility. After a redshirt year in 2015-16, he has played in 42 games as a backup in the post, and is completing course work this semester for his bachelor's degree in business administration.
Gueye, a 6-9 forward from Dakar, Senegal, is a fifth-year senior who has played in 86 games and started 39 during his career. He attended Central Park Christian School in Birmingham, Ala., before coming to Tech. He took a redshirt year in 2015-16 and has been a part-time starter in the last two seasons. He is finishing his degree requirements in business administration this semester.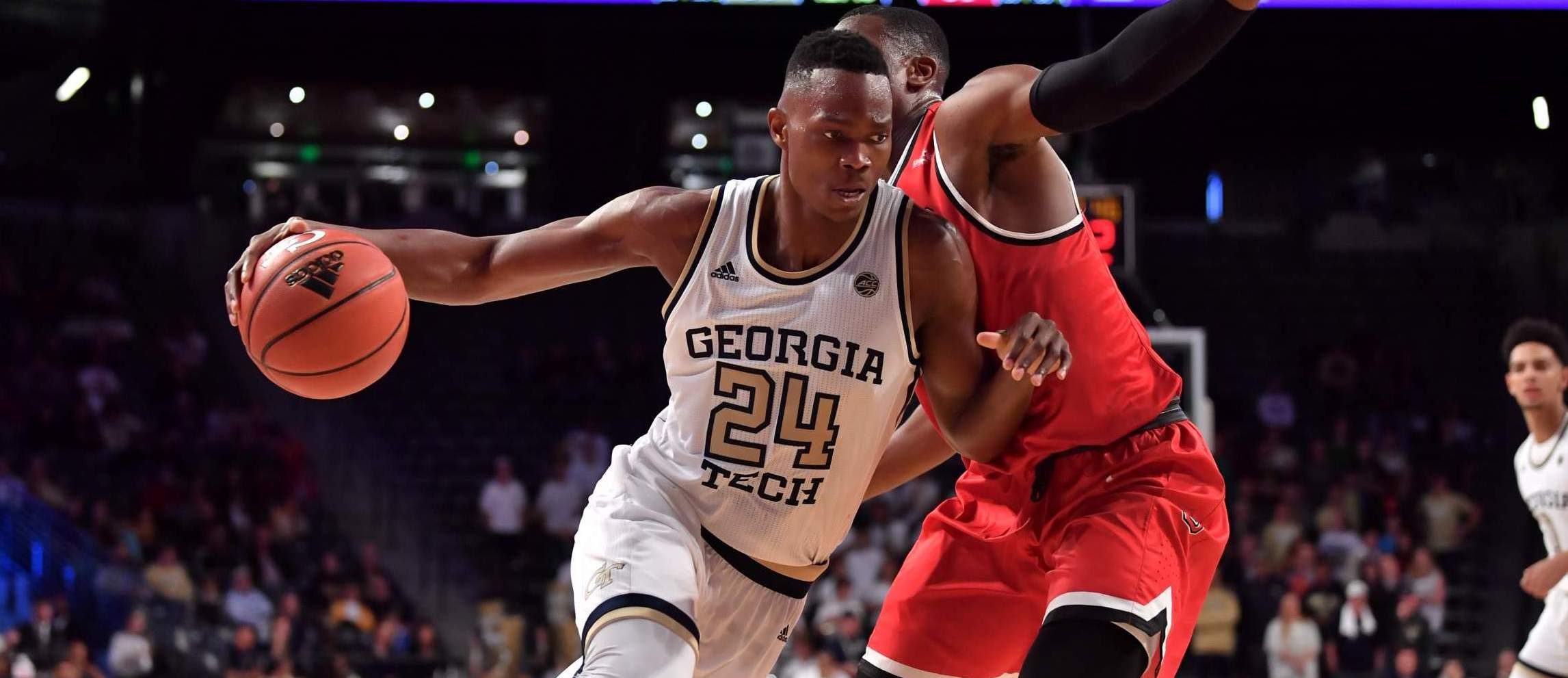 Sylvester Ogbonda graduates in May with a year of eligibility remaining.
STARTING LINEUP
Pleasant Valley Sunday – Georgia Tech is making its second appearance on the ACC's Sunday night ESPNU series. The Yellow Jackets' other appearance was Feb. 10 at Notre Dame.
Tuesday's child – Only three games separate the bottom six teams in the ACC standings, with Boston College leading that group at 5-10, followed by Miami and Wake Forest at 4-11, Tech at 4-12, Notre Dame at 3-12 and Pittsburgh at 2-13. The Yellow Jackets own tiebreakers over Notre Dame (based on their win over Syracuse, which could change), Wake Forest and the Panthers, and can gain another with a victory Sunday over the Boston College.
Outta here – The Yellow Jackets are in the midst of closing out their schedule with three games out of four on the road (Miami, Virginia, NC State). Boston College is Tech's last home game, and the Jackets close out their regular season Wednesday night at NC State, followed by their scheduled bye.
Stacked – Six ACC teams rank among the top 30 in KenPom.com's offensive efficiency rankings, and nine ACC teams rank among the top 30 in defensive efficiency. Four of those teams are ranked in the top 20 of both categories.
Outpost – In an attempt to invigorate its offense, Georgia Tech returned to a one-post starting alignment for its last five games, with James Banks III starting in the middle with four perimeter players. It has helped produce the Yellow Jackets' three highest point totals since Jan. 12 and three of its best shooting efforts since Jan. 22. Tech has averaged 60.8 points and hit on 35.5 percent of its three-point shots in its last five games, compared to 53.9 points and 23.8 percent on threes in the previous eight games.
The Bank is open – It took 23 games at Georgia Tech for James Banks III to exceed his 46-game totals at Texas in every offensive category, as well as blocked shots and steals. Banks has six double-doubles this season for the Jackets, fifth most in the ACC.
Hola again – Jose Alvarado has scored 79 points in Tech's last four games (19.5 ppg), including a career-high 29 against the Panthers last Wednesday. In those four games, he has hit 26-of-49 from the floor, 9-of-22 from three-point range, 17-of-21 from the free throw line. He also had 18 rebounds, 16 assists and seven steals.
I'll be there for you – Jose Alvarado has played the full 40 minutes three times in Tech's last six games, (Notre Dame, Pittsburgh and Miami). The sophomore has logged 12 complete games in his career, four this season.
Sjo-time – Freshman forward Kristian Sjolund (pronounced SHO-lund) has scored 48 points and played 127 minutes in Tech's last six games. He played in just 13 of Tech's first 23 games, scoring a total of nine points in 62 minutes.
Crack that whip – Michael Devoe is 24-for-50 from three-point range in Tech's last 12 games. He had gone 12-for-43 in the first 17 games of the season.
Three's the charm – Tech has averaged 7.5 three-point field goals and connected on 34.6 percent of its attempts in its last six games. The Jackets had averaged just 3.0 threes and shot 20.5 percent in the six games before that.
Guard your yard – Georgia Tech ranks No. 7 in the ACC in scoring defense (69.5 ppg), No. 6 in field goal percentage defense (41 pct.) and No. 4 in three-point percentage defense (31.4 pct.) against conference opponents. The Jackets rank No. 5 in steals (7.0 pg) and No. 2 in blocked shots (5.5 pg). Those rankings have dropped precipitously over the last six games as Tech has altered its playing rotations to emphasize offense.
Below average – Georgia Tech has faced three of the nation's top 10 teams in offensive efficiency as ranked by KenPom.com – Tennessee (2), Duke (3) and Virginia Tech (9) – and held them to an average of 61.3 points. Each posted their lowest efficiency rating of the season against the Jackets. North Carolina is No. 7, and the Jackets held the Tar Heels to their fourth-lowest rating of the season. Tech held Florida State (28th) to two of its three lowest efficiency ratings of the season.
Youts are served – Georgia Tech's seven freshmen and sophomores have played 67.1 percent of the minutes for Tech in ACC games.
Going deep – Georgia Tech has deployed 11 different starting lineups this season. Eleven players have started three or more games, and 10 have started at least one ACC game.
Longer bench – Tech has utilized at least eight players in all of its ACC games to date. Tech's reserves have played 34.3 percent of available minutes, No. 80 in the nation according to KenPom.com (national average is 30.7 pct.).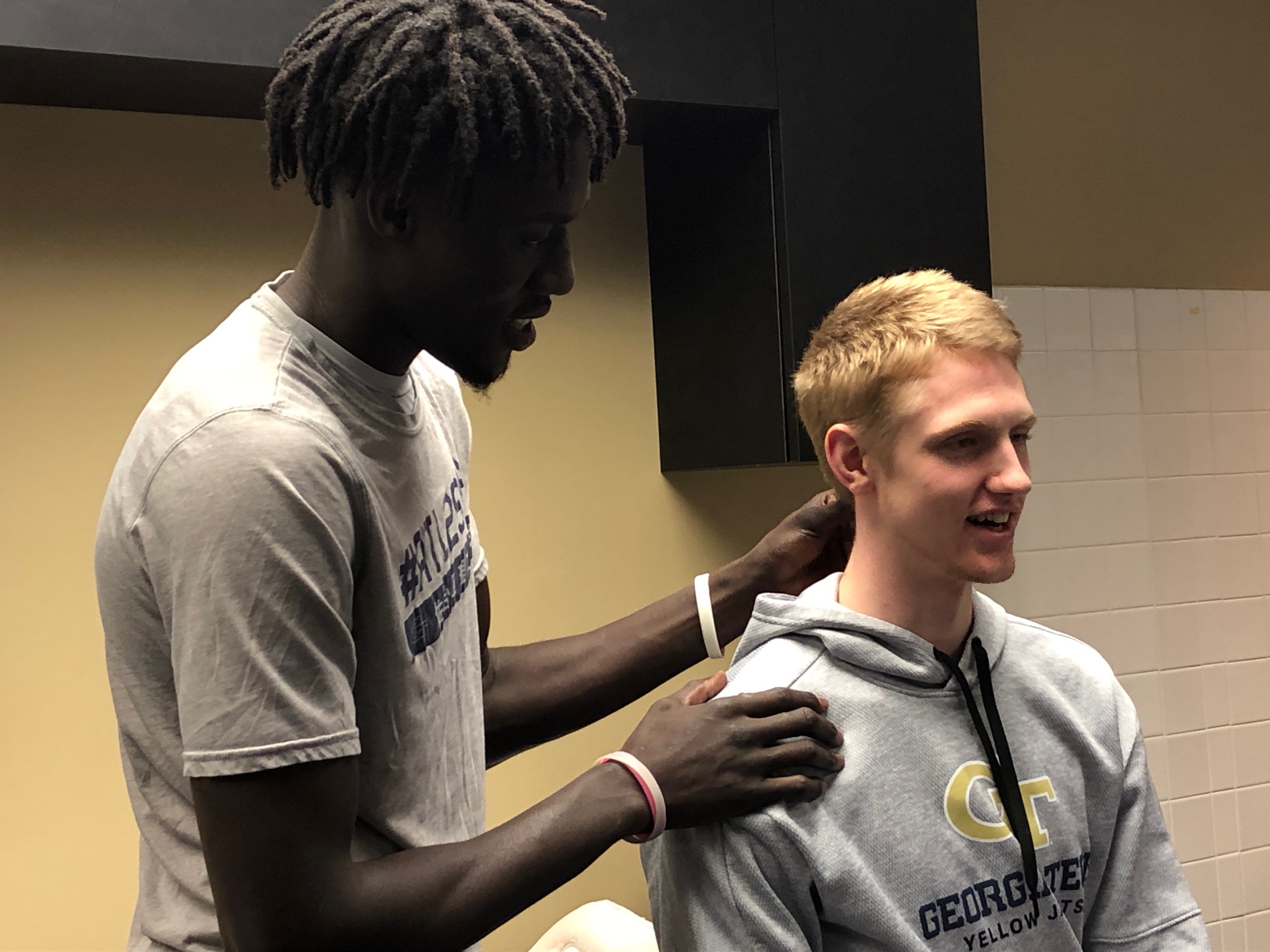 Abdoulaye Gueye, the oldest member of the Yellow Jackets, horses around with one of the youngest, freshman Kristian Sjolund, before Friday's practice.
SERIES NOTES VS. BOSTON COLLEGE
Georgia Tech leads the all-time series with Boston College, 14-12, but dropped both meetings in the 2017-18 season, 80-72 in overtime, at Conte Forum, and 8877 in the opening round of the ACC Tournament.
BC has an 11-10 lead since the Eagles joined the ACC.
Boston College has won thee of the four ACC Tournament meetings between the two schools, and each time the tournament result has mirrored the regular-season outcome.
Nine of the games in the short series have been decided by less than 10 points, 13 of them by four points or less, and three in overtime.
Tech is 6-2 against the Eagles at home, earning the last four wins on three different home courts – one each at Alexander Memorial Coliseum and Philips Arena and the last two at McCamish Pavilion.
Tech has played BC at three different venues in the Boston area. The Jan. 29, 2005 game was Tech's first visit to the Conte Forum, BC's current home court, where the Jackets are 3-6. The first game in the series on Dec. 31, 1946, was played at Boston Arena, and the teams also played in the Boston Garden on Jan. 19, 1980.
Prior to BC's entry into the ACC, the teams met four times on neutral floors, including one outside the United States, a 65-62 overtime win for the Yellow Jackets in the 1986 Suntory Ball in Tokyo, Japan.
The teams have met twice in NCAA Tournament competition, both of them won by Tech. The Yellow Jackets downed the Eagles, 103-89, in the 1996 Southeast Regional second round in Orlando, and eliminated the Eagles, 57-54 in a 2004 second-round game in Milwaukee.
ABOUT GEORGIA TECH MEN'S BASKETBALL
Georgia Tech's men's basketball team is in its third year under head coach Josh Pastner. Tech has been a member of the Atlantic Coast Conference since 1979, won three ACC Championships (1985, 1990, 1993), played in the NCAA Tournament 16 times and played in two Final Fours (1990, 2004). Connect with Georgia Tech Men's Basketball on social media by liking their Facebook Page, or following on Twitter (@GTMBB) and Instagram.
For more information on Tech basketball, visit Ramblinwreck.com. Tickets for men's basketball can be purchased here.