THE FLATS  –  In the back end of a two-game homestand, Georgia Tech hosts Pittsburgh for the teams' only meeting this season in an Atlantic Coast Conference basketball game Wednesday night. Tipoff is set for 9 p.m. at McCamish Pavilion.
Tech (11-15, 3-10 ACC), in its third season under head coach Josh Pastner, has lost seven straight games and nine of its last 10, winning only against Notre Dame at home on Jan. 22 in that stretch. The Yellow Jackets are 9-7 at home this season, 2-5 in conference play with victories over Wake Forest and the Fighting Irish. Tech dropped a 69-47 decision to No. 17/19 Florida State in its last game on Saturday.
Pittsburgh (12-14, 2-11 ACC), in its first season under head coach Jeff Capel, began conference play 2-2 with victories over top-25 teams Louisville and Florida State, but the Panthers have since lost nine straight games, including a 70-64 home loss to No. 22 Virginia Tech Saturday. Pitt has lost its last 21 road games, including its last trip to Atlanta on Feb. 28, 2017, and has an 0-8 mark this season.
Wednesday's game will be broadcast live on the ACC's Regional Sports Network, and will be streamed live on ACC Network Extra, available through the ESPN app. Radio coverage is provided on the Georgia Tech IMG Sports Network, airing in Atlanta on 680 AM and 93.7 FM the Fan. The Tech broadcast is available on satellite radio (Sirius ch. 135, XM ch. 194, internet ch. 956).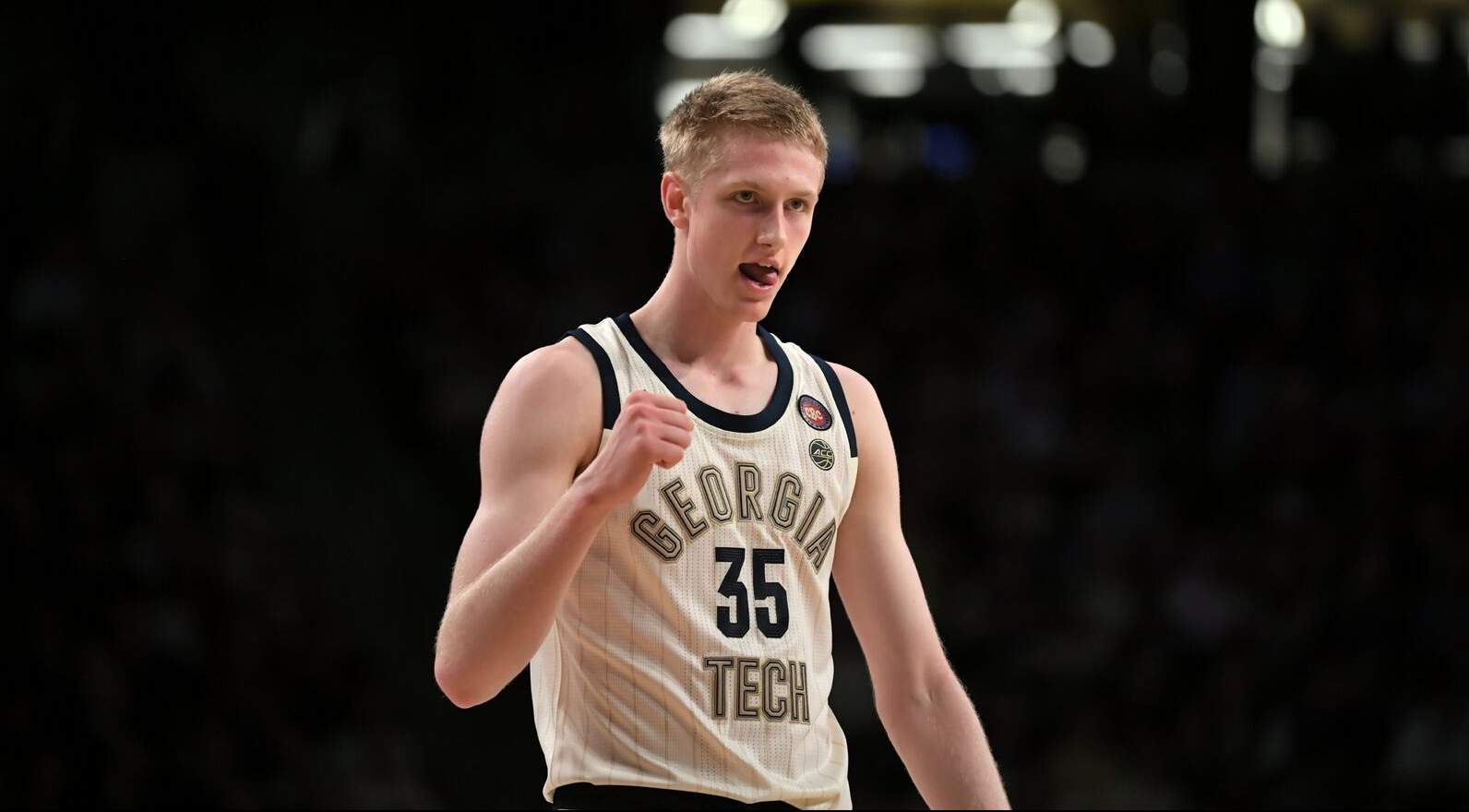 Freshman Kristian Sjolund has scored 30 points over Tech's last three games.
STARTING LINEUP
Unfamiliar – Georgia Tech finishes out its schedule with five opponents that the Yellow Jackets will face just once this season. (Pittsburgh, Miami, Virginia, Boston College, NC State) Tech's last four games closed out home-and-away series.
Outta here – After hosting Pittsburgh, the Yellow Jackets close out their schedule with three games out of four on the road (Miami, Virginia, NC State). Boston College is Tech's only remaining home game (March 3).
Buzz saw – Georgia Tech has lost seven straight games, with five of those games against teams in the midst of winning streaks. Duke has won nine straight games, while North Carolina won seven in a row and eight of its last nine. Florida State has won its last seven, and Clemson won four straight and has won five of six. Those four teams rank among the nation's top 20 in defensive efficiency according to KenPom.com.
Outpost – In an attempt to invigorate its offense, Georgia Tech returned to a one-post alignment for its last two games, with James Banks III starting in the middle with four perimeter players. It produced the Yellow Jackets' highest point total since Jan. 12 and its best shooting effort since Jan. 22 in a 76-68 loss at Virginia Tech. Tech had played a two-post alignment in the first half of the ACC schedule to take advantage of the improvement of James Banks III and Abdoulaye Gueye. The duo shared the floor for more than 56 minutes in wins over Syracuse and Notre Dame and had shared the floor for 67 percent of the time in Tech's previous five games.
The Bank is open – In 25 games at Georgia Tech, James Banks III has exceeded his 46-game totals at Texas in every offensive category, as well as blocked shots and steals. Banks has six double-doubles this season for the Jackets, fourth most in the ACC.
Guard your yard – Georgia Tech ranks No. 7 in the ACC in scoring defense (67.9 ppg), No. 5 in field goal percentage defense (40.2 pct.) and No. 2 in three-point percentage defense (29.7 pct.) against conference opponents. The Jackets rank No. 4 in steals (753 pg) and No. 3 in blocked shots (5.1 pg).
Below average – Georgia Tech has faced three of the nation's top 10 teams in offensive efficiency as ranked by KenPom.com – Tennessee (2), Duke (3) and Virginia Tech (10) – and held them to an average of 61.3 points. Each posted their lowest efficiency rating of the season against the Jackets. North Carolina is No. 9, and the Jackets held the Tar Heels to their fourth-lowest rating of the season. Tech held Florida State (28th) to two of its three lowest efficiency ratings of the season.
Getting younger – Georgia Tech's seven freshmen and sophomores have played 66.2 percent of the minutes for Tech in ACC games.
Going deep – Georgia Tech has deployed 11 different starting lineups this season, and 11 Yellow Jackets have started at least one game. Nine have started five or more games.
Longer bench – Tech has utilized at least eight players in all of its ACC games to date. Tech's reserves have played 34.3 percent of available minutes, No. 78 in the nation according to KenPom.com (national average is 30.7 pct.). Tech's bench is outscoring that of its opponents 20.9 to 16.2 per game.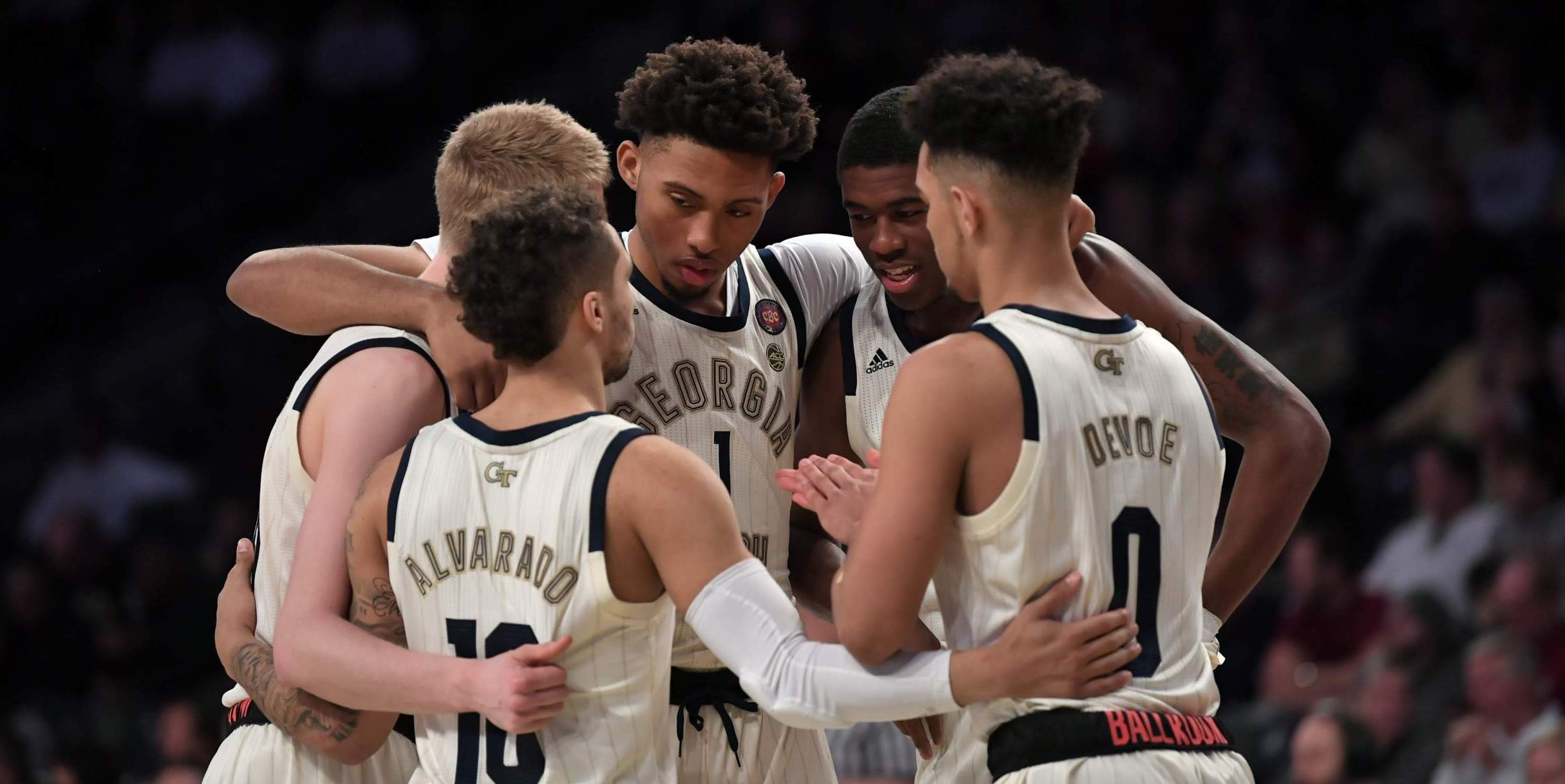 SERIES VS. PITTSBURGH
Pittsburgh won the first three meetings between the two teams after the Panthers became members of the ACC, but the Yellow Jackets have come back to win three of the last four, including a 69-54 win in the teams' only scheduled meeting of the 2017-18 season at the Petersen Events Center.
That Tech win was the widest margin of victory for either team since Pitt joined the ACC. The previous six meetings between the two teams as ACC brethren have been decided by an average of 5.3 points.
The teams have played home-and-away only once since the Panthers joined the ACC.
Tech won the first five games in the series, prior to Pitt's entry into the ACC, all between 1966 and 1989.
The two most entertaining games between Tech and the former Big East member played in the same month of the 1989-90 season, when the Yellow Jackets were on the way to their second ACC title and first Final Four appearance. Bobby Cremins and Paul Evans were the respective head coaches at the time.
Tech overcame an early 26-5 deficit to win the ACC/Big East Challenge game in Hartford in early December, getting 42 points from Dennis Scott, including the game-winner with 8 seconds left. Later in the month, the Panthers came to Atlanta for a Kuppenheimer Classic game at the Omni, and Tech won the game without head coach Bobby Cremins, who was attending his father's funeral. Kenny Anderson recorded a triple-double with 32 points, 12 rebounds and 18 assists.
Tech scored easy wins over Pitt in the first three games of the series, all under head coach Whack Hyder, two of which were played at Alexander Memorial Coliseum on the Tech campus.
Tech is 1-0 against the Panthers' current head coach, Jeff Capel, having scored an 86-65 victory over VCU during the 2003-04 season when Capel was the Rams' head coach
ABOUT GEORGIA TECH MEN'S BASKETBALL
Georgia Tech's men's basketball team is in its third year under head coach Josh Pastner. Tech has been a member of the Atlantic Coast Conference since 1979, won three ACC Championships (1985, 1990, 1993), played in the NCAA Tournament 16 times and played in two Final Fours (1990, 2004). Connect with Georgia Tech Men's Basketball on social media by liking their Facebook Page, or following on Twitter (@GTMBB) and Instagram.
For more information on Tech basketball, visit Ramblinwreck.com. Tickets for men's basketball can be purchased here.